Pesto Ranch Chicken Freezer Meal
This slow cooker Pesto Ranch Chicken freezer meal is packed with flavor, even though there are only 4 ingredients!
An Easy Pesto & Ranch Crock Pot Chicken Recipe
As dinner recipes go, this Slow Cooker Pesto Ranch Chicken freezer meal definitely fits the bill for busy families, working couples, and pretty much anyone in between.
With only 4 ingredients, it takes just minutes to prepare this crock pot freezer dump meal. There is no pre-cooking and NO prep work…other than to just open a few lids and pour.
Not only is it fast and easy to put together, this one also fits the bill as a healthy and cheap crock pot meal too!
Notes on Ingredients
Chicken: The recipe calls for boneless, skinless chicken thighs. You can also use chicken breasts. Or, if you find bone-in thighs on sale, grab those and use them. Just remove the chicken thighs from the slow cooker after cooking, shred to remove any bones, and place the meat back into the sauce and juices in the slow cooker before serving.
Pesto: Since I'm lazy, I usually use jarred pesto in this recipe. BUT you can make your own basil pesto from scratch and use that, too! You'll want to use about 1/2 to 3/4 cup if you go this route.
Ranch seasoning: You want the dry ranch dressing mix here, not the fully prepared salad dressing. You can use a ranch dressing packet from the store OR I highly recommend making your own ranch dressing mix and using that in this recipe. It will allow you to control the ingredients and remove extra fillers and additives that are sometimes found in the commercial mixes. Plus, it's cheaper!
How to Make This Pesto Ranch Chicken as a Freezer Meal
For these types of freezer bag meals, all you need are your ingredients and a freeze-safe storage option.
Most of the time I use ziptop gallon freezer bags. You can also you aluminum containers, plastic containers, or even glass. (However, just be careful as the plastic becomes brittle when frozen and can crack, and the glass of course will break if dropped. You'd be surprised how many containers I have dropped over the years…).
So, to prepare this recipe as a freezer meal:
Place chicken thighs in ziptop freezer bag (or other freezer container).
In medium bowl, combine pesto, ranch seasoning mix, and chicken broth. Whisk to combine.
Pour pesto ranch mix into freezer bag over chicken.
Remove as much air as possible. Seal bag, then label with contents, instructions, and date.
Place bag in freezer to freeze.
Or, if you're wanting to be quicker with less mess, just pour everything directly into the bag, seal it, shake it or knead it a bit (be sure to hold the top tightly closed just in case), and call it good.
Freezing Tip
Lay your bag flat (a baking sheet or tray works well here) for several hours or overnight until frozen. You can move the bag once it is a frozen and stack it upright in the freezer to save space. You can also stack it upright in freezer bins for better organization!
The chicken will marinate in the pesto and ranch dressing mix as it freezes and then also as it thaws, making for very flavorful and juicy chicken! This is one of the perks of making these crock pot dump and go style meals as freezer meals!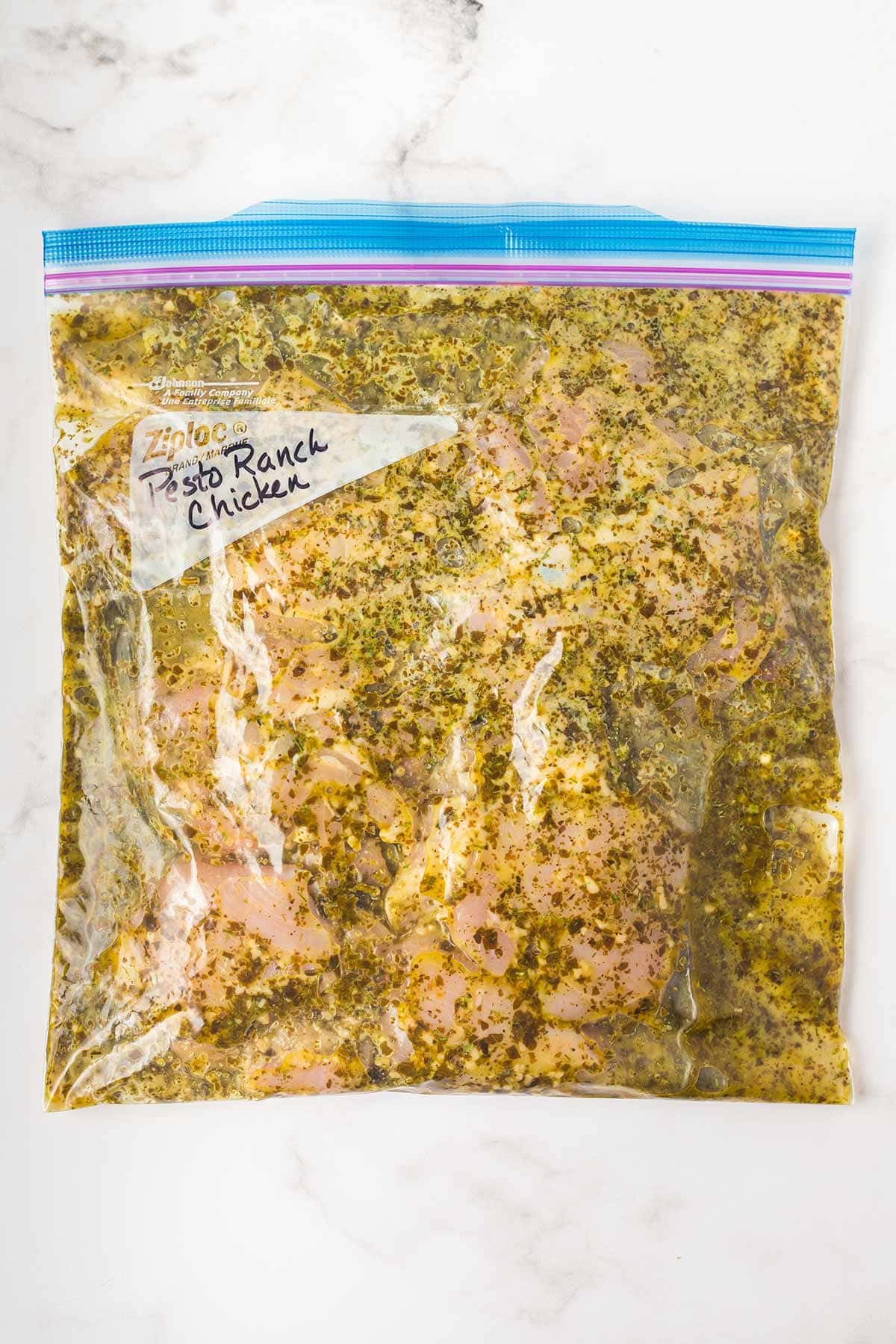 Thawing Your Pesto Ranch Chicken Freezer Meal
I know a lot of people like to put their frozen meals right in the slow cooker to start cooking, but the USDA really frowns on that as far as safety goes (I talked about reasons behind this recommendation in my Slow Cooker Honey Sesame Chicken Freezer Meal post).
For thawing options, you've got three:
Remove from freezer and place in the refrigerator (time to thaw: ~24-48 hours).
Thawing Tip
Place your freezer meal bag in the refrigerator in a container or on a tray. This will catch any liquid that might leak out as the meal thaws, and will save you extra refrigerator cleanup.
Place sealed bag in a bowl or sink of cold water, making sure it is fully submerged (time to thaw: ~1-2 hours).
Defrost using your microwave (time to thaw: ~15-20 minutes).
Safety Tip
This method will only work if you have used a plastic or other microwave-safe container to freeze your meal in. Don't put foil trays or packages in the microwave.
A Note About Slow Cooker Cooking Times
The vast majority of slow cooker recipes call for a pretty standard cook time: 3-4 hours on high, or 6-8 hours on low.
However, each slow cooker can vary widely on how hot they run.
So, to avoid getting dry chicken, you may need to experiment with the cook time. This is where having a reliable probe thermometer really comes in handy.
For chicken breasts, you want to hit an internal temp of 165F.
For thighs, which are dark meat, you want to go slightly higher due to the higher content of connective tissue. So aim for 170-175F (although technically it will be safe above 165).
(You can find a great explanation on safe chicken cooking temps from the folks over at ThermoWorks! This is totally NOT a sponsored ad nor am I affiliated with them in any way. They just make amazing products and I have coveted their ThermoPens for YEARS! I now own two and count myself super lucky!)
One of my slow cookers runs very hot, so even on low my chicken meals are done in just over 4 hours.
This can be a bit of a problem if you are not home all day to check on the meal or turn it off early.
To solve that, I highly recommend investing in a model that has either:
a thermometer probe (so you can have it automatically turn to Keep Warm as soon as the correct internal temp is reached, although this can be hard on smaller pieces of meat as the probe may not be long enough to reach), or
is digital/programmable (so you can have it automatically turn to Keep Warm as soon as the cook time is up).
Or find one that has both. ( I have this Hamilton Beach model and LOVE it – affiliate link.)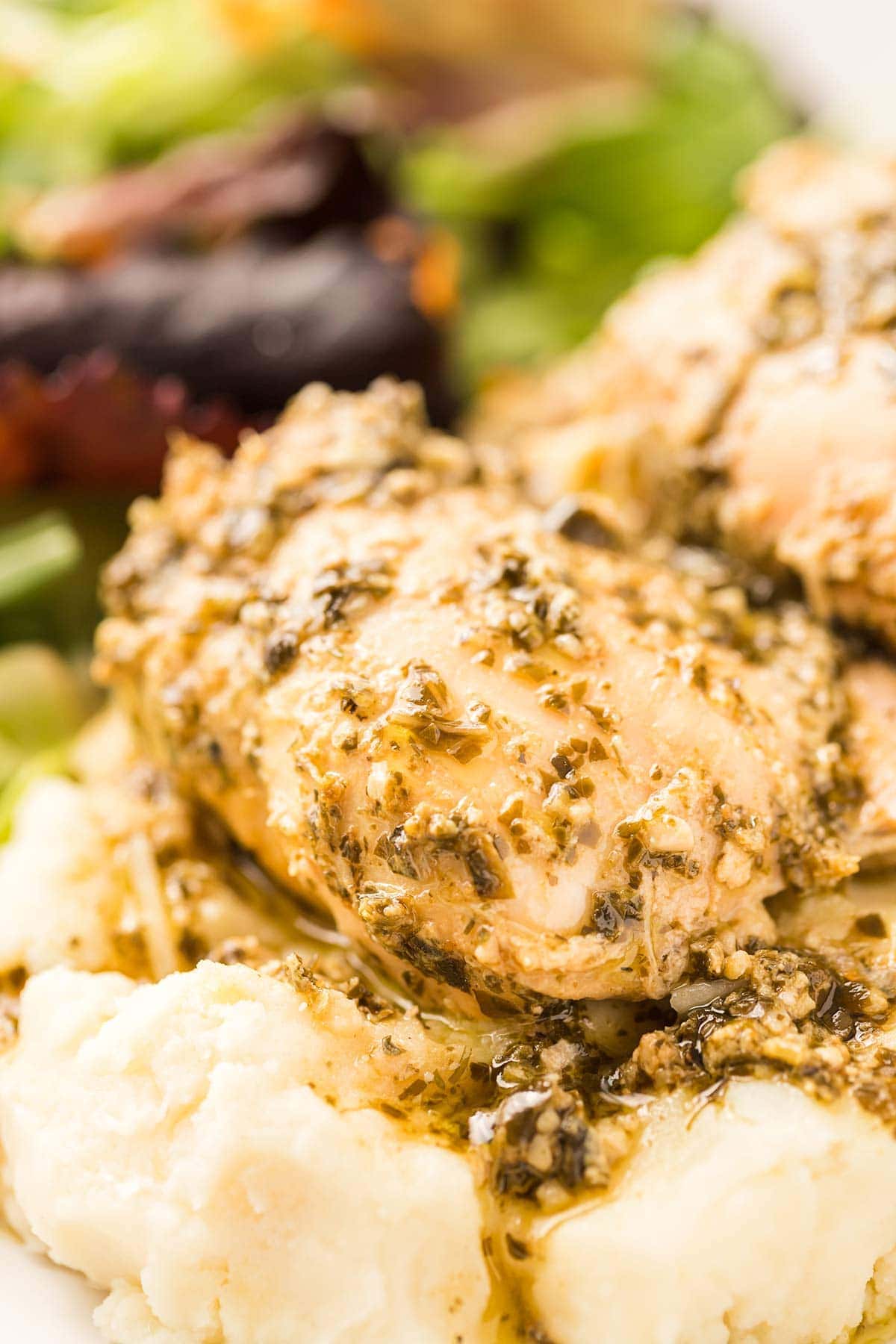 Serving Suggestions
We usually like to serve this one over our favorite Garlic Herb Mashed Potatoes, with a green salad.
Other options might be serving it over pasta (linguini would be stellar) or white rice. You can leave the thighs whole or choose to shred the meat.
Leftovers (if there are any) can be served on a green salad or in a sandwich wrap (yummy!).
FAQs
Can you make Pesto Ranch Chicken in the Instant Pot?
I have not tried it yet, personally. Theoretically, yes. My only concern is the lack of thin liquid (the 1/2 cup from the chicken broth may not be enough). If you try it, you would either need to up your chicken broth to 1 cup, OR you can always cook this using the pot-in-pot method. Cook time would be about 10-12 minutes.
Can you use chicken breasts instead of thighs in this recipe?
Absolutely! We've made this with both, and they are both fantastic!
For more amazing freezer meals like this one, check out our curated list of Chicken Freezer Meals or our Slow Cooker Freezer Meals!
And if you'd like more freezer dump meal recipes, be sure to check out these other great options: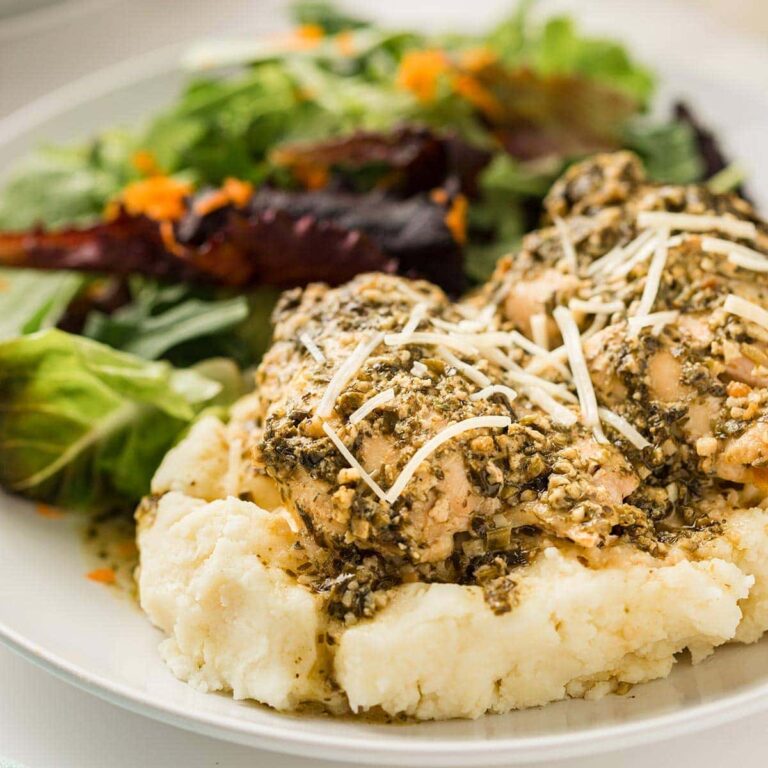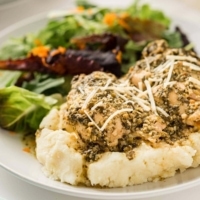 Crock Pot Pesto Ranch Chicken Freezer Meal
This slow cooker Pesto Ranch Chicken freezer meal is packed with flavor, even though there are only 4 ingredients.  The combination chicken thighs with pesto and ranch seasoning just cannot be beat for a punch of vibrant flavor!
Print
Save
Saved!
Pin Recipe
INGREDIENTS
8

boneless

skinless chicken thighs

1 6

oz

jar prepared pesto

see note

1

packet ranch seasoning/dressing mix

see note

1/2

cup

chicken broth

shredded Parmesan cheese

optional, for garnish
INSTRUCTIONS
To freeze:
Trim chicken thighs and place in gallon ziptop freezer bag.

In medium bowl, combine pesto, ranch seasoning, and chicken broth, and whisk to combine.

Pour pesto ranch mixture into freezer bag on top of chicken thighs.

Remove as much air from bag as possible and seal.

Label bag with contents, cooking instructions, and date.

Place bag flat in freezer to freeze.
To thaw:
Remove bag from freezer and place on a tray or in a large bowl in the refrigerator for 24-48 hours until thawed.
To cook:
Place thawed contents of bag into slow cooker.

Cover, and cook on LOW for 4-6 hours. (You may need to adjust cooking time based on your slow cooker's normal cooking temp.)

Remove chicken and shred, then place back into slow cooker to mix with sauce.

Serve over white rice and garnish with toasted sesame seeds and sliced green onions (if desired).
NOTES
You can use chicken breasts in place of the chicken thighs. See cooking time adjustments in the above post.
You can substitute 3/4 cup fresh prepared pesto for the jarred pesto.
I recommend using your own Homemade Ranch Seasoning Mix here – it's cheaper and has less additives and fillers.
NUTRITION
Serving:
1
g
|
Calories:
334
kcal
|
Carbohydrates:
4
g
|
Protein:
31
g
|
Fat:
22
g
|
Saturated Fat:
5
g
|
Polyunsaturated Fat:
16
g
|
Cholesterol:
144
mg
|
Sodium:
697
mg
|
Sugar:
1
g
Did You Make This Recipe?
Please leave a comment on the blog or share a photo on Facebook @MakeAheadMealMom!