Hawaiian Sweet Roll Sliders
Make-Ahead Hawaiian Sweet Roll Sliders are the perfect meal for game day, picnics, potlucks, or easy weeknight dinners! They are simple to make and only take 20 minutes to heat in the oven!! Definitely one of our family's favorite freezer meals!!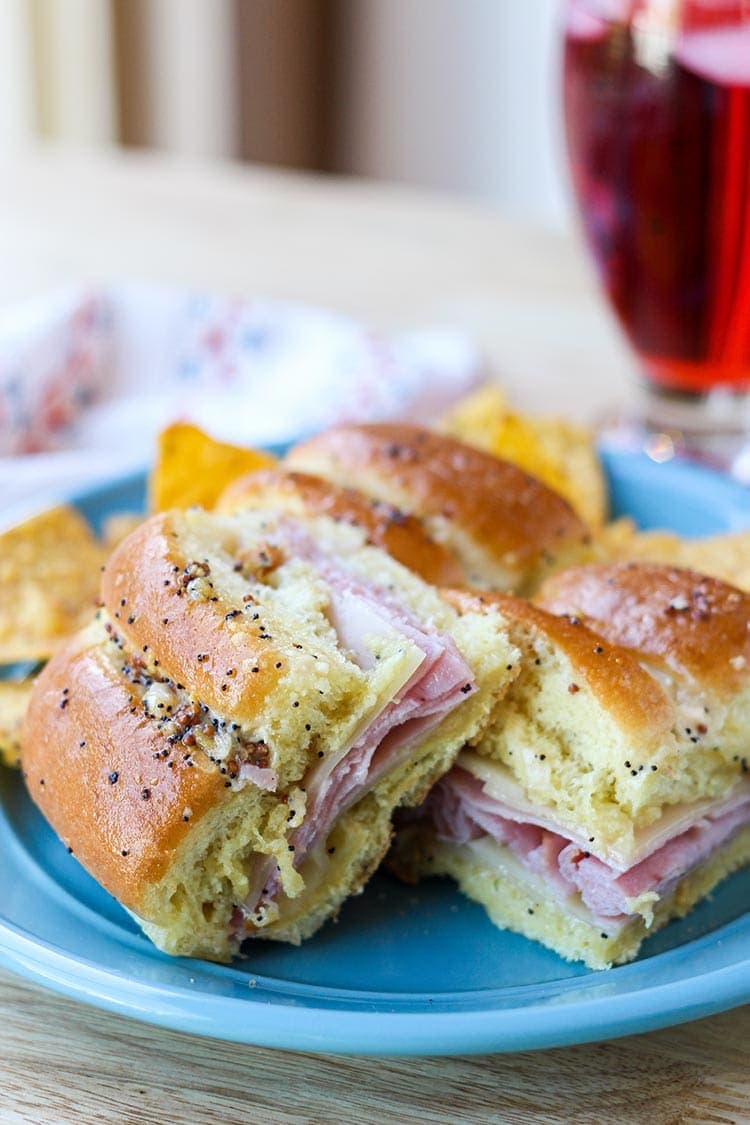 Make-Ahead Hawaiian Sweet Roll Sliders
I love these easy Make-Ahead Hawaiian Sweet Roll Sliders!  There, I've said it.  This easy freezer meal is my go-to for potlucks, picnics, family get togethers – anywhere I need to take food for a crowd!  They are so simple to make, and quick to reheat.  And the taste is out of this world delicious!
They also make a fabulous light freezer meal option for lunches or dinners on hot summer nights.  Plus, no kid has ever complained about having to eat them, not even once, so that is a HUGE win at my house!
There is just something  uniquely delicious about warm ham, melty cheese, and sweet tangy mustard all wrapped in a warm sweet roll that will have you, or your guests, craving more!
Making the Sweet Roll Sliders
For the sandwiches, you'll need a package of sweet rolls (King's Hawaiian or similar), sliced ham (thin sliced is better), sliced Swiss cheese and a bottle of honey mustard salad dressing.
To start, take your rolls and carefully slice through the entire bunch, so you're left with one large top piece and one large bottom piece.
Carefully separate your top and bottom pieces and lay them side by side.
Then spread your dressing on both pieces.  You can use a bottle of honey mustard, but my family likes the honey mustard salad dressing because it is just a little sweeter.  Plus I usually have plenty of it hanging out in my pantry or fridge.
Next, lay out your pieces of cheese to cover your bread.
If you are making these for a potluck or outdoor picnic, you can cut the cheese into smaller sections that match up with each individual roll, so that the sandwiches can be pulled apart easily.  But when we make these for home, I just lay the full slices (of both cheese and meat) on and then cut the sandwiches once they come out of the oven.
Next comes the ham.  Layer it on the bottom half of your rolls.  I used an entire package, and even still husband always claims it "needs" more, but I'll let you decide for yourself how much to ad.
Carefully flip your top portion of the rolls (with the cheese on it) and lay it over your meat.
A Note About Containers for Freezing
To prep these as a freezer meal, carefully pick up your giant sandwich and place in a freezer container.
I love these steam table pans – these are half size deeps.  They are 9×13 and about 3 inches deep.  I find mine at Sam's Club.  But if you're not a Sam's Club member or don't have a Sam's Club close by, you can find them online, or at most restaurant supply stores.  I've also seen them at dollar stores and Walmart, often labeled as a "roaster".
If you want to skip the freezer and just make these right now (and who wouldn't, I mean really?), place them in a foil-lined 9×13 baking dish.  Or a steam table tray works, too!
Don't leave any of that buttery deliciousness in the bowl – you want it ALL on those sandwiches, every last drop!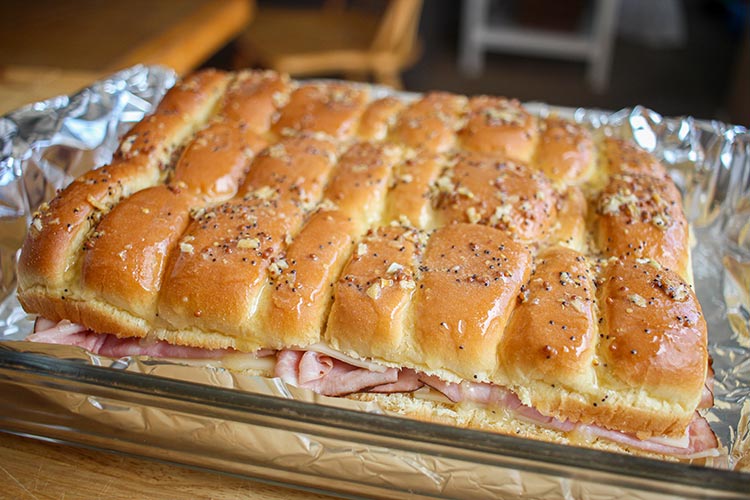 Freezing Your Hawaiian Sweet Roll Sliders
Now, simply cover and label!  (I get these aluminum lids for the steam tray pans at Sam's Club, where oddly enough they sell the pans in a pack of 36 and the lids in a pack of 30…kinda like that 8 hot dogs and 10 buns deal…ha ha ha!) *still scratching my head on this one*
BUT – you don't have to have the aluminum lids.  You can cover with just regular ol' aluminum foil and they will do just fine.  No need to get fancy.
Be sure to include the date and reheating instructions!
These babies will live happily in your freezer for up to 2 months.  But once you've tasted them, you'll know you'll probably never have to worry about them staying around that long.  Promise.
When you're ready to feast, pull your tray out of the freezer and allow it to thaw in your refrigerator overnight.  Then, simply pop the tray of sliders into the oven and bake, covered, at 375 degrees Fahrenheit about 20-25 minutes.
Customize Your Hawaiian Sweet Roll Sliders
Although I used a lot of pictures to help show steps, these really only take minutes to make!  Don't be afraid to try different combinations of meats and cheeses – whatever you or your family like!  And you can change out the dressing, too.  Try mayo, or ranch.  Turkey and cheddar would be a yummy combination, or go wild with ranch dressing, sliced chicken, cheddar cheese and maybe even some bacon!
(For a smaller meal size if you're only cooking for one or two, you can split this meal in half and place each half in two smaller trays. I found some trays that were about half the size of the normal ones, in a pack of 3, with lids, at the dollar store!)
If you like these Hawaiian Sweet Roll Sliders, check out this recipe for Prep-Ahead Teriyaki Sliders with Broccoli Slaw – my family loves them!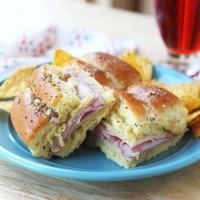 Hawaiian Sweet Roll Sliders
These make-ahead Hawaiian Sweet Roll Sliders are the perfect meal for game day, picnics, potlucks, or easy weeknight dinners! They are simple to make and only take 20 minutes to heat in the oven!! Definitely one of our family's favorite freezer meals!!
Print
Save
Saved!
Pin Recipe
INGREDIENTS
1

package Hawaiian-style sweet rolls

9

oz

thin-sliced deli ham

10

slices

Swiss cheese

1/2

cup

poppy seed or honey mustard dressing

2

tablespoons

butter

, melted

1

teaspoon

dry minced onion

1

teaspoon

course-ground mustard

1/4

teaspoon

poppy seeds
INSTRUCTIONS
Remove rolls from package, lay flat, and slice in two (so you have one single top piece and one bottom piece). Separate and lay side by side. Spread with dressing.

Layer Swiss cheese slices over both sections of sandwiches, covering as much as possible.

Layer ham over the bottom section of sandwiches. Carefully pick up top and flip over onto bottom section. Place sandwich rolls into aluminum pan. (Or if baking fresh, place into foil lined 9x13 dish.)

In small bowl, combine remaining ingredients and stir. Brush or pour over tops of sandwiches.

Cover aluminum pan tightly with lid or aluminum foil. Label (be sure to include reheating instructions.) Place in freezer and store up to two months.

Thaw overnight in refrigerator (skip this step if cooking from fresh).

Bake in 375F oven, covered, for 20-25 minutes until centers are heated through and cheese has melted.
NUTRITION
Serving:
2
sliders
|
Calories:
359
kcal
|
Carbohydrates:
8
g
|
Protein:
22
g
|
Fat:
27
g
|
Saturated Fat:
12
g
|
Polyunsaturated Fat:
12
g
|
Trans Fat:
1
g
|
Cholesterol:
72
mg
|
Sodium:
715
mg
|
Fiber:
3
g
|
Sugar:
1
g
Did You Make This Recipe?
Please leave a comment on the blog or share a photo on Facebook @MakeAheadMealMom!