Chicken Alfredo Bake
Rich, creamy and absolutely delicious, you would never guess this came out of your freezer! Making your own chicken alfredo bake is easier than you think!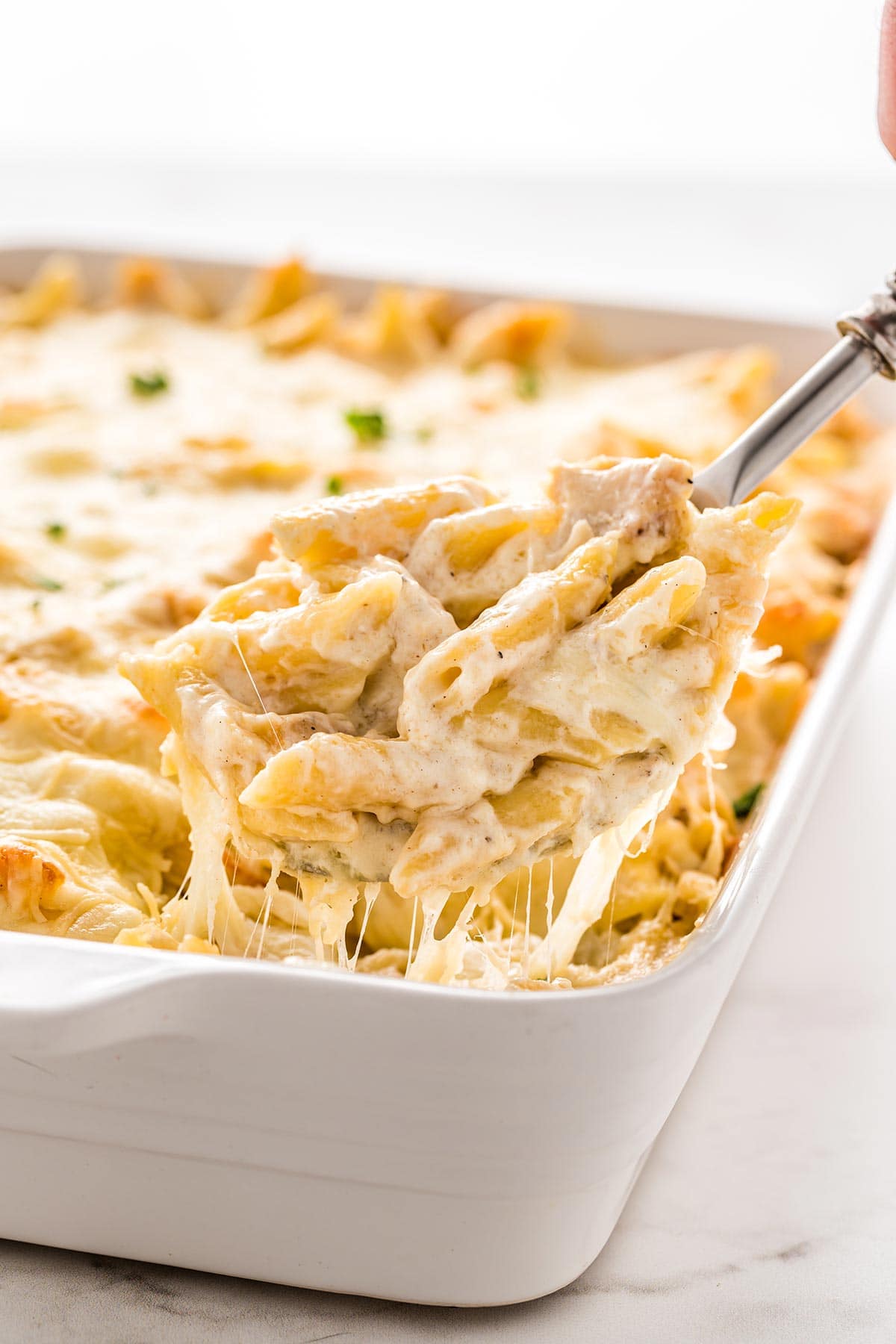 Make-Ahead Chicken Alfredo Bake
This Chicken Alfredo Bake recipe is for my sister.
Who called me one night asking if I possibly had a creamy chicken alfredo casserole recipe I could share with her because she and her family were loving the alfredo bake from Costco, but they were certainly not loving the price.
So I went on the hunt looking for a way to make a version of this comfort food classic at home, for cheaper.
And the result is good, people. Like REALLY good!
In fact, this chicken alfredo bake is consistently one of my most popular recipes!
I mean, who doesn't love tender pasta, cooked chicken, and creamy alfredo sauce, mixed with ooey, gooey melted mozzarella cheese, all wrapped up in one easy-to-make, and easy-to-love, mouth-watering comfort food dish??
But I'm not going to lie. This stuff is RICH!
Like probably close to "heart attack on a plate" rich.
But oh my goodness, does it make for one heck of a delicious meal!!! And best of all, you can make it ahead of time and keep it in your freezer!
Pair it with a simple green salad and some Make-Ahead Freezer Garlic Bread from your freezer, and you have an amazing pasta dish for busy weeknights that the whole family will enjoy!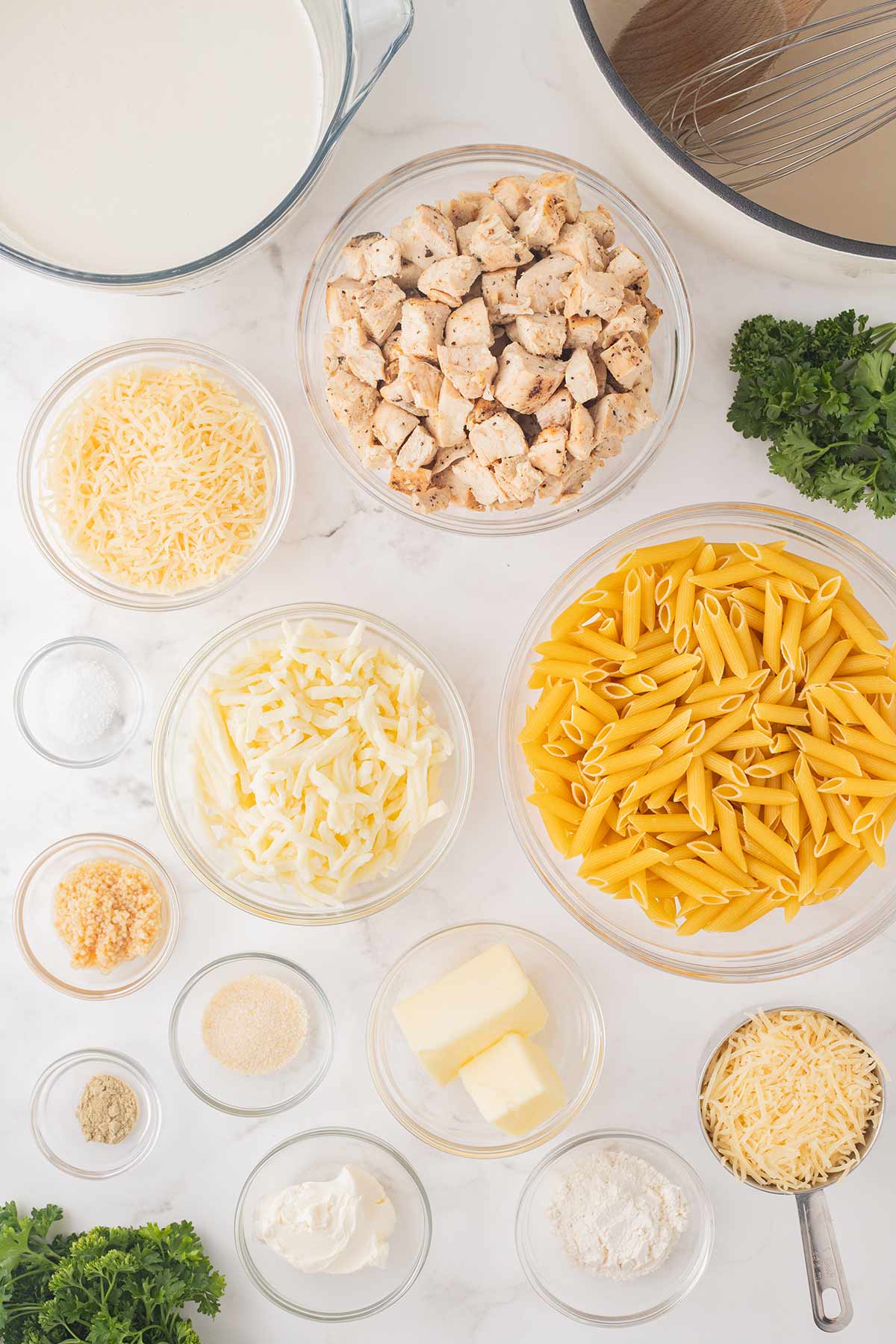 Ingredients to Make This Chicken Alfredo Freezer Meal
Now, I will state right off the bat that this is my own take on a classic chicken alfredo. And full disclosure, this is most definitely not an authentic alfredo sauce – but I don't mean for it to be.
This is just a great recipe with simple ingredients that is full of amazing flavor and doesn't take me hours to prepare.
Please don't be put off by the list of ingredients for this chicken alfredo recipe. The dish is very simple, despite the seemingly numerous ingredients.
To make this family favorite freezer meal, you'll need:
dry pasta – I prefer to use penne pasta here, but you can make it with the more traditional fettuccine noodles or pick your favorite kind of pasta to substitute.
boneless skinless chicken breasts – You'll need to cook and dice these beforehand, but I REALLY, really recommend using diced grilled chicken here, as it lends a subtle but rich flavor profile to the dish that plain cooked chicken just doesn't quite achieve on its own. Another option to speed things up if time is of the essence is to use rotisserie chicken here, or you could even use leftover chicken.
butter – It's important you use the real stuff here. Please.
all-purpose flour – This is totally not part of an authentic alfredo sauce recipe but it's necessary here to help with freezability.
minced garlic – You can use pre-minced from the store or mince your own. If you really want to kick up the flavor profile, roast your garlic beforehand. Out of this world amazing!
heavy whipping cream – This is also sold under the name "heavy cream" here in the US, or as "double cream" if you are outside the US. (Yes, I know they aren't quite the same but they are about as close as possible and will yield an almost identical result in this recipe.)
garlic salt – This is optional buy HIGHLY recommended, especially if you like garlic.
white pepper – You can absolutely use regular black pepper here if you want to skip buying an extra ingredient.
shredded Parmesan cheese – buying a wedge and shredding it yourself will always be the better choice, but pre-shredded works here in a pinch.
shredded Mozzarella cheese – Honestly, I just use the pre-shredded here, because I'm lazy. 😉
cream cheese – Don't substitute a lower fat Neufchatel or whipped option here as this really needs to be the regular block stuff.
parsley – You'll want fresh, as a garnish.
Phew! That was a long list, but again, don't get scared off just yet.
Now, on to how to make this amazing make-ahead chicken alfredo bake!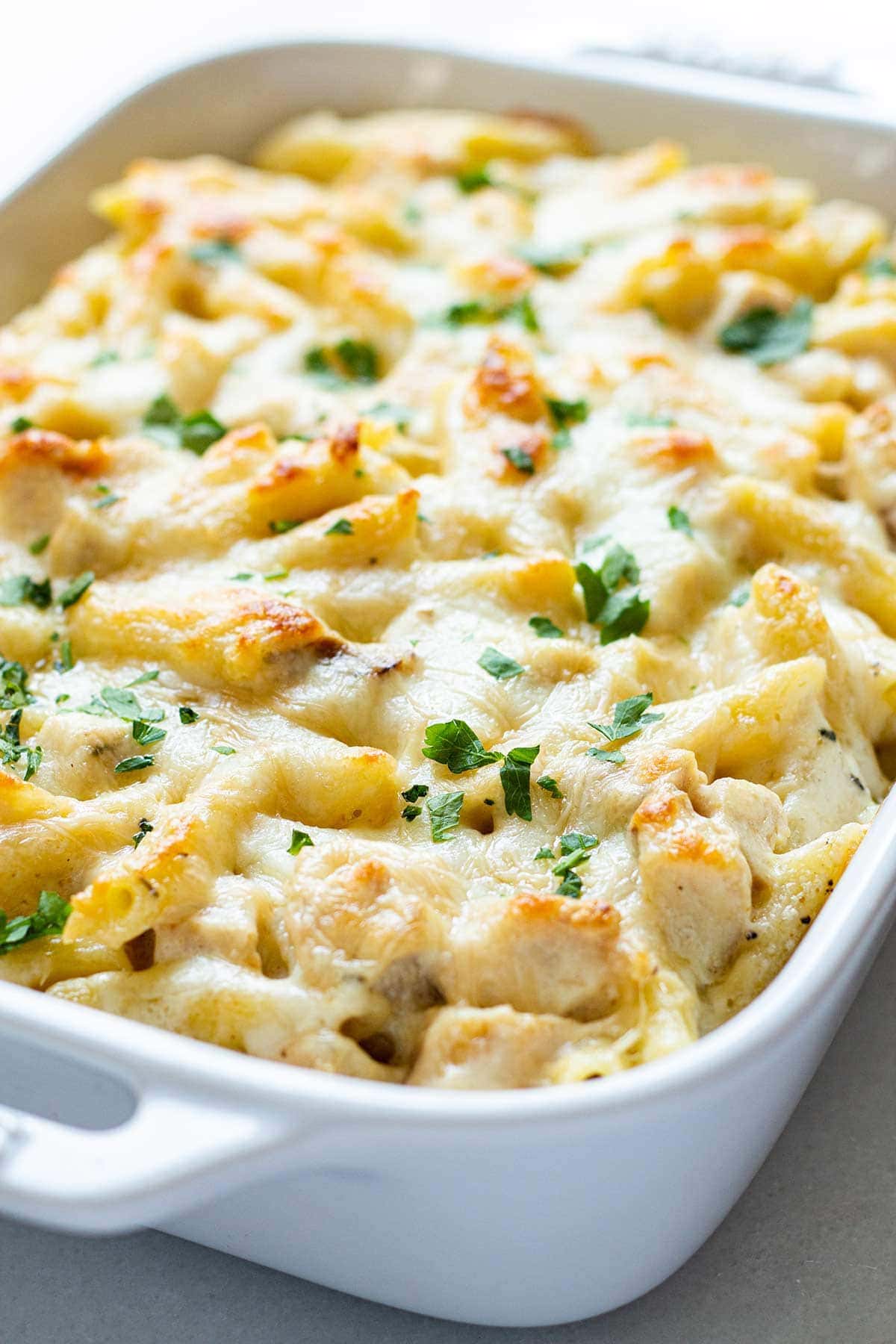 Preparing Your Chicken Alfredo Bake
First, start by preparing your pasta following the package directions. You'll want to aim for the al dente stage.
The pasta will cook further in the oven (and soak up additional liquid when freezing and thawing) so you do not wan to overcook it here.
While your pasta is cooking, melt the butter in a large saucepan or Dutch oven on your stovetop over medium heat.
Once the butter is fully melted, stir in the flour and whisk to combine. This is your roux and forms the base of your homemade alfredo sauce.
Allow the flour and butter mixture to cook for 2-3 minutes.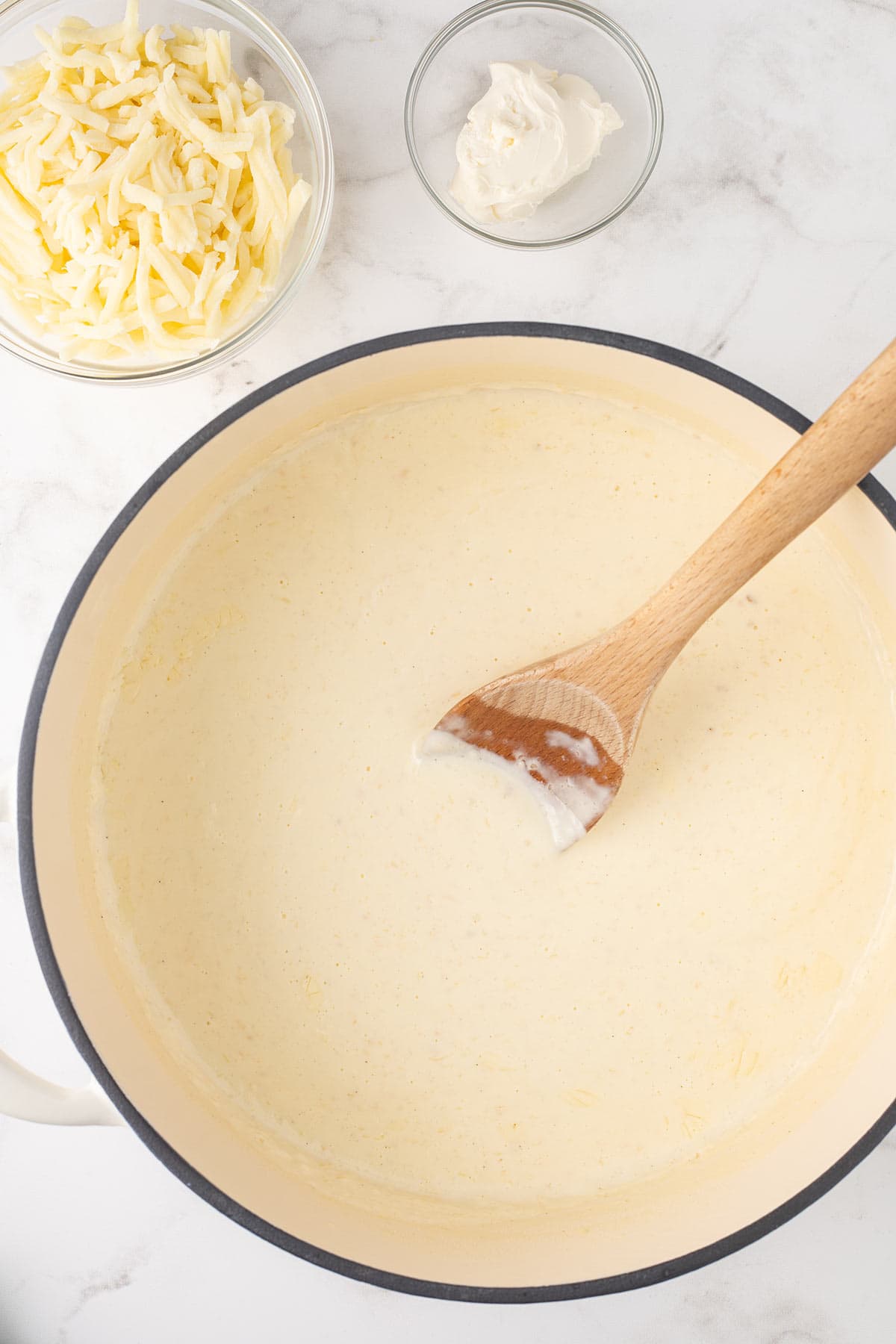 Next, add the garlic, cream, garlic salt, salt, pepper, and 1 cup of the Parmesan cheese. Stir to combine and allow the cheese to melt.
Let this sauce simmer for 8-10 minutes until it has thickened a bit. Be sure to stir frequently so it doesn't burn or scorch.
Once the sauce has thickened, remove it from the heat. Add in the mozzarella and cream cheese and stir to combine until all of the cheese melts.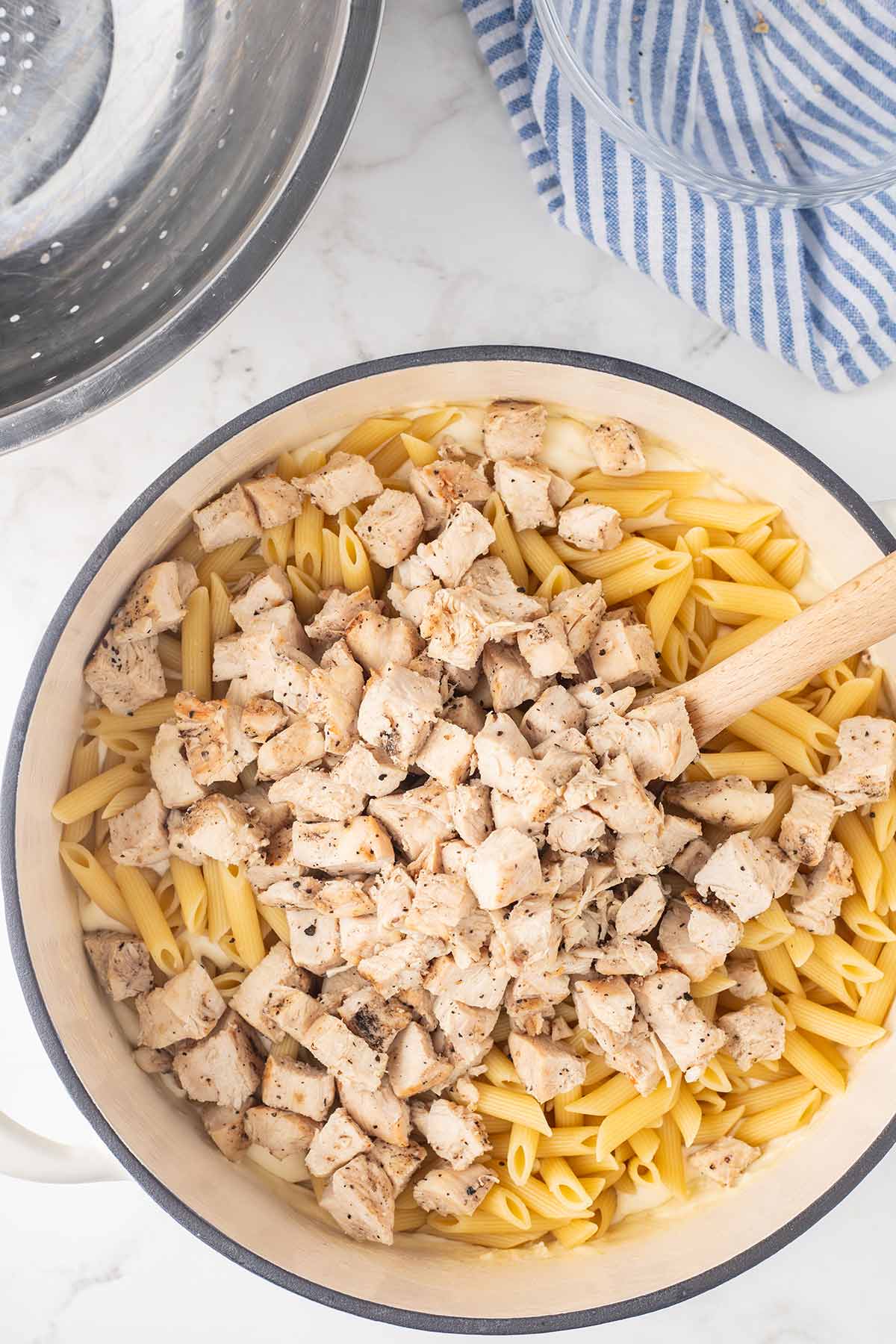 Drain your pasta and then add it into the pot with your sauce. Add in the cooked and diced chicken and stir until everything is covered in creamy sauce and gooey cheese.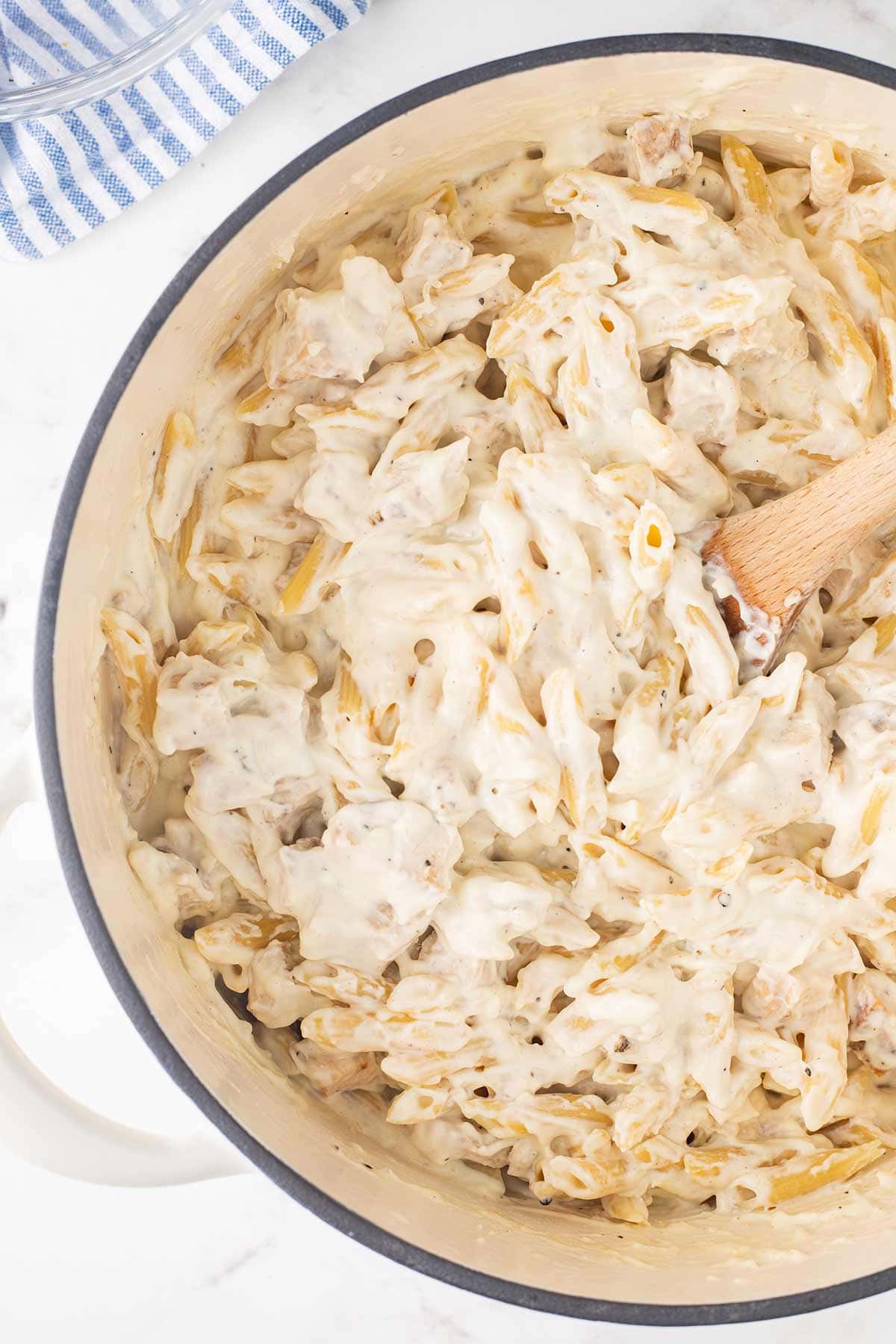 Pour your pasta mixture into a 9×13 baking dish, then sprinkle the remaining Parmesan cheese on top.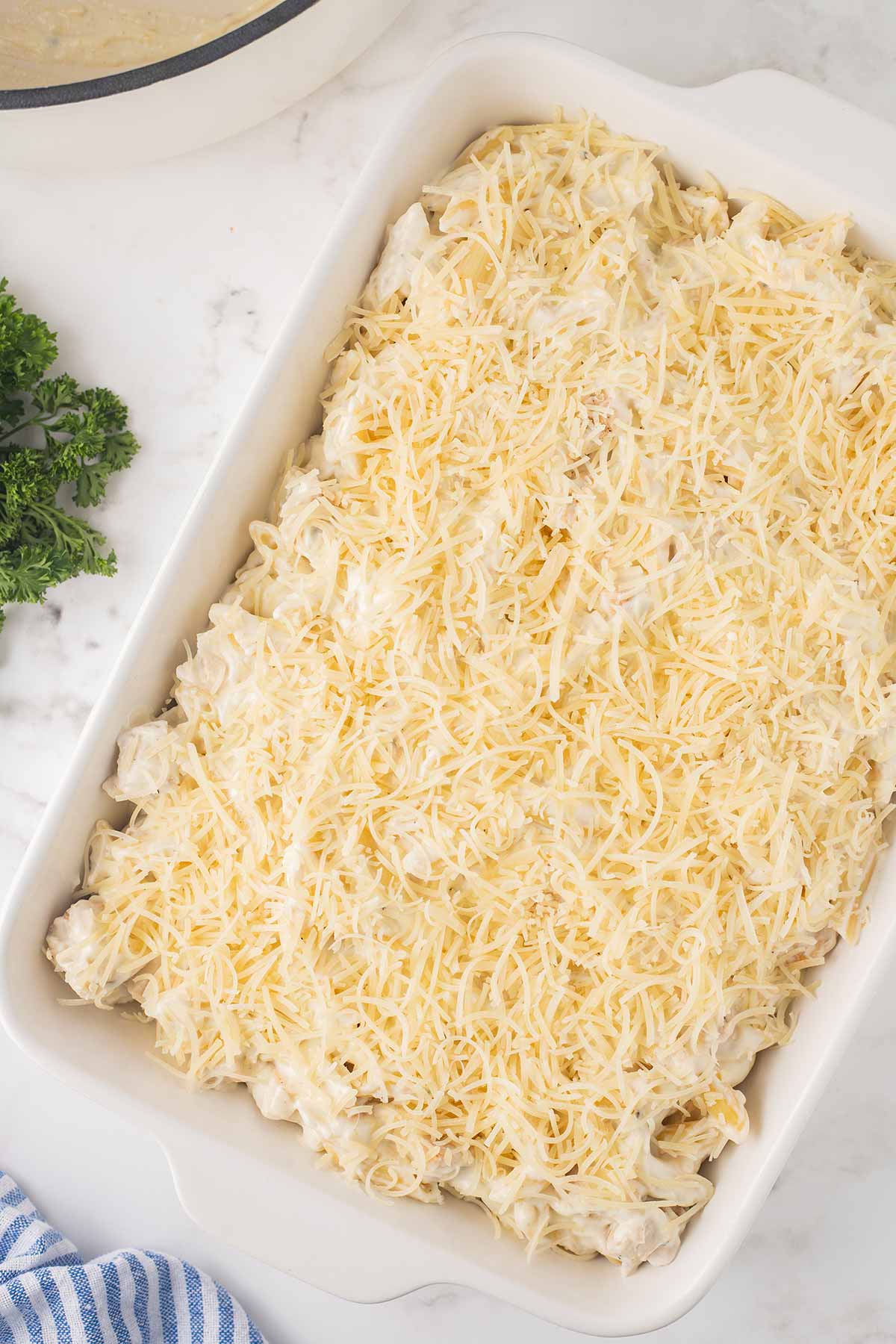 Freezing the Chicken Alfredo Bake
Allow your pasta mixture to cool completely. This is key for successful freezing.
Once cooled, cover your dish with a layer of cling wrap. Lightly press the layer of plastic wrap down directly onto the pasta.
You want to avoid there being any air touching the food directly as this can cause freezer burn. And this recipe is just TOO GOOD to lose to freezer burn!
Next, add a layer of aluminum foil or an aluminum lid over the plastic wrap.
Be sure to label the dish with the name and date and baking instructions!
Freezing Tip
I generally use disposable aluminum pans for this alfredo dish when I make it to freeze. My personal favorites are the half-size steam table trays from Sam's Club, but disposable lasagna pans or a disposable foil casserole dish from your local grocery store will also work.
If you've got a smaller household you are cooking for, you can split this recipe into two smaller trays.
Or you could divide it up into small aluminum loaf pans for easy individual servings!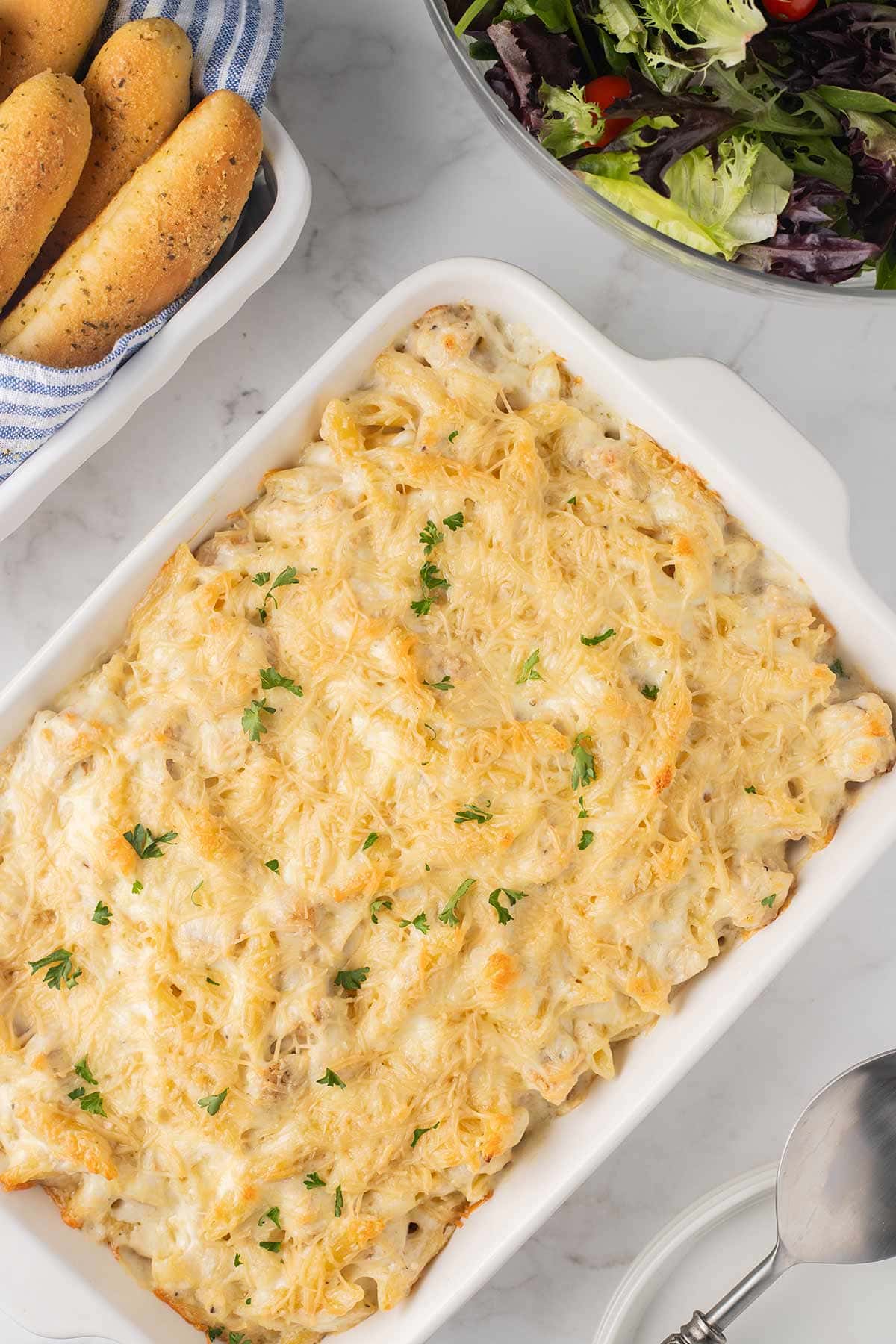 Baking and Serving
For best results, this dish should be baked from thawed, rather than being baked directly from frozen.
So, you'll want to plan ahead. Remove your chicken alfredo pasta bake from the freezer the night before you plan to serve it. Place it in the refrigerator and allow it to thaw overnight.
When dinner time rolls around, bake your alfredo dish at 350 degrees Fahrenheit for 20-25 minutes, until the top begins to brown just slightly and the alfredo sauce is bubbly.
For easy weeknight meals, serve this with a simple green salad. And if you don't mind garlic, this pairs so nicely with garlic bread!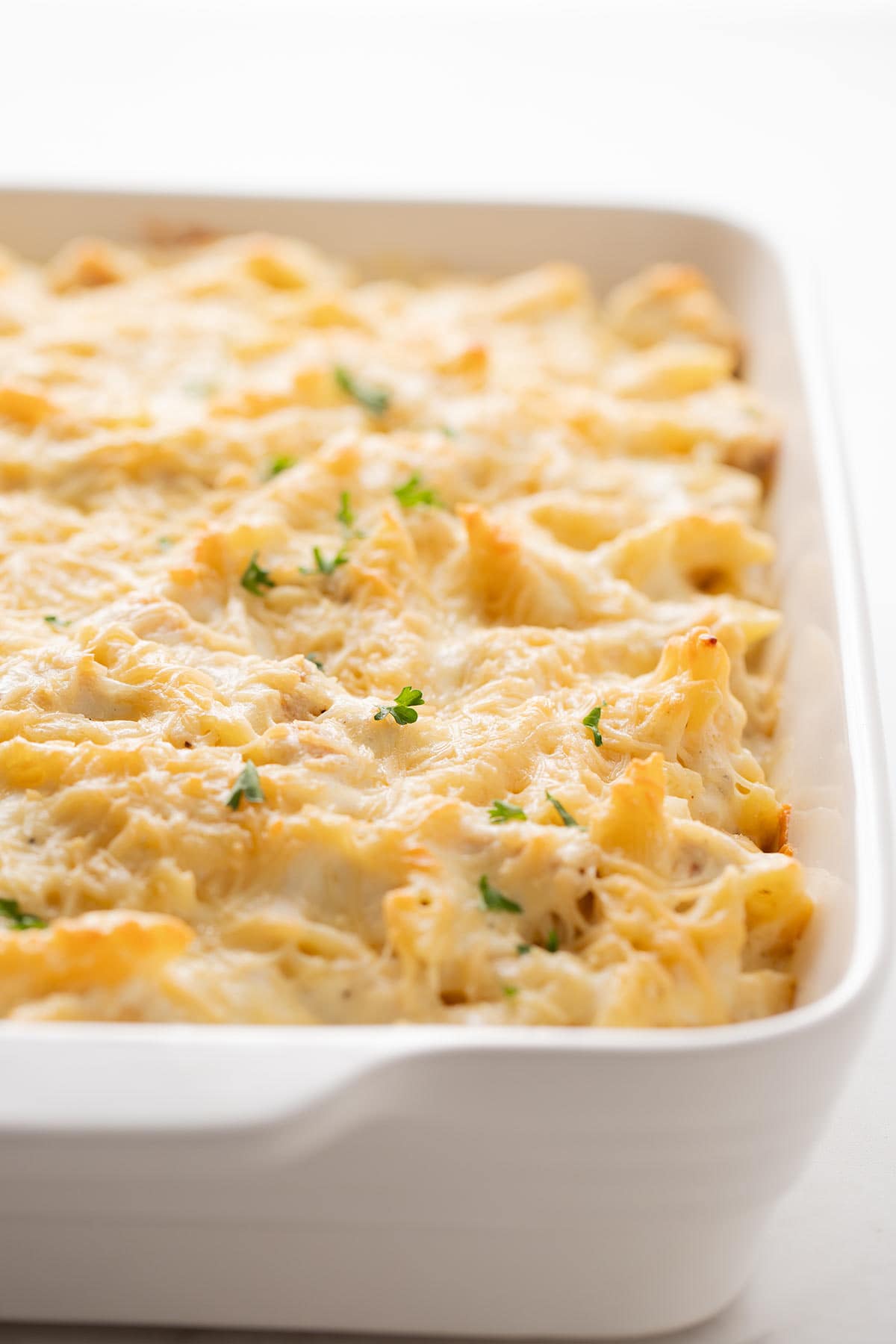 Customize Your Alfredo Bake
This recipe is a great jumping-off point for a fabulous meal that the entire family will enjoy!
But don't hesitate to be creative and try new variations, too.
Here are a few ideas to get you started:
Garlic Alfredo Comfort in a Dish: Increase the minced garlic to 1 1/2 tablespoons and add 1 teaspoon of garlic salt. Absolutely DIVINE!!
Shrimp Alfredo Bake: Substitute shrimp for the chicken for a seafood version you're sure to love! Or go one step further and make that Cajun-seasoned or creole-seasoned shrimp and add a little extra seasoning into the sauce as well.
Chicken Broccoli (& Bacon) Alfredo Bake: Add steamed, or even better, roasted broccoli, to the pasta mixture before freezing or baking. Up the ante even further by tossing in some cooked and crumbled bacon while you're at it!
Tomato Basil Chicken Alfredo Bake: Chop up some sun-dried tomatoes and fresh basil leaves. Mix them into the alfredo sauce for a nice Mediterranean flavor.
Pesto Chicken Alfredo Bake: Mix in some pesto sauce with your homemade alfredo sauce for a vibrant and herby flavor. You could even add in small cherry tomatoes for extra color and taste.
Spinach & Mushroom Alfredo Bake: Add some sauteed spinach and diced mushrooms to the alfredo mixture before freezing or baking.
Zesty Chicken Alfredo Bake: Add in diced bell peppers, onions, and some red pepper flakes for a zesty, spicy twist.
Feel free to experiment with these variations, or combine several to make your own unique chicken alfredo creation!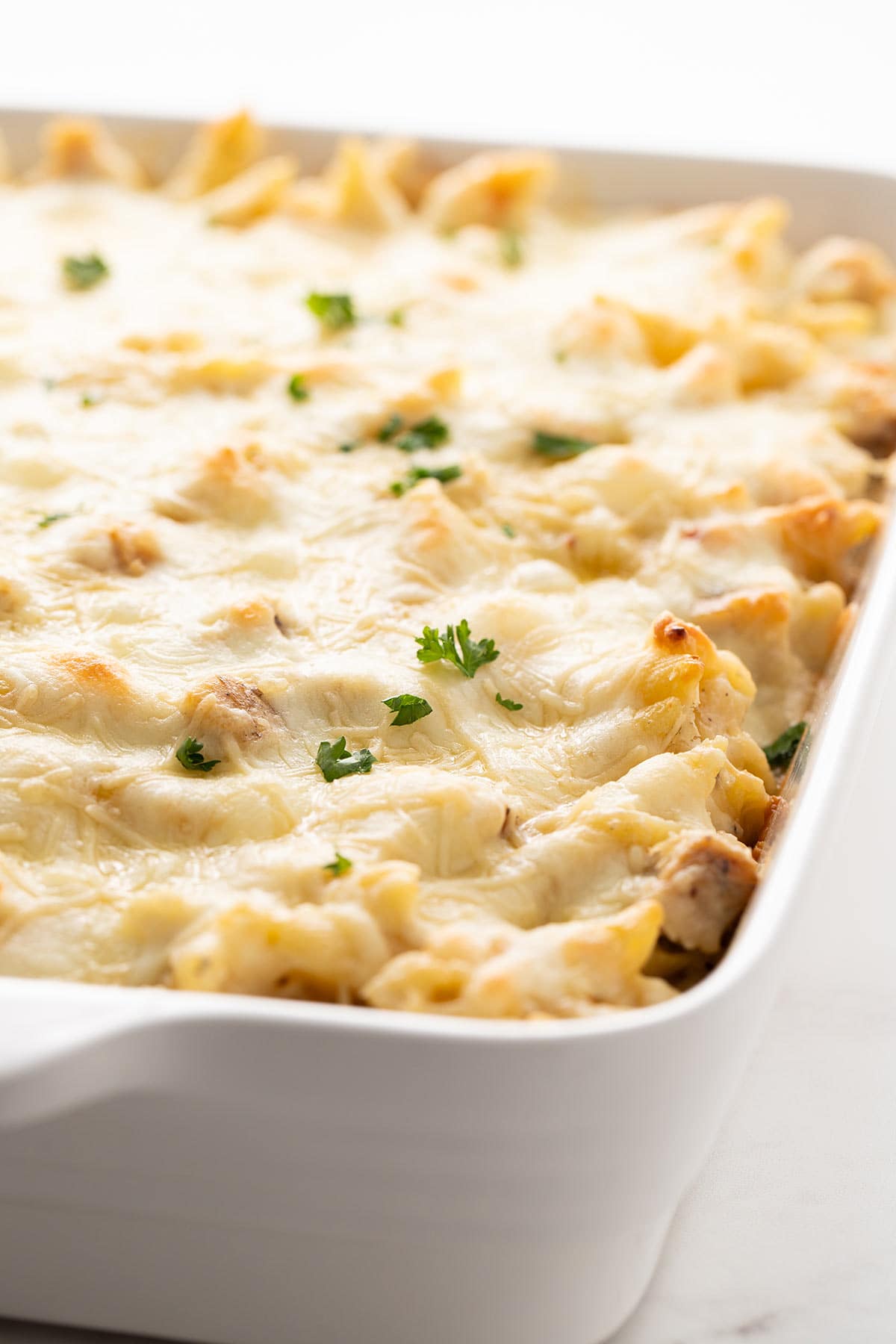 A Note About Reheating Alfredo Sauce
Alfredo sauce can be very finicky when it comes to reheating! It is very prone to "breaking" or splitting (where the fats and oils separate out).
I have tested this recipe a LOT, and have made some modifications over time to help avoid this.
For example, the flour in the homemade alfredo sauce is not traditional, but has been added to help the sauce freeze and reheat without separating.
(If you are not freezing this dish, you can omit the flour if you want.)
However, while I have tested this sauce multiple times, both as a full dish and just as a sauce itself, and have not been able to get it to break consistently, I do occasionally still get reports of people having the sauce break on them.
To help avoid this, here are some tips:
Use very gentle heat when reheating. Reheat your leftovers SLOWLY, using low or medium heat. Never microwave, as that is almost guaranteed to cause your sauce to split.
Stir frequently while reheating.
Add additional liquid if this sauce seems too thick or starts to separate (milk or cream both work). Be sure to add the liquid slowly and stir well after each addition.
Do not let the sauce come to a boil. This is yet another surefire way to cause separation. You want a low and slow simmer.
Hopefully these tips will help you have success when reheating your chicken alfredo bake so you can enjoy every single bite of all that creamy deliciousness!
Frequently Asked Questions
Can I make Chicken Alfredo Bake ahead of time?
Absolutely! This dish can be prepared ahead of time and refrigerated until ready to bake. Just cover your assembled dish tightly with foil or plastic wrap and store it in the refrigerator. When you're ready to bake, remove the covering and following the baking instructions.
Can I freeze Chicken Alfredo Bake?
You sure can! It's best to freeze it before baking. Prepare the dish as instructed but skip the baking step. Cover tightly with a layer of plastic wrap and then a layer of aluminum foil, and place it in the freezer. When you're ready to enjoy it, thaw it overnight in the refrigerator and then bake according to the instructions.
Can I substitute the pasta in this Chicken Alfredo Bake?
Certainly! While traditional Chicken Alfredo is made with fettucine, and Alfredo bakes are usually made with penne, you can absolutely experiment with different types of pasta. Try using rotini, rigatoni, or even macaroni for a fun twist. Sometimes I make this with bowtie pasta for my kids.
Can I add vegetables to the Chicken Alfredo Bake?
Yes, adding vegetables is a great way to enhance the nutritional value and add extra flavor to this dish. You can add vegetables like broccoli, spinach, mushrooms, or even bell peppers. Simply blanch or sauté the vegetables before adding them to the dish during the assembly stage.
Can I add herbs or spices to this dish?
Of course! I personally like it just the way it is (with the extra garlic, of course) but you can also try incorporating herbs like basil, parsley, or oregano for a fresh touch. You can also try adding additional spices such as onion powder or a bit of paprika to add depth to the dish.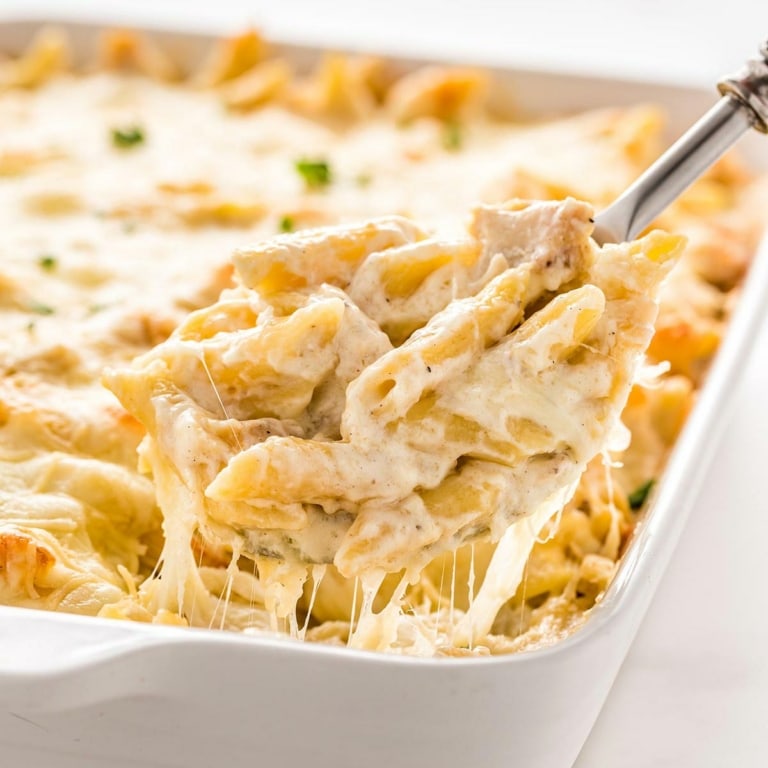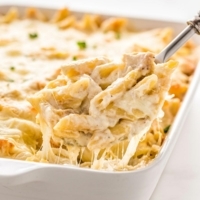 Chicken Alfredo Bake
Rich, creamy and delicious, you will never guess this came out of your freezer!
Print
Save
Saved!
Pin Recipe
INGREDIENTS
16

ounces

penne rigata pasta

6

tablespoons

butter

2

tablespoons

all-purpose flour

1

tablespoon

minced garlic

4

cups

heavy whipping cream

1/2

teaspoon

salt

1

teaspoon

garlic salt

optional, see Notes

1/2

teaspoon

white pepper

2

cups

shredded Parmesan cheese

1 1/2

cups

mozzarella cheese

2

ounces

cream cheese

softened

2-3

chicken breasts

cooked and diced

chopped parsley

for garnish (optional)
INSTRUCTIONS
Prepare pasta per package directions, to the al dente stage. (Pasta will cook further in the oven, so do not overcook.)

While pasta is cooking, melt butter in large saucepan or dutch oven on stove top over medium heat. Once melted, stir in the flour and whisk. Allow to cook for 2-3 minutes.

Add the garlic, cream, garlic salt (if using, see Notes below), salt, pepper and 1 cup of the Parmesan cheese. Stir to combine and melt cheese.

Allow sauce to simmer for 8-10 minutes until thickened, stirring frequently to avoid burning or scorching. Once thickened, remove from heat.

Add in mozzarella and cream cheese and stir to combine and allow cheese to melt. Add additional salt to taste (if needed).

Drain pasta then place back in pot. Pour in sauce and diced chicken to pasta and stir to combine.

Pour pasta and sauce mixture into a 9×13 baking dish. Sprinkle with remaining Parmesan cheese.
To freeze:
Allow to cool. Cover and label, then place in freezer. (You may want to use a disposable aluminum pan for the freezer.)

When ready to use, remove from freezer the night before and allow to thaw overnight in the refrigerator.
To bake:
Bake at 350 degrees Fahrenheit for 20-25 minutes, until top begins to brown slightly and sauce is bubbly. Remove from oven, garnish with parsley (if desired) and serve.
NOTES
I like to use grilled chicken in this recipe when possible, as it adds a subtle extra layer of flavor.
AND, if you don't mind garlic, up your minced garlic to 1 1/2 tablespoons and add 1 teaspoon garlic salt – delicioso!!
Recipe updated September 29, 2019, with addition of flour. The flour, while not traditional to an alfredo sauce, has been added to help the sauce freeze and reheat without separating. If making this dish to eat immediately, you may omit the flour.
NUTRITION
Serving:
1
g
|
Calories:
849
kcal
|
Carbohydrates:
29
g
|
Protein:
35
g
|
Fat:
66
g
|
Saturated Fat:
41
g
|
Polyunsaturated Fat:
21
g
|
Trans Fat:
2
g
|
Cholesterol:
234
mg
|
Sodium:
760
mg
|
Fiber:
1
g
|
Sugar:
5
g
Did You Make This Recipe?
Please leave a comment on the blog or share a photo on Facebook @MakeAheadMealMom!