Freezer Staples: Grilled Chicken
Freezer cooking doesn't always have to be full meals – you can still save time and money by keeping meal-building staples in the freezer!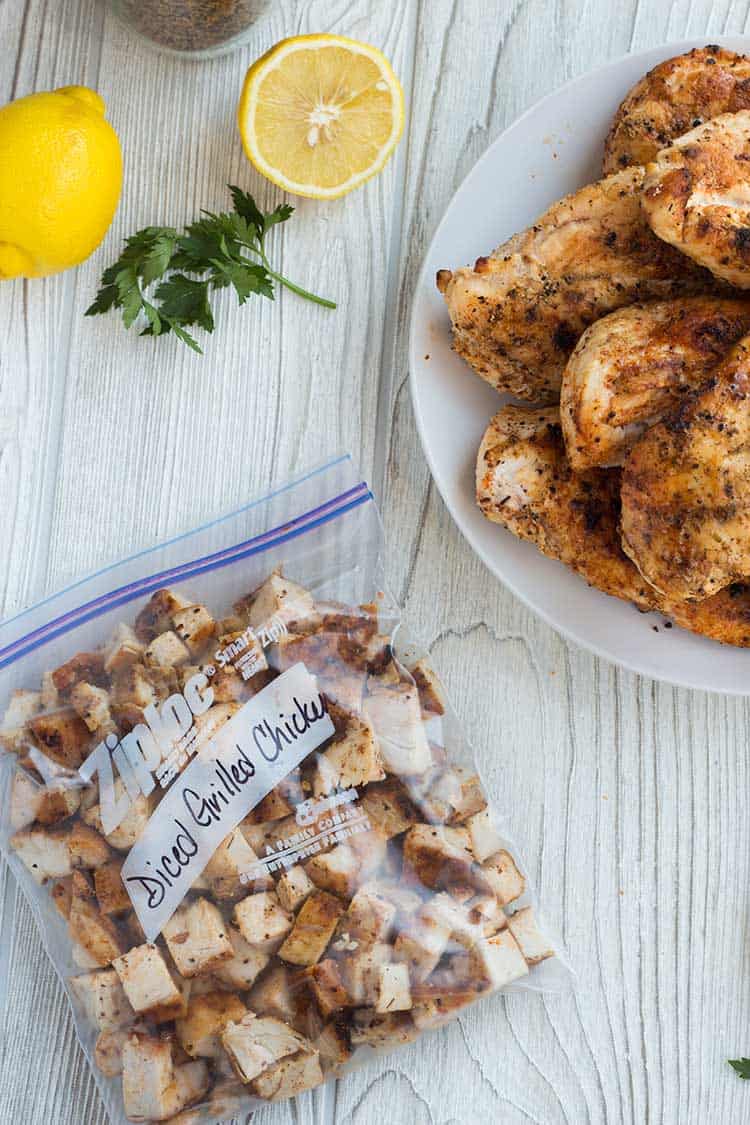 Freezer Staples: Grilled Chicken
Up until this week, we've been having a bit of a heat wave where I live. Which is sort of normal, in a strange way, because we have weird weather around here. Like 90 degrees one day and 50 the next. Or having the sun shine while it is snowing outside.
Which means that we've had a bit of extra time to enjoy summer weather. And that also means extra time for outdoor grilling!
There is just something about grilling chicken that adds a little extra kick to its flavor. I just don't get that same deep rich flavor when I cook it using other methods.
And since I'm on a pretty strict low-carb diet right now, I've been eating a LOT of fish and poultry. And I love to eat it grilled, especially because I can't really put a lot of sauces on my proteins.
But winter and cold weather will be here before you know it. Our forecast has 50s for the rest of the week now. So my grilling season is just about over. And while I could send my husband out in the dead of winter to grill me some food for dinner, I'm fairly certain we wouldn't like that idea too much. He would do it. But he wouldn't like it. So I try to make do with other cooking methods for the winter months.
However, one thing I do like to do before the last of the warm grilling weather is over, is stock up on grilled chicken and keep it in my freezer for fast, easy (and extra flavorful) meals later on!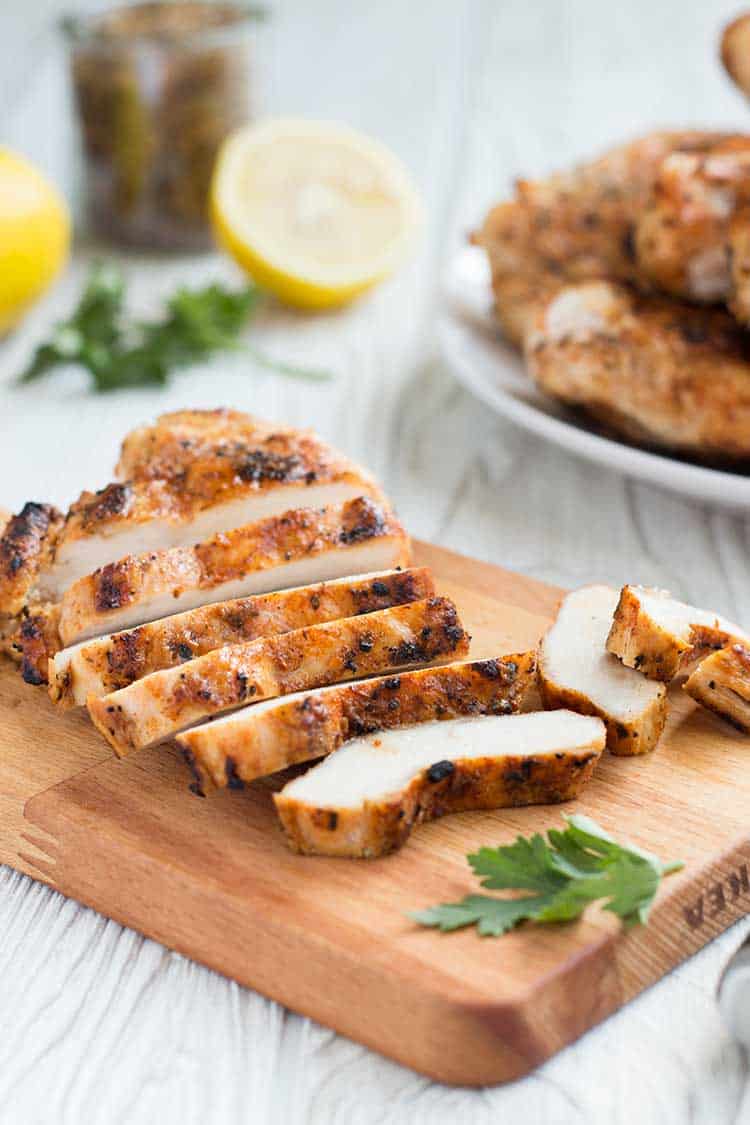 I buy lots of boneless skinless chicken breasts when they go on sale. I generally season them with some McCormick Montreal Steak Seasoning or some of the Weber Grill Creations seasoning varieties (the no-salt is my favorite), add a little lemon juice, and then grill up a big ol' batch all at once!
After they are done, I let them cool, then slice and/or dice them up, and put them in freezer bags. Then just label, date and into the freezer they go!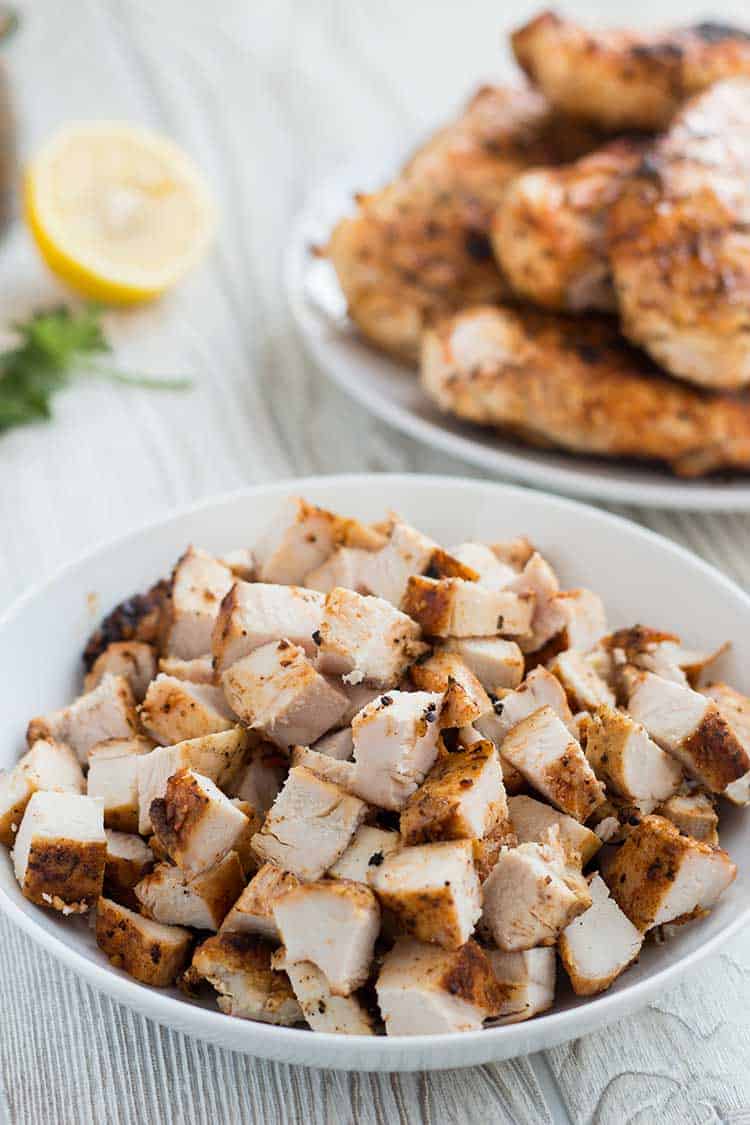 I do a few bags that are sliced, to be used in meals like fajitas or sandwiches. But I mostly do diced, because I can toss diced chicken into so many meals. Our favorite lately has been using the diced grilled chicken in Chicken Alfredo Bake – it takes the meal to a whole new level of deliciousness!!
I love to add the diced grilled chicken to salads! I also use it in meals like Bruschetta Chicken Bake or Easy Chicken Parmesan (both are freezer meals). There really are a lot of options out there!
You can also shred your grilled chicken if you prefer. Shredded chicken works great for tacos or enchiladas, or use it in Chicken Bacon Ranch Taquitos.
Having pre-cooked ready-to-go chicken is a great time-saver when evenings are busy! I find that in most of my meals, it is cooking the protein that takes the longest time, so if I can have that done and out of the way already, I can easily whip up a bunch of meal options in 10-15 minutes no problem.
It's also a money-saver, because you can buy the chicken on sale, and then use it later while still taking advantage of having bought it on sale earlier. (I hate buying stuff at full price. Hate it.)
Freezer cooking does not have to be full meals – it can be as simple as using your freezer to keep some staple ingredients on hand for fast meals later on. And having some pre-cooked chicken is a great way to start!!