Chicken Bacon Ranch Taquitos
Chicken and bacon in a creamy, cheese, ranch filling – these Chicken Bacon Ranch Taquitos are ALWAYS a family favorite freezer meal! They are super easy to make and will help you get dinner on the table in no time! Bake straight from frozen and then are on the table in 20 minutes!!!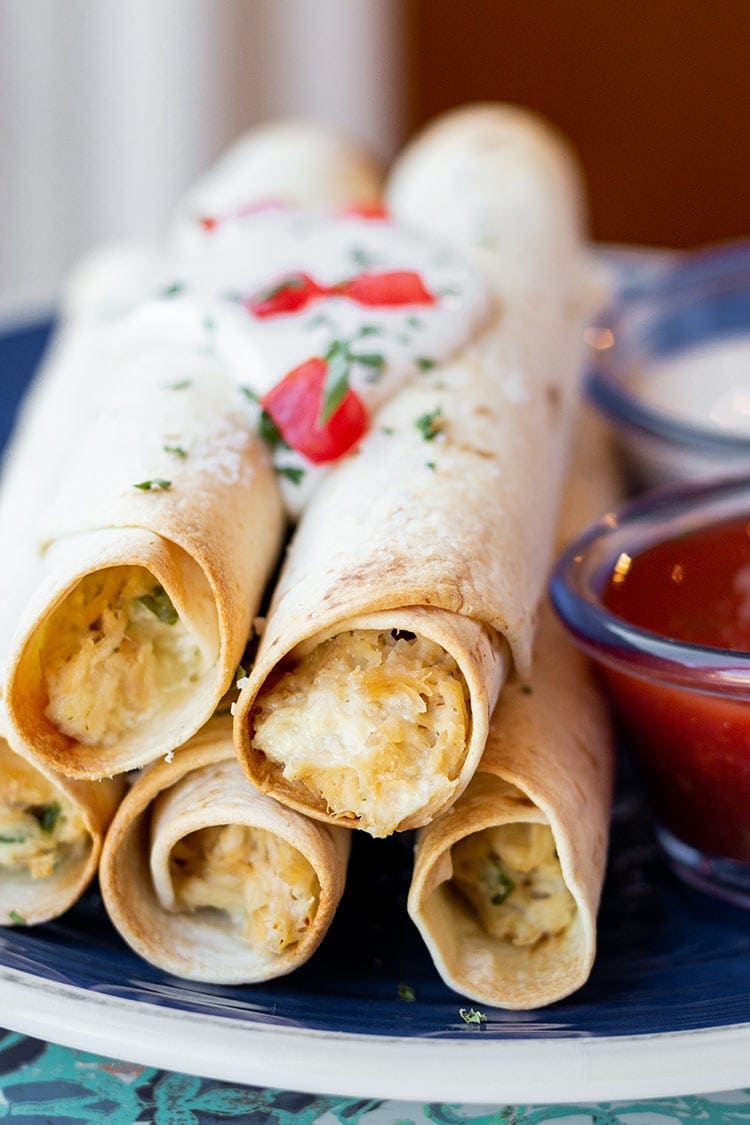 Chicken Bacon Ranch Taquitos
This recipe for Chicken Bacon Ranch Taquitos was shared with me awhile back, and it has fast become one of our favorite make-ahead freezer meals.
It is quick to pull these together, and you can make as many or as few per meal as needed – great for singles or those with smaller households! The best part is that these cook right from frozen – no thawing necessary!!
The original recipe comes from the very talented ladies at Six Sister's Stuff, and my family will forever be grateful for their delicious offering to the taquito-loving world!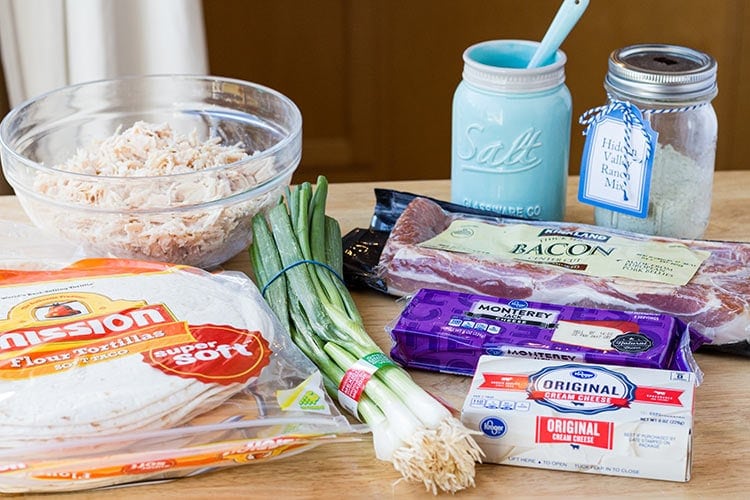 Ingredients
To save time, I use my canned chicken, but you can use a rotisserie chicken from the grocery store or just pre-cook some chicken and shred it.
You'll also need to cook your bacon (or I sometimes just use pre-cooked bacon from the store when I'm running short on time).
I use a homemade ranch dressing mix in this, because I never seem to be able to keep enough store-bought packets around and I'm always out when I most need one.
So I just keep the homemade stuff around now, and if I run out, I can always make more in a pinch! Plus, I like my homemade stuff better. 😉
Don't forget to pull your cream cheese out of the refrigerator beforehand so it can soften to room temperature.
If you forget (which I often do), you can soften it by putting it in your microwave (unwrapped, of course) on low power for a few seconds at a time until you get it soft enough.
Making the Filling
Start by placing your softened cream cheese in a large bowl. Stir it until it is smooth and all of the lumps are gone. (It's a lot easier to stir at this stage than once you have all the other ingredients added and then find that you still have large lumps of cream cheese. Because that has NEVER happened to me…)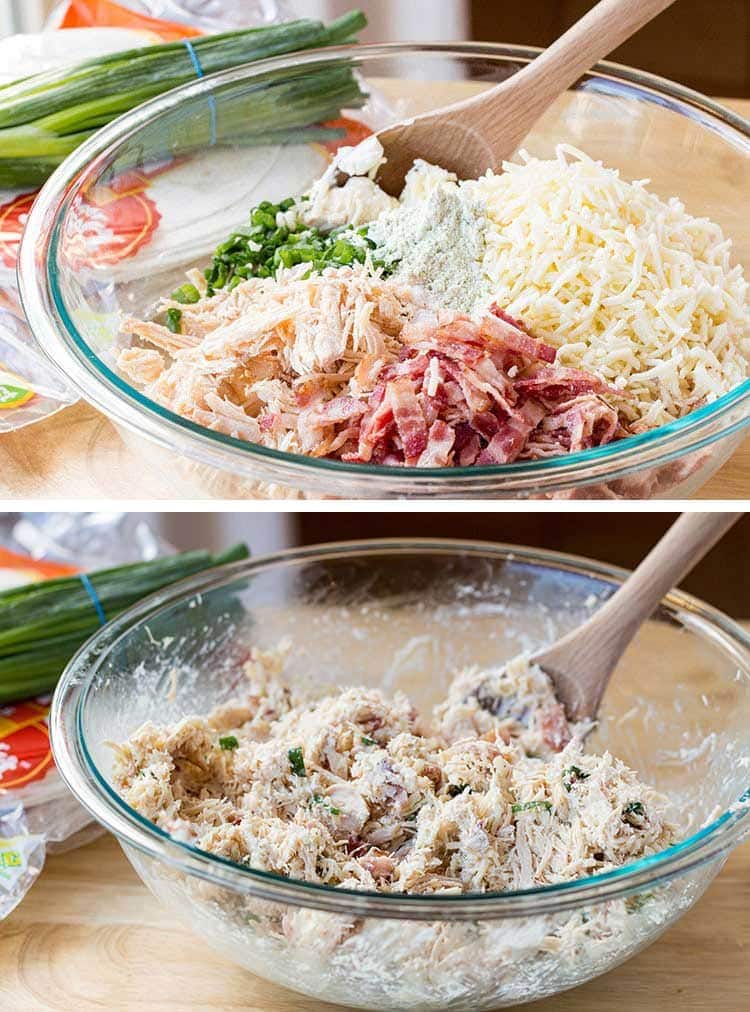 Add in the remaining filling ingredients, and stir to combine. Test for taste, and adjust as needed. My family likes a pretty strong ranch flavor, so I often end up adding more ranch dressing mix. If I'm really feeling wild, sometimes I'll even throw in a few grinds of fresh black pepper! 🙂
Make sure all of your cheese in incorporated into the mixture, and that there are no pockets of cream cheese left on the bottom of the bowl. You don't want to waste any of that creamy goodness!
Assembling
Next, lay out a tortilla and place about 2-3 tablespoons of the filling mixture onto the tortilla in a narrow line about and inch or two from the end. The mixture is pretty sticky, so you may end up sort-of forming it into a line with your hands.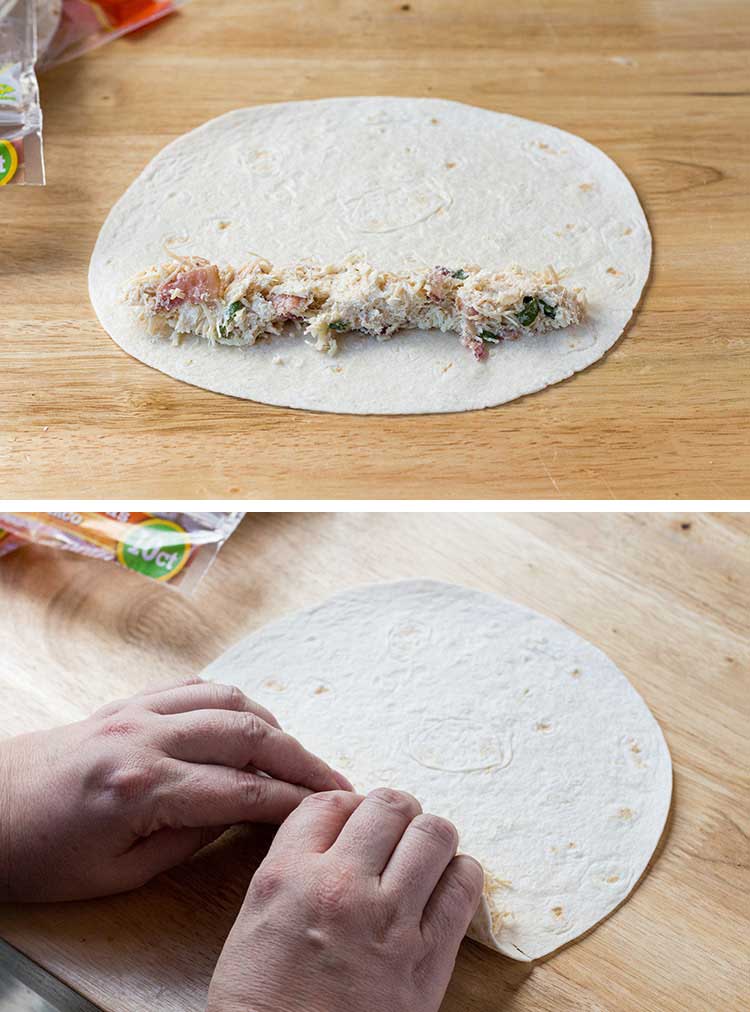 Lift the edge of the tortilla closest to the filling, and gently drape it over the filling. Carefully roll up your tortilla, trying to keep it as tight as possible. Eng by placing the rolled tortilla seam side down on your work surface. Now, on to the next one!
Freezing Your Taquitos
Once you've got all of your tortillas rolled, grab a gallon-size freezer bag and label it with the pertinent information. Don't forget to put the reheating instructions on there!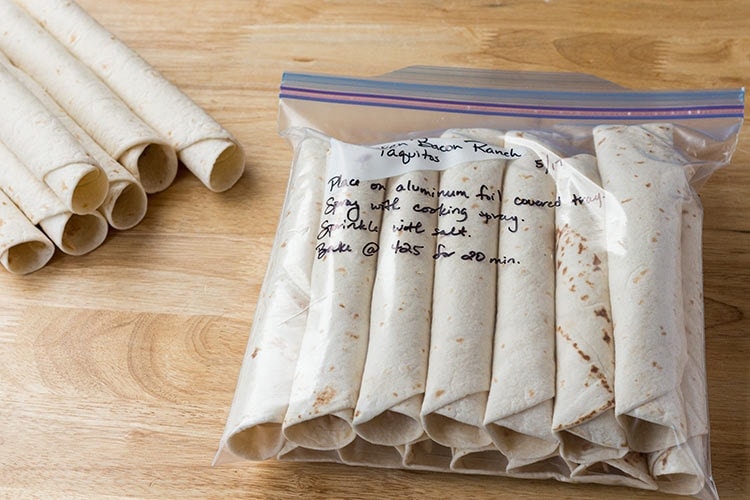 I can usually get about 13 taquitos per bag, but you can do fewer if you want to have smaller portions. (Or even put 4-6 in a quart-size freezer bag instead of the gallon size.)
Then tuck these creamy little bundles of joy in for a long nap in the freezer!
Baking the Taquitos
When you're ready to eat:
Place your desire amount of taquitos onto a baking sheet lined with aluminum foil. Spray the taquitos with cooking spray, and then sprinkle lightly with salt. Do not skip this step – it makes a world of difference!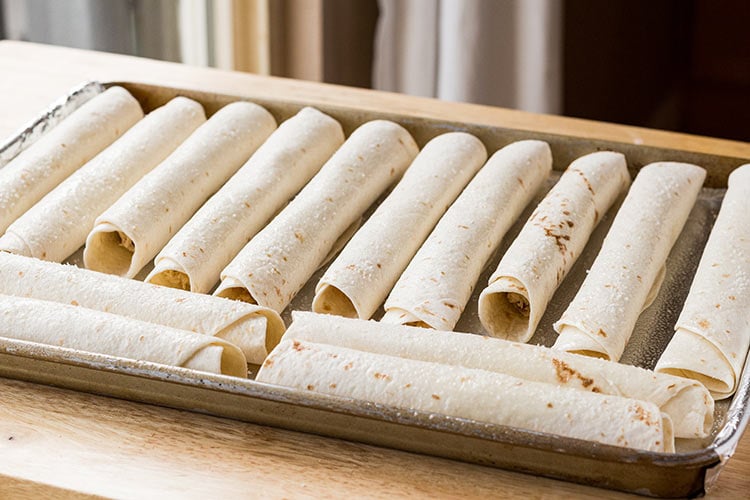 Bake at 425F for about 20 minutes, or until lightly golden on the top. Serve with your favorite choice of toppings and/or sauces for dipping! My family loves to have them plain and dip them in salsa or ranch, or even salsa ranch!!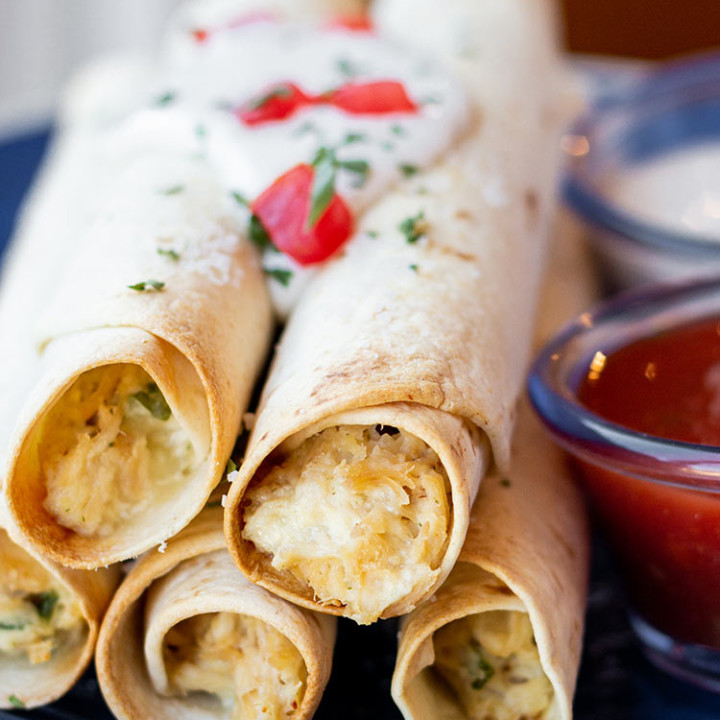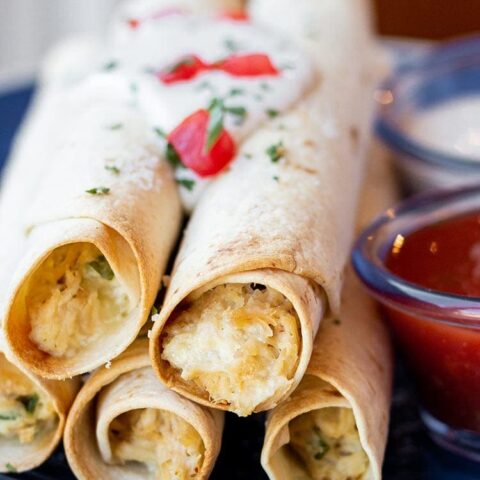 Chicken Bacon Ranch Taquitos
These Chicken Bacon Ranch Taquitos sport a creamy, cheesy chicken and bacon filling all wrapped inside crispy taquitos! Easy to make and easy to freeze!!
Print
Save
Saved!
INGREDIENTS
8

oz

cream cheese

12

slices

bacon

, cooked and crumbled

4

cups

chicken

, cooked and shredded

1

packet dry ranch dressing mix

or 3 Tbsp homemade mix

2

cups

Monterey Jack cheese

, shredded

3

tablespoons

green onion

, chopped

20 6-

in

flour tortillas

, soft taco size

non-stick cooking spray

salt
INSTRUCTIONS
Place softened cream cheese into large bowl and stir until smooth (to remove any lumps).

Add in chicken, bacon, cheese, onions and ranch dressing mix. Stir to combine. Taste, and add salt or more ranch dressing mix if needed.

Place 2-3 tablespoons of filling mix onto a tortilla, in a thin line near one edge. Wrap the edge of the tortilla over the filling mixture and roll tightly, ending seam-side down. Repeat with remaining tortillas.

Label a gallon-size freezer bag and place rolled taquitos gently in bag. Freeze until needed.
To reheat:
Place frozen taquitos onto a foil-lined baking sheet. Spray with non-stick cooking spray, and sprinkle lightly with salt.

Bake at 425 degrees Fahrenheit for 20-25 minutes or until lightly golden brown.

Serve with your choice of toppings (shredded lettuce, sour cream, chopped tomatoes, etc.) and/or dipping sauces (salsa, ranch dressing, etc.).
NUTRITION
Serving:
2
g
|
Calories:
348
kcal
|
Carbohydrates:
30
g
|
Protein:
17
g
|
Fat:
17
g
|
Saturated Fat:
7
g
|
Polyunsaturated Fat:
9
g
|
Cholesterol:
55
mg
|
Sodium:
642
mg
|
Fiber:
2
g
|
Sugar:
1
g
Did You Make This Recipe?
Please leave a comment on the blog or share a photo on Facebook @MakeAheadMealMom!