Best Ever Make-Ahead Cornbread Mix
When I was little and living in Los Angeles (yes, I'm a SoCal girl), my parents used to love going to a local restaurant called Marie Calendar's. And it seemed like every time we went there, we always ordered the same thing – Chicken Pot Pies! It was pretty-much a family tradition. And with those…
When I was little and living in Los Angeles (yes, I'm a SoCal girl), my parents used to love going to a local restaurant called Marie Calendar's. And it seemed like every time we went there, we always ordered the same thing – Chicken Pot Pies! It was pretty-much a family tradition. And with those pot pies, came a side of the biggest, sweetest, most delicious cornbread you have ever eaten IN YOUR LIFE! I kid you not, it was beyond delicious! And did I mention that the piece of cornbread was like 4 inches tall?? My mouth is watering just thinking about it 30+ years later…
Now, I'm a military brat, and so, as the story goes, we didn't stay in LA for very long, and soon we found ourselves on the other side of the country. There was not a single Marie Calendar's in that state. Or maybe was there, and it was just that by that time there were five kids and my parents were a bit reluctant to take us out to restaurants. Ha!
The years passed, I grew up and the memories of that cornbread faded, as most memories tend to do.
And then, in a rather unexpected turn of events, I found myself in grad school back in California. And back in the land of Marie Calendar's restaurants!
To the rest of the world, Marie Calendar's is famous for their pies, and with good reason. They are huge, and they are delicious!! They are the things that pie dreams are made of. In fact, I'm pretty sure most pie dreams dream themselves of being Marie Calendar's pies.
But in my world, Marie Calendar's is famous for cornbread. I was reacquainted with the cornbread of the gods, while I was in grad school, but the romance was short-lived when grad school ended and I moved out of state – again.
But this time, I vowed that I would find a way to recreate that golden crumbly goodness. I spent years trying recipes, to no avail. And when I saw that Marie Calendar's was marketing a cornbread mix commercially in stores, I bought up all I could. However, it just wasn't quite the same. Don't get me wrong – it was good. But it wasn't what I remembered.
Then, one day, out of nowhere, I was reading a blog – a LONG time ago, back when blogs were just starting out and were nothing fancy – and I came across a recipe for "prize-winning cornbread". And on a whim, I tried it out. And wonder of all wonders, when that pan came out of the oven, the heavens parted, the golden beam of cornbread approval shone done and the world stood still. I had found IT…the one and true cornbread. The one cornbread to rule them all… (And yes, to this day, anyone who tries to snag my piece of cornbread, or heaven forbid, eats the last piece from the pan, with see me go full-on Gollum…it's not a pretty sight, so don't say you haven't been warned…) Anywho…
This is THAT cornbread recipe. It is light, it is fluffy, it is sweet (but not too sweet), and it has the most divine texture. Not too dry, not too wet (see how I avoided the dreaded "m" word there?).
I wish I could give credit to the angel who came up with this recipe. But I wrote the recipe down long ago on just a piece of paper, and for the life of me cannot remember exactly where I found it. I've even searched Google with the ingredients and haven't found a match. It is out there somewhere, I'm sure. But I apologize profusely to the original author who will go uncredited at this time…
Now, on to the nitty gritty. There are TWO ways to make this cornbread mix. One is straight from the original recipe, and requires a few wet ingredients (but nothing that you probably don't already have on-hand). The second version has been modified to require only water – the wet ingredients have been subbed with dry counterparts. Before you turn your nose at that last one, just give me a chance to explain.
Let's start with the first one.
Here are your players. I'm going to present the full cast, although for making the make-ahead mix, we only need the dry goods.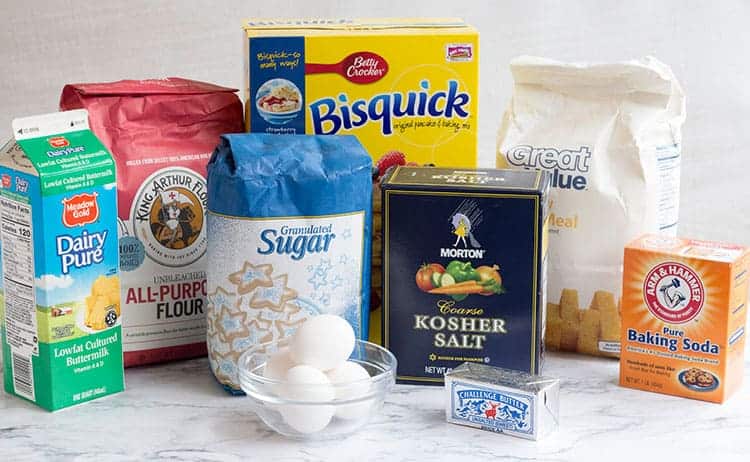 To make your mix, measure out your dry ingredients and place them in a quart-size zip top bag. That's it. I know it's nothing fancy. But really, the purpose here is to not have to pull out all 6 dry ingredients EVERY time you want to make cornbread. I usually do about 4-6 bags of the mix at a time. They don't last long around our place… This way, everything is pre-measured and ready to go. You just dump your dry ingredients into a bowl, and pick up in your recipe with the addition of the wet ingredients.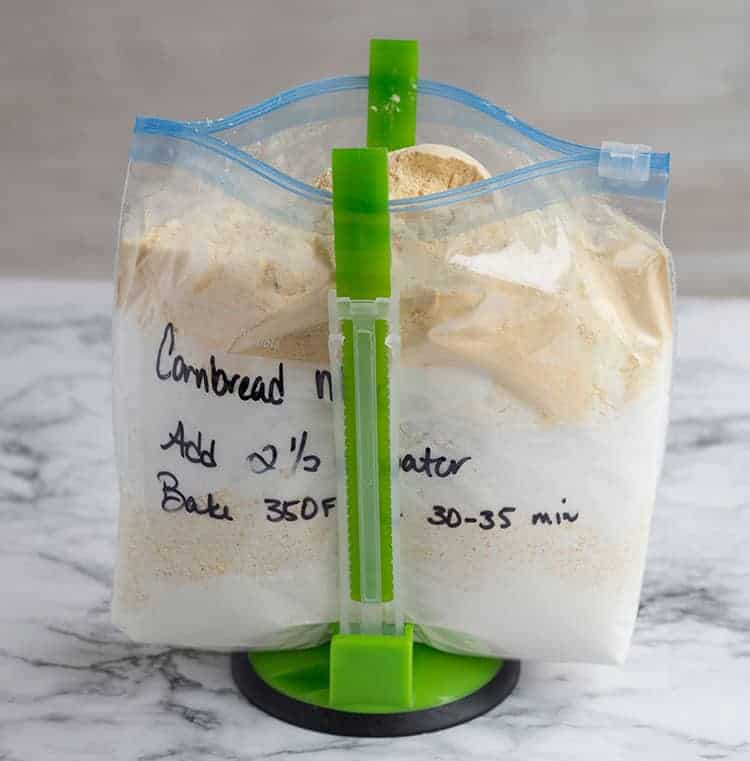 I use these baggie clips to hold my bags open while I'm adding ingredients. They are adjustable and will hold from quart-size to gallon-size. They are the cat's meow, and I highly recommend them. (You can find them on Amazon HERE – affiliate link). But you can also stick your baggie into a large cup or jar and turn the top over the rim to help hold it up.
Once you have your six dry ingredients in, squeeze out as much air from the bag as you can, label, and place in a cool, dry pantry or cupboard. These will last for quite awhile, most likely up to 6 months or so. However, they never stick around our house long enough to test that theory.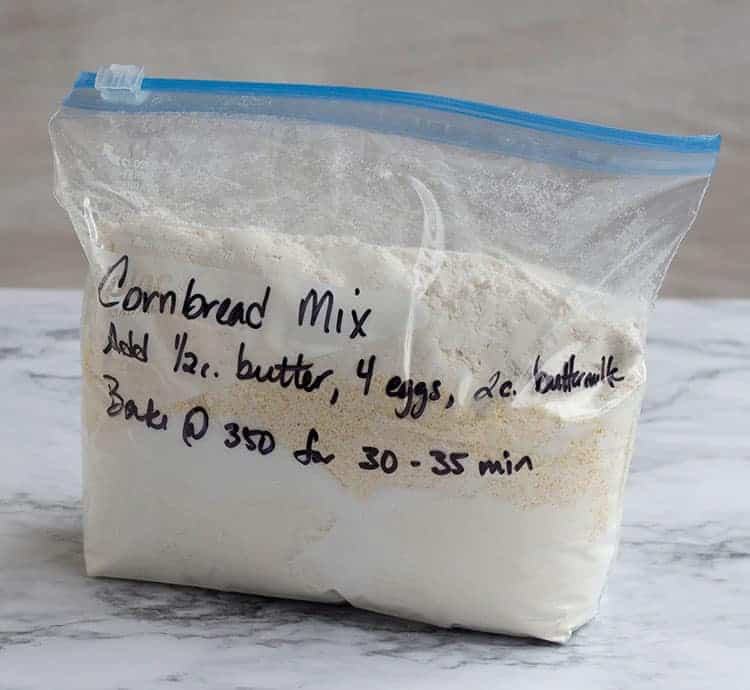 Here's one fully done, with the instructions on front.
Now, to make this glorious stuff…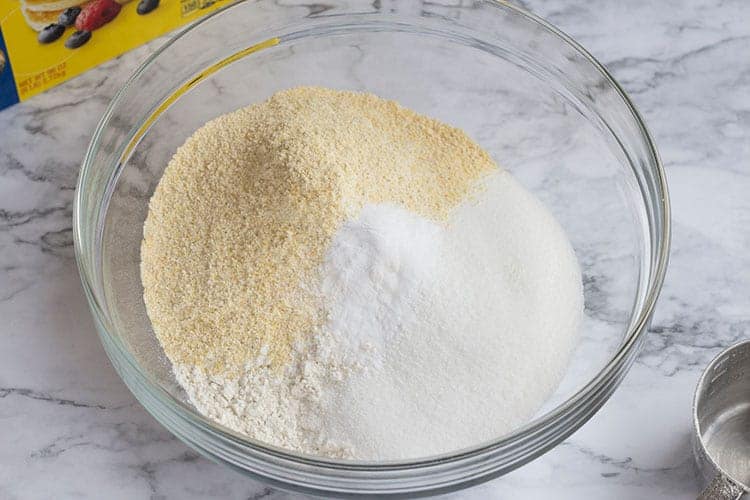 Add your mix to a large bowl. Add in your softened butter, and cut in with a pastry cutter. Or your fingers, or a fork. Or I've even been known to toss it all into my stand mixer and let the wisk attachment cut in the butter for me. It totally works, kid you not!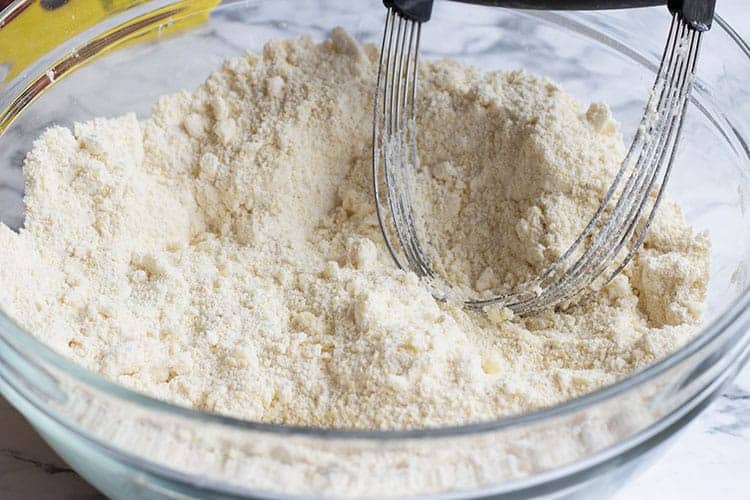 You're going for pea-sized clumps. They don't have to be perfect. Just get it as mixed as you can.
Add in your beaten eggs and your buttermilk (see note in recipe for buttermilk substitutions). Mix just until combined. It will be kinda lumpy. That's okay.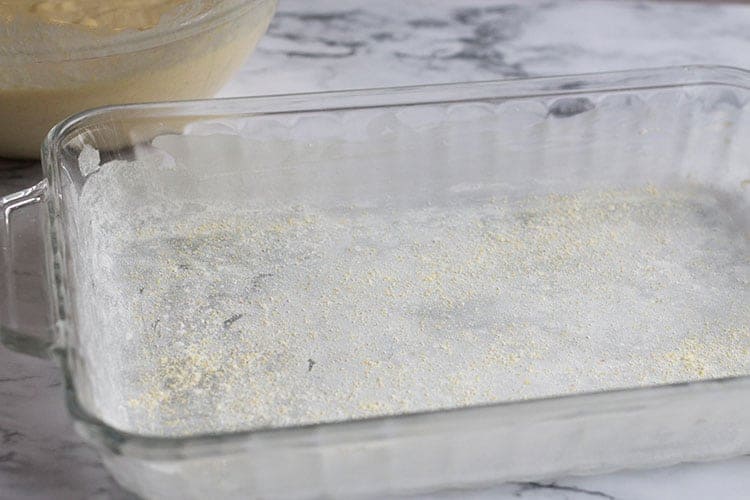 Grease and flour a 9×13 pan or dish, and then dust it with a little extra cornmeal. Or skip that last part if you're not in the mood to pull the corn meal out (because that was the whole point of using the mix, right???). I get it. We won't judge.
Bake at 350 degrees for 30-35 minutes, until the center is set and a toothpick or knife can be inserted into the center and come out clean.
This stuff is best eaten warm, with melted honey butter on top (divine!!!). But I have been known to eat the leftovers, cold, for breakfast the next morning, no butter – and it is still delicious that way, too.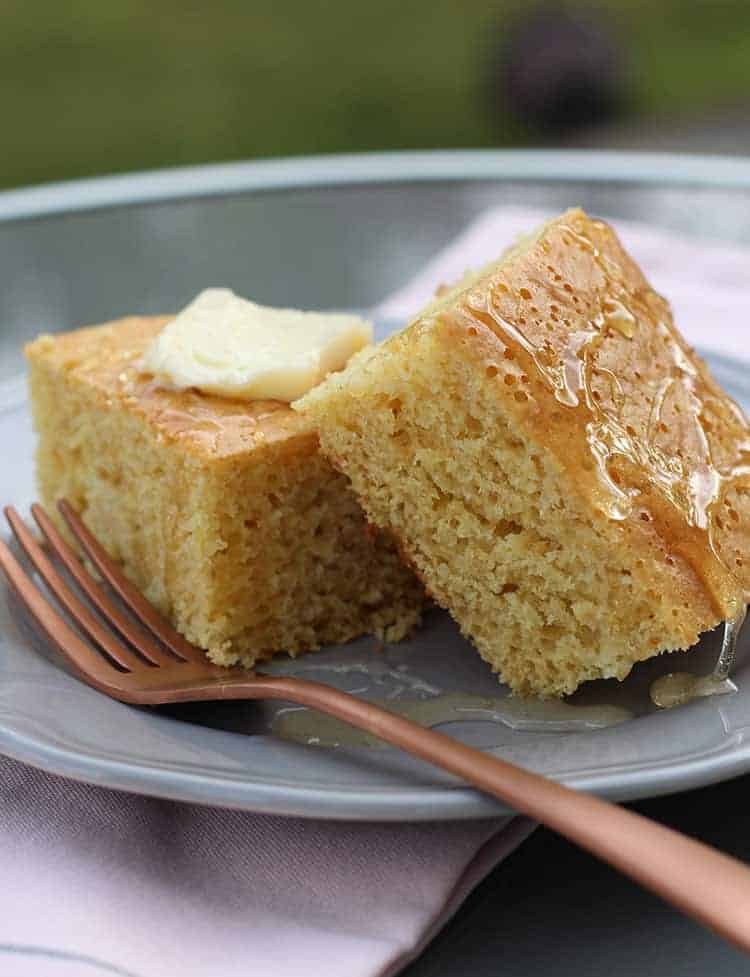 The recipe for this version is below. HOWEVER, if you'd like to try the "Just add water" version, (kinda like a "choose your own adventure" book, right?), then let's jump over to the next post, Make-Ahead Best-Ever Cornbread Mix (the "Just Add Water" version)…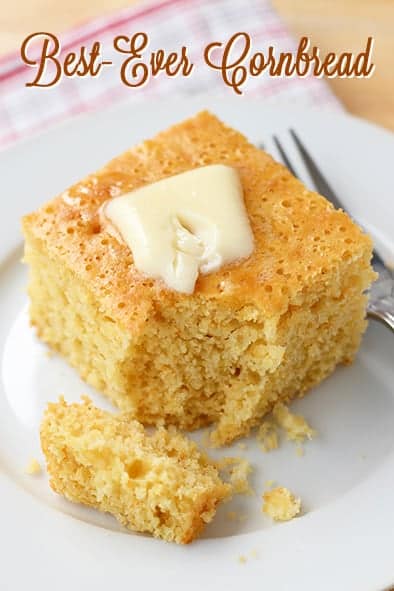 Best-Ever Cornbread (with make-ahead mix)
It's light, it's fluffy, it more like a cake than a bread, but not too sweet that it overpowers a meal. I hope you will love it as much as I do! To save time, make up several ziptop bags of the dry ingredients portion of the recipe. Then, when you want to make cornbread, pull out a pre-measured mix, and proceed with your wet ingredients.
Print
Save
Saved!
INGREDIENTS
1

cup

Bisquick

1

cup

all-purpose flour

1

cup

sugar

1

cup

cornmeal

1

teaspoon

salt

1

teaspoon

baking soda
Wet ingredients needed on day of cooking:
1/2

cup

butter

4

eggs

beaten

2

cups

buttermilk*
INSTRUCTIONS
To make this into a make-ahead mix:
Combine dry ingredients in quart-size zip top bag.  Squeeze out as much air as possible, seal and label.  Store in a cool dry place.
When ready to make:
Empty contents of mix bag into large bowl.  Cut in butter using pastry cutter, fork or fingers.

Add eggs and buttermilk*.  Stir just until combined.  Batter will be slightly lumpy.

Grease and flour a 9x13 pan or dish, then dust with a little bit of cornmeal.  Pour batter into prepared dish.

Bake at 350 Fahrenheit for 30-35 minutes, or until toothpick or knife stuck in center comes out clean.
NOTES
*A note about the buttermilk:  I rarely have buttermilk in my fridge.  I personally use one of two substitutes when making this.  You can use soured milk or yogurt, or a combo of both.  I use 1 cup of plain yogurt, and 1 cup of soured milk.  (Mostly because I rarely have 2 cups of plain yogurt hanging around...) For soured milk, add 1 tablespoon of lemon juice or white vinegar into a measuring cup, then fill to the 1 cup mark with milk.  Stir gently and allow to sit for 5 minutes for the milk to begin to curdle slightly.  If you don't have plain yogurt, just use 2 cups of soured milk (2 tablespoons lemon juice or vinegar, then enough milk to come to the 2 cup mark in your measuring cup).
NUTRITION
Serving:
1
grams
|
Calories:
290
kcal
|
Carbohydrates:
41
g
|
Protein:
6
g
|
Fat:
12
g
|
Saturated Fat:
6
g
|
Polyunsaturated Fat:
5
g
|
Cholesterol:
84
mg
|
Sodium:
575
mg
|
Fiber:
1
g
|
Sugar:
20
g
Did You Make This Recipe?
Please leave a comment on the blog or share a photo on Facebook @MakeAheadMealMom!