Do you love smoked meats?!?  I love the deep, rich, earthy flavor that smoking lends.  I have relatives and neighbors who have turned this science into a delicate art.
Sadly, I, on the other hand, do not have any meat-smoking genes in my body.  I think it has something to do with the patience needed and my lack thereof.  Something about a multi-day cook and smoke time…
So, I freely admit, I fake it.  Yup.  And no, it's nowhere near as good as the real thing.  Not even close.  But its a trade-off, you know?
I hear stories of the deliciousness of Kalua pig from all those lucky souls who have been to Hawaii, where the pigs are smoked for many hours in deep earth pits covered in banana leaves.  I've never been, so I've never tried it.  But I believe them.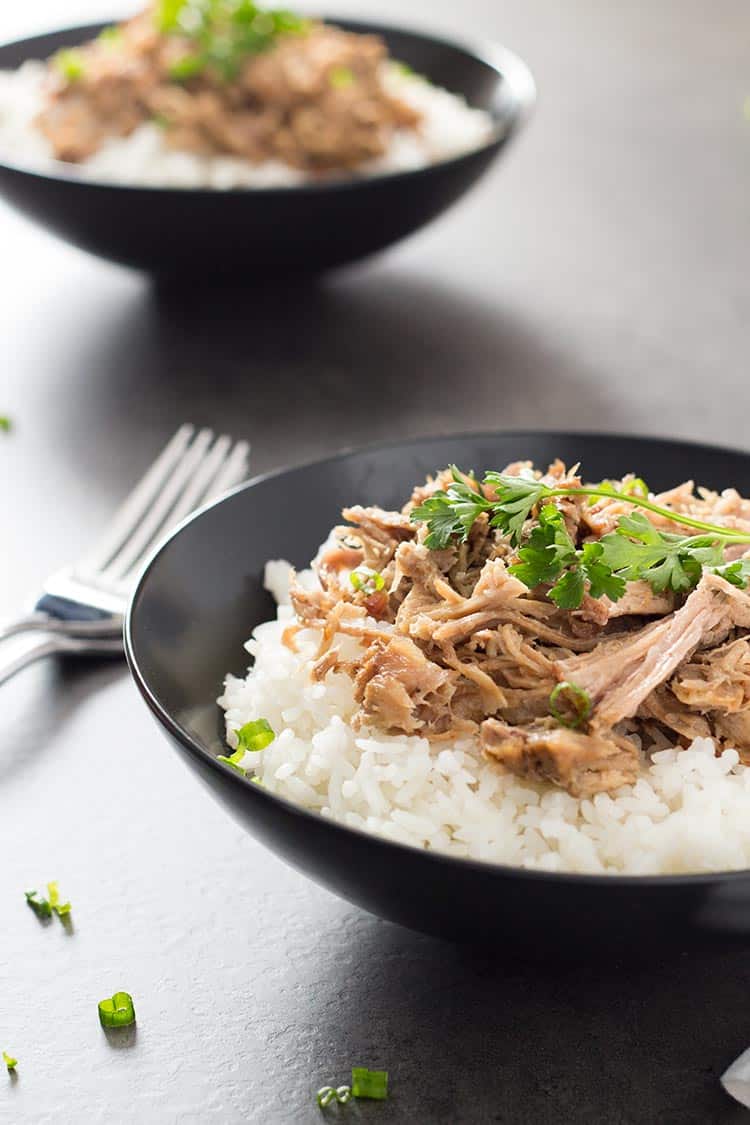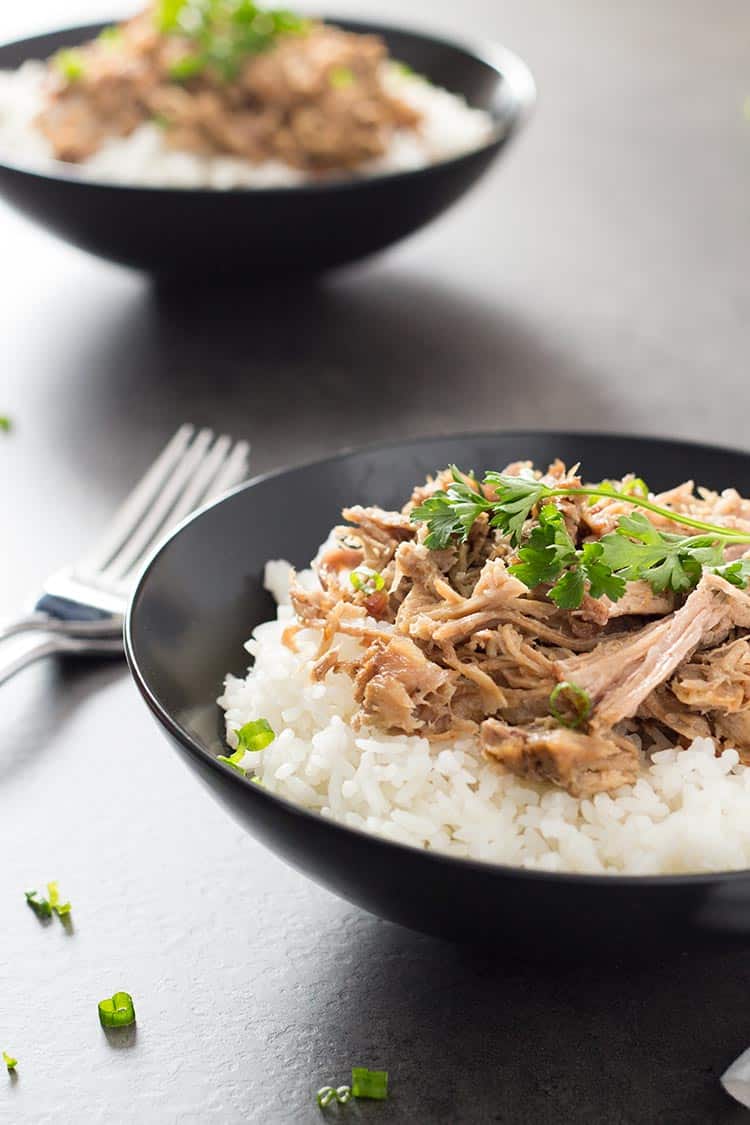 This is a version of a fake Kalua Pig.  But since I know it is nowhere close to the original, I'm not even going to call it that.  So let's go with "Easy Smokey Pulled Pork" shall we?  It's a bit more elevated than your regular ol' straight-up pulled pork.  Not a ton, but just enough to give it a little extra depth of flavor.  But not enough to overwhelm.  And not enough to lock it into one specific flavor category or usage.
It's versatile and can be used in multiple meals.  Like a little black cocktail dress, right?  Supposedly a woman's main closet staple.  (Not that I would know, since I neither own one nor have any occasion to wear one.)  Add the right accessories, dress it up or down – same dress, endless different looks.
Same with this pulled pork – add a few extra spices or ingredients, and you can use it any variety of dishes.  Go Latin American flavors to use in tacos, burritos, salads or nachos.  Pair it with a great barbeque sauce and some amazing coleslaw and you've got some killer pork sandwiches.   Add in some sweet and maybe a little spicy, maybe a nice pineapple chili sauce, and you've got great Asian-Pacific fusion.
This Easy Smokey Pulled Pork is super easy to make in your pressure cooker, but you can do it in your slow cooker too if you'd rather.  Make up a large batch and bag the leftovers for use in future meals.  It is a great "freezer staple" to have on-hand for quick meals or snacks!
A couple notes:
You will need to have the right kind of pork roast.  For this, you want a shoulder roast.  Do NOT get sirloin or loin roast.  It is too lean and will not shred.  You want the shoulder, often referred to as the butt or Boston butt roast.  No substitutions.
You're also going to want some Red Alaea Hawaiian sea salt if you can get your hands on it.  I love this stuff from San Francisco Salt Company, and buy it by the 2lb bag.  While you're there, you might want to also pick up some of the Black Lava Hawaiian salt…it's amazing!  But for this recipe, you just need the Red Alaea.  (I actually keep small jars of both the Red Alaea and the Black Lava on my counter next to my stovetop. I use the stuff on just about everything.)
These are affiliate links to Amazon, but they are not sponsored in any way.  I love the stuff from San Francisco salt company and have bought directly from them several times in the past.  However, most of the time lately I have found the prices to be cheaper through Amazon.
If you don't have easy access to Hawaiia sea salt, you can use kosher salt instead.
For the smokey flavor, you're going to need some Liquid Smoke.  My local store carries two flavors – Mesquite and Hickory.  I vote Hickory, but you can use Mesquite if that's what you've got.
Print Recipe
Easy Smokey Pulled Pork
An easy smokey pulled pork you can make in your pressure cooker or crock pot! It's a great freezer staple and makes for lots of quick and easy meals!

Ingredients
1

5-lb

pork shoulder (butt) roast

5-6

peeled garlic cloves

1

tablespoon

Red Alaea Hawaiian sea salt (fine grain)

(or kosher salt)

1

tablespoon

Liquid Smoke (Hickory if available)

1

cup

water
Instructions
Trim excess fat from pork roast. Using a sharp knife, make 5-6 large slits in the roast, and insert the peeled garlic cloves. Try to distribute evenly throughout roast. Sprinkle

salt

evenly over both sides of roast.

Place roast in bottom of slow cooker or pressure cooker pot. Pour Liquid Smoke over roast. Then carefully add the cup of water around sides of roast.
To Cook In Pressure Cooker:
Cook on High pressure for 90 minutes with natural pressure release.

When pressure has released, remove pork from pressure cooker and shred with two forks.
To Cook in Slow Cooker:
Cook on Low for 12-16 hours until pork is tender.

Remove from slow cooker and shred with two forks.
To Freeze:
Place measured amounts of shredded pork into freezer ziptop bags. Label and date, then freeze. Pull out and thaw to use in quick meals.
Notes
You can use kosher salt if you don't have access to Red Alaea.  Or go really wild and try a smoked gourmet salt.  😉   I prefer the Hickory variety of Liquid Smoke, but any of them will do in a pinch.