Easy Instant Pot Meatloaf Recipe (Gluten-free Freezer Meal)
This Instant Pot Meatloaf recipe is not only quick and delicious, it is also an easy freezer meal to make ahead, and its even easier to cook because you can cook it right from frozen!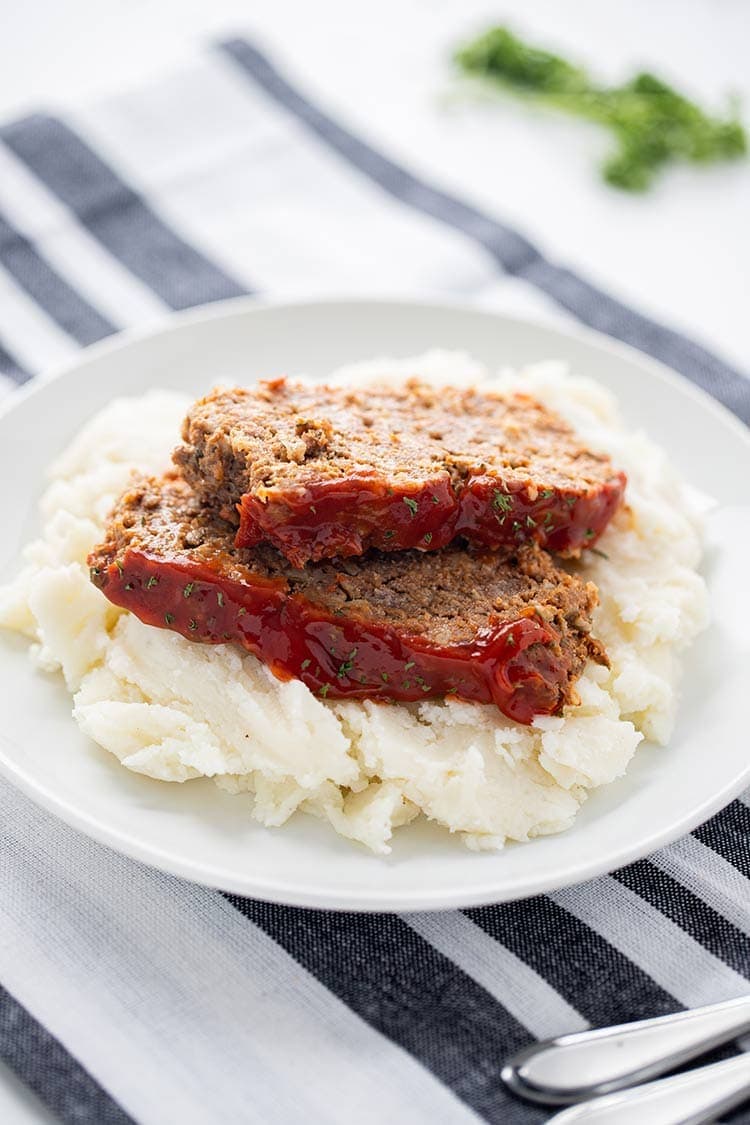 Instant Pot Meatloaf
This easy Instant Pot Meatloaf recipe is a family favorite! With a hint of tangy flavor mixed in, this meatloaf is anything but dull and boring! It is also a great option when stocking up on instant pot freezer meals – not only is it an easy freezer meal to make ahead of time because there is minimal preparation of ingredients, but it is even easier to cook because you can pull it out of the freezer and cook it right from frozen!
We love meatloaf around here, but I honestly never made it very often before I got my Instant Pots. I don't know why, because it really isn't hard to make in the oven. But it's even easier to make in the Instant Pot!
I also love Instant Pot freezer meals – I love their convenience, and I love to be able to put a meal in the pot and then walk away and not babysit it on the stove or in the oven. Bonus points if it is a meal that can straight from the freezer right into my pressure cooker (like my Instant Pot Meatball Soup)! Because I don't always remember to pull my freezer meals out the night before to thaw. Maybe I'm the only one that struggles with that…
So it was only natural that I would need to come up with an easy meatloaf freezer meal for my pressure cooker. Quite frankly, I can't believe it took me this long.
Gluten-Free Meatloaf
I wanted to come up with a gluten-free meatloaf recipe with oats instead of breadcrumbs, because making the meatloaf with oats instead of gluten-free breadcrumbs is cheaper and oats are easier to keep on-hand. Plus, I feel like the oats help the meatloaf hold up a bit better when freezing.
But you can absolutely use gluten-free breadcrumbs if you prefer, in which case you'll want to probably go with 1 1/2 – 2 cups. We just don't keep gluten-free bread around here (it is so expensive), so I wanted an alternative using ingredients I already keep in my pantry.

How to Make Meatloaf in the Instant Pot
Making meatloaf in the Instant Pot or pressure cooker will require you to use a method known as pot-in-pot cooking. It is basically just cooking your entree or meal inside a smaller "pot" that then goes inside your bigger liner pot. This allows you to cook something in your pressure cooker without adding the required minimum cooking liquid for the pressure cooker (needed to create steam that creates the pressure and higher heat) directly into the food you are cooking.
For my 8 quart Instant Pot, I prefer to use an 8″ round aluminum cake pan as my inner "pot", and have found that they are the perfect size for a 2 pound meatloaf (the 2″ high is perfect for 2lbs of meatloaf). But you can also make a "pot" out of aluminum foil and use that as well. Amazon and other retailers sell double-stacking stainless steel pots meant for pot-in-pot cooking. I have found them to be unreliable though.
The stainless steel takes longer to heat up and increases your overall cooking time. (In contrast, aluminum heats up very quickly.) Plus, the stainless steel versions can be quite expensive and often must be ordered online. Whereas aluminum cake pans are cheap and can easily be found in stores like Walmart and Target. You can even find them in craft stores that have wedding cake sections.
A Note for Those With 6 Quart Models
You'll need to go with a 6 inch or 7 inch round cake pan that is 3 inches high, or make your own pot out of aluminum foil. This Fat Daddio 7 inch round aluminum cake pan is a great fit for the 6 quart models. I don't recommend using a glass dish as none of the manufacturers recommend their products for use in pressure cookers due to the risk of cracking or shattering.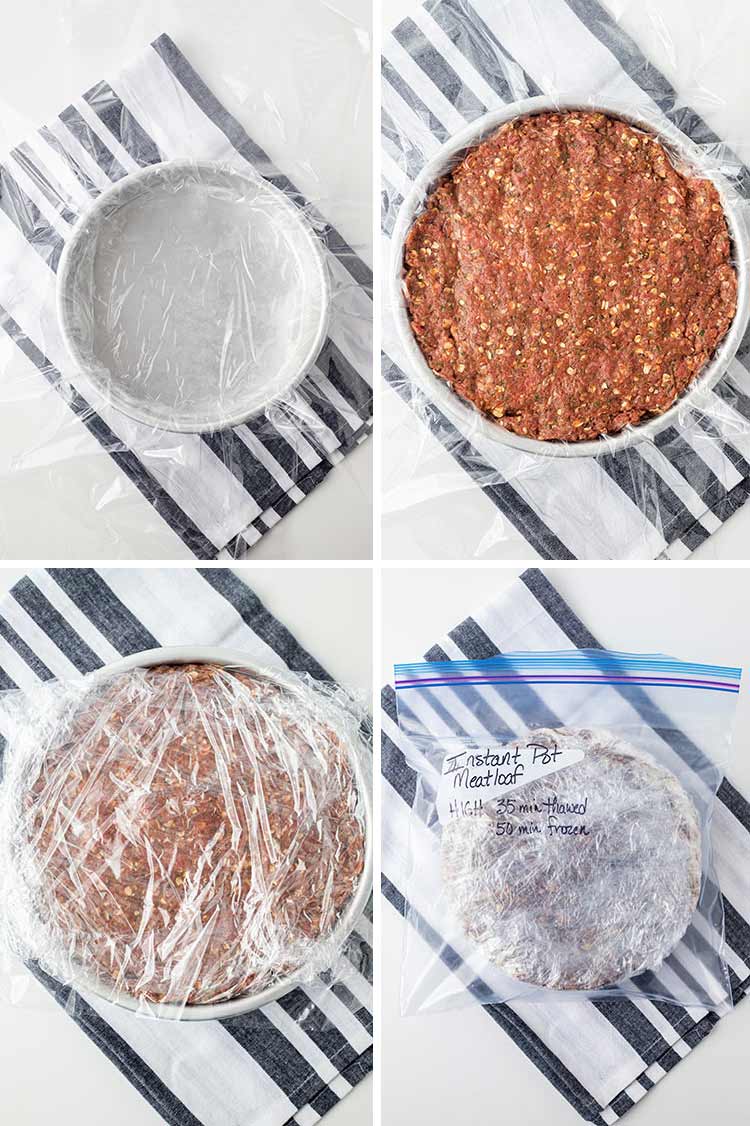 How to Make Meatloaf as a Make-Ahead Freezer Meal
Mix together all of the meatloaf ingredients (except the glaze) in a large bowl. It's best to just dive in with clean hands for this.
Prepare you aluminum cake pan by lining it with two long sheets of plastic wrap that extend about 8-10 inches on either side of the pan itself and are placed perpendicular to each other.
Place your meatloaf mixture into the prepared pan, gently flatten, and then fold up the sides of the plastic wrap to cover the top of the meatloaf.
Place your aluminum pan with the covered meatloaf mixture into your freezer to freeze overnight.
Once frozen solid, you can remove the pan from the freezer, gently remove the frozen wrapped meatloaf from inside the pan, and transfer it to a gallon-size ziptop freezer bag.
Be sure to label and date the outside of your freezer bag and include cooking instructions.
When ready to cook, remove frozen meatloaf from freezer, unwrap, and place back in your aluminum cake pan and proceed with the cooking instructions as written.
Alternatives For Freezing Your Meatloaf or Making From Scratch!
You can also skip the plastic wrap and freeze your meatloaf right in the aluminum pan (which you have sprayed liberally with non-stick cooking spray in advance). I prefer to freeze my meatloaf in the pan, then remove the pan to be used for other things until it is needed to cook the meatloaf.
If you don't have a cake pan or stainless steel pot for this, no fear. You can shape your meatloaf into a round disk shape that is approximately 8 inches in diameter, wrap, and freeze. When ready to cook, unwrap the plastic wrap from the frozen meatloaf. Place the meatloaf on a large piece of aluminum foil that extends several inches wider than the meatloaf. Then, crimp up the sides of the aluminum foil to create a "dish" or "bowl" around the meatloaf.
And of course, you can certainly skip the freezing all together and just make this great meatloaf recipe straight from scratch! In that case, prepare your pan with a light spray of cooking spray (skip the plastic wrap), and proceed right to the cooking instructions!
Make It An All-In-One Meal
This recipe is for the Instant Pot meatloaf only, but you could always cook potatoes or rice in there with it (under the meatloaf) if you wanted to make a super convenient all-in-one meal. Doing so will require you to thaw your meatloaf first, though, as the cooking time for the frozen meatloaf is too long for potatoes or rice.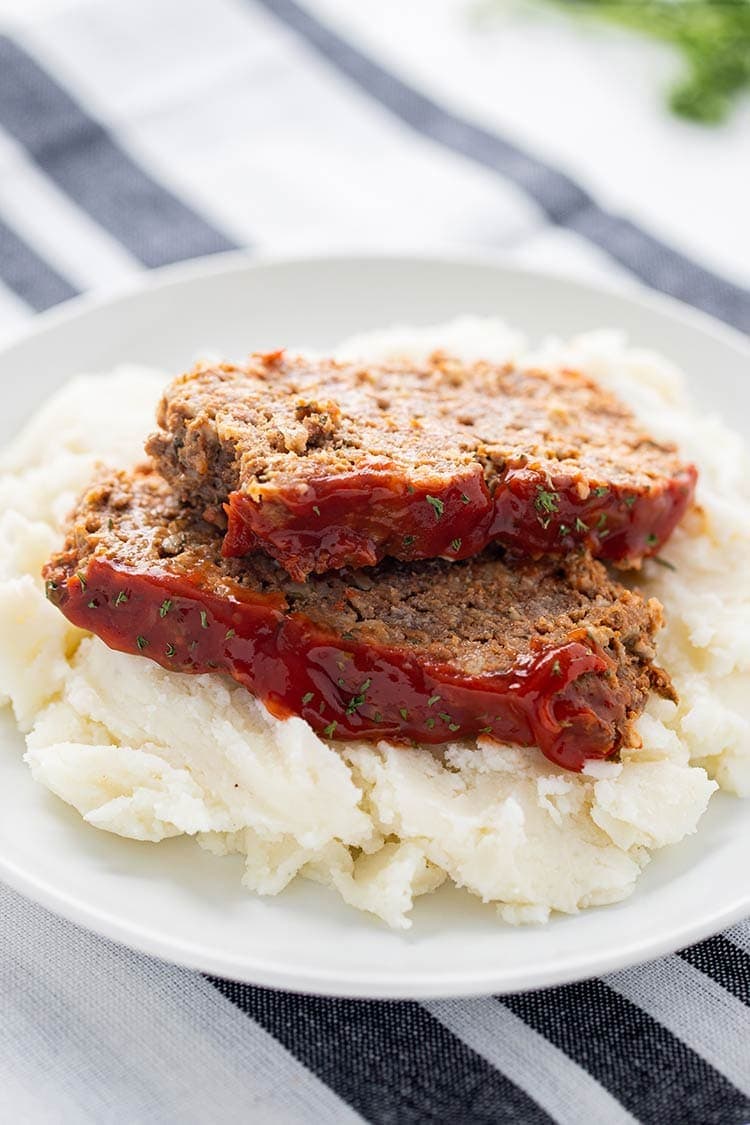 Do you make the meatloaf and freeze it before cooking?
I do. In fact, this is my preferred method. All of the ingredients are freezer friendly.
I prefer to make the meatloaf and freeze it before cooking, then cook from frozen, but you can also freeze the meatloaf after it is cooked, too. This is especially helpful is you wish to make your own individual frozen dinner meals!
Note that the texture of the meatloaf can tend to be a little crumbly if you freeze after cooking. I have not found any texture changes when freezing before cooking though.
Can you cook the meatloaf right from frozen?
Yes, and it's especially easy if you use your Instant Pot. You will need to add additional time if cooking from frozen. I have occasionally had my meatloaf come out a little looser when cooked right from frozen versus cooking from thawed. But taste-wise, both methods have always been delicious!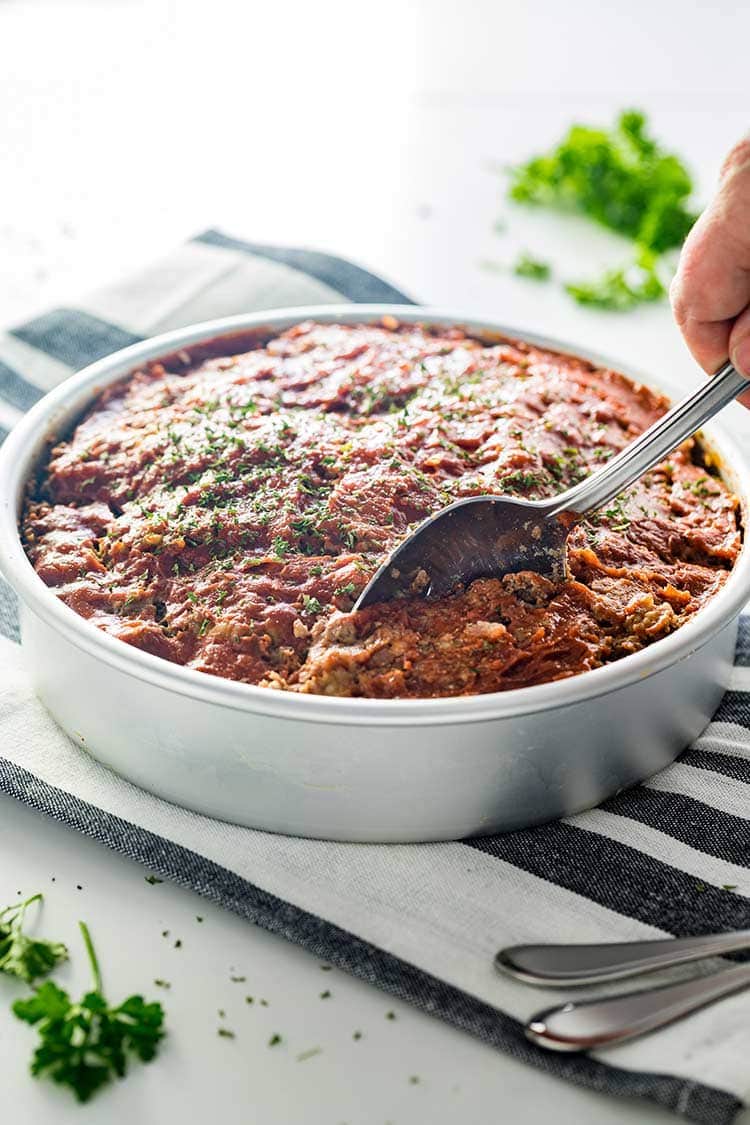 Consider Serving Your Meatloaf With:
And you can find more great gluten-free freezer meals HERE!
Be sure to FOLLOW ME on Facebook, Instagram, and Pinterest, for more freezer meal recipe ideas, and definitely drop me a line or comment below if you give this recipe a try!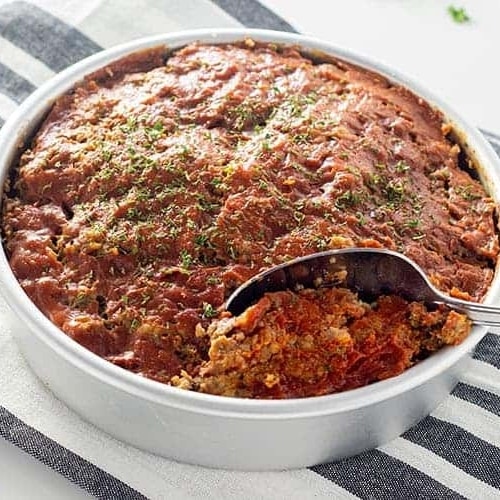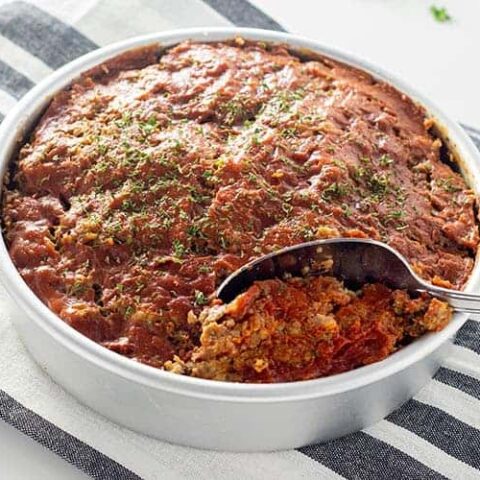 Instant Pot Meatloaf (Gluten-free Freezer Meal)
This Instant Pot Meatloaf recipe is not only quick and delicious, it is also an easy freezer meal to make ahead, and its even easier to cook because you can cook it right from frozen!
Print
Save
Saved!
Pin Recipe
INGREDIENTS
For the meatloaf:
2

pounds

ground beef

use 80% or leaner

1

cup

regular oats

gluten-free

1

cup

ketchup

2

eggs

2

tablespoons

dry minced onions

2

tablespoons

dijon mustard

2

tablespoons

dried parsley

2

tablespoons

Worcestershire sauce

gluten-free

2

teaspoons

dried thyme

2

teaspoons

salt

1

teaspoon

garlic powder

1/2

teaspoon

pepper
For the glaze:
1/4

cup

ketchup

1/2

tablespoon

coconut aminos

1/2

tablespoon

Worcestershire sauce

gluten-free

1

teaspoon

dijon mustard
INSTRUCTIONS
Spray 8 inch round aluminum cake pan (or other pressure-safe pot or pan that will fit inside your model of pressure cooker) with non-stick cooking spray (if cooking immediately) or line with two long pieces of plastic wrap set perpendicularly to each other (if freezing).

Add all ingredients for meatloaf in a large bowl and mix until combined.

Place meatloaf mixture into pan that has been lined with plastic wrap (if freezing) or sprayed lightly with cooking spray (if cooking right now).

To prep as a freezer meal, follow steps below. To cook from fresh, proceed directly to the section labeled "To Cook".
To freeze (skip if making fresh):
Prepare pan by lining with two long strips of plastic wrap placed over the pan and crisscrossing like an "X", leaving plenty of excess plastic wrap to hang over the sides of the pan.

Place prepared meatloaf mixture into plastic-wrap lined pan and pat the mixture level.

Wrap excess plastic wrap over top of meatloaf mixture in pan, folding each end of the plastic wrap up and over in turn, and place pan in freezer overnight.

Once the meatloaf mixture has frozen solid, remove pan from freezer and gently remove the wrapped meatloaf from the pan.

Place wrapped meatloaf into ziptop freezer bag. Be sure to label the freezer bag and include the date and cooking instructions (and glaze ingredients too). Place bag back into freezer.

Prior to cooking, remove frozen meatloaf from freezer, unwrap, and place into pan (the same one you used to freeze it in) that has been sprayed with cooking spray. You can then either thaw overnight in the refrigerator or cook directly from frozen.
To cook:
Add ingredients for glaze to a small bowl and stir until combined.

Spread glaze mixture over top of meatloaf.

Cover meatloaf loosely with aluminum foil.

Place trivet into bottom of Instant Pot, and pour in 1 1/2 cups of water.

Make an aluminum foil sling by taking a piece of aluminum foil about 18 inches long and folding it in half horizontally and then in half horizontally again.

Place the sling under your cake pan, and then lower meatloaf and sling into your Instant Pot. Make sure to move the ends of the sling towards the center of the pot so they don't interfere with the lid.

Place lid on pressure cooker, close, seal vent, and set to cook on HIGH for 35 minutes (from thawed/fresh) or 50 minutes (from frozen).

When time is up, quick release the pressure by opening the vent.

Carefully remove meatloaf using the aluminum sling. Allow to rest for 5-10 minutes before serving.
NOTES
See blog post for alternative options for freezing and for additional pot options.
THIS RECIPE WAS TESTED USING AN INSTANT POT 8 QUART DUO MODEL.
The 8 inch Wilton and Fat Daddio round aluminum cake pans fit perfectly into this model, but may not fit if you have a 6 quart model or a different brand. PLEASE check before purchasing/using.
Also note that you may need to adjust your cook time slightly if you use a narrower pot or pan that makes the meatloaf thicker.
NUTRITION
Serving:
1
g
|
Calories:
415
kcal
|
Carbohydrates:
20
g
|
Protein:
34
g
|
Fat:
22
g
|
Saturated Fat:
8
g
|
Polyunsaturated Fat:
11
g
|
Trans Fat:
1
g
|
Cholesterol:
147
mg
|
Sodium:
1180
mg
|
Fiber:
2
g
|
Sugar:
9
g
Did You Make This Recipe?
Please leave a comment on the blog or share a photo on Facebook @MakeAheadMealMom!