Homemade Ranch Dressing Mix
You'll never run out of ranch dressing mix again when you can make your own at home! This Homemade Ranch Dressing Mix is so easy, and you control the ingredients. No fillers, no chemicals. And it is so much cheaper than the store-bought stuff!!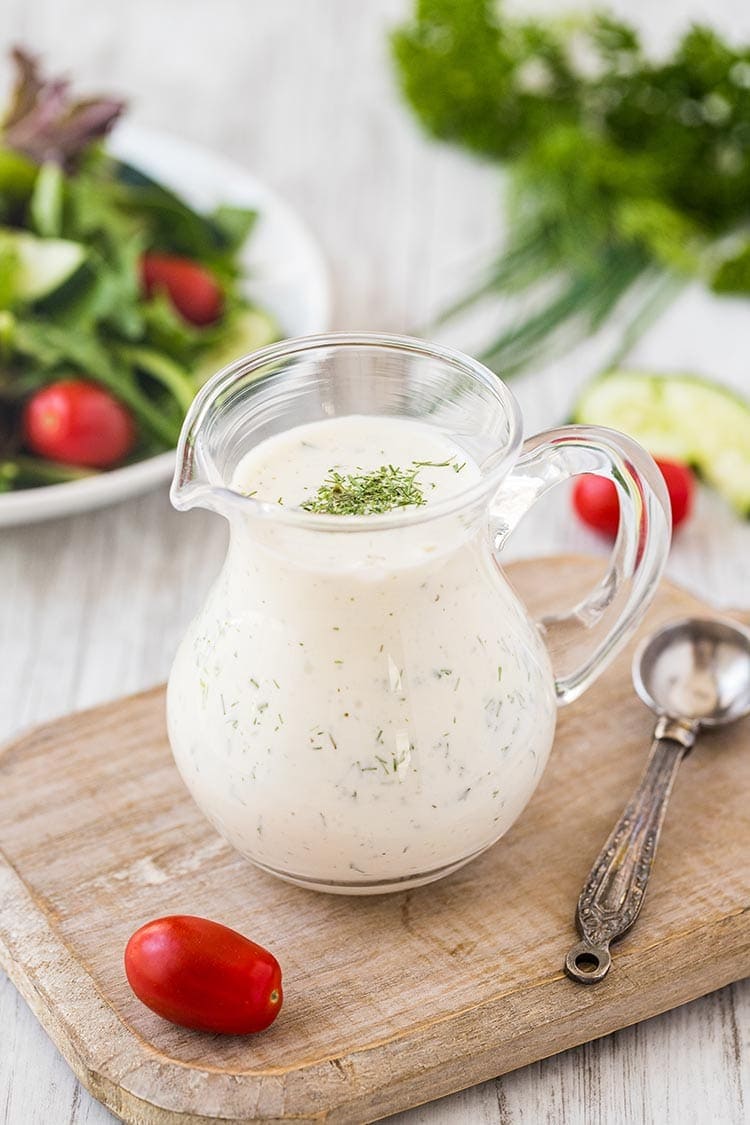 Homemade Ranch Dressing Mix
Did you know that you can make your own homemade ranch dressing mix, using just a few basic ingredients that you probably already have on hand?
And you can make it without added fillers, preservatives, chemicals, or extra sugars?! All for much cheaper than you can find it in the store??
I don't usually make a lot of recipes, especially freezer meal recipes, that call for prepared ranch dressing. But I do seem to make a lot that call for dry ranch dressing mix, the stuff you can buy in the little packets at the store.
I used to be able to find them on sale pretty often, but haven't had much luck with that lately, and I'm too cheap to buy them at full price. So, I got tired of running out, and now I make my own homemade ranch mix!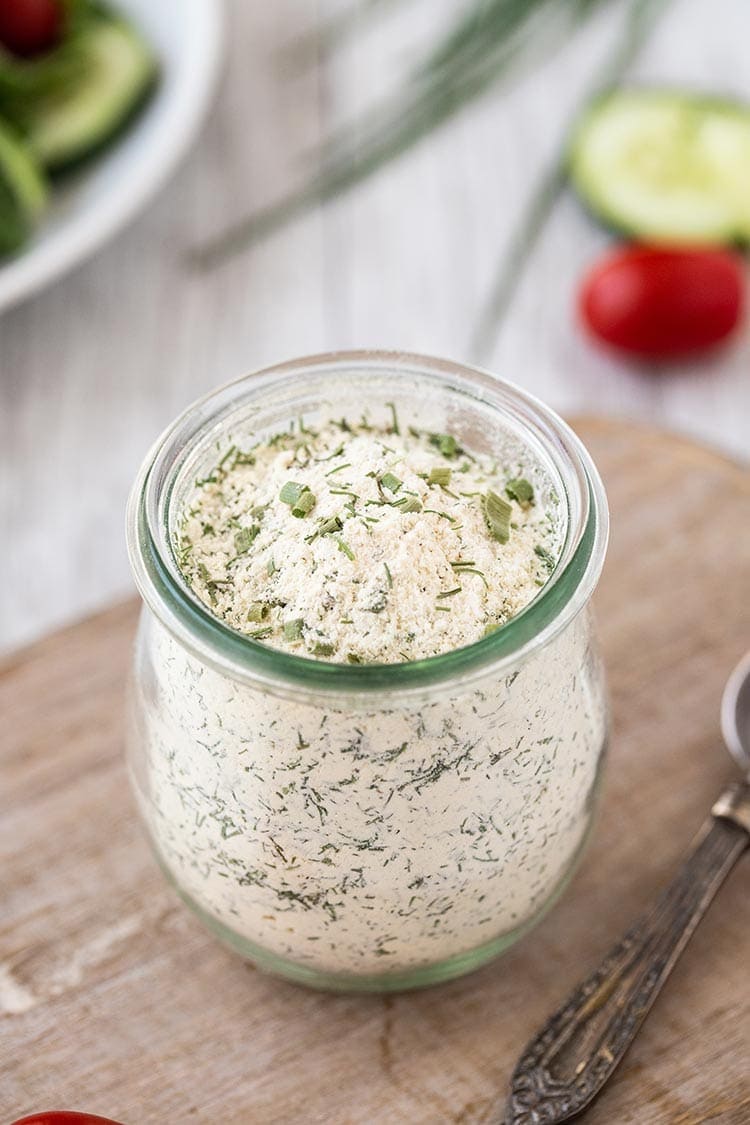 What Is Ranch Seasoning Made Of?
The ranch seasoning mix you get at the store, and most of the versions you will find online, all have pretty much the same basic ingredients, although the ratios may vary a bit. Generally, ranch seasoning is made with garlic and onion powders, parsley, dill, chives, salt, and pepper. Some of the commercially prepared versions sneak in some preservatives or fillers, or even extra sugar, which we are really trying to avoid at my little "ranch".
Now, I will openly confess that Hidden Valley ranch dressing is my favorite commercially prepared salad dressing, and it is usually buttermilk based. In order to get a similar buttermilk flavor in the dry ranch mix, you can include dry buttermilk powder, thus making it shelf stable but with the same buttermilk tang.
It's usually pretty easy to find – it will be with the baking ingredients in your local store. Most stores I've looked in have only carried the Saco brand, although I know that Bob's Red Mill makes some, too.
Some food storage companies also sell dry buttermilk powder, and you can order online. And of course, there are multiple options on Amazon, too.
Why Buttermilk Powder?
I rarely keep buttermilk around, and when I do get it for a recipe, there is always some leftover that I forget about and then end up having to pour down the drain after it has gone bad. I know there are so many recipes it can be used in, but I just plain forget to use it! So, I've just started keeping buttermilk powder around so I can make up as much "buttermilk" as I need, when I need it. Apparently, the good folks at The Kitchn agree!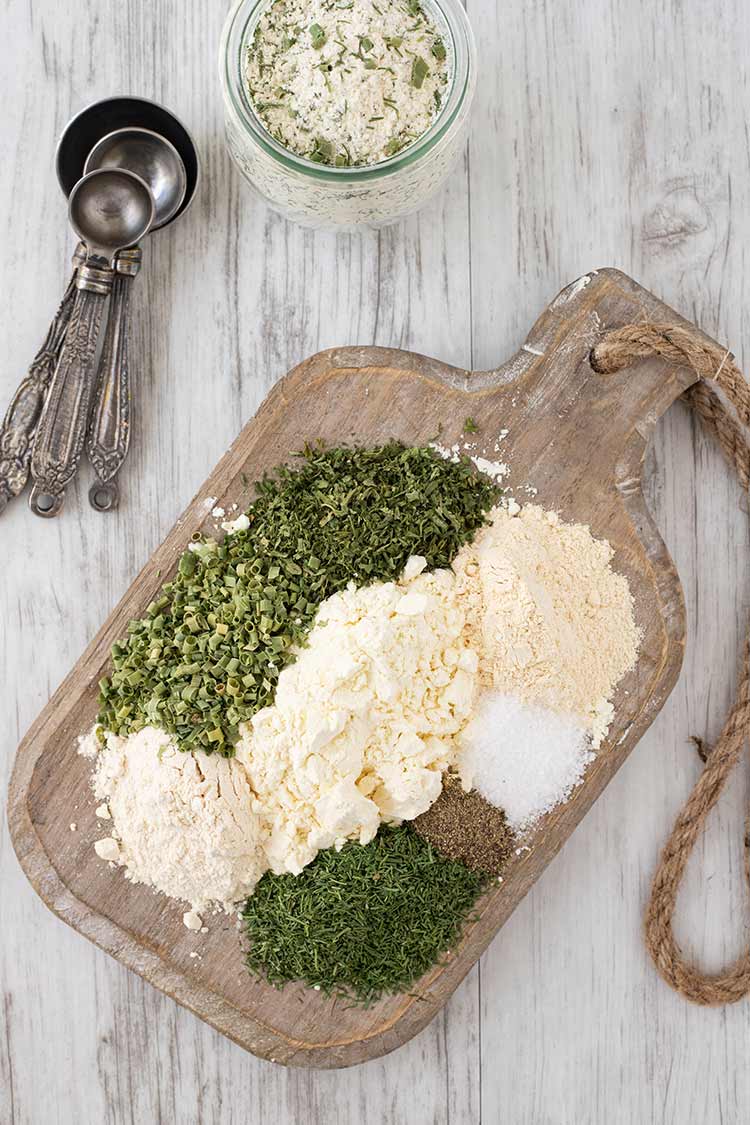 Ranch Seasoning Mix Basics
There really isn't much to the ranch dressing mix recipe. You'll need:
buttermilk powder
onion powder
garlic powder
dried parsley
dried dill weed
freeze-dried (or just plain dried) chives (I've used both and they both work)
salt and pepper
That's it!
To make the dry mix, simply combine all your ingredients in a bowl, whisk gently to loose any clumps in the buttermilk powder and distribute your herbs and seasonings, and bob's your uncle!
How to Store Dry Ranch Dressing Mix
The Saco brand of buttermilk powder recommends that you store their product in the refrigerator after opening. I, however, am a rebel and just store my mix in my pantry, buttermilk powder and all! Because the buttermilk powder contains milk solids, you do run the risk of it going rancid or starting to taste off. I have not had this happen when I make the mix, but I live in a very, very dry desert climate. If you live in a humid climate, you might want to store it in the fridge or even the freezer.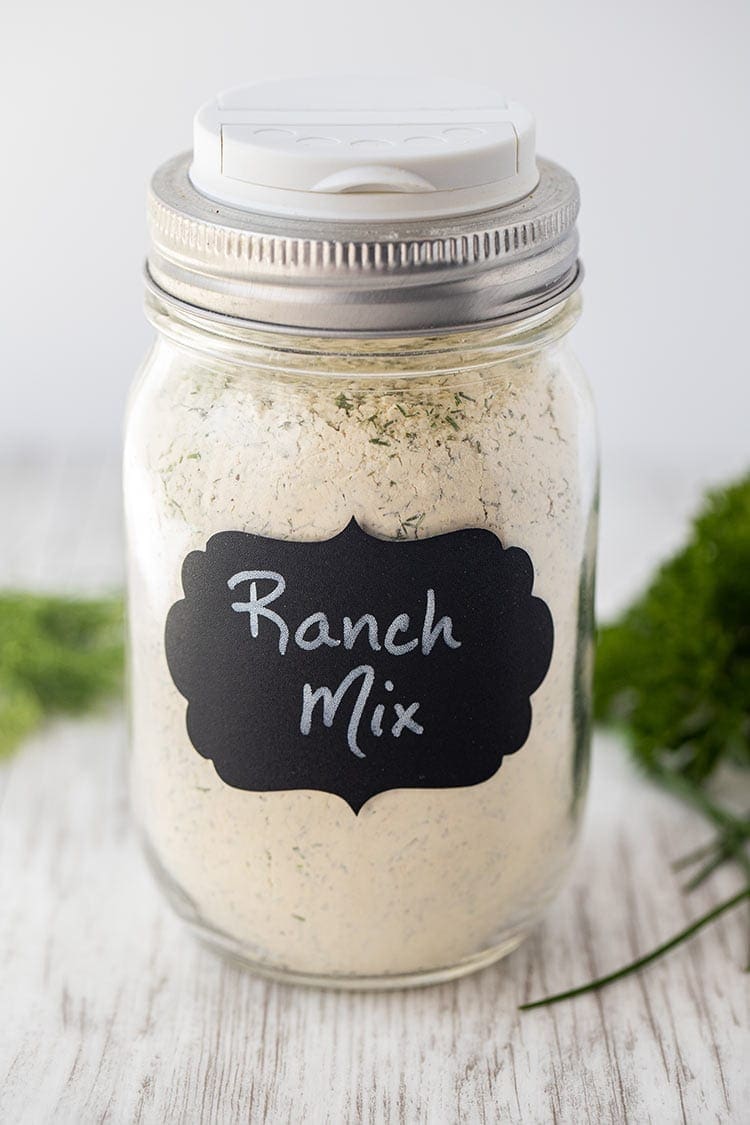 In the Pantry
If you plan to store your dry mix in the pantry, you'll want to put it in an airtight container if possible. I usually make up a double batch and then store it in a pint-size mason jar. I have even found these awesome little flip-top shaker lids that work with the mason jars and rings! As I have used this, I have found the mix to store fine for up to six months (or longer) depending on climate.
In the Refrigerator Or Freezer
If storing your dry ranch mix in the fridge or freezer, you can use a plastic or glass food container, or even use a plastic ziptop bag. If you store your ranch seasoning mix in the freezer, it will last indefinitely, as long as you package it well. However, it can tend to take on fridge and freezer smells due to the milk fat. So be careful in storing it near any strong-smelling foods like onions, garlic, etc. And make sure you use thicker freezer bags if you store it in the freezer – in fact, I'd suggest that you double bag it, just to be safe.
To Use Your Homemade Ranch Dressing Mix
As a Substitute for Store-Bought Packets:
Three (3) tablespoons of dry ranch mix are the equivalent of one store-bought ranch dressing packet.

To Make Ranch Salad Dressing:
Add 3 tablespoons of homemade ranch dressing mix to 1 cup mayonnaise and 1 cup milk. Whisk gently to combine. (You can adjust the amount of milk you use to change the consistency of your dressing – I like mine a little thicker, so I sometimes only use 3/4 cup milk.)
To Make Ranch Dip:
Add 3 tablespoons of homemade ranch dressing mix to 1 cup of sour cream, and stir to combine.
Other Favorite Uses for Homemade Ranch Dressing Mix:
You can also use the dry ranch seasoning mix to flavor popcorn or use on pork chops or on oven-baked potato wedges. It is great on chicken, too! Or you can use it in some great freezer meal recipes that I highly recommend –
It is absolutely fabulous no matter no matter how you use it! And you need not fear running out of the packaged ranch dressing mix again because you can now make up a batch of your own homemade ranch dressing mix to keep on hand whenever you need it!
Be sure to comment below if you make this, or tag me on Instagram at @MakeAheadMealMomma! And always, don't forget to pin this recipe for later!!
Originally posted May 20, 2017. Post updated July 1, 2019.
Homemade Ranch Dressing Mix
Yield: 13 tablespoons

Prep Time: 5 minutes

Total Time: 5 minutes

Make your own homemade ranch dressing mix, using just a few basic ingredients, for much cheaper than the store-bought packets! Plus, there's no artificial fillers, chemicals, preservatives or extra sugars!
Ingredients
1/2 cup buttermilk powder
1 tablespoon onion powder
1 tablespoon garlic powder
1 tablespoon dried parsley
1 tablespoon dried dill weed
2-3 teaspoons freeze-dried chives
1 teaspoon kosher salt
1/2 teaspoon black pepper
Instructions
Whisk all ingredients together gently in medium-size bowl until well-combined.
Transfer to airtight container and store in cool, dry place. (Dry mix will keep for 4-6 months.)
To use in place of store-bought ranch dressing mix packets:
3 tablespoons of homemade ranch dressing mix = 1 store-bought packet
To make ranch salad dressing:
Combine 3 tablespoons dry ranch seasoning mix with 1 cup mayonnaise and 1 cup milk.
To make ranch dip:
Combine 3 tablespoons dry ranch seasoning mix with 1 cup sour cream.
Notes
For salad dressing, you can adjust the amount of milk to change the consistency of your dressing. I like mine a little thicker, so sometimes I only end up using 3/4 cup milk.
Nutrition Information:
Yield: 4 Serving Size: 3 tablespoons
Amount Per Serving: Calories: 76Total Fat: 1gSaturated Fat: 1gTrans Fat: 0gUnsaturated Fat: 0gCholesterol: 10mgSodium: 612mgCarbohydrates: 11gFiber: 1gSugar: 8gProtein: 6g

Nutrition information provided as an estimate only.