Make Your Own Onion Soup Mix
Make your own healthier version of dry onion soup mix with ingredients you probably already have on hand and for much cheaper than the store-bought packets!
I have a few recipes in my standard rotation that call for packets of dry onion soup mix.
I used to keep the store-bought stuff around when I could find it on sale, but I have apparently been missing all of the sales lately.
Awhile back I went to make a meal only to find I was completely out of onion soup mix! I HATE being out of stuff. I mean, I truly hate it!
It takes me back to the days when I had a grocery list a mile long and after spending $200 at Walmart each week, I would come home and still feel like we had nothing to eat, and within a few hours there was already new stuff being added to the next grocery list.
Because I can't seem to find this stuff on sale on a regular basis anymore, I've since started making my own.
And it is surprisingly easy to do!
Not to mention, it costs MUCH less than the store-bought versions, even on sale, and it only uses seven ingredients.
Ingredients for Making Your Own Dry Onion Soup Mix
Most of the ingredients you may already have on hand. You'll need:
dry minced onion
beef bouillon
onion powder
garlic powder
black pepper
paprika
celery seed
That's it! That's all you need.
A Word About the Ingredients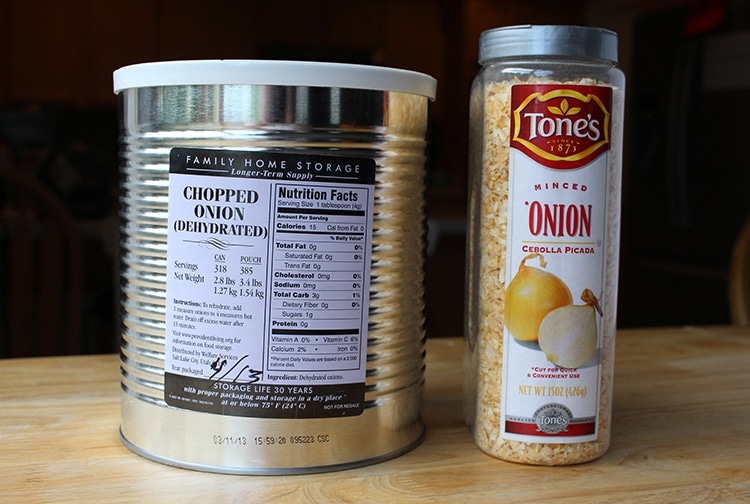 Dry minced onion – I keep this stuff on hand at all times and to be honest, whenever a recipe calls for onions, this is almost always what I use because I generally do not keep fresh onions around. You can get this in the large #10 cans (which I keep as part of my food storage) or you can find smaller jars or bottles at grocery stores with the spices. (The Tone's on the right came from Sam's Club – I bought it a LONG time ago before I had food storage, and I love the container so much I just kept it and then refill it with the stuff from my #10 cans. I have seen the minced/chopped onion in big bottles like these at both Sam's Club and Costco.)
Beef bouillon – You can use powdered or granules. You can even use bouillon cubes and just crush them before adding to your mix. I've found the cubes and the granules at the regular grocery store, but the the powdered bouillon can be harder to find. I happen to have a large #10 can of the stuff as part of my food storage. Mine is from Augason Farms, but I know that several other companies sell the large cans too. Wyler's does sell the powdered bouillon in small jars, but it can be hard to find. Here are a few links to finding the powdered versions online.
Celery seed – You'll want to either grind your celery seeds (I keep a small coffee grinder around for grinding spices) or place them on a cutting board and crush them carefully with the flat side of a knife or using the bottom of a glass or cup.
How To Make Your Own Dry Onion Soup Mix
Measure all ingredients into small bowl
Stir to combine
Store in an air-tight container in cool, dry place
Be sure to shake or stir your mix before using to redistribute any ingredients that have settled
How to Use Your Onion Soup Mix
Now that you've got your own dry onion soup mix, you need to know how to use it, right?!?
You can use this in any recipe calling for a packet of dry onion soup mix. Use 3 tablespoons of your mix for each packet called for in the recipe.
You can also make French Onion chip or veggie dip with your soup mix. Stir 3 tablespoons of dry onion soup mix into 1 cup of sour cream.
I've found I use my homemade onion soup mix a lot more than I thought I would.
This recipe will make the equivalent of about 4 1/2 store-bought packets.
Double Down!
If you use a lot of onion soup mix, you might want to double the recipe – it will fill a pint-size jar.
Add a nice chalkboard label on the front (which I have but for the life of me cannot find, grrr) and you've got yourself a cute addition to your pantry!
Or make some for family and friends to give away!
This onion soup mix will keep for quite some time if you are careful to store it in a cool, dry place.
Just be sure to shake or mix before to redistribute the ingredients (the onions end up on top and everything else sinks to the bottom over time).
This dry Onion Soup Mix gets used a lot around our house, especially for Cranberry Catalina Chicken! It's also great used in hamburgers, made into chip dip, or anywhere else you would use the store-bought stuff.
If you like the idea of making your own mixes at home, check out my posts for making your own homemade Ranch Dressing Mix and my homemade Taco Seasoning Mix as well! There's no need to run to the store when you are out of any of these because you can make your own right at home!!
Onion Soup Mix
Yield:
equivalent of 4 packets
A homemade version of dry onion soup mix that you can make in minutes! Best of all, it costs a fraction of the price of store-bought!!
Ingredients
3/4 cup dry minced onions
1/3 cup beef bouillon, (powder or granules)
4 teaspoons onion powder
1/2 teaspoon garlic powder
1/4 teaspoon celery seeds, (crushed or ground)
1/4 teaspoon pepper
1/8 teaspoon paprika
Instructions
Grind celery seeds in a coffee grinder, or crush carefully with the bottom of a glass.
Add all ingredients to medium-size bowl and stir to combine.
Store in an air-tight container in a cool, dry place.
To use:
3 tablespoons mix = 1 store-bought packet
Be sure to shake or stir your mix before using to redistribute ingredients that may have settled.
Nutrition Information:
Yield:

4
Serving Size:

1
Amount Per Serving:
Calories:

45
Total Fat:

1g
Saturated Fat:

0g
Trans Fat:

0g
Unsaturated Fat:

0g
Cholesterol:

1mg
Sodium:

2062mg
Carbohydrates:

8g
Fiber:

1g
Sugar:

4g
Protein:

2g
Nutrition information provided as an estimate only.