Make Your Own Easy Instant Oatmeal
I have picky eaters. No, I mean really, really picky eaters. It's just one of the many ways that I am failing as a parent… (There are many more, and if you don't believe me, just ask my kids – they'd love to tell you!)
There are a lot of tastes, and textures, and food combinations that they don't like. And my favorite – we'll find a meal that they like, and then six months later, all of sudden, they can't stand it anymore and refuse to eat it. *sigh*
But one thing I have been very lucky with, is that all of my kids will eat oatmeal. Which is fabulous, because it is a super healthy and super filling breakfast option! So much better than sugar-packed cereal. I count my lucky stars that oatmeal is on the "acceptable to eat" list!
I've found that my kids are more likely to eat something if they had a hand in making it themselves. For awhile I was making steel-cut oats (my favorite) in my rice cooker for breakfast. I could pour in the ingredients at night, set the timer and then wake up to warm cooked oatmeal all ready to eat! But life got hectic and I would often forget to put in oatmeal the night before. Que the instant oatmeal.
Now, the instant oatmeal was great, but we were going through so much of it that I couldn't keep up!
As part of our food storage, we keep a lot of oats around. Like 50 pound bags of oats. And large 5 gallon buckets of oats. And I thought, "This is ridiculous for me to have all these oats around and not use them for oatmeal. But I need something more convenient like the instant stuff from the store."
So I browsed the internet, because you can find anything in the world on the internet. And lo and behold, I found it – instructions for making my own instant oatmeal! My favorite by far has been this recipe from One Good Thing by Jillee, and I give her full credit – it is brilliant! I have modified it slightly due to my family's dairy allergies (because, despite the name, non-dairy creamer is FULL of dairy – go figure…). Thank you, Jillee, because this recipe is AWESOME! 🙂
The key to making it just like the store-bought stuff, is using a portion of the oats to grind up into powder. It makes the oatmeal "creamier" without the need for a long cook time.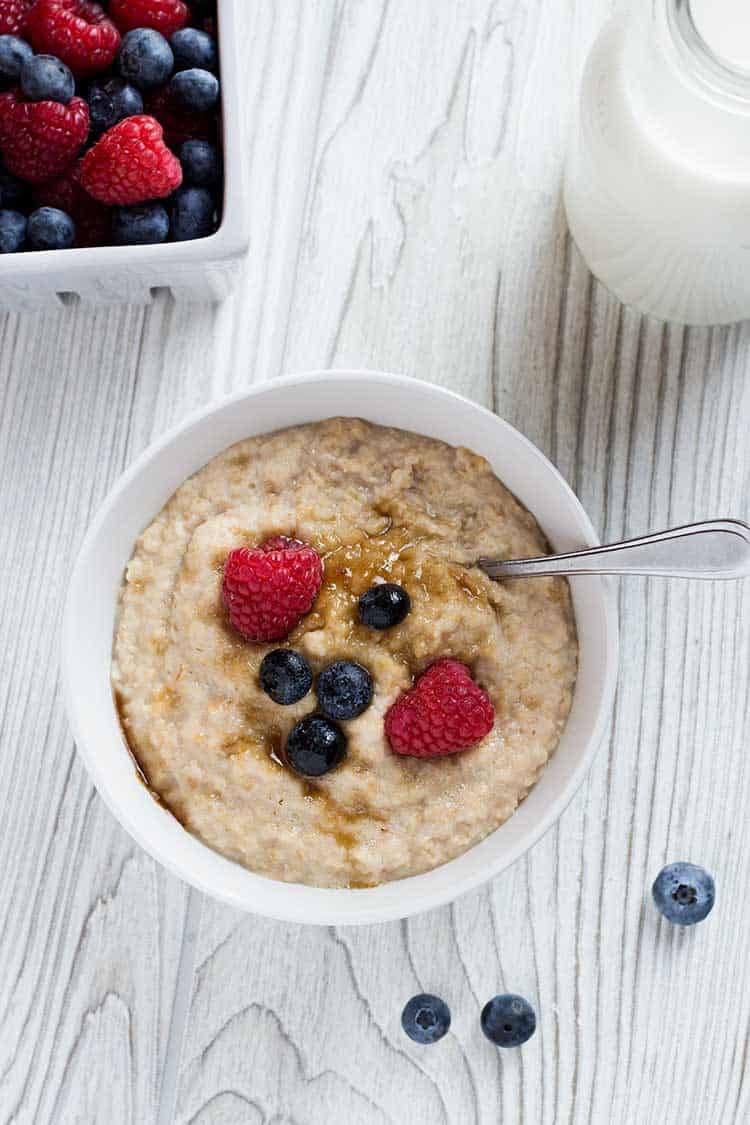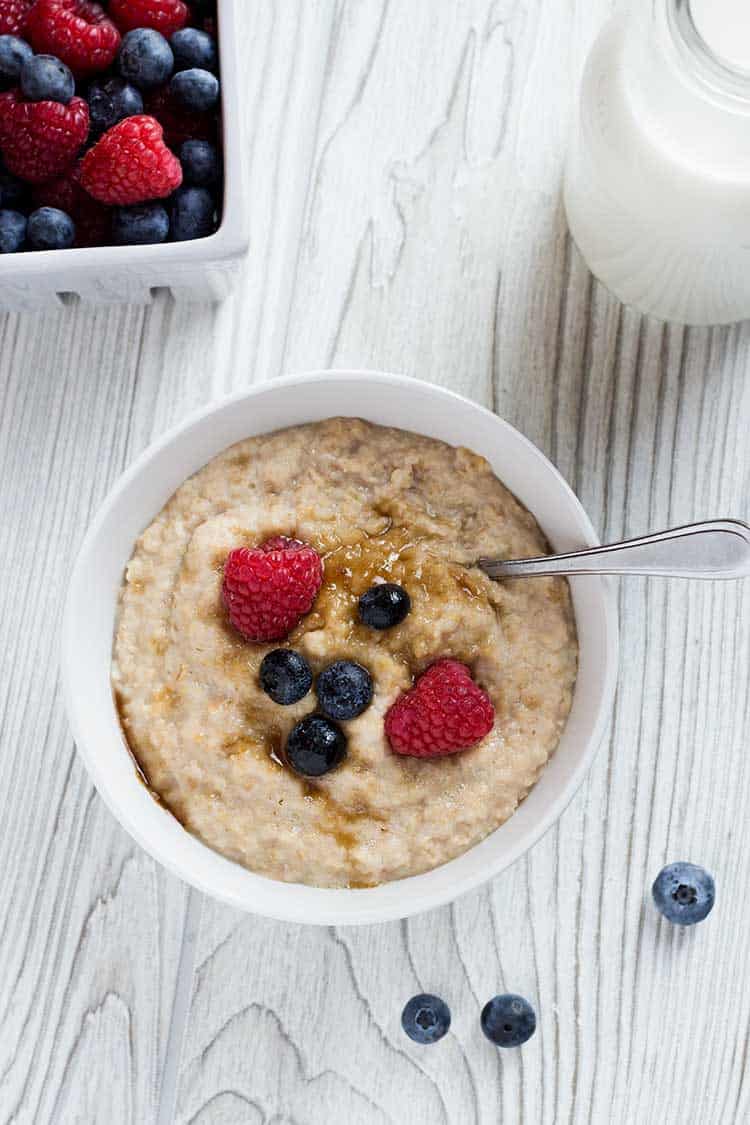 Make Your Own Instant Oatmeal Packets
I like to make up a double batch of the basic mix, and then divide it into four containers of about 5 1/2-6 cups each. Then I add various flavorings or mix-ins to make different varieties of instant oatmeal.
You can also divide your oatmeal into separate baggies and make your own true instant oatmeal packets. I'd suggest using the snack size ziptop bags – they are the easiest to store.
But I'm usually too lazy to go through all that hassle. I just have a container with the oatmeal mix, and then have a printed label on the side with mixing and cooking instructions. After a quick 2 minute lesson and demo, my kids have been able to easily make their own oatmeal for breakfast!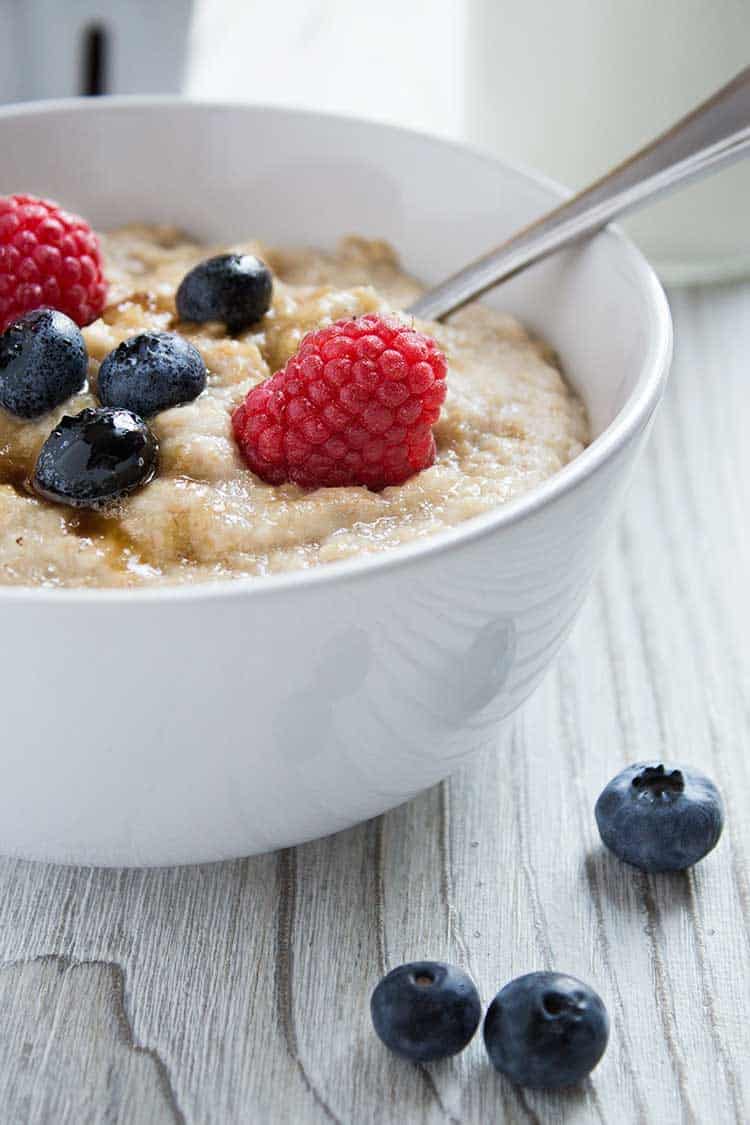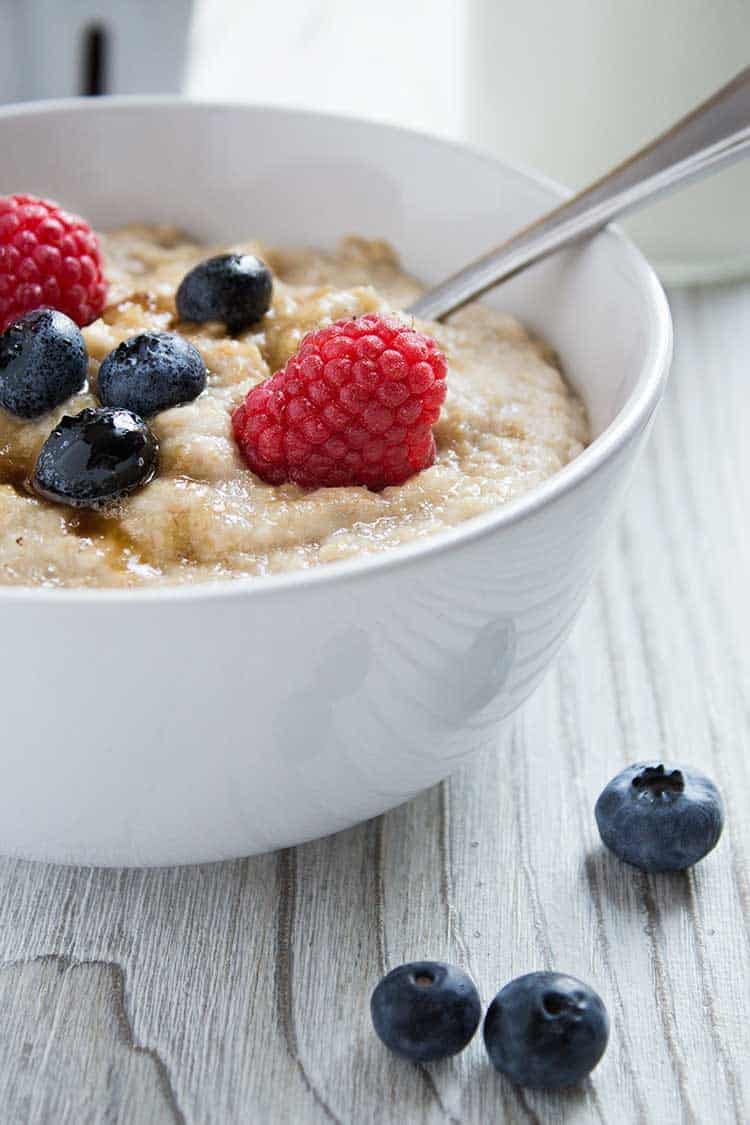 Make Your Own Instant Oatmeal Varieties
I suggest freeze-dried fruits if you like flavor but not harder bits in your oatmeal. Or use dried fruits if you don't mind a harder texture to your fruit bits. Our favorites are freeze-dried strawberries, to make Strawberries and Cream, or freeze dried peaches, to make Peaches and Cream.
If using nuts, I've found it best to add those after you make the oatmeal. I have not had good luck adding them to the mix itself.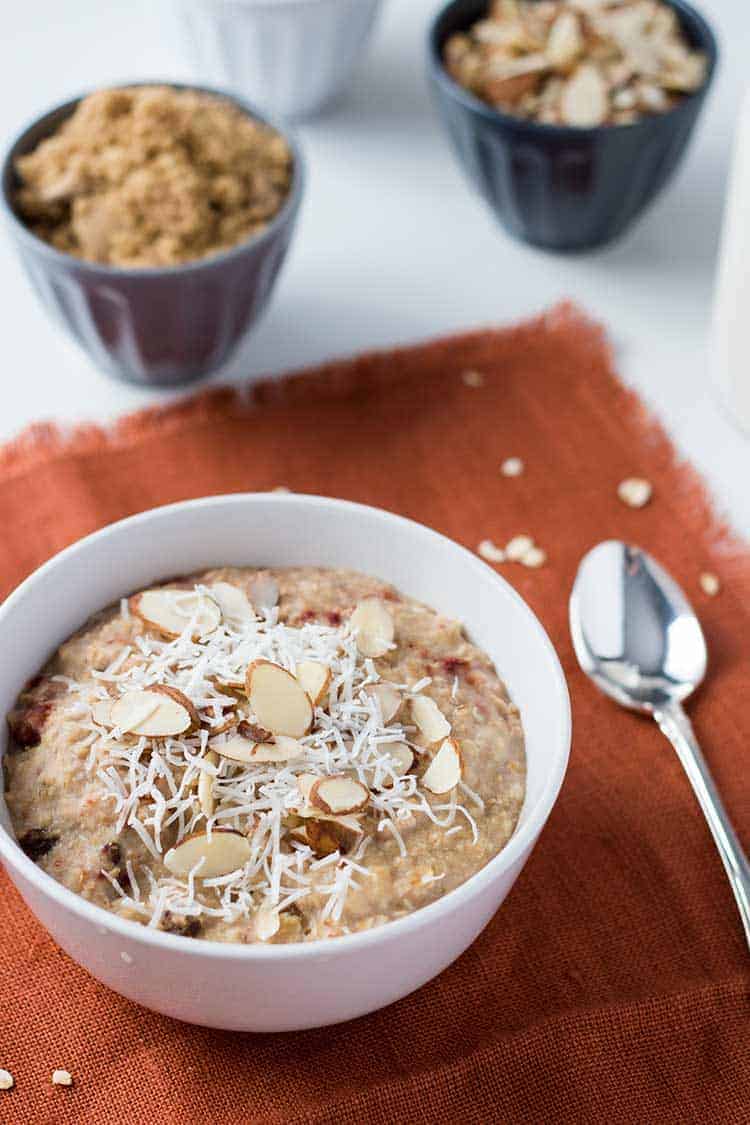 I've seen instructions for using maple sugar for a maple and brown sugar variety, but I have had the hardest time finding maple sugar in the store. So I have just been using powdered maple flavoring. However, I cannot find a good deal for it online, other than buying a 1lb package for about $20. Which isn't bad, but you probably don't need an entire pound of the stuff. So I'm going to rework that variety for using maple sugar.
There are so many options for different flavors! Don't hesitate to try them all out or come up with your own!! But you can also just use the basic mix, and then add fresh mix-ins, like berries, or maple syrup, etc. This stuff is great no matter how you flavor it!!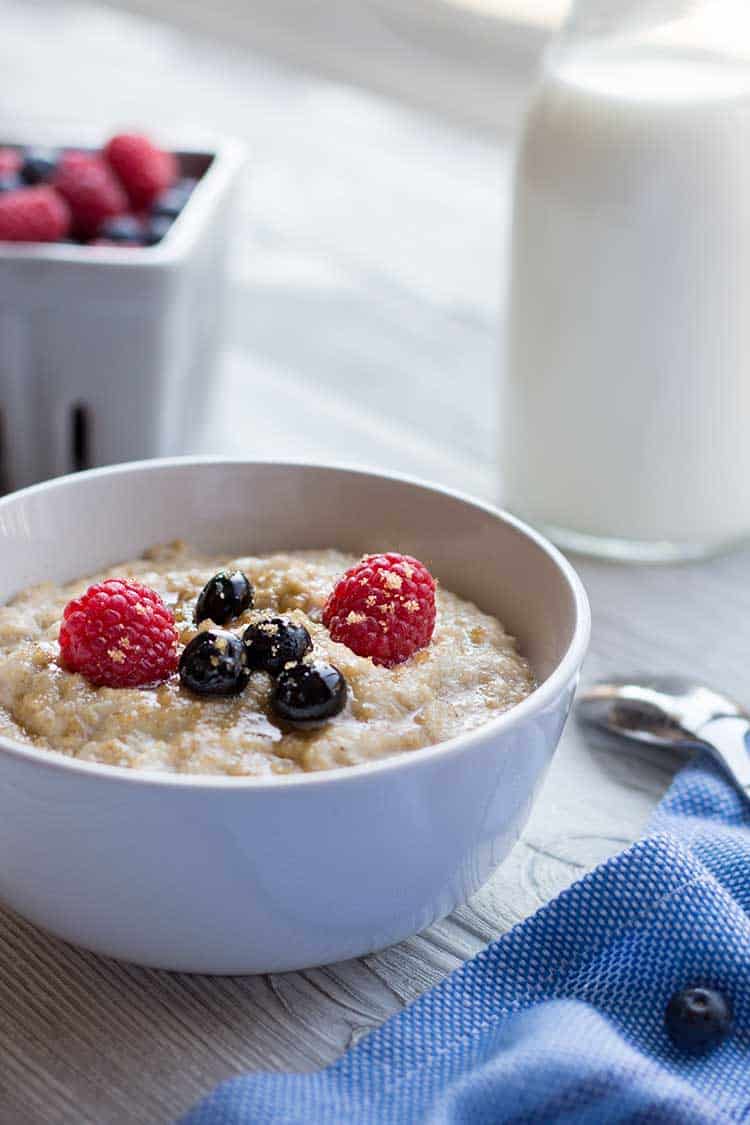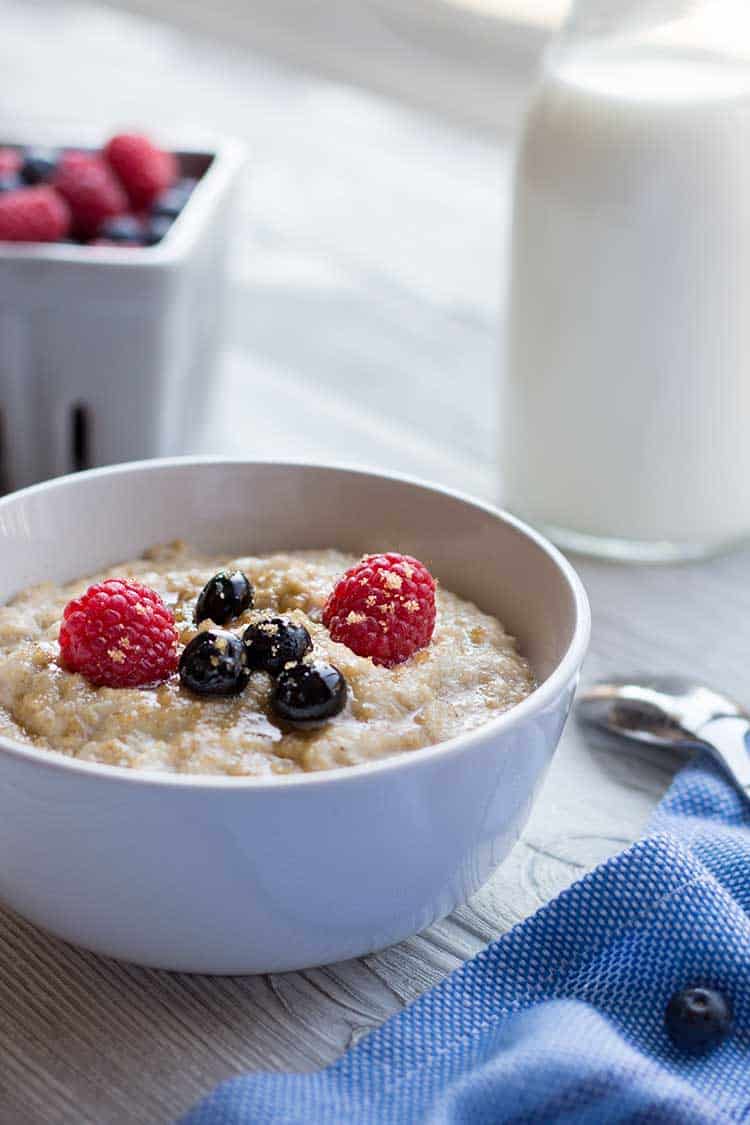 Print Recipe
Easy Instant Oatmeal
You can make your own instant oatmeal in just a few minutes using simple pantry ingredient you already have on hand! The basic mix recipe is from
One Good Thing by Jillee
!
Ingredients
For the basic mix:
10

cups

quick-cook oats

2

cups

brown sugar

2

teaspoons

salt
Instructions
To make basic mix:
Add 3 cups of the oats to a blender or food processor, and blend until powdered.

Mix oats, powdered oats, brown sugar and salt together in large bowl. Stir well to combine.

Portion out 1/2 cup mix into individual

snack-size ziptop baggies

, divide into smaller containers to add flavorings, or store plain mix in a large airtight container.
To make Maple & Brown Sugar variety:
Add 2-3 tablespoons of

powdered maple flavoring

to 6 cups of oatmeal mix.  Stir to combine.  Store in airtight container.
To make Strawberries & Cream variety:
To make Peaches & Cream variety:
When ready to eat:
Place 1/2 cup oatmeal mix (either plain or flavored variety) in microwave safe bowl. Add 3/4 cup of water. Stir. Microwave for 1 1/2 to 2 minutes, depending on your microwave and your personal taste preferences. For our microwave, it's 1:35 on the dot for the sweet spot!