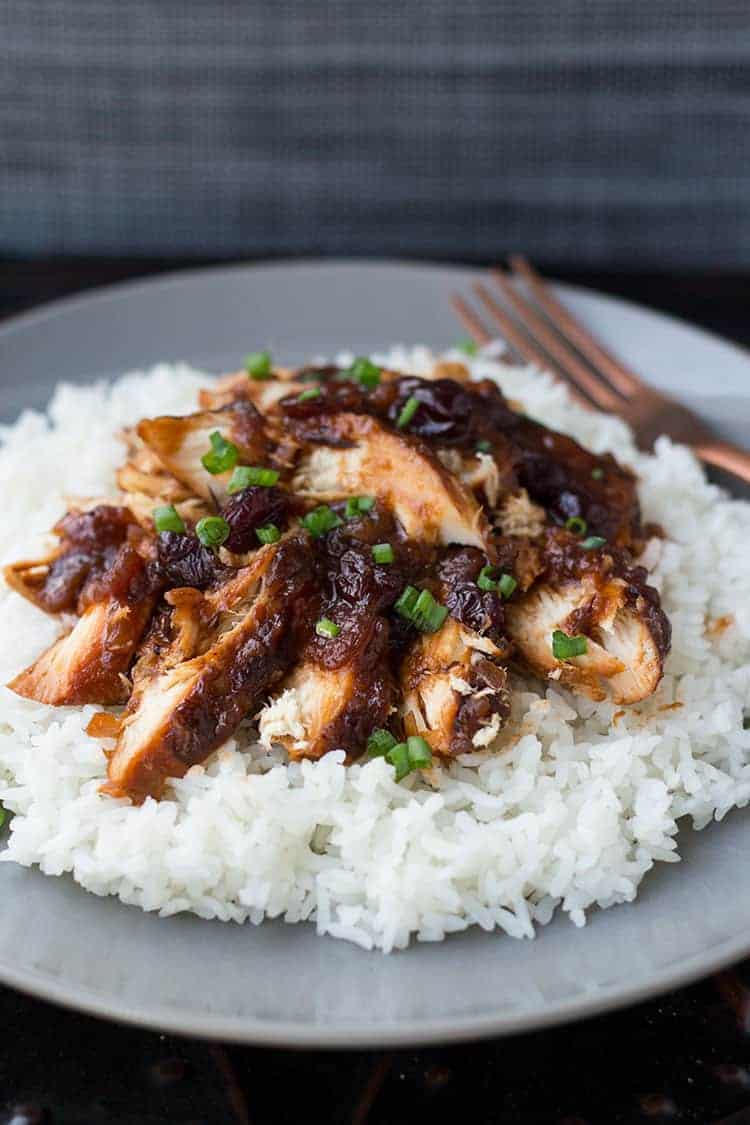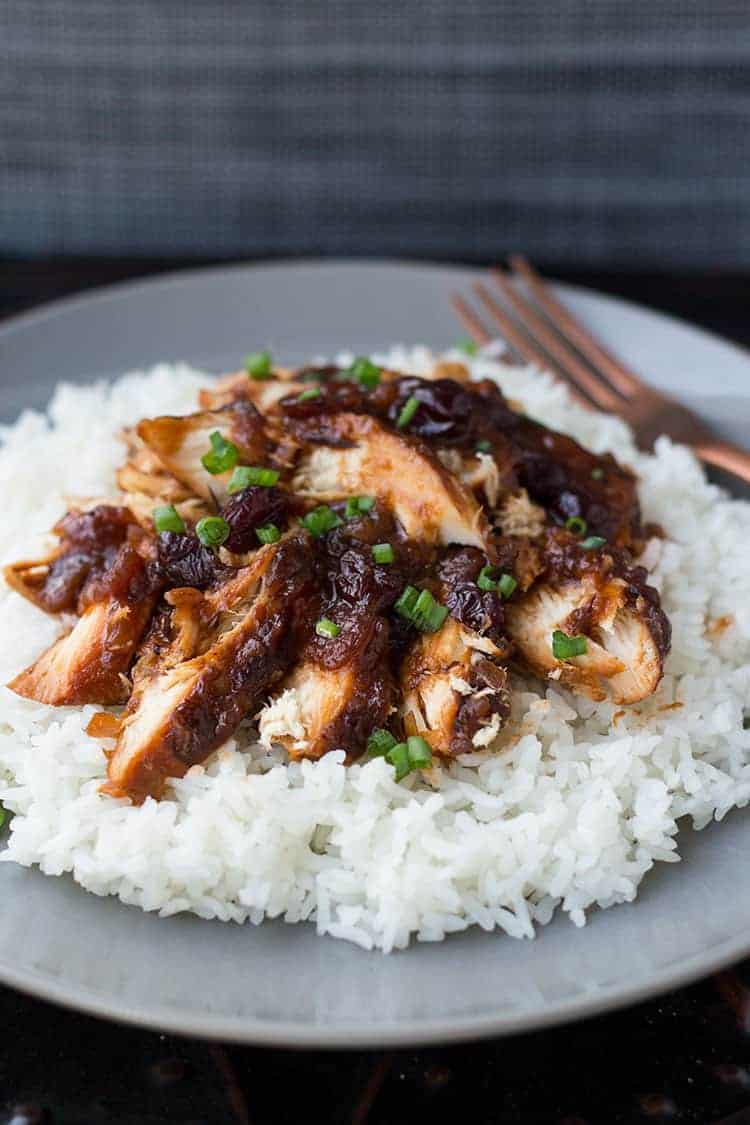 You know how some days you just want dinner to magically appear on the table, without you having to actually cook anything? Yeah, I have a lot of those days. Like today…
It has been a whirlwind day with lots of crazy stuff going on, my brain is fried, and I'm exhausted.  Dinner time rolls around and I don't have the mental capacity or the energy to even come up with an attempt at an idea for dinner.  But dinner needs to get on the table NOW.  And I have 20 minutes MAX or there will be mutiny, or worse, a reenactment of a scene from Lord of the Flies.   <–THIS happens way too often.  THIS is why I do freezer meals.  THIS right here!
You see, I'm pretty clear-headed and mostly awake at say, 11 in the morning.  And I sometimes thing about what I might like to fix for dinner.  But 11 in the morning is way to early to think about getting a regular dinner ready.  So I wait and say to myself, well, I can start dinner at 3.  And the day goes on, and things get crazier, and then before I know it, it's already 5 and the natives are growing restless.  But by that time, Mommy is tired and Mommy can't think straight and Mommy has no idea what to make in 10 minutes or less for dinner.  Because everything she can think of takes an hour to cook.  So cue up the boxed mac and cheese, or fast food.  *sigh*  BUT…
When I have slow cooker meals already prepped in the freezer, I can pull them out the night before (or more honestly, the morning of), and it isn't too early to think about dinner. Or I can even pull them out the morning of, while I'm not rushed and kids aren't fighting and I'm not hounded teenagers to do their homework or else.  In the morning, I can put something in the slow cooker, and then basically leave it until we are ready to eat. I'm a lot more awake and much less harried in the late morning than I am in the hour before dinner.
This Cranberry Catalina Chicken is my adaptation of a recipe I love, from Pam at Over The Big Moon. Her original recipe calls for French dressing, and I like it, but I somehow never seem to have French dressing on hand when I need it. I've seen other recipes floating around in the blog-o-sphere substituting Catalina or Russian dressing, and so that's how this one was born. I've actually made all three variations, and they are all great! Today's is the Catalina variety, because, well, that's what I had on hand. 😉
There is really not much to tell you about this one. You're going to need a few very basic ingredients, and a gallon-size zip top bag. That's it.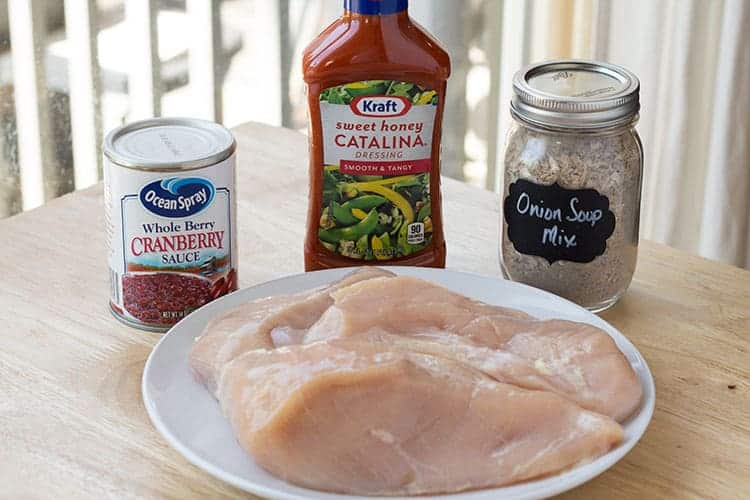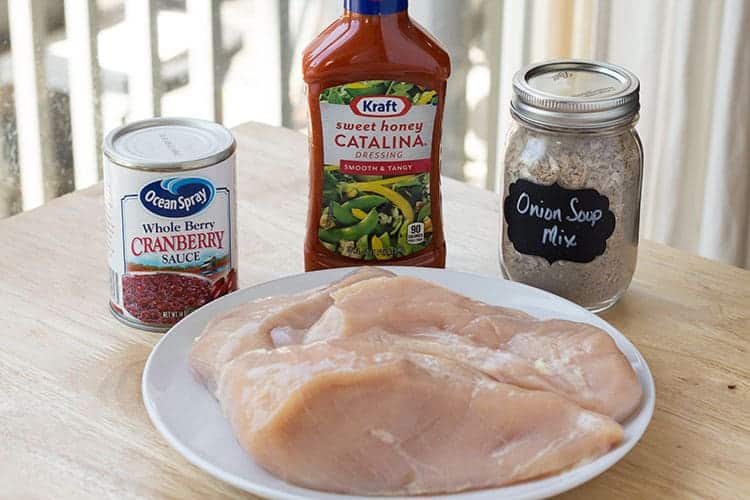 Place all your ingredients into the zip top bag, seal tightly, and label.  Then stick it in your freezer.  Done.  (And I know you already have your own bottle of dry onion soup mix already, but just in case…here's the link to the recipe if you still have yet to make your own.  Go make it.  Go now.  I'll wait…)
To make, you can either take the bag out of the freezer the night before and thaw overnight in the fridge, then put it in the slow cooker the next morning… OR … (and please don't laugh, but this is totally what I usually end up doing) pull the bag out the morning of, cut the bag off the frozen cranberry-catalina-chicken ice cube, and stick the entire frozen cube in the slow cooker and set it to cook.
My family likes to have this served over rice, and the hubster likes a lot of sauce with his, so I often double the sauce ingredients.  Especially if I'm only making one of this meal (which is rare, because I almost always make two at a time), because, what in the world do you do with a half a bottle of Catalina dressing leftover??  (My family will not touch salads if it was the last food on the planet, let alone a salad with Catalina dressing…)  I'm open to suggestions on how to use up the leftover Catalina dressing.  🙂
Print Recipe
Cranberry Catalina Chicken
It doesn't get much easier than this for a freezer meal. Two minutes to toss it all in a bag and you're done! Don't let the ingredients scare you - this is a delightful meal that is a great balance of sweet and savory!
Ingredients
1-2

lbs

boneless, skinless chicken breasts

8

oz

Catalina dressing*

1

can

whole berry cranberry sauce

1

packet

dry onion soup mix (or 2-3 Tbsp. homemade mix)
Instructions
Place all ingredients in gallon-size zip-top freezer bag. Squeeze out as much air as possible and seal tightly. Knead gently to mix ingredients.

Label bag. Lay bag flat in freezer to freeze.
To make:
Place thawed contents of bag into slow cooker or Instant Pot. Cook on low for 4-6 hours in slow cooker, or set on HIGH pressure for 6 minutes in pressure cooker (quick release).

Serve over rice.
Notes
You can substitute French or Russian dressing for the Catalina. They are all great!