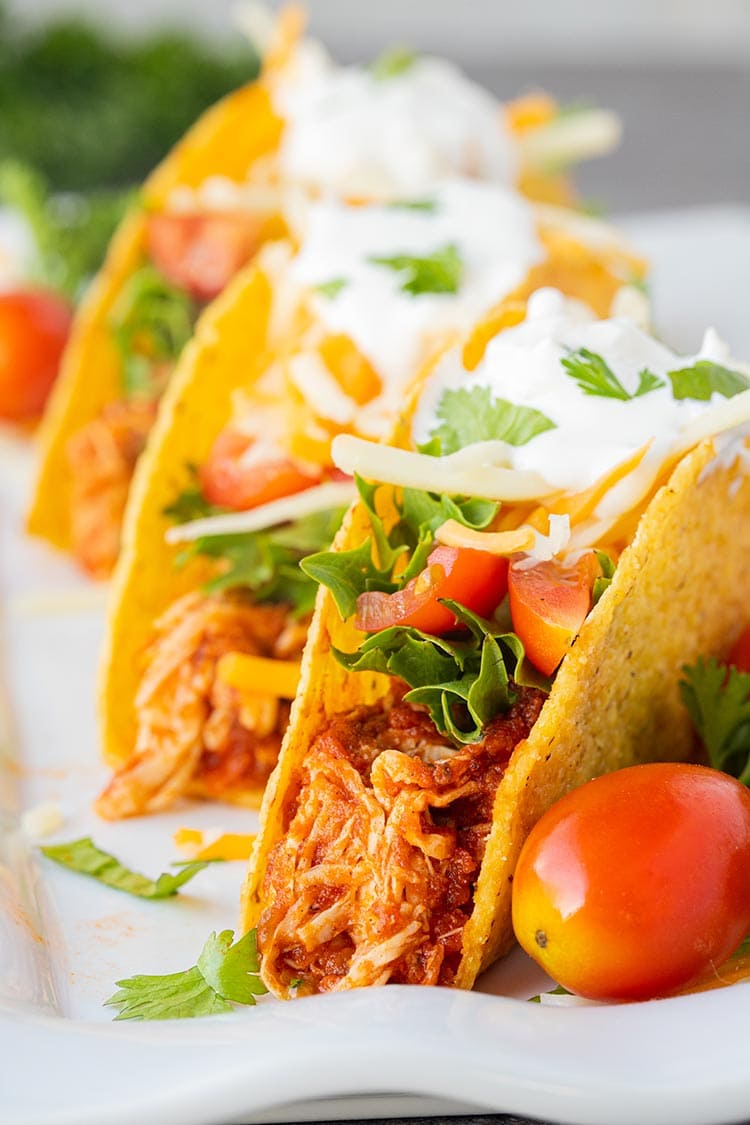 Instant Pot Salsa Chicken
I'd like to introduce you to one of my new favorite freezer meals – Instant Pot Salsa Chicken! This easy chicken freezer meal is an absolute lifesaver on busy, chaotic evenings, and the taste is simply out of this world!
This Salsa Chicken is very versatile – I actually like to eat it as-is, topped with a bit of shredded cheese and sour cream, because it is keto and low-carb! I've also been known to use it on a Tex-Mex taco salad type number of my own concocting. Then again, I have also been known to eat it directly out of the Instant Pot, so…
But for the non-keto folks in my family, it works well for tacos, nachos, burritos, burrito bowls, etc., and it makes the most divine Instant Pot Chicken Enchiladas (also a freezer meal – stay tuned)!
Not only is it versatile in being used in many different meals, it also versatile as far as freezing methods too!
As long as you are careful about what type or brand of salsa you use in this recipe, I think you can absolutely consider this a healthy freezer meal. And it works well for meal prep, too.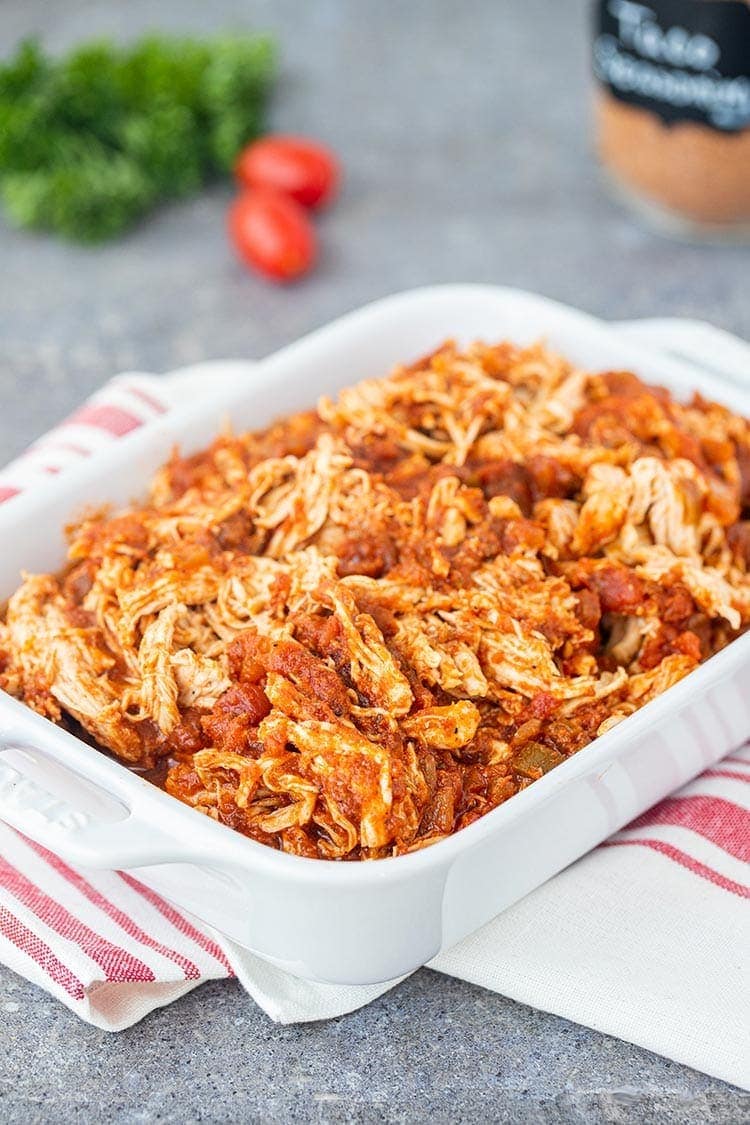 How to Make Instant Pot Salsa Chicken
You've got several options to make this Instant Pot Salsa Chicken into a freezer meal. I love that it is so versatile!
To freeze before cooking:
Simply add all ingredients except the water into a gallon-size ziptop freezer bag, label, date, and place into freezer. Pull your meal out of the freezer the night before you want to cook it, then dump the contents of the bag into the Instant Pot, add 1/4 cup water, and cook on HIGH for 18 minutes with 10 min natural pressure release.
To freeze after cooking:
Start by pouring half of your salsa into the Instant Pot. Then nestle in the chicken breasts. Sprinkle the taco seasoning, garlic powder, cumin, and salt over the top of the chicken. Pour the remainder of the salsa over the chicken, and then add in your ¼ to ½ cup of water around the edges of the pot (not directly over the salsa). Cover, seal, and set to cook on HIGH for 18 minutes, and then give it a 10 minute natural pressure release (that means just leave the pot alone to cool down for 10 minutes) before then manually releasing the rest of the pressure.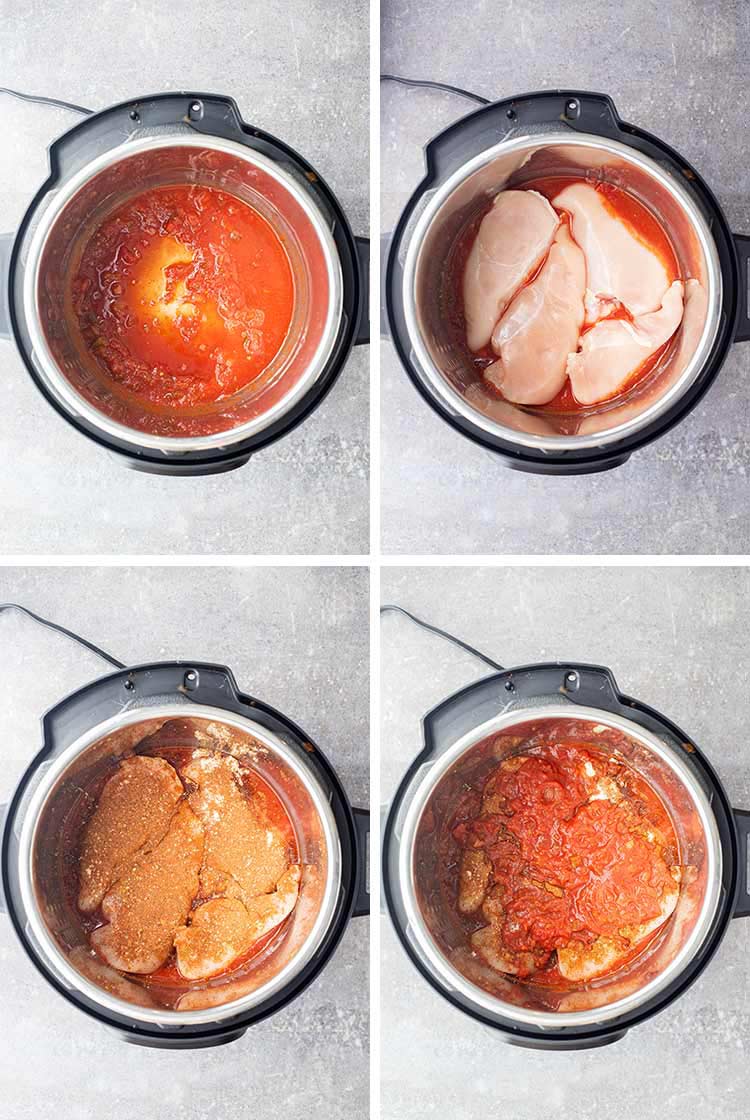 Once done, shred your chicken (see note below), place it into a gallon-size ziptop freezer bag and add in as much of the cooking liquid as you would like. Allow your chicken to cool, then label and date the bag, and place into the freezer.
That's it, really. There isn't much too it.
Now, a few items of business…
How to Shred Chicken Like a Pro
Here's a little trick to make shredding your Salsa Chicken an absolute breeze – use your stand mixer!!
That's right – just place your chicken into the bowl of your stand mixer, then give it a whirl with the whisk attachment, and it will be shredded in a matter of seconds without you having to lift a single fork!
The amazing folks at L'Chef, the parent company of NutriMill, sent me their new Artiste stand mixer to try out. Now, I already have a 6 quart KitchenAid Pro stand mixer AND a Bosch Universal Mixer, so the competition here at my house is pretty tough!! The Artiste shreds my Instant Pot Salsa Chicken like a BOSS!
And I just want to give them a shout-out here – I have been super impressed with the Artiste mixer!! For everyday cooking needs, especially for folks on a budget, this mixer is the way to go! It has many of the great features of the top-of-the-line Bosch, in fact the bowls and whisks and beaters are interchangeable, for a MUCH lower price point. And get this, it is even cheaper than a KitchenAid! You will be hard-pressed to find this powerful of a mixer with this capacity (6 quart) for anywhere near this price. I have really like my Artiste so far!
Now, for the non-keto eaters in my family, we serve this Instant Pot Salsa Chicken most often in awesome chicken tacos, or use it to make Instant Pot Chicken Enchiladas. But you can use it in so many other meals, as well! Or just eat it over rice or on a salad. It makes great chicken and cheese burritos, too.
Instant Pot Salsa Chicken FAQs
Can you use fresh salsa from the deli?
Yes, you absolutely can! You can even use homemade salsa if you feel so inclined.
Will cooking Salsa Chicken in the Instant Pot trigger a burn error because of all the tomatoes?
Yes, it could. But so far I have not actually had it happen in the many batches I have made so far. And I did take that into account in the recipe, by having you add some extra water as a precaution. A lot of it will depend on the type/brand of salsa you use. If it is thicker and chunky, with not much thin liquid with it, you may need to watch carefully and possibly even up your water from ¼ cup to ½ cup. However, if you use a fresh salsa that has a lot more "juice" with it, you may want to stick with just a ¼ cup of added water. You can opt to try it without any additional water, but I don't recommend it unless you know your pressure cooker pretty well and know what will and won't trigger that warning.
Is Instant Pot Salsa Chicken okay to eat for keto?
Well, this sorta depends on your definition of keto. It is low-carb, for sure. It is, however, lower on fats, so if that is a concern, I recommend eating it with cheese and sour cream, to get additional fats in there. I generally do not have a hard time fitting the carbs from the Salsa Chicken into my daily allowances, but I also tend to drain off as much of the loose liquid as possibly from my servings, so that I don't get as much salsa or tomato products in there. And speaking of hitting fat macros…
Can I use chicken thighs instead of chicken breasts?
Yup! Sure can. I happen to personally prefer the white breast meat, but if you like thigh meat, or if you're trying to hit macros for keto and need to get some additional fat in the meal, then by all means, use chicken thighs. Since this is meant to be shredded, it is best to stick with boneless, so you're not having to fish bones out of the salsa chicken. But if bone-in is all you have, then by all means, use bone-in. You may need to adjust cook time just a little though.
Can I use frozen chicken when making this recipe?
Absolutely! If you'd like to make this fresh (not as a freezer meal), you can certainly use frozen chicken. You should not need to add any additional cook time. Do be aware that the time it takes for your pressure cooker to come to pressure will be a bit longer (you've basically just dumped a huge ice cube in the liquid that you need to boil, so it will take a little longer for that liquid to come to a boil). The cook time as listed is already on the upper end of the time range for chicken, in order to ensure that the chicken cooks enough to be easily shredded.
The only change to this would be if you are wanting to double or triple the recipe AND wanting to use frozen chicken – in that case you may need to add an additional 4-5 minutes of cook time. (The cook time in a pressure cooker depends on many different factors, including shape and thickness of the items to be cooked. Placing a large amount of frozen chicken in a large mass in the pressure cooker will require additional time for the heat to penetrate fully to the center of the mass.)
If you want to make it as a freezer meal using pre-frozen chicken, just prep all other ingredients in your freezer bag, then pull out your frozen chicken, add it to the bag, seal, and place in freezer.
Now go, get the ingredients and make some Instant Pot Chicken Salsa – you will thank me later, I promise!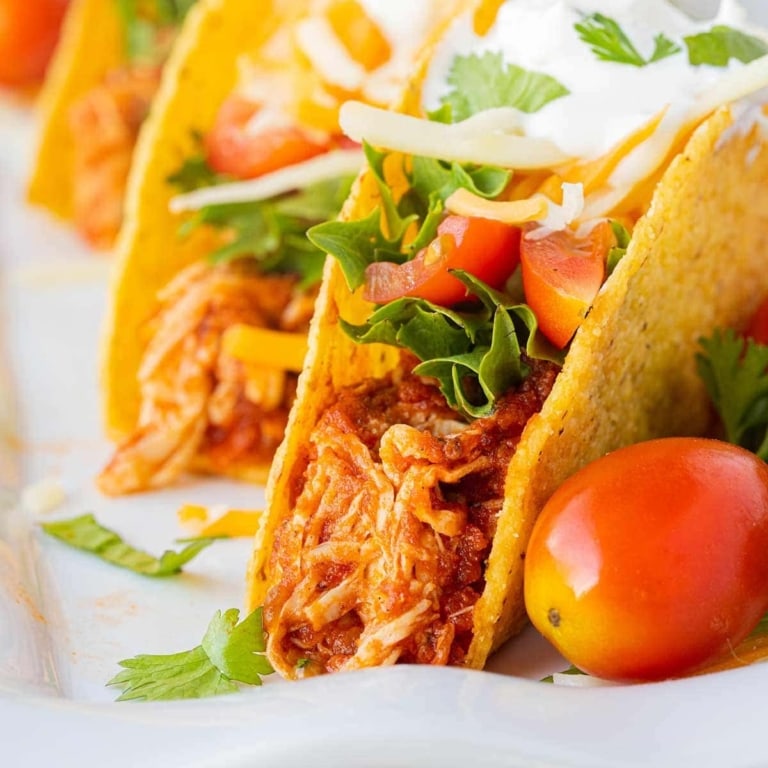 Instant Pot Salsa Chicken
Additional Time:
10 minutes
This easy Salsa Chicken made in your Instant Pot or pressure cooker uses simple, minimal ingredients, but it is big on flavor!  You can prepare this easy chicken freezer meal either before cooking, as a freezer dump meal, or cook it first and then freeze, for fast, flavorful shredded chicken ready to go on salads or in tacos or enchiladas at a moment's notice!
Ingredients
2 pounds boneless, skinless chicken breasts (about 4)
1 16oz jar salsa
2 teaspoons cumin
1 teaspoon garlic powder
1/2 teaspoon salt
1/4 cup water
Instructions
To cook before freezing:
Pour half of salsa into inner pot of pressure cooker.
Place chicken breasts on top of salsa.
Sprinkle taco seasoning, cumin, garlic powder, and salt on top of chicken breasts.
Pour remaining salsa over the top of the chicken and seasonings.
Pour 1/4 cup water around inside edge of inner pot (not directly on top of salsa).
Place lid on Instant Pot, close, seal vent, and set to cook on HIGH (Manual/Pressure Cook) for 18 minutes.
Once time is up, allow pot to naturally release pressure for 10 minutes, then manually vent any remaining pressure.
Carefully remove chicken breasts from cooking liquid and shred using forks (or place into stand mixer with whisk attachment - see details in post).
Place chicken back into inner pot and combine with the salsa mixture.
To freeze, place shredded chicken and salsa mixture into gallon-size (or quart size for smaller servings) zip top freezer bags. Allow to cool, then label and date bag and place into freezer.
To freeze before cooking:
Place all ingredients except the water into a gallon-size ziptop bag, squeeze out as much air as possible, and seal. Label bag with recipe name, date, and cooking instructions (be sure to include instructions for adding the 1/4 cup of water at time of cooking). Place bag flat into freezer to freeze. To cook, remove bag from freezer and allow to thaw overnight in the refrigerator. Empty contents of bag into inner pot of pressure cooker and proceed with directions below for steps 4 through 9.
Note: You can choose to freeze the salsa chicken after cooking, even if it was previously frozen before cooking. Because you have changed the state of the chicken from raw to cooked, it is safe to freeze it again without significant loss to taste or texture.
Notes
Serve in tacos, on salads, in burritos, burrito bowls, over rice, or make one full batch to use in making another favorite freeze meal, Instant Pot Chicken Enchiladas!
If you are eating keto, serve this with some sour cream and shredded cheese for a keto Mexican-style chicken stew!
Recommended Products
As an Amazon Associate and member of other affiliate programs, I earn from qualifying purchases.
Nutrition Information:
Yield:

8
Serving Size:

1
Amount Per Serving:
Calories:

214
Total Fat:

4g
Saturated Fat:

1g
Trans Fat:

0g
Unsaturated Fat:

2g
Cholesterol:

96mg
Sodium:

775mg
Carbohydrates:

6g
Net Carbohydrates:

5g
Fiber:

1g
Sugar:

3g
Protein:

36g
Nutrition information provided as an estimate only.