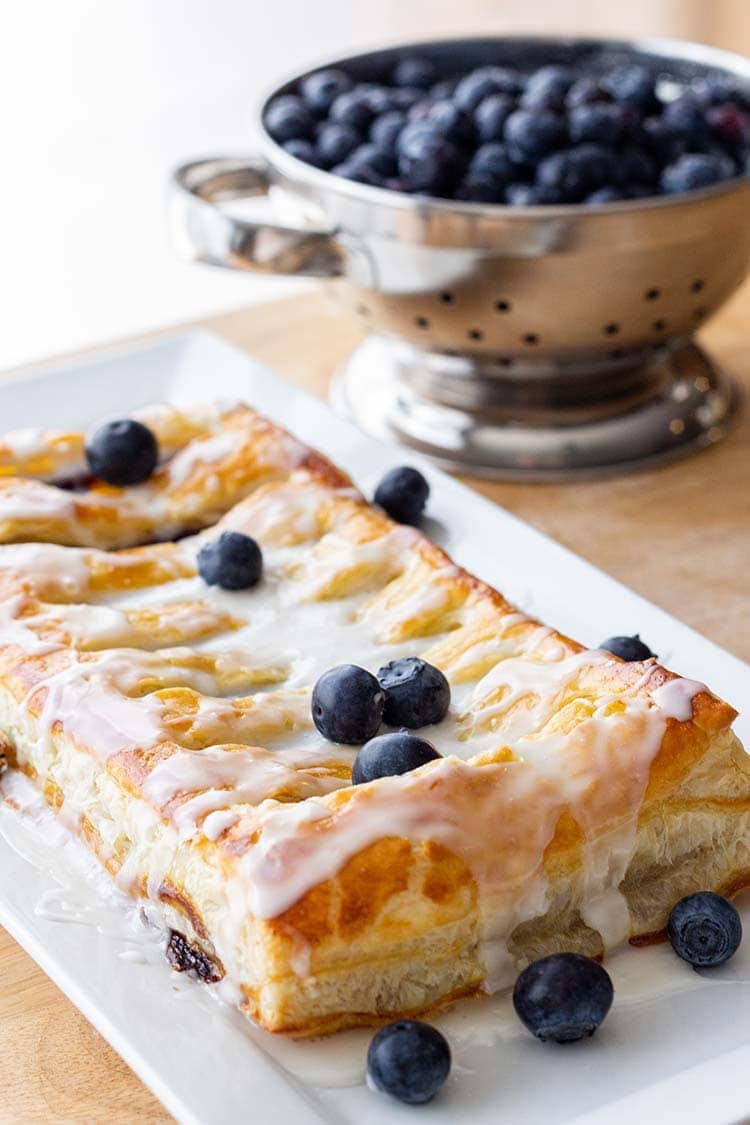 Make-Ahead Blueberry Cream Cheese Danish
This beautiful Make-Ahead Blueberry Cream Cheese Danish is a delightful merging of a deliciously smooth layer of sweetened cream cheese, topped with luscious blueberry pie filling, all nestled between two layers of flaky puff pastry and drizzled with a liberal amount of vanilla icing. Served warm out of the oven, this is enough to get almost ANYONE out of bed! Or at least make it a little more bearable…
You can even make these danishes ahead of time and keep them in the freezer. They bake right from frozen, and make for a very elegant (and easy) weekend breakfast or brunch treat when you've got company staying over!
Use Store-Bought Puff Pastry
To save time, I use store-bought puff pastry. But you can make it from scratch if you'd like. If using store-bought, it will need to be thawed according to the package directions.
Unfold your sheets of puff pastry and cut in half lengthwise, so that you have four long rectangles. Place two of the rectangles on a baking sheet lined with parchment paper or silicone baking mat. I've had my Silpat baking mats for about 10 years now, but I also use some I found at Costco and some from AmazonBasics (affiliate link) – they all work beautifully for this sort of thing! Set aside the other two rectangles.
Mix your softened cream cheese, sugar and vanilla together in a medium bowl. Spread a thin (or thick, depending on your preference) layer of cream cheese on the pastry rectangles on your tray, up to about a half-inch away from the edge of the pastry.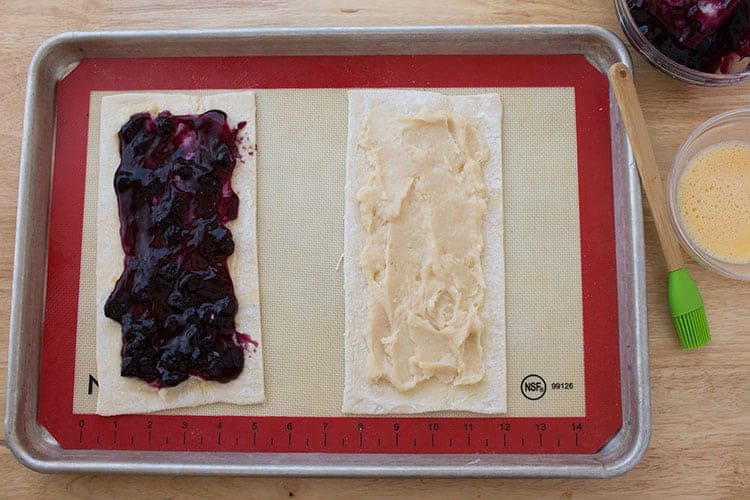 Then top your cream cheese layers with about 1/4 to 1/3 cup of pie filling on each, again, up to about half an inch from the edge.
Crack an egg into a small bowl and mix with 1 tablespoon of water. Lightly brush the exposed edges of your pastry with the egg wash. This is to help seal the top and bottom layers together.
Now, take your remaining two rectangles of pastry and cut slits about an inch apart, starting and ending one inch from the outer edge, along the length of the pastry dough.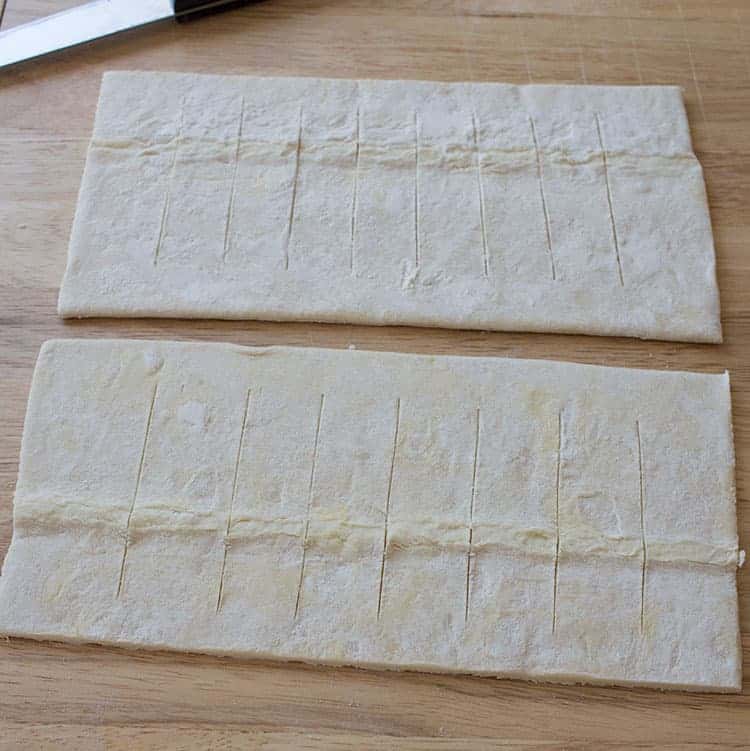 Place them carefully over the tops of your filling layers, and press down the edges to seal. You can use a fork to crimp, or just use your fingertips.
Brush the tops of your danishes with the remaining egg wash (discard any leftovers). This is to help give it that beautiful golden brown shine.
Freezing Your Blueberry Cream Cheese Danish
At this point, you can either proceed to bake, or you can prep these Blueberry Cream Cheese Danishes to freeze (or bake one and freeze one for later).
If freezing, I recommend doing so on a tray, lined with parchment paper or a baking mat.
Stick the whole tray into the freezer for several hours or even overnight, until the danish has frozen solid.
Once frozen, you can carefully remove the danish and tray from the freezer, loosely wrap the danish in wax paper or parchment paper and place in a gallon-size ziptop freezer bag to go back into the freezer.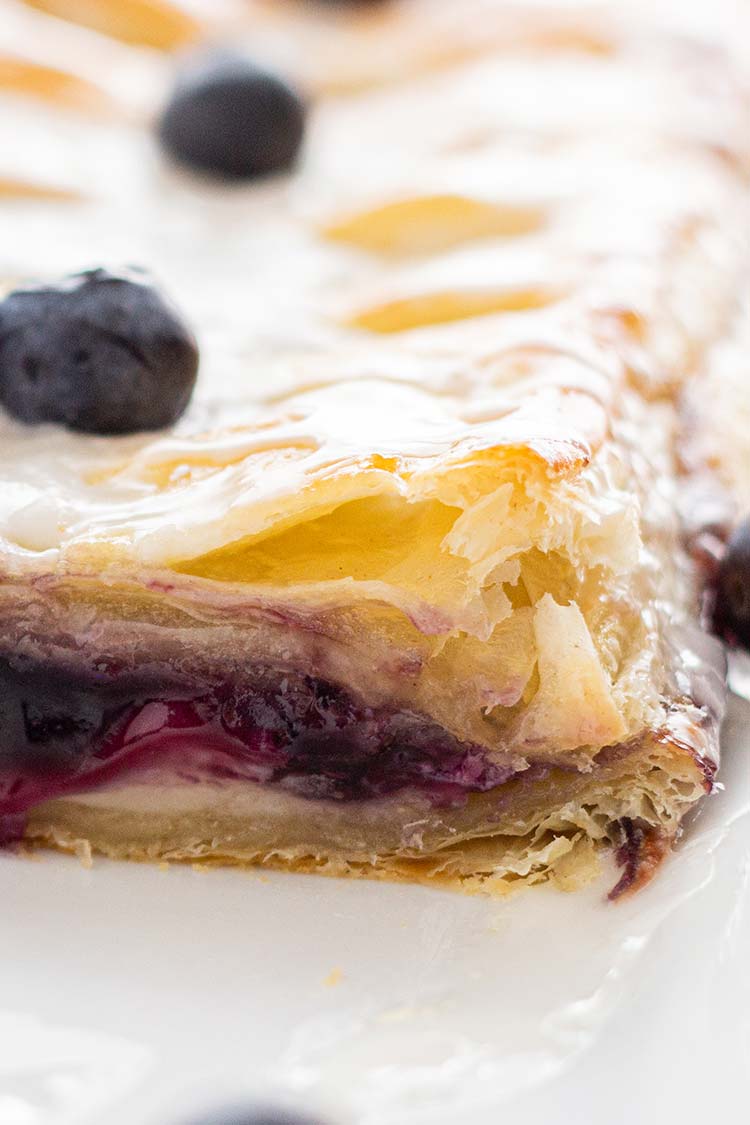 Baking Your Danish
To bake, preheat your oven to 375 Fahrenheit. Bake danish on a parchment or silicone lined tray, 20-25 minutes (30-35 minutes if frozen), until pastry has puffed and the top is golden brown.
While the danish is baking, in a small bowl whisk together powdered sugar, vanilla, and 1-2 tablespoons of milk (start with 1, and add more until it reaches the consistency you want). Drizzle over baked pastry.
Now, try not to eat the entire thing yourself…unless, of course, this is the whole reason you got out of bed, in which case, dive right in because you deserve it!! Getting out of bed is hard work! 😉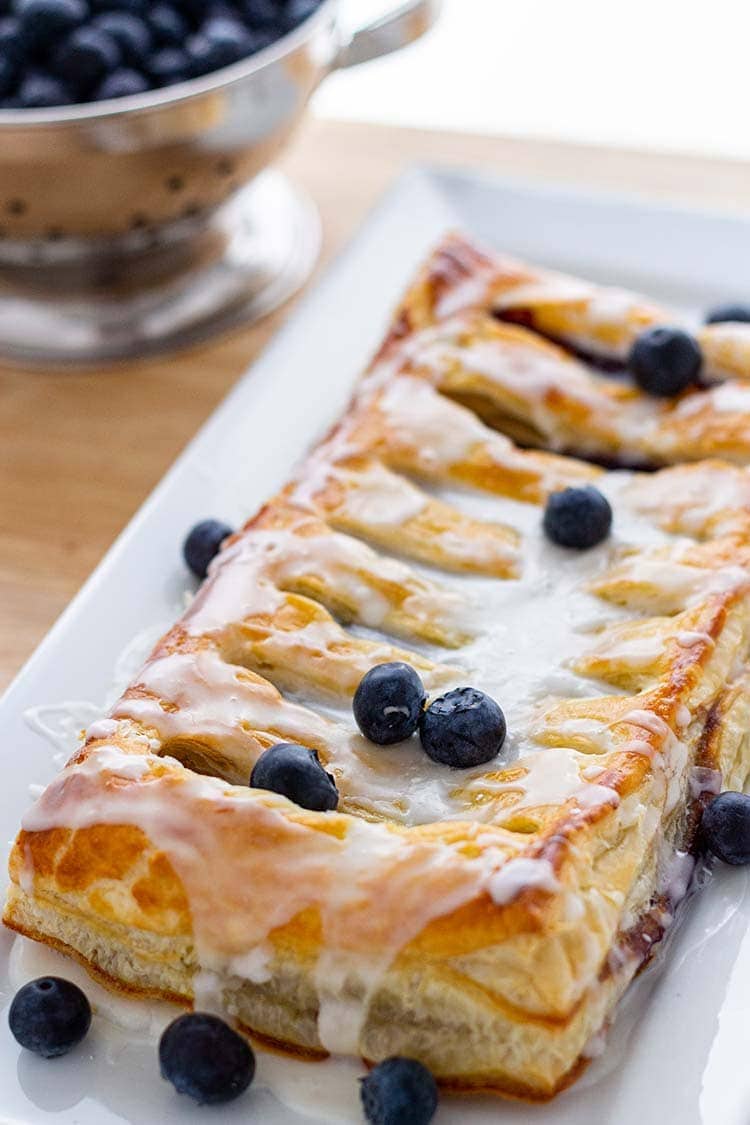 If you like this recipe, be sure to check out my Easy Breakfast Pastries as well for a miniature individualized version!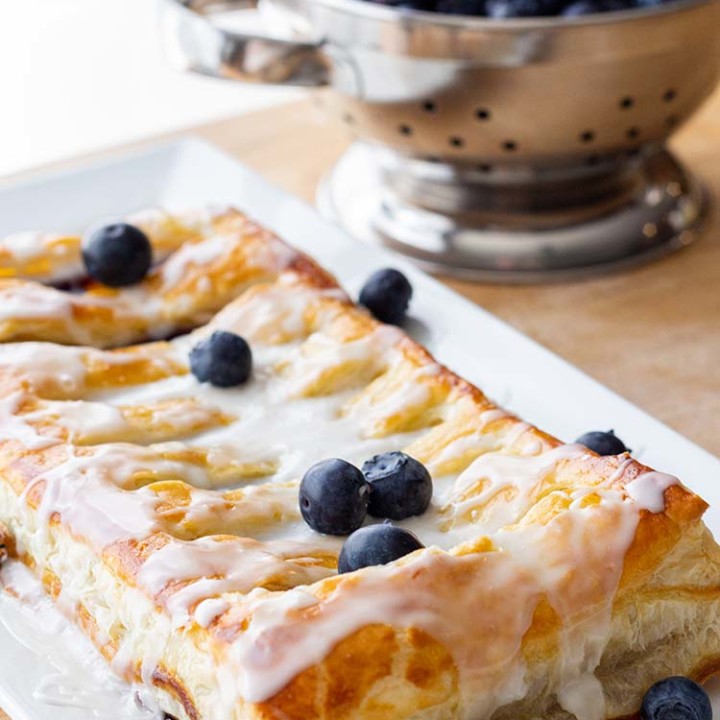 Blueberry Cream Cheese Danish
Waking up is hard sometimes, so treat yourself with this delicious blueberry cream cheese danish!  Or prepare this ahead of time and pull it out to impress company for breakfast or brunch.
Ingredients
For 2 pastries:
1 box puff pastry (2 sheets)
4 oz cream cheese, softened
1/4 cup sugar
1/2 teaspoon vanilla extract
1/2 cup blueberry pie filling
1 egg, (for egg wash)
For icing glaze:
1/2 cup powdered sugar
1-2 tablespoons milk
1/2 tsp vanilla extract
Instructions
Thaw puff pastry according to directions. You'll want it pliable but still cold.
Flatten each sheet of pastry dough, and cut in half lengthwise (you'll have 4 long rectangles). Set two rectangles aside. Place the other two rectangles on a baking sheet lined with parchment paper or a silicone baking mat.
Mix together cream cheese, sugar and vanilla. Divide cream cheese mixture evenly, and spread over each rectangle, leaving 1/2 inch along each edge.
Divide pie filling evenly and spread lightly on top of cream cheese layers, again leaving 1/2 inch along each edge of pastry dough.
In a small bowl, whisk egg with 1 tablespoon of water to make egg wash.
Lightly brush egg wash along exposed edges of filling-topped pastry dough rectangles. Set aside.
Take the two remaining pastry rectangles, and cut slits approximately 1 inch apart along center length of dough, starting and ending 1 inch from sides and edges.
Gently lift rectangles and place on bottom layers, pressing edges together firmly to seal. Crimp edges with a fork, or press with fingertips.
Brush egg wash over tops of danishes.
To freeze:
Place danishes into freezer on parchment or silicone lined tray. Allow to freeze for several hours or overnight, until frozen solid. Carefully remove frozen danishes from tray, wrap loosely in parchment or wax paper, and place into labeled gallon-size freezer bag. Place back in freezer.
To bake:
Preheat oven to 375 degrees Fahrenheit. Place frozen danish(es) on baking sheet lined with parchment or silicone mat, and bake for 30-35 until pastry is fully puffed and top is golden brown.
(Alternately, you can choose to thaw the frozen danish(es) in the refrigerator overnight first, and then bake the next day. In this case, bake the danish(es) for 20-25 minutes until pastry is fully puffed and top is golden brown.)
In small bowl, combine powdered sugar, milk and vanilla. (Start with 1 tablespoon of milk and add more to achieve desired consistency.) Pour icing glaze over warm danish. Serve.
Nutrition Information:
Yield:

8
Serving Size:

1 piece
Amount Per Serving:
Calories:

167
Total Fat:

9g
Saturated Fat:

4g
Trans Fat:

0g
Unsaturated Fat:

4g
Cholesterol:

38mg
Sodium:

91mg
Carbohydrates:

21g
Fiber:

0g
Sugar:

14g
Protein:

2g
Nutrition information provided as an estimate only.