Easy Crock Pot Honey Sesame Chicken Freezer Meal
With only three ingredients, this Easy Honey Sesame Chicken ranks right up there as one of the easiest dump and go slow cooker recipes you can make!
I love a good crock pot dump meal, don't you? They are so easy to put together and require little prep work – just toss all the ingredients in the slow cooker and let it cook! And with only three ingredients, this Easy Honey Sesame Chicken freezer meal is one of the easiest dump and go slow cooker recipes you can make!
Which is why these dump style meals, as they are called, make for great freezer meals! There is virtually no prep work involved. Instead of dumping the ingredients into the slow cooker, you just toss them all in a freezer-safe container or ziptop freezer storage bag, and put it in your freezer until needed for an easy weeknight dinner.
Dump and Go Freezer Meals
I love meals like this because they are easy meals to freeze and reheat and they don't require a lot of hands-on time or standing over the stove.
What I love most about these freezer dump meals though is how quickly I can put them together! I can get a lot of these types of meals made in a very short amount of time. And because there isn't a lot of vegetable chopping and no pre-cooking, it makes clean up much easier!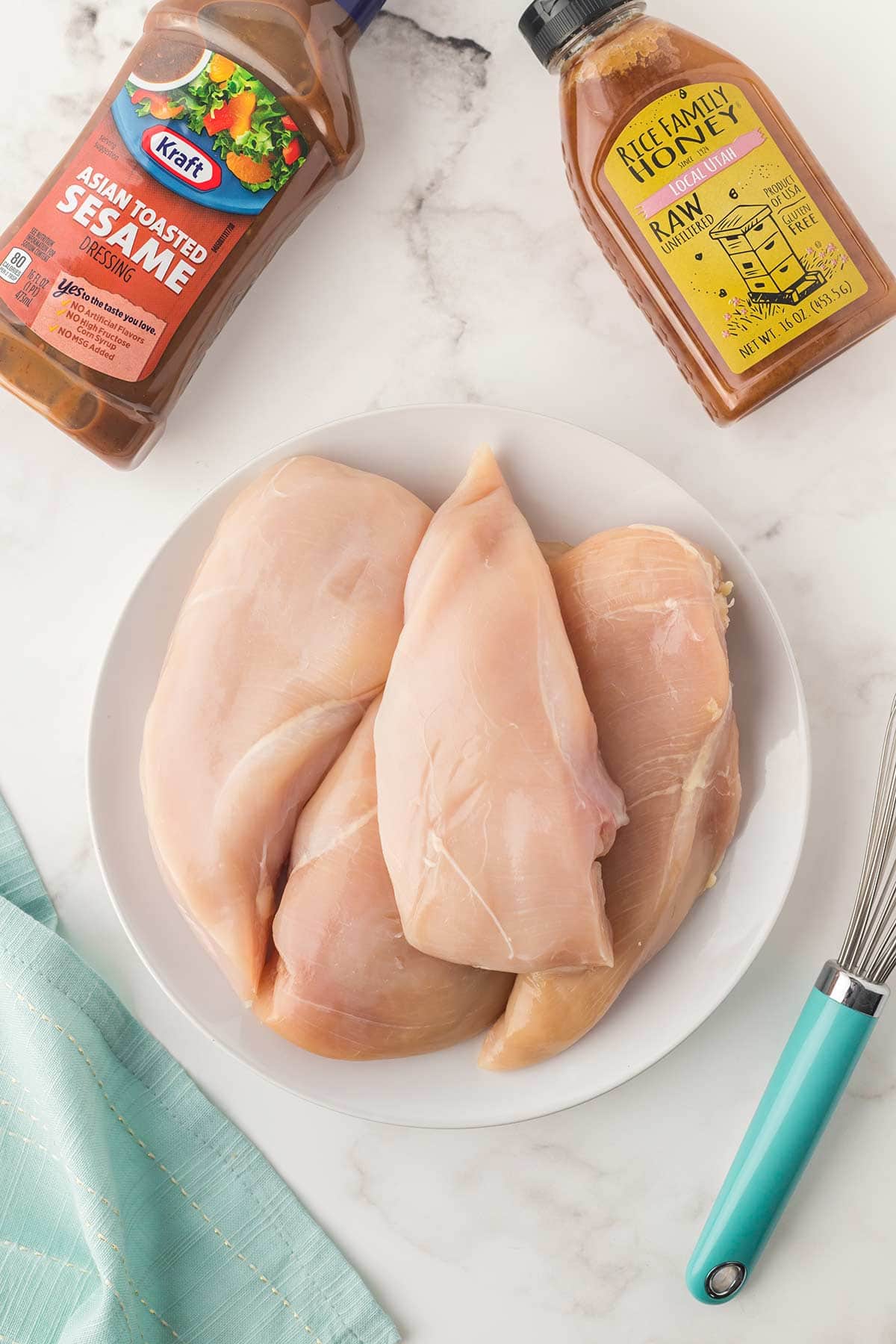 Easy Honey Sesame Chicken Recipe
For this crock pot sesame chicken recipe, you only need three main ingredients:
chicken breasts
honey
Asian sesame dressing
That's it!
In some ways it's almost silly to call this a recipe. But humor me, okay?
Notes on the Ingredients
Chicken – you can sub chicken thighs here instead of chicken breasts. My family prefers the leaner white meat of chicken breasts, but thighs work great too!
Sesame dressing – I use Kraft's Asian Sesame Dressing. If you have a favorite recipe for making your own sesame dressing, feel free to use that instead. You'll want approximately 2 cups worth of dressing.
Toasted sesame seeds – this is an optional ingredient, but I highly recommend including it. You can use plain (untoasted) if that's all you've got. I buy them already toasted as they are fairly easy to find in the grocery store with the rest of the spices. But, if you can't find them or have regular sesame seeds you need to use, you can easily toast them yourself.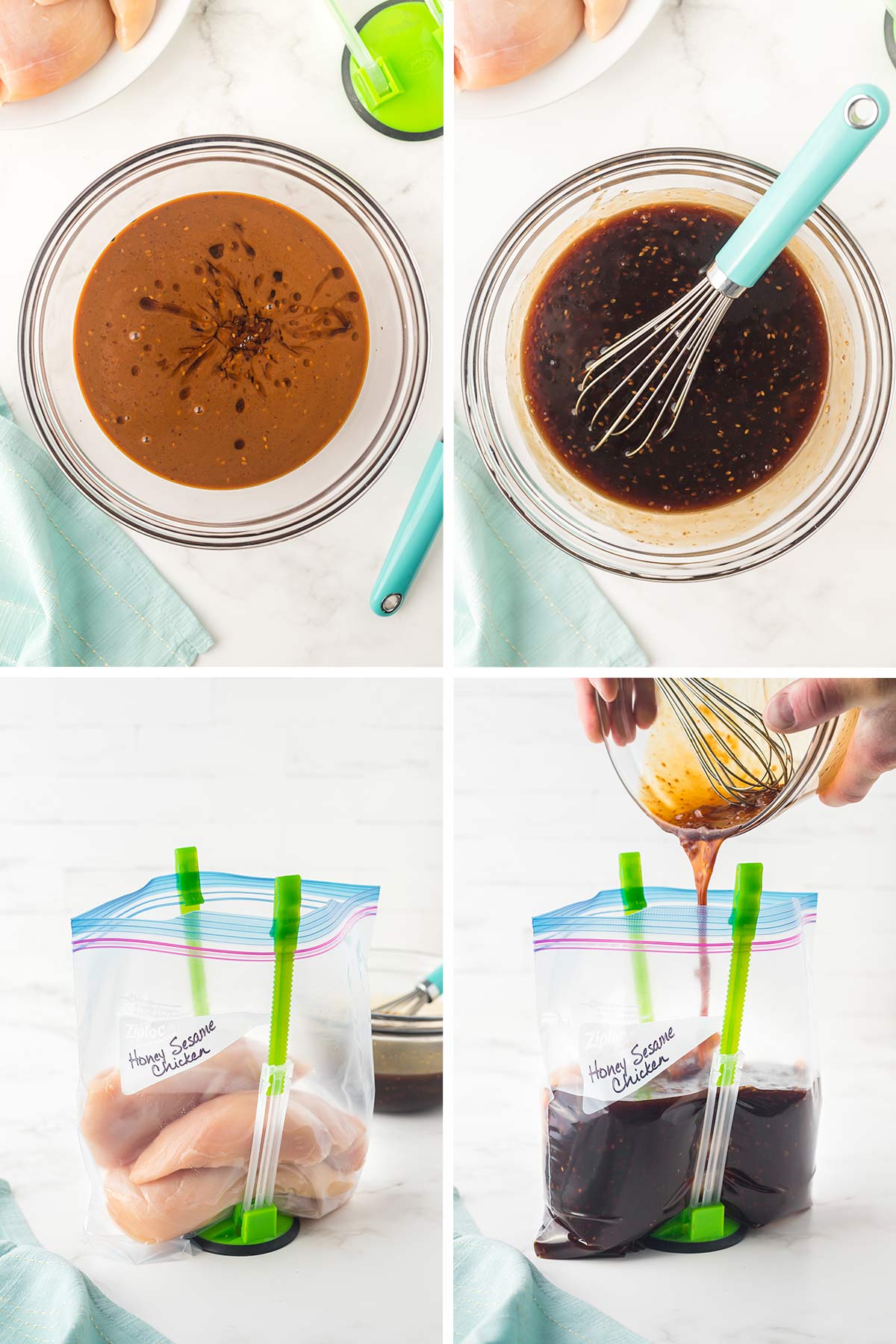 How to Freeze A Slow Cooker Dump & Go Meal
To prepare this recipe as a freezer meal, trim your chicken and place it in a freezer-safe storage container or gallon-size zip-top freezer bag. I prefer the bags myself, but any freezer-safe container will work.
Mix the dressing and honey in a medium-sized bowl, and then carefully pour into the bag with the chicken.
If you're wanting to make less mess, you can skip the pre-mixing of the sauce ingredients and just pour them right into the bag.
Once the ingredients are in the bag, remove as much air as possible and seal the bag tightly. Then take a moment or two to work the contents of the bag between your fingers to fully combine the sauce ingredients.
The chicken will marinate in this honey dressing sauce as it freezes and then later as it thaws, which helps make for extra-juicy chicken.
Freezing Tip
When freezing dump-style meals that have a very high sugar content such as this one, the bag will not freeze solid.  The chicken should be frozen solid, but the sauce will stay a bit mushy, almost like a slushy consistency.  No need to worry – this is totally NORMAL.  (If you want a great explanation on some of the mechanics and science behind this, check out this article explaining how freezing sugar works and why caramel sauce in ice cream is always soft!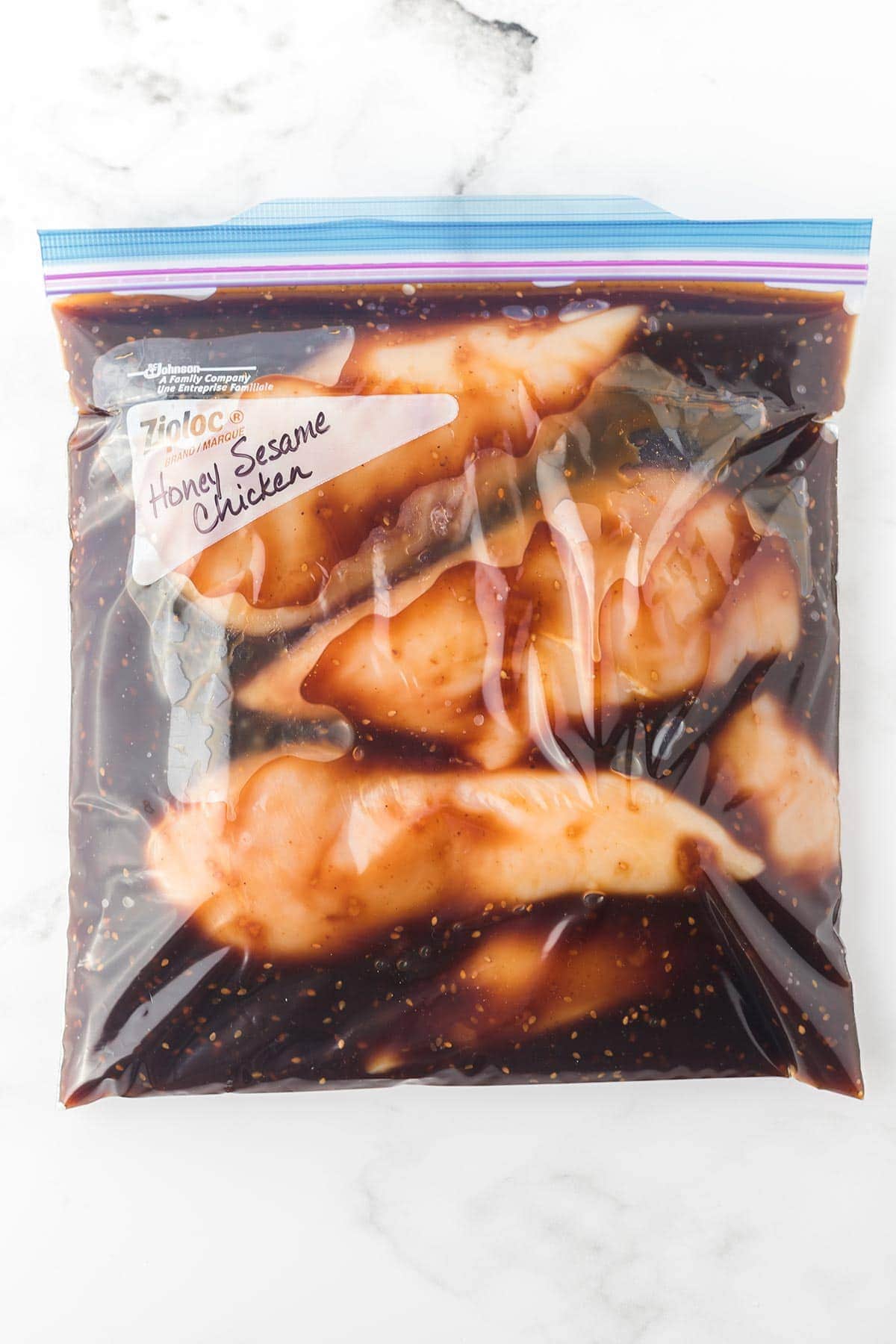 Safely Thawing Your Slow Cooker Freezer Meal
To thaw your freezer meal for cooking, you have a couple of different options here.
However, one of those options should NOT to simply cook the food from frozen. (And yes, we'll ALL been there and done that.) The USDA frowns upon this method as it does leave room for the food to sit in the "danger zone" (temperature range where bacteria will start to grow) for too long before reading cook temperatures (to kill off the bacteria).
The journalists at TODAY also did some digging on this one and you can read about their findings online.
Thawing Options
So, with that in mind, to thaw your freezer meal before cooking in the safest way(s) possible, you can:
1. Remove from freezer and place in the refrigerator (time to thaw: ~24-48 hours).
If you do this, it is best to put your frozen meal bag on a tray or inside a larger bowl or dish, as the bags will often leak as they thaw.  Placing your freezer bag on a tray or in a dish will prevent it from making a mess all over your refrigerator.  Trust me on this one.  😉
2. Place sealed bag in a bowl or sink of cold water, making sure it is fully submerged (time to thaw: ~1-2 hours).
3. Defrost using your microwave (time to thaw: ~15-20 minutes).
Safety Tip
This method will only work if you have used a plastic or other microwave-safe container to freezer your meal in. Don't put foil trays or packages in the microwave. AND you'll need to put your meal in to cook immediately after thawing using this method, as there will likely be hot spots and places in your meal where meat and ingredients may have already started to cook.  So thaw in the microwave but then put directly in to start cooking.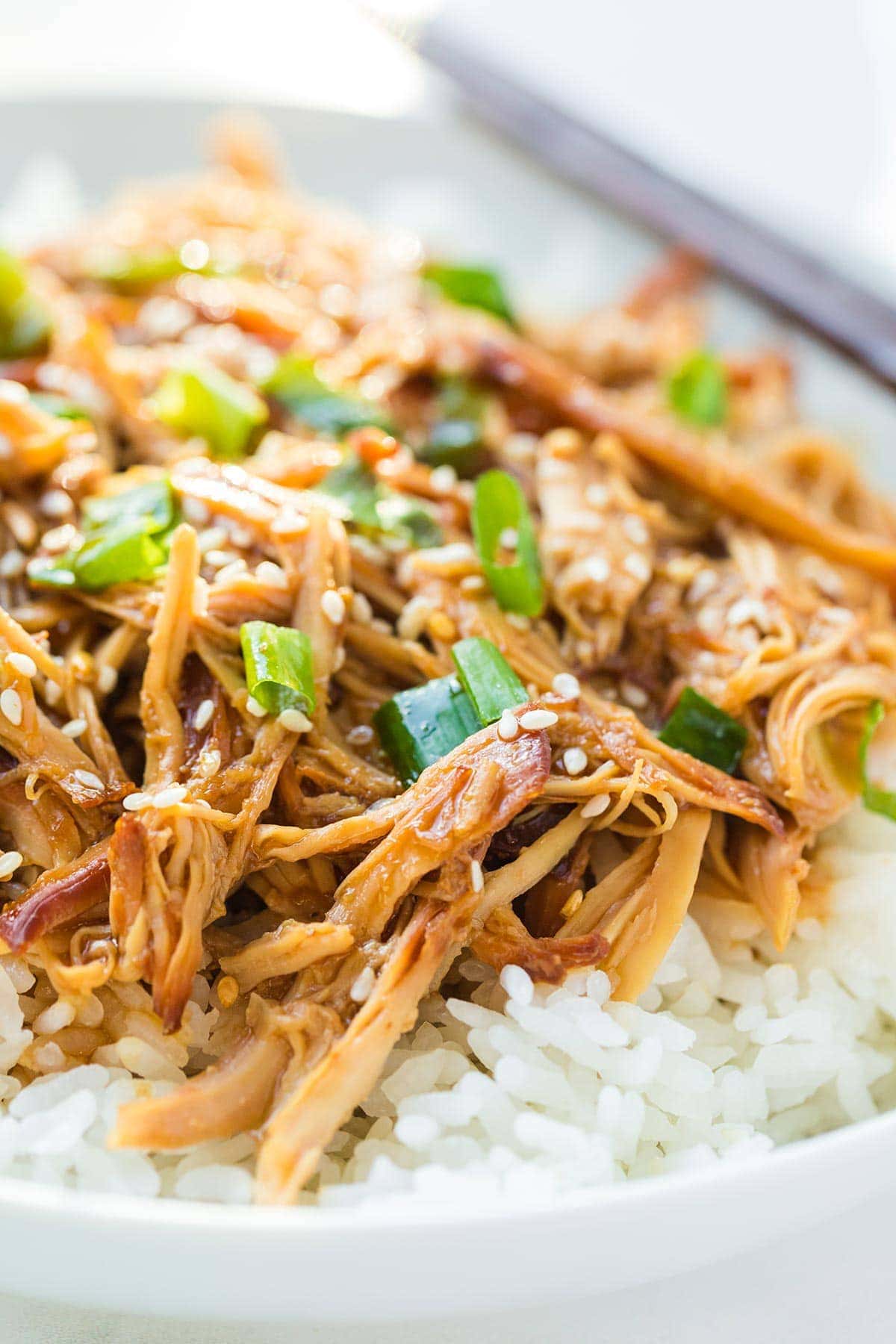 Serving Suggestions
We love to serve this one over rice, garnished with toasted sesame seeds and thinly sliced green onions, for an easy but elegant weeknight meal. It pairs well with roasted broccoli as a side dish or even a simple side salad!
FAQs
Can this meal be cooked in the Instant Pot?
It's possible, although I suspect that the honey and dressing will not be a thin enough liquid to come to a boil, and will instead result in a burn error.  I have not tried this one in the Instant Pot – yet.
That said, you COULD cook this in a pressure cooker if you used the pot-in-pot method.  In fact, that wouldn't be a half-bad way to go, as you could cook the rice AND the chicken at the same time in the same pot!
More easy crock pot freezer meals: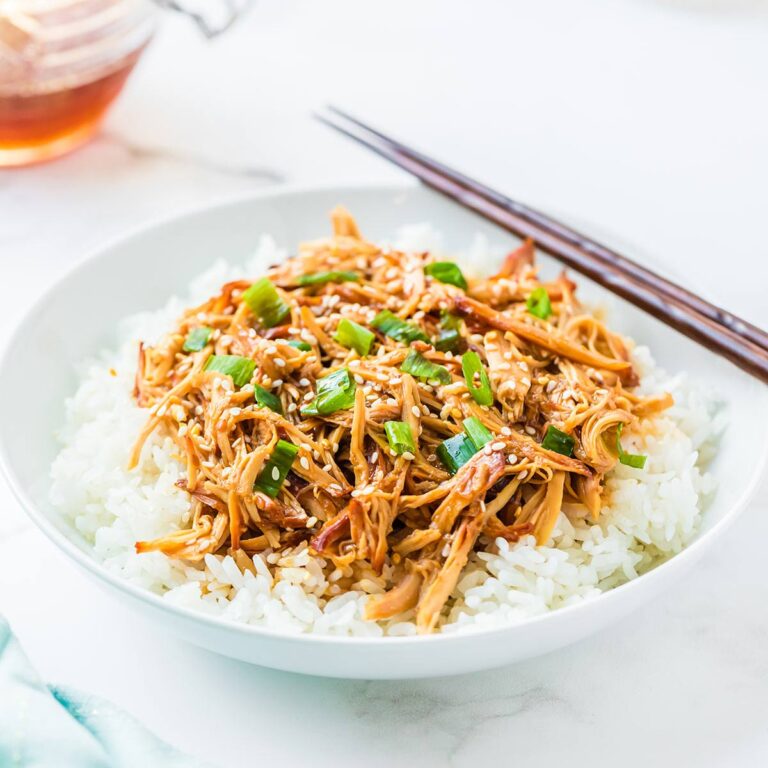 Easy Honey Sesame Chicken Freezer Meal
Don't let the short list of simple ingredients fool you – this easy crock pot freezer meal is full of amazing flavor!  Serve over rice with a side of veggies for an easy, flavorful weeknight meal!
Print
Save
Saved!
Pin Recipe
INGREDIENTS
2

lbs

boneless

skinless chicken breasts

1 16

oz

bottle Kraft Asian Toasted Sesame dressing

1 1/2

cups

honey

toasted sesame seeds

optional, for garnish

sliced green onions

optional, for garnish
INSTRUCTIONS
To freeze:
Trim chicken and place in gallon ziptop freezer bag.

In medium bowl, whisk together dressing and honey.

Carefully pour sauce into bag with chicken.

Remove as much as as possible and seal bag. Label, date, and place flat into freezer to freeze.
To thaw:
Remove bag from freezer and place on a tray or in a large bowl in the refrigerator for 24-48 hours until thawed.
To cook:
Place thawed contents of bag into slow cooker.

Cover, and cook on LOW for 4-6 hours.

Remove chicken and shred, then place back into slow cooker to mix with sauce.

Serve over white rice and garnish with toasted sesame seeds and sliced green onions (if desired).
NOTES
Goes well with roasted broccoli or a simple side salad!
You may opt to substitute chicken thighs for chicken breasts.
NUTRITION
Serving:
1
g
|
Calories:
652
kcal
|
Carbohydrates:
58
g
|
Protein:
38
g
|
Fat:
31
g
|
Saturated Fat:
5
g
|
Polyunsaturated Fat:
25
g
|
Cholesterol:
96
mg
|
Sodium:
654
mg
|
Fiber:
1
g
|
Sugar:
57
g
Did You Make This Recipe?
Please leave a comment on the blog or share a photo on Facebook @MakeAheadMealMom!