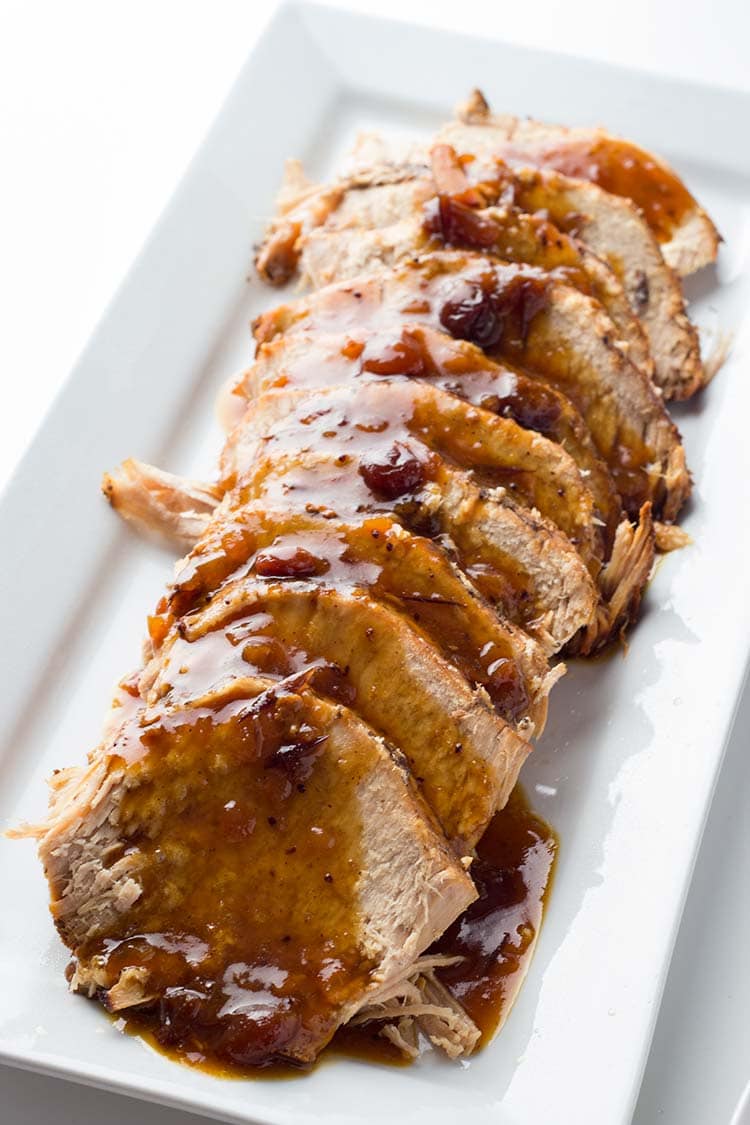 Spiced Cranberry Pork Roast
This Spiced Cranberry Pork Roast is a very versatile dish, and can easily be made in the oven, slow cooker OR a digital pressure cooker. AND true to my style, it is indeed a freezer meal! 😉
But you do not have to use it as a freezer meal. You can make this from scratch without freezing, and I'll still be your friend – promise!
Cranberry pork roast is a great dinner meal on its own, and I've just decided to dress it up a little with some additional seasonal flavors and spices. I love the combination of oranges and cranberries, and the balance of sweet and tart that it brings. To warm the dish up a bit, I've added in a little bit of cloves, and given the starring role in the sauce to some nutmeg.
You can serve the pork roast sliced or shredded – your choice. When I roast a boneless loin roast in the oven, it generally will slice and not shred. The same is true when cooking in the slow cooker. It just doesn't get quite the heat it needs to be able to shred like a shoulder butt roast. But when cooking in a pressure cooker, I'm lucky if I can get it to stay together enough to slice. Most of the time it sortof just shreds itself as I try to take it out of the pot. Ha ha!
I've been doing my pork roasts mostly in the pressure cooker, and have been using a cornstarch slurry with the remaining juices to make a gravy. But if you prefer, you can strain the juices and make a gravy with a flour roux, too. I'm just lazy. I can dump the cornstarch slurry into my Instant Pot without needing to strain the juices. And I can bring it to a boil to thicken, all without dirtying another pot. And I'm all about having less dishes and pots to wash up!
If you go the cornstarch route, just make sure you add your cornstarch to equal parts COLD water in a separate bowl or cup, then whisk until dissolved. THEN pour it into your hot liquid. Never put cornstarch directly into a hot liquid. It will clump on you every. single. time. And there is nothing worse than lumpy gravy. I've learned my lesson the hard way…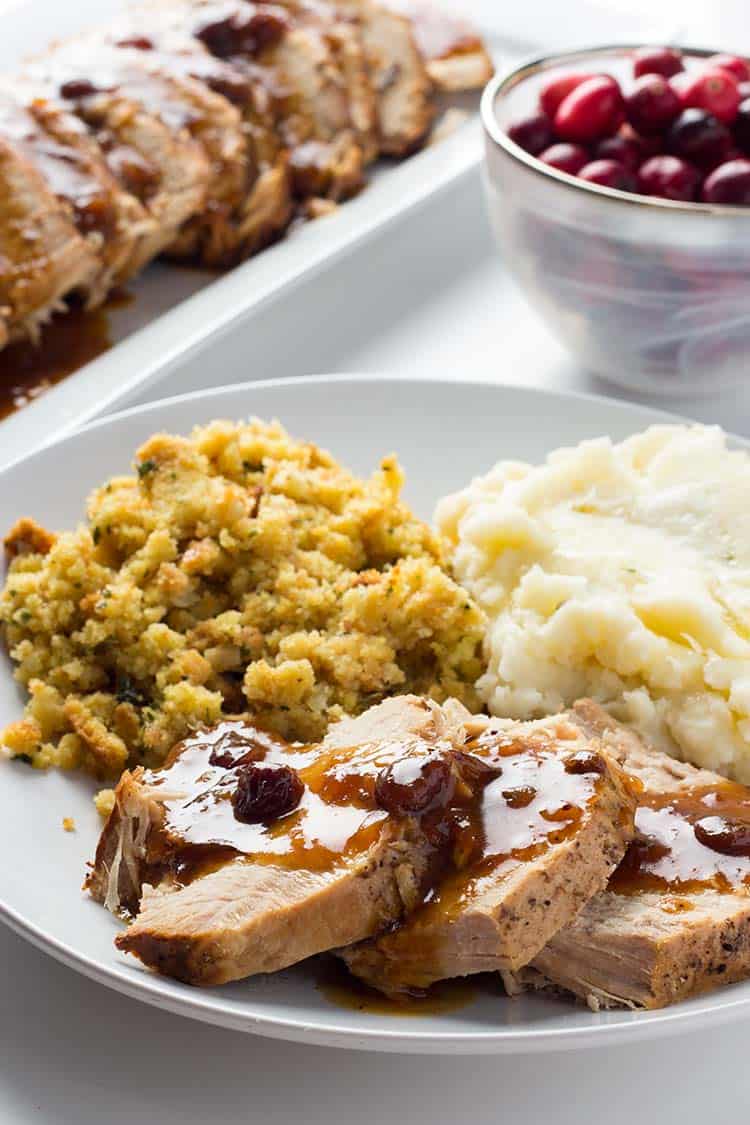 So there you have it! I hope you'll give this Spiced Cranberry Pork Roast a try, and I hope it will become a family favorite for the holiday season!! And if you really want to make it a special meal, pair this with my Instant Pot Garlic Herb Mashed Potatoes!
Spiced Cranberry Pork Roast
Total Time:
1 hour
10 minutes
With the addition of cloves and nutmeg, along with a little bit of orange juice, this Spiced Cranberry Pork Roast will take your ordinary pork roast to a whole new holiday level!
Ingredients
1 boneless pork loin roast (2 1/2 to 3 pounds)
1 15oz can whole berry cranberry sauce (or 2 cups homemade)
1 cup orange juice
1/3 cup honey
2 tablespoons dry minced onion
1 teaspoon ground nutmeg
1/2 teaspoon salt
1/2 teaspoon garlic powder
1/4 teaspoon black pepper
1/8 teaspoon ground cloves
For sauce (at time of cooking):
2 tablespoons cornstarch
2 tablespoons COLD water
Instructions
Place pork roast in gallon-size freezer bag.
In medium bowl, combine remaining ingredients until mixed well.
Pour over roast in bag.
Remove as much air as possible from bag and seal shut.
Label and date, then lay bag flat in freezer to freeze.
For slow cooker:
Remove bag from freezer the night before and allow to thaw overnight in the refrigerator.
Place contents of bag into slow cooker.
Cook on low for 4-5 hours, or until thermometer inserted into center of pork loin reads 160 degrees Fahrenheit.
Remove roast from slow cooker and pour remaining juices into medium saucepan.
Mix cornstarch and COLD water until a thin slurry is achieved.  Pour slurry mixture into saucepan.
Heat sauce over medium-high heat until boiling.  Reduce heat and allow to simmer, stirring regularly, for 2-3 additional minutes until sauce has thickened.
Slice or shred roast, add sauce and serve.
For Instant Pot/pressure cooker:
Remove bag from freezer the night before and allow to thaw overnight in the refrigerator.  
Place contents of bag into pressure cooker.
Cover and cook on HIGH pressure for 60 minutes.  Then allow 10 minutes natural release, then quick release.
Remove roast from pressure cooker.
Mix cornstarch and COLD water until a thin slurry is achieved. Pour slurry mixture into pressure cooker.
Set pressure cooker to Saute function, and allow sauce mixture to come to a boil.  Heat for 2-3 minutes, stirring constantly, until sauce has thickened and then turn pressure cooker off.
Slice or shred roast, add sauce and serve.
Nutrition Information:
Yield:

8
Serving Size:

8 servings
Amount Per Serving:
Calories:

203
Total Fat:

4g
Saturated Fat:

1g
Trans Fat:

0g
Unsaturated Fat:

2g
Cholesterol:

21mg
Sodium:

146mg
Carbohydrates:

38g
Fiber:

4g
Sugar:

28g
Protein:

7g
Nutrition information provided as an estimate only.