Mexican Chili & Cornbread
This freezer meal recipe takes just minutes to prep, and then when ready, cooks in your slow cooker all day – even the cornbread topping!
Today's freezer meal recipe comes straight from a blog that I adore for finding amazing freezer meals! Kelly at New Leaf Wellness has some of the best healthy freezer meal recipes I have found – and they are SO simple to put together! We have tried dozens of her recipes so far, and not a single fail. The best part? Most of them are dump-and-go meals and are designed to be cooked in your slow cooker!
Her meals are made with simple, basic ingredients. They require NO pre-cooking, and minimal prep. She has even gone the extra mile and combined recipes into mini sessions for you, with recipes AND shopping lists all included! (She has several eBooks you can buy, but she also has a bunch of free mini sessions, too.)
Many of her recipes will qualify as gluten-free, as well as dairy- and soy-free. I lived on these after my last two kiddos were born (both very dairy and soy sensitive) and throughout the time that I was nursing them.
If you follow my Facebook page, you saw that I was able to score some great deals on ground beef yesterday. And today was the expiration/use by date, so I needed an easy meal I could use it in. Enter Kelly's Mexican Chili & Cornbread! I've tweaked her recipe just slightly to better suit my family's tastes.
I made two of the same meal, and it took me maybe a minute or two longer than just making one because I was using all the same ingredients and doing the prep for both at the same time. Plus, even stopping to take photos along the way, the entire process still only took me 20 minutes to complete!! If you don't stop to take photos as you do this, you'll have these made in 10 minutes or less. Promise.
Here's the lineup of what goes into your freezer bag: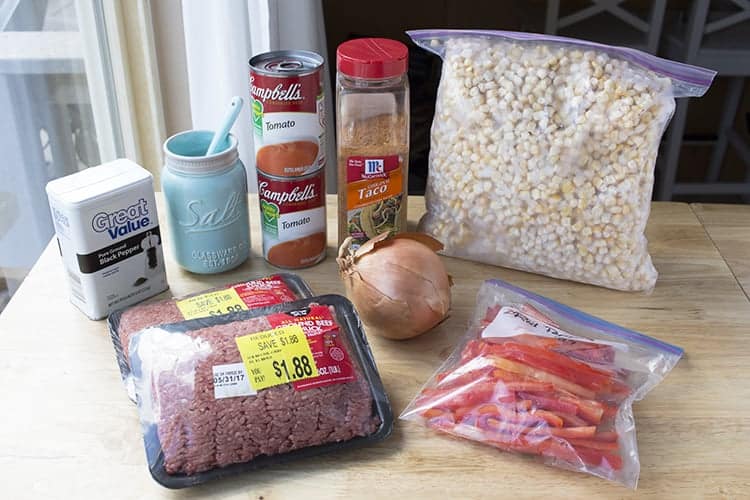 Notice those red peppers? Yup, those came right out of my freezer, from extras I bought last week. 😉
There is no pre-cooking on this one, and the only prep is chopping the onion and bell peppers.
If you don't have the store-bought taco seasoning on hand, I've got a handy recipe for making your own taco seasoning mix!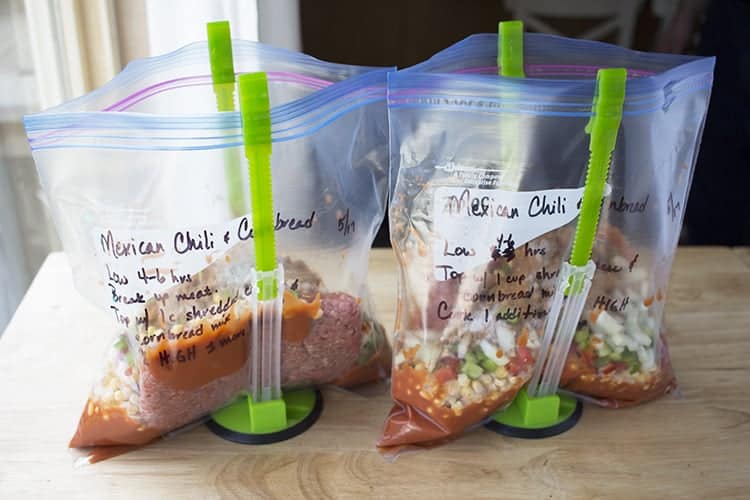 Label a lovely gallon-size freezer bag with all the pertinent info, and then toss in your ingredients. Don't even break up the ground beef, just dump it in all in one lump! Seriously. I don't even knead these after to mix them – I just seal them and stash them.
(You might notice some green in there – I didn't want to use all of my red peppers, so I ended up doing half red and half green. Another bonus of having peppers ready to go in the freezer already!)
Now, there are two other ingredients for this recipe, that you DON'T need for freezing, but that you DO need for when you go to the cook the meal. You'll need 1 cup of shredded cheese (cheddar, monterey jack or pepper jack) and a small box of cornbread mix. You know, the blue and white box…THAT stuff…and the required ingredients to make up said cornbread mix.
I do happen to have an awesome cornbread mix recipe of my own, but unfortunately it makes WAY too much to be used in the crock pot. So I've always just used the boxed or baggie mixes. However, you might be able to use the Best-Ever Cornbread and only use half. Hmm, sounds like something I'll have to try in the near future…
Anyway, when you get ready to make this meal, you'll want to let your bag thaw overnight in the fridge. Then, the next morning, empty the contents of your bag into your slow cooker, and cook on LOW for 4-6 hours, until the ground beef is cooked through. At that point, you can break up the ground beef and stir it all together. Sprinkle the cup of shredded cheese over the top but do not stir it in.
Follow the instructions for making up your cornbread mix, and instead of putting it into a pan or dish, you're going to pour or spoon it gently over the top of the chili and cheese right IN YOUR SLOW COOKER. That's right – the cornbread will cook in your slow cooker. A-MAZ-ING!! Put the lid back on your slow cooker and let it cook on HIGH for one additional hour, or until cornbread is fully cooked.
This meal is great as-is, but don't be afraid to spice it up with additional toppings if you'd like. Some favorites are chopped tomatoes, sour cream, and extra cheese!!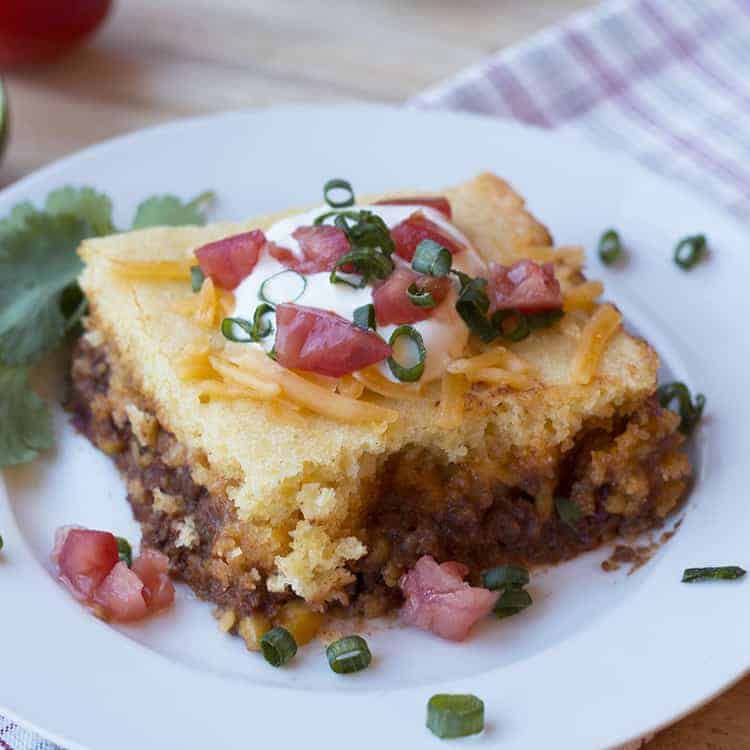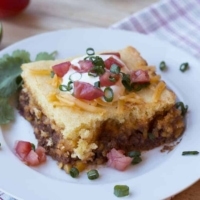 Slow Cooker Chili Cornbread Casserole
Hearty chili with a great taco flavor, all topped with a yummy cheese and cornbread layer!
Print
Save
Saved!
INGREDIENTS
1

lb

ground beef

1

cup

bell pepper

chopped

1

cup

frozen corn

1/2

cup

onion

chopped

2 1/2

tbsp

taco seasoning mix

(1 store-bought packet)

1

can condensed tomato soup

1

tsp

salt

1/4

tsp

pepper

1

cup

shredded cheese

needed on day of cooking

1

box Jiffy cornbread mix

needed on day of cooking

ingredients to make cornbread mix

needed on day of cooking
INSTRUCTIONS
For the freezer bag:
Label a gallon-size freezer bag with name, date and cooking instructions.

Place all ingredients (except shredded cheese and cornbread mix and its ingredients) into bag.  Squeeze out air and seal tightly.  Freeze.
To make:
Remove bag from freezer and allow to thaw overnight in the refrigerator.

Empty contents of bag into slow cooker.  Cook on LOW for 4-6 hours until ground beef is cooked through.

Break up cooked beef and stir to combine.

Sprinkle shredded cheese on top of chili, but do not stir it in.

Follow the directions for making the cornbread batter.  Gently spoon or pour the cornbread batter over the top of the chili and cheese.

Cover and cook on HIGH for 1 more hour, until cornbread is fully cooked.
NUTRITION
Serving:
1
g
|
Calories:
318
kcal
|
Carbohydrates:
22
g
|
Protein:
21
g
|
Fat:
16
g
|
Saturated Fat:
7
g
|
Polyunsaturated Fat:
7
g
|
Trans Fat:
1
g
|
Cholesterol:
69
mg
|
Sodium:
846
mg
|
Fiber:
2
g
|
Sugar:
7
g
Did You Make This Recipe?
Please leave a comment on the blog or share a photo on Facebook @MakeAheadMealMom!