Make-Ahead Mexican Lasagna
All of your favorite south-of-the-border flavors in one easy layered "lasagna" that you can make ahead of time and freeze for easy dinner! Or use for meal prep or freezer lunches!!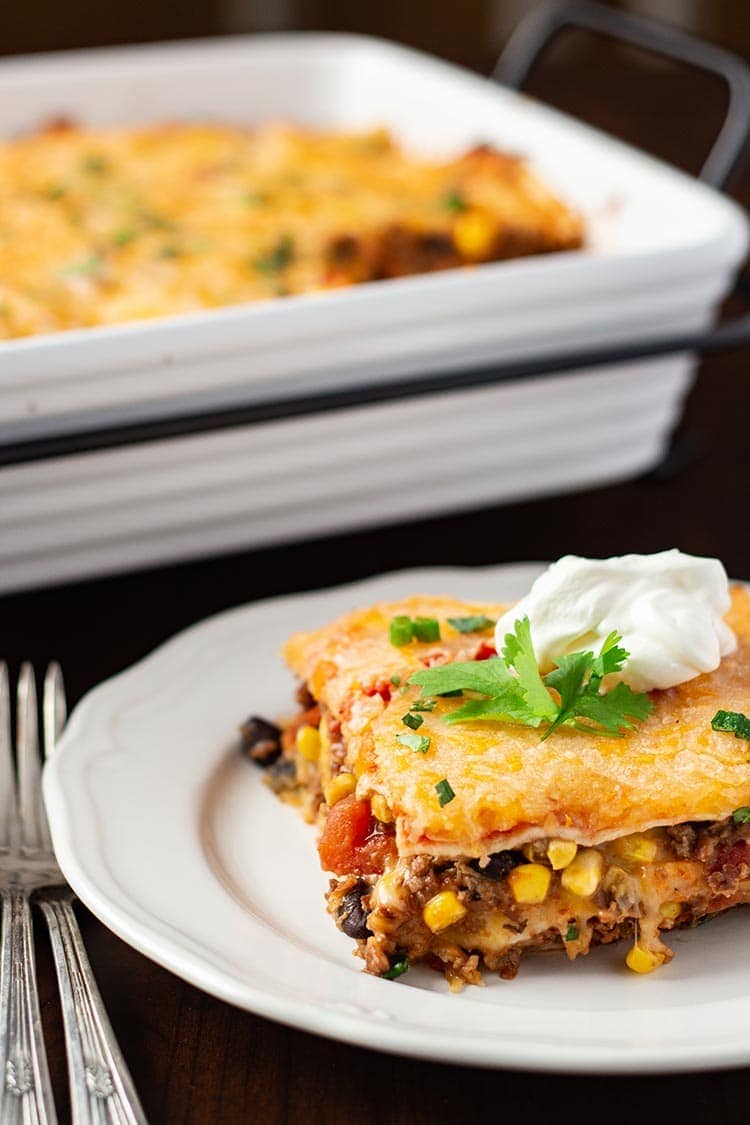 Make-Ahead Mexican Lasagna
This easy Make-Ahead Mexican Lasagna is a great south-of-the-border take on the traditional lasagna. It is easy to put together, and contains layer upon layer of bright, fresh flavors. It's like all of your favorite Mexican food all layered into one great casserole recipe!
Now, before we get any further, I want to acknowledge right up front that this lasagna really doesn't actually have anything to do with Mexico or authentic Mexican food.
It's a totally American-made copy of the original Italian favorite remade with "Mexican" flavors.
But for whatever reason, the name has stuck, and it is now widely known as "Mexican Lasagna".
No matter the name, it's still one heck of a tasty dish! And I love that it can be made ahead of time as a freezer meal!!
Assembling the Mexican Lasagna
This Make-Ahead Mexican Lasagna goes together pretty much just like your regular Italian-style lasagna, so no real surprises here.
Start by spraying a 9×13 baking dish or aluminum pan with non-stick cooking spray and then spreading half the can of tomato sauce along the bottom of the pan. (I like to use half-size steam table pans when making this for the freezer or to take to neighbors. You can also use aluminum cake pans that you can find at your local grocery store .)
Then layer two of your flour tortillas on top of the tomato sauce.
Next goes the meat and bean and corn filling – use half of your filling here as there are only two meat layers.
Top the meat layer with about 1 cup of shredded cheese.
Repeat layers 2 – 4 one more time, then top with two more tortillas, spread the remaining tomato sauce over the tortillas, and top with the remaining cheese.
After that, all you need to do is cover and label your dish and stick it in the freezer!
Freezing and Reheating
This Mexican Lasagna casserole will keep in the freezer for up to six months if properly stored.
I prefer to cook from thawed, so I try to remember to pull the lasagna out of the freezer the night before and let it thaw in the refrigerator overnight. But, should you forget to do so, you can bake it straight from frozen (just plan on about double the normal cook time).
You can also skip the freezing and bake the Mexican Lasagna from fresh, and then cut it into individual portions once it has cooled and freeze those! This is a great option for meal prep and freezer lunches!!
I also highly recommend using homemade taco seasoning in this recipe for extra flavor (and less chemicals and preservatives and fillers)!
Give it a try, and let me know what you think!!
If you make this recipe, I'd love for you to leave a comment and let me know what you think! Or snap a pic and tag me on Facebook or Instagram!
And as always, be sure to pin this recipe to your Pinterest boards so you'll know where to find it!!
Make-Ahead Mexican Lasagna
All your favorite south-of-the-border flavors in one easy layered lasagna that you can make ahead and freeze!!
Print
Save
Saved!
Pin Recipe
INGREDIENTS
1

pound

ground beef

2

tablespoons

taco seasoning

1

tablespoon

dry minced onion

1

teaspoon

salt

1

14.5 oz can black beans, rinsed and drained

1

14.5 oz can whole kernel corn, drained

1

14 oz can refried beans

1

16 oz jar salsa

1

15 oz can tomato sauce

6

flour tortillas

8 inch soft taco size

4

cups

Fiesta blend shredded cheese

or Colby Jack or Cheddar Jack
INSTRUCTIONS
In medium skillet, brown ground beef together with salt and dry minced onions over medium-high heat until beef is no longer pink.

Drain fat. Sprinkle taco seasoning over meat and add 1/2 cup water. Simmer until sauce thickens.

Turn off heat. Add in black beans, corn, refried beans and salsa, and mix to combine. Set aside.

Prepare a 9x13 aluminum pan or baking dish (or half size steam table tray, aluminum cake pan or roasting dish, etc.) by spraying liberally with non-stick cooking spray.

Pour in half of the tomato sauce and spread it over the bottom of the pan.

Layer two tortillas on top of the sauce, covering as much of the pan as you can.

Add half of your meat mixture and gently spread over the tortilla layer.

Sprinkle 1 cup of shredded cheese over the meat layer.

Repeat one more layer of tortillas, meat mixture and shredded cheese (1 cup).

Place your remaining two tortillas and then pour in the remaining tomato sauce and carefully spread it over the tortillas.

Top with the last 2 cups of shredded cheese.
To freeze:
Cover dish, label and date, and then place into freezer to freeze. Will keep up to six months.
To heat:
Remove frozen Mexican Lasagna from freezer and place in the refrigerator to thaw overnight. Bake COVERED at 350 degrees Fahrenheit for 45 minutes, then UNCOVERED for 15 more minutes. If your cheese has not melted enough, you can broil for 2-3 minutes until bubbly and golden brown.
For meal prep or freezer lunches:
Skip the freezing step and go right to baking the Mexican Lasagna. Remove from oven and allow to cool. Place into refrigerator for several hours (this will make it easier to cut and portion). Once chilled, cut into individual portions and place them into containers for meal prep or for freezing. Cover, label, date and freeze until needed. To reheat, microwave for 1-2 minutes from thawed, or from frozen, microwave 2 minutes on 50% power and 2 minutes full power.
NOTES
My family is not keen on spicy or hot foods, so I make this with tomato sauce. However, if you'd like to take it to the next level, replace the tomato sauce with enchilada sauce!
You can also sub out your favorite cheese blend if you can't find a Fiesta or Mexican-style blend at your local store.
NUTRITION
Serving:
1
g
|
Calories:
487
kcal
|
Carbohydrates:
37
g
|
Protein:
28
g
|
Fat:
25
g
|
Saturated Fat:
12
g
|
Polyunsaturated Fat:
10
g
|
Trans Fat:
1
g
|
Cholesterol:
78
mg
|
Sodium:
1281
mg
|
Fiber:
6
g
|
Sugar:
3
g
Did You Make This Recipe?
Please leave a comment on the blog or share a photo on Facebook @MakeAheadMealMom!