Instant Pot Garlic Herb Mashed Potatoes
These Instant Pot Garlic Herb Mashed Potatoes are one of the first recipes I ever made in my electric pressure cooker, and they are now the ONLY way I do mashed potatoes!  They are so easy and super creamy!  Even better, you can make up a large batch and store extras in the freezer to pull out as needed!!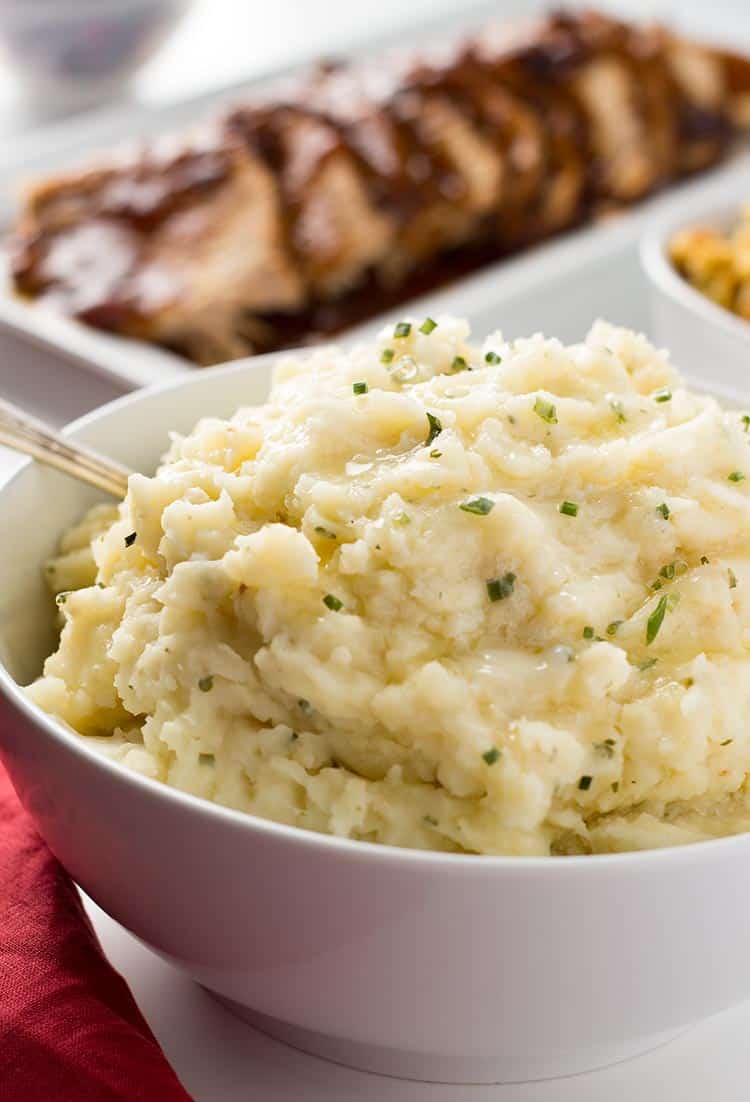 Instant Pot Garlic Herb Mashed Potatoes
These Instant Pot Garlic Herb Mashed Potatoes are the only way I make mashed potatoes anymore! They are unbelievably creamy, satisfying, and oh so delicious!! Best of all, you can make them ahead of time and freeze them. I know – mind blowing, right?!?
I got my first electric pressure cooker about 10 years ago. It was a humble little Cuisinart 6 quart model – no fancy bells or whistles. But it was quite an upgrade from the older stovetop models and it definitely got the job done!
This was LONG, long before the Instant Pot had even been created, or imagined. Long before pressure cooking started becoming popular again.
You see, pressure cooking is nothing new – it's been around for a LONG time. In fact, if you ask your mother or grandmother about it, they will most likely be able to tell you some interesting (and sometimes scary) stories! In fact, they may even be able to pull out and show you their old stovetop models, with the "rocker" or "jiggler" on top. The things could definitely cook, but they were a bit scary when you think about it. And I don't even want to see the numbers of reports of exploding pressure cookers…
The newest iterations are now electric (they are self-contained and don't need an external heat source like a stovetop) and have several additional safety features which have made them significantly safer than their olde-tyme counterparts.
But the basic cooking principle is the same – you put something under pressure and you get much higher temperatures, which allows you to cook food much faster than you can in an oven or on the regular stovetop.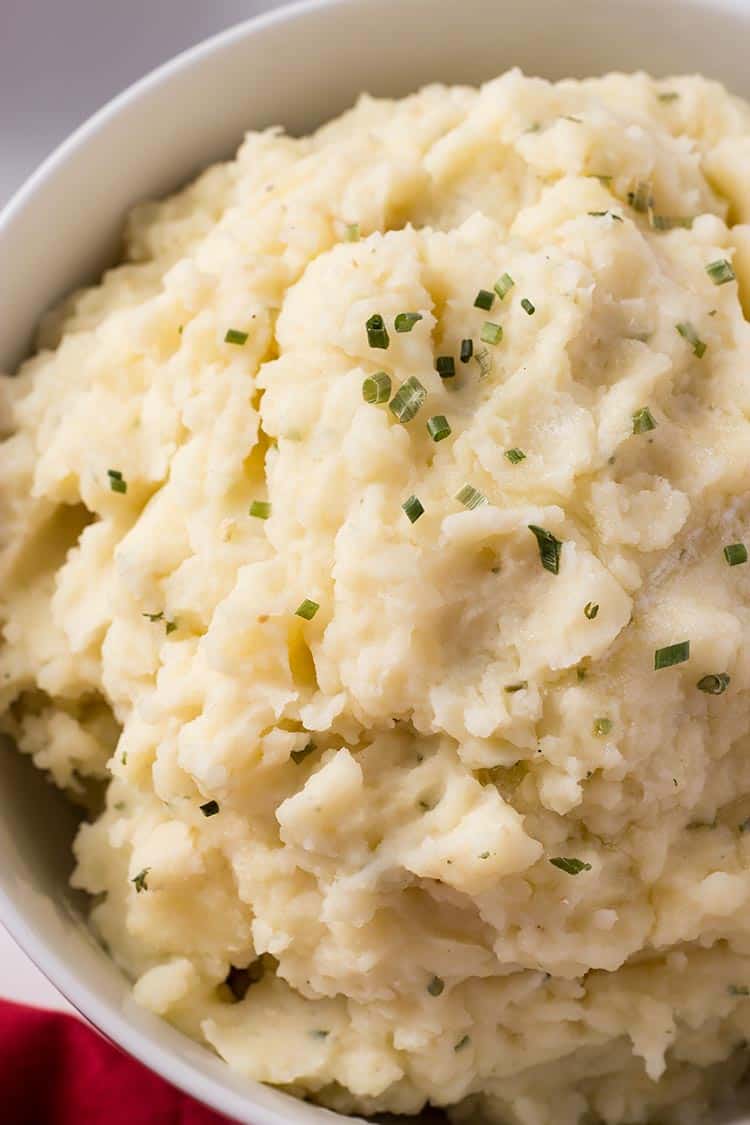 This is truly the only way that I make mashed potatoes anymore. It is so easy, and it is all done in one pot. I can make a double or triple batch of these Instant Pot Garlic Herb Mashed Potatoes in the same time as a single batch, and then freeze the extras to be used with future meals. The best part though, is that I can make them up earlier in the day, and then just let them sit on the Keep Warm setting in my pressure cooker until dinner time. I always have such a hard time getting everything timed right to all be ready to eat at the same time, and this makes one less thing I have to worry about finishing up at the last minute! (Plus is saves oven and stovetop space which is especially handy when cooking big meals like Thanksgiving or Sunday family dinners.)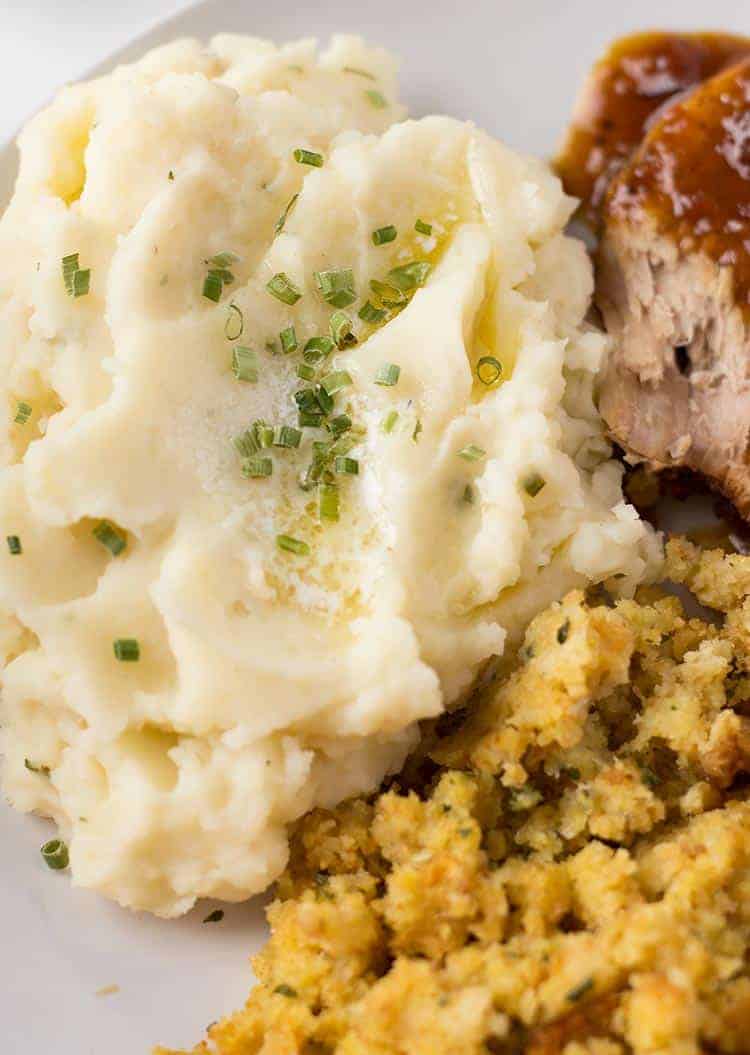 Now, the secret to freezing mashed potatoes is using a recipe that calls for the addition of plenty of fat, and these Garlic Herb Mashed Potatoes have plenty of it! That's what keeps them stable when freezing and allows you to thaw them without them getting grainy and soupy. So, don't try this with just any mashed potatoes. Make sure the version you use to freeze includes the addition of cream or cream cheese and plenty of butter. The more fat, the better they will do when frozen and then reheated.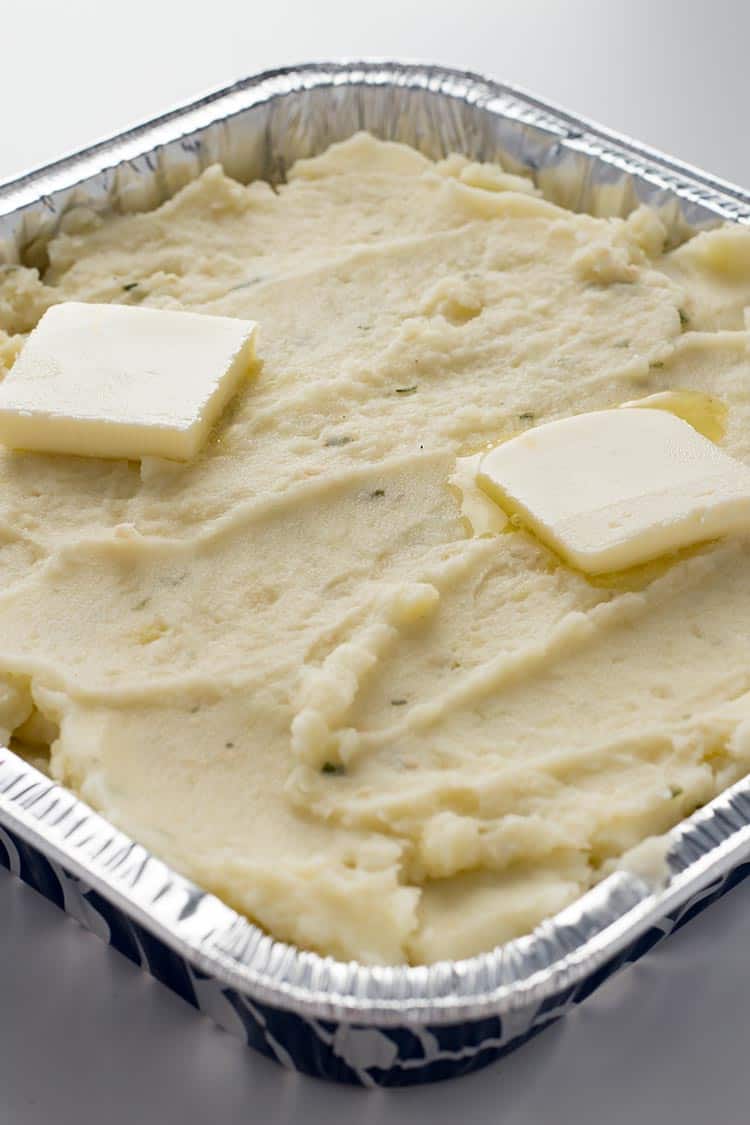 You can portion them however you'd like, either in individual servings, or in batches. I like to put them in small aluminum trays and then reheat them in the oven. You can portion them out with a cookie scoop on a sheet pan if you like, or stick 1-2 cups worth in a freezer ziptop bag. It's totally up to you.
These easy mashed potatoes go well with just about anything under the sun. Or just by themselves. We like to serve them with Baked Brown Sugar Garlic Chicken, or the Spiced Cranberry Pork Roast you see in the background. And not like you'll have any extras anyway, but if you ever do, they work great in Thanksgiving Dinner Casserole!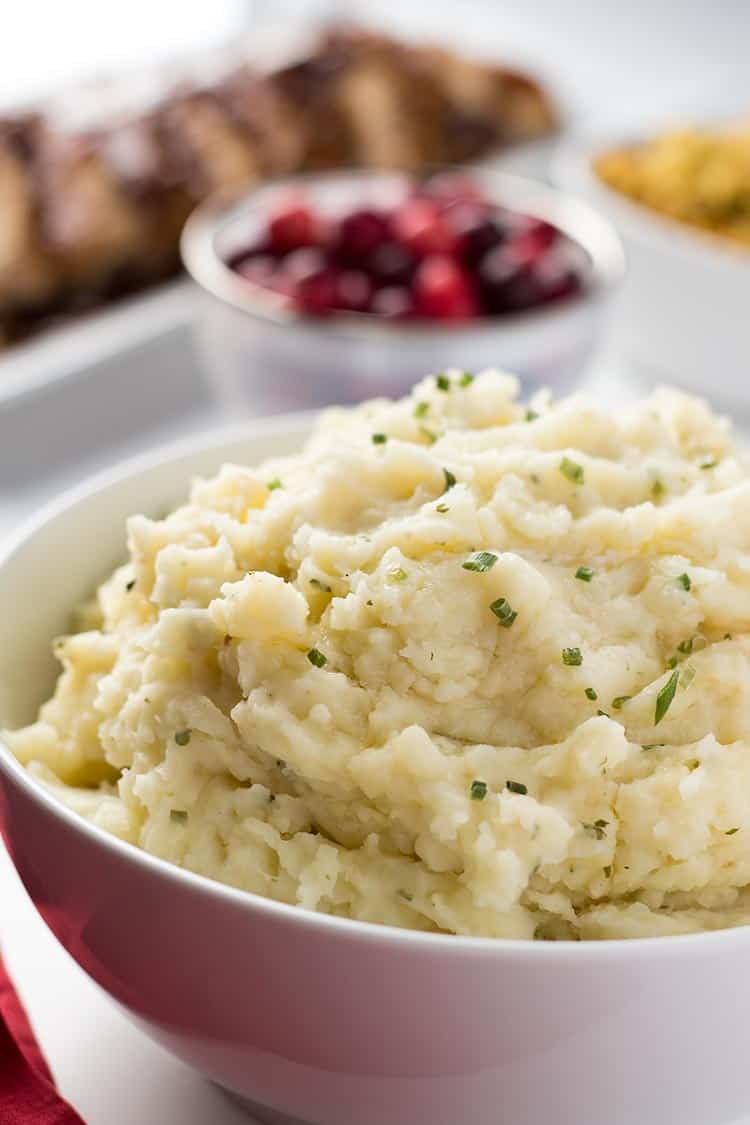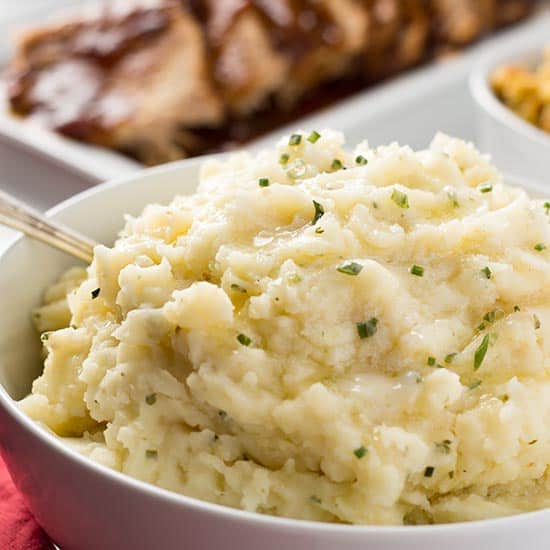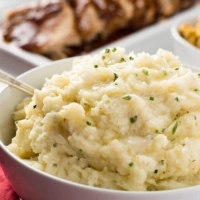 Instant Pot Garlic Herb Mashed Potatoes
Servings:
12
half-cup servings
These Instant Pot Garlic Herb Mashed Potatoes are easy, creamy and full of flavor!  Make up a double or triple batch for dinner, and freeze the extras for future meals!!
Print
Save
Saved!
Pin Recipe
INGREDIENTS
3

pounds

Yukon Gold or russet potatoes

peeled and cut into 1in chunks

4

cups

water

6

teaspoons

minced garlic

3

teaspoons

kosher salt

divided

1

teaspoon

white vinegar

1

cup

heavy cream

3

tablespoons

butter

1/4

cup

chopped fresh or freeze-dried chives

1/4

cup

chopped fresh parsley

or about 1 1/2 tablespoons dried

1/2

teaspoon

ground pepper
INSTRUCTIONS
Place potatoes, water, garlic, vinegar and 1 teaspoon salt into cooking pot of pressure cooker.

Seal pressure cooker, close venting valve and set pressure cooker to cook on HIGH pressure for 7 minutes (on an Instant Pot press Manual, then + or - to get to 7 minutes).  (See your instruction manual for specifics for your model.)

When cooking time is completed, quick release the pressure using your venting valve.  

Once pressure is fully released, carefully lift cooking pot out of pressure cooker and drain potatoes.  Return cooking pot to pressure cooker and set your pressure cooker to Saute.  Let potatoes cook for 2-3 minutes to dry potatoes and remove excess moisture.

Add heavy cream and remaining salt (1-2 teaspoons) to cooking pot.  Mash potatoes using a potato masher or large spoon.  

Add butter, chives, parsley and pepper and continue to mash or stir until you've reached the desired consistency.  Taste and add additional salt and/or pepper if needed.

Serve immediately, prepare for freezing, or set your pressure cooker to Keep Warm to hold them until later.
To freeze:
Allow potatoes to cool to room temperature. 

Spoon into baking dish or tray, top with additional pats of butter if desired, and cover.  Label, date and freeze.
To reheat:
Remove potatoes from freezer and allow to thaw overnight in the refrigerator.

Bake at 350 degrees Fahrenheit, covered, for 20-30 minutes until heated through.
NUTRITION
Serving:
1
/2 cup
|
Calories:
216
kcal
|
Carbohydrates:
28
g
|
Protein:
4
g
|
Fat:
10
g
|
Saturated Fat:
6
g
|
Polyunsaturated Fat:
3
g
|
Cholesterol:
30
mg
|
Sodium:
575
mg
|
Fiber:
3
g
|
Sugar:
2
g
Did You Make This Recipe?
Please leave a comment on the blog or share a photo on Facebook @MakeAheadMealMom!