Chicken Alfredo Bake
Rich, creamy and absolutely delicious, you would never guess this came out of your freezer! Making your own chicken alfredo bake is easier than you think!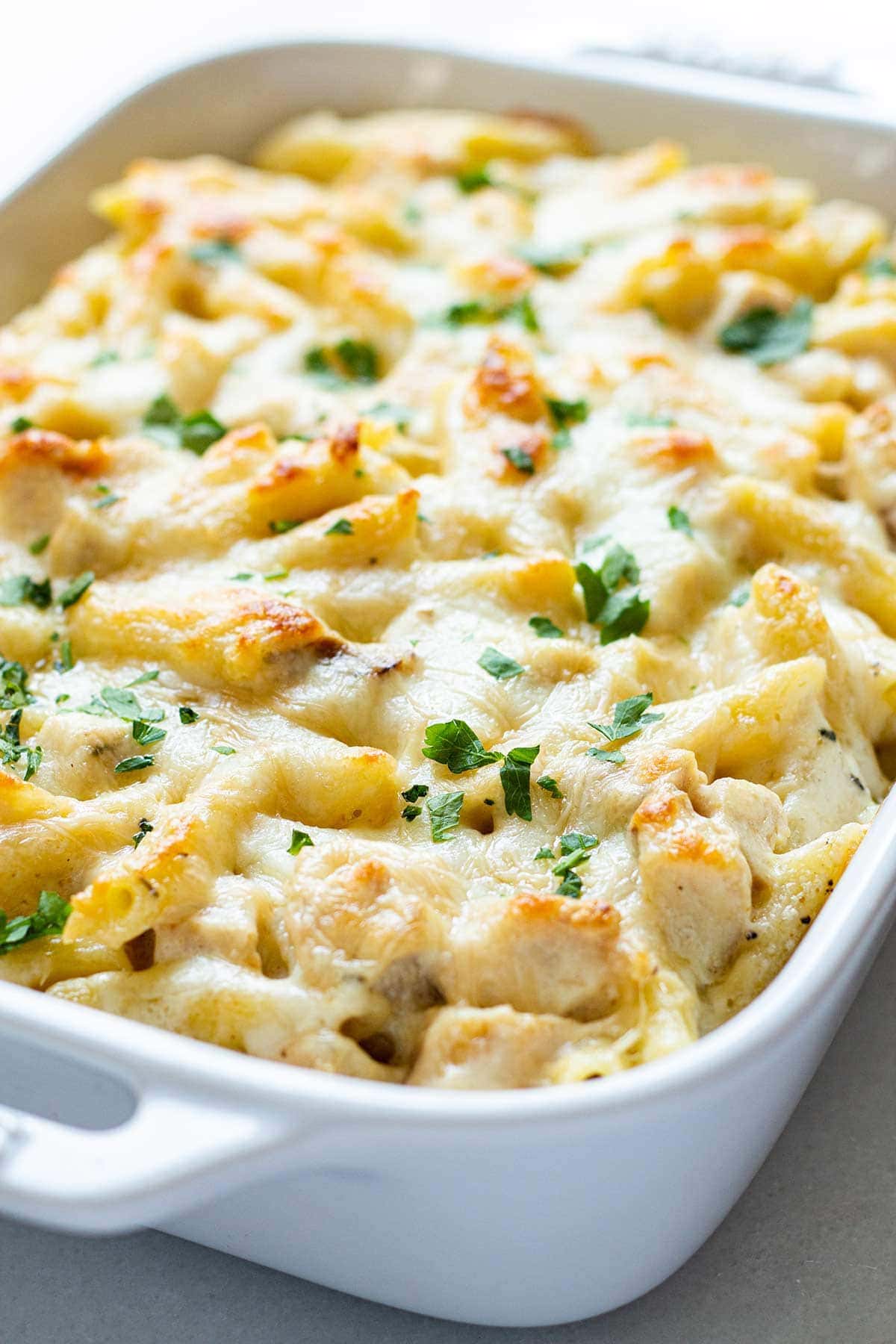 Freezer Meal: Chicken Alfredo Bake
This Chicken Alfredo Bake recipe is for my sister.
Who called me one night asking if I possibly had a chicken alfredo recipe I could share with her because she and her family were loving the alfredo bake from Costco, but they were certainly not loving the price.
And when you go through a tray of that stuff every night or so, it tends to get rather expensive really quickly!
Now, full disclosure, I've actually never tried the chicken alfredo from Costco. Mostly because dairy and I are not friends. And anything drenched in white creamy sauce, no matter HOW rich and delicious, is bound to cause me some grief. (My poor kids have inherited the allergy as well.)
So I generally avoid the stuff. You know, self-preservation and all…
But as the amazing and loving and awesome sister that I am, I just couldn't ignore her plea for help! I mean, come on, she's family!! 🙂
So I pulled out a couple alfredo sauce recipes I had, and started tweaking.
I did, of course, take one for the team, so to speak, and spend plenty of time tasting this one, despite the ramifications on my digestive tract.
And it pains me that it is not something I could eat regularly – curse you dairy allergy!
But I most certainly would eat it frequently if I could.
It's good, people. Like REALLY good!
I'm not going to lie. This stuff is RICH!
Like probably close to "heart attack on a plate" rich.
But oh my goodness, does it taste absolutely divine!!! And best of all, you can make it ahead of time and keep it in your freezer!
Add Flavor to Your Chicken Alfredo Bake
I recommend using grilled chicken for this – it adds an amazing depth of flavor!
My favorite is chicken that has been grilled and seasoned with Weber's Kick'n Chicken seasoning.
Despite the name, it is not spicy. But it IS delicious!
I just ran out of my last bottle of the stuff, and the store was out as well. So now I'm on a mission to recreate it and make my own.
Hopefully that will happen sooner rather than later.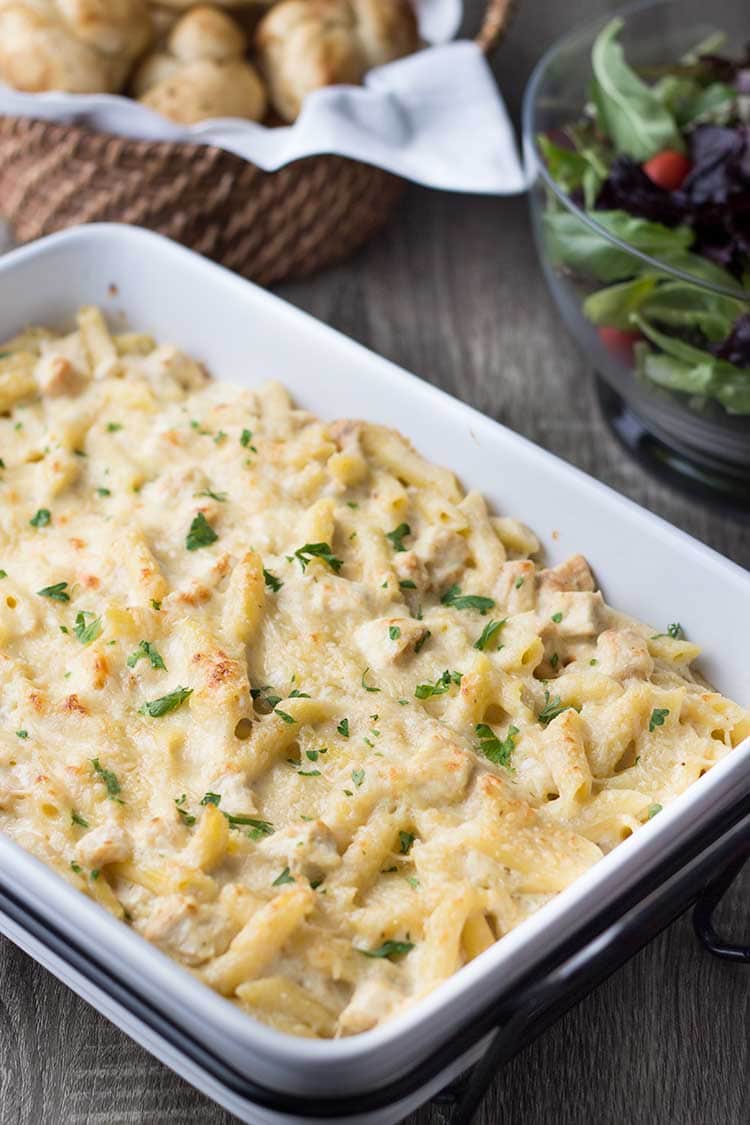 Freezing & Serving Options
The recipe makes a fairly large batch, enough for a large casserole dish.
But if you've got a smaller family, you can split this in two – make half for dinner and freeze the other half in a smaller dish and have a second meal ready to go.
Or use it for two separate freezer meals.
You could even freeze this in individual dinner portions for meal prep purposes.
The components are all fully cooked before freezing, so you could put this into individual containers and then just microwave it for lunch or a quick dinner.
Now, if you'll excuse me, I'm going to go dream of eating Chicken Alfredo Bake while I go nibble on my dairy-free salad, which it not nearly as satisfying but definitely easier on my insides. 😉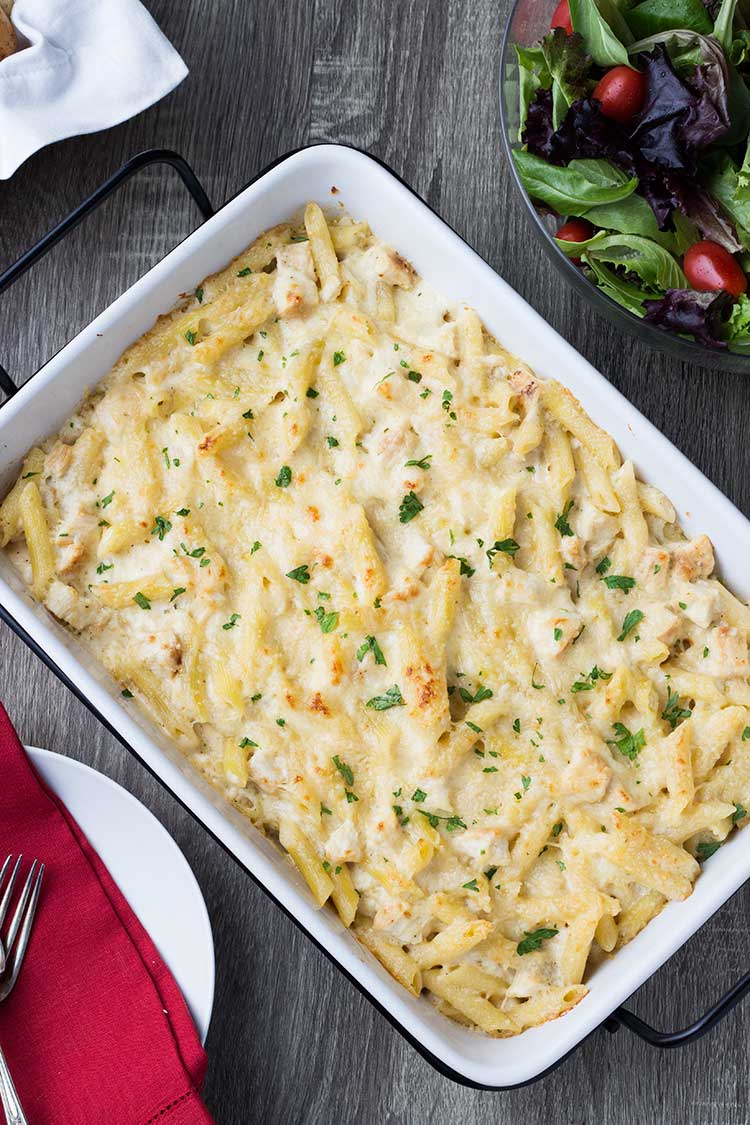 Chicken Alfredo Bake
Rich, creamy and delicious, you will never guess this came out of your freezer!
Print
Save
Saved!
Pin Recipe
INGREDIENTS
16

ounces

penne rigata pasta

6

tablespoons

butter

2

tablespoons

all-purpose flour

1

tablespoon

minced garlic

4

cups

heavy whipping cream

1/2

teaspoon

salt

1

teaspoon

garlic salt

optional, see Notes

1/2

teaspoon

white pepper

2

cups

shredded Parmesan cheese

1 1/2

cups

mozzarella cheese

2

ounces

cream cheese

softened

2-3

chicken breasts

cooked and diced

chopped parsley

for garnish (optional)
INSTRUCTIONS
Prepare pasta per package directions, to the al dente stage. (Pasta will cook further in the oven, so do not overcook.)

While pasta is cooking, melt butter in large saucepan or dutch oven on stove top over medium heat. Once melted, stir in the flour and whisk. Allow to cook for 2-3 minutes.

Add the garlic, cream, garlic salt (if using, see Notes below), salt, pepper and 1 cup of the Parmesan cheese. Stir to combine and melt cheese.

Allow sauce to simmer for 8-10 minutes until thickened, stirring frequently to avoid burning or scorching. Once thickened, remove from heat.

Add in mozzarella and cream cheese and stir to combine and allow cheese to melt. Add additional salt to taste (if needed).

Drain pasta then place back in pot. Pour in sauce and diced chicken to pasta and stir to combine.

Pour pasta and sauce mixture into a 9×13 baking dish. Sprinkle with remaining Parmesan cheese.
To freeze:
Allow to cool. Cover and label, then place in freezer. (You may want to use a disposable aluminum pan for the freezer.)

When ready to use, remove from freezer the night before and allow to thaw overnight in the refrigerator.
To bake:
Bake at 350 degrees Fahrenheit for 20-25 minutes, until top begins to brown slightly and sauce is bubbly. Remove from oven, garnish with parsley (if desired) and serve.
NOTES
I like to use grilled chicken in this recipe when possible, as it adds a subtle extra layer of flavor.
AND, if you don't mind garlic, up your minced garlic to 1 1/2 tablespoons and add 1 teaspoon garlic salt – delicioso!!
Recipe updated September 29, 2019, with addition of flour. The flour, while not traditional to an alfredo sauce, has been added to help the sauce freeze and reheat without separating. If making this dish to eat immediately, you may omit the flour.
NUTRITION
Serving:
1
g
|
Calories:
849
kcal
|
Carbohydrates:
29
g
|
Protein:
35
g
|
Fat:
66
g
|
Saturated Fat:
41
g
|
Polyunsaturated Fat:
21
g
|
Trans Fat:
2
g
|
Cholesterol:
234
mg
|
Sodium:
760
mg
|
Fiber:
1
g
|
Sugar:
5
g
Did You Make This Recipe?
Please leave a comment on the blog or share a photo on Facebook @MakeAheadMealMom!