Baked Garlic Brown Sugar Chicken
Six basic ingredients make this easy Baked Garlic Brown Sugar Chicken super speedy to prepare in advance, and a short cook time means you can get dinner on the table fast! Great for those nights when you don't know what to fix and time is short!!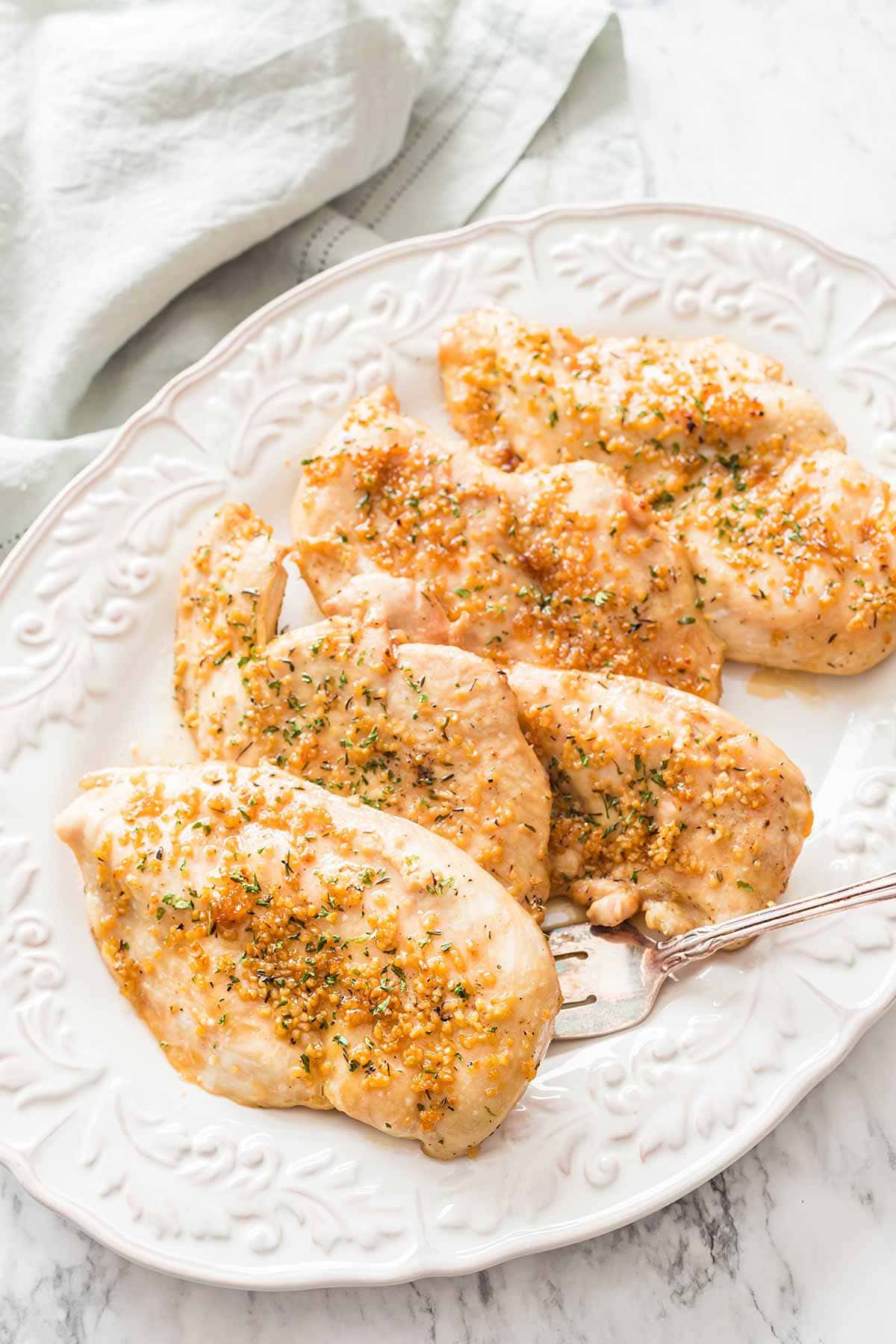 Freezer-Friendly Baked Garlic Brown Sugar Chicken
I am all about simplicity, and some of my favorite freezer meals are ones that are simple to prep, simple to freeze, and simple to cook! This oven-baked Garlic Brown Sugar Chicken freezer meal ticks all those boxes!
It also doesn't hurt that it is basically chicken bathed in a caramelized brown sugar sauce, making it a bit more appealing to the littles at the dinner table. Because who doesn't love anything bathed in caramelized brown sugar sauce??? I mean, really…
For the adults, the addition of garlic and thyme helps mellow all that sweetness and give it a little undercurrent of "umpf" in the flavor.
Don't let this easy chicken dinner fool you though. There is a lot of flavor packed into just those few simple ingredients. And as far as freezer meals go, it doesn't get much easier.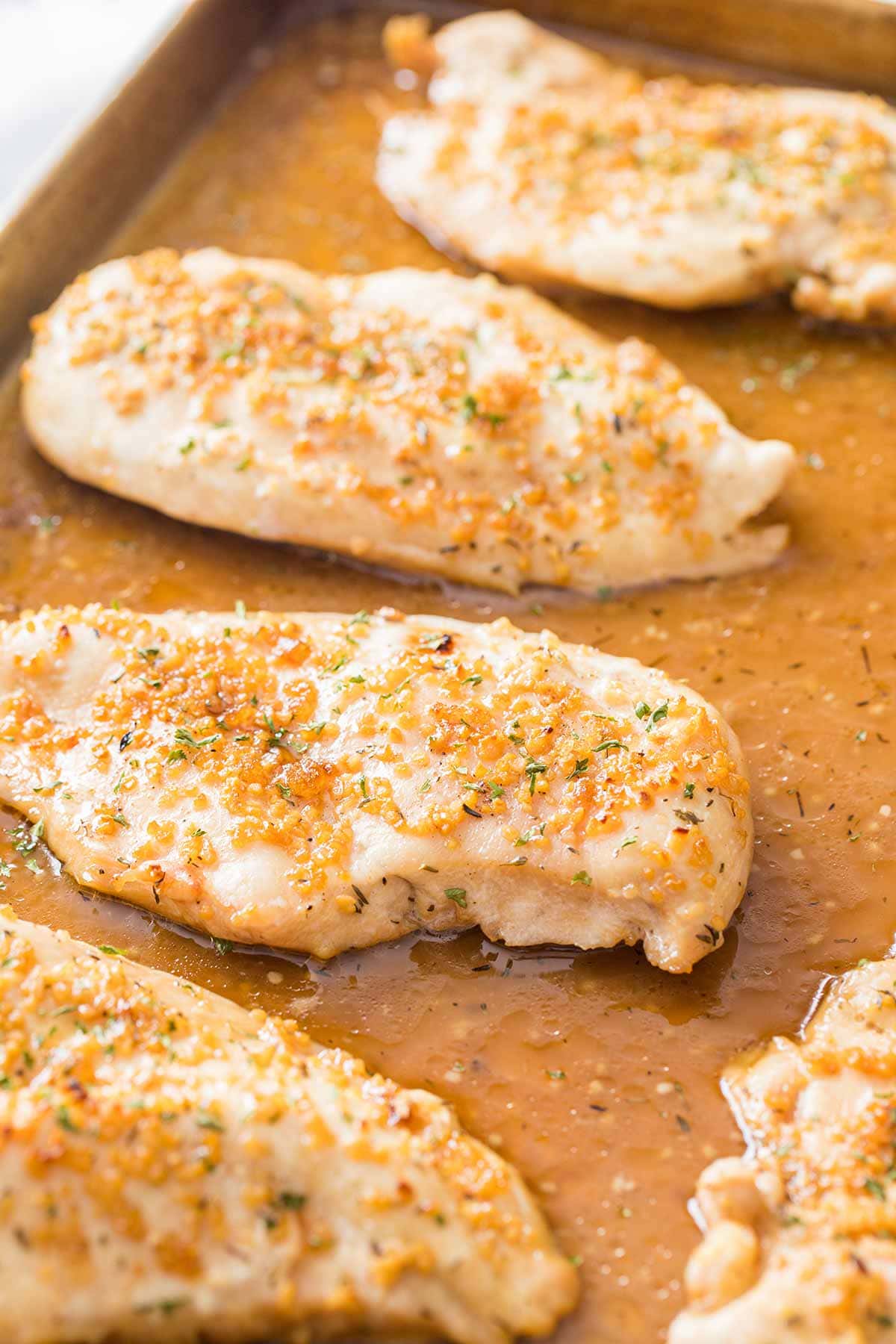 Preparing As A Freezer Meal
This Baked Brown Sugar Garlic Chicken freezer meal requires minimal preparation. It is easy to whip together, and after a quick 5 minutes to put the sauce together, the rest is all hands off! I like those kinds of meals.
To prepare this easy dinner for your freezer, I recommend using an aluminum pan or other baking dish, so that the garlic will stay on top of the chicken as it freezes, and then as you can just pull out, thaw, and bake.
For best results, choose a smaller dish so the chicken touches but isn't crowded, which will help keep the topping and the sauce on top of the chicken.
You can, of course, prep this as a dump-style meal and freeze in a gallon zip-top bag if you'd like.
When time to cook, lay your chicken pieces on a baking sheet, and carefully spoon the garlic and brown sugar sauce out of the bag and over your chicken.
Still Not Quick Enough?
And if you are really pressed for time, you can skip sauteing the garlic in the butter and oil – just melt the butter, then add the remaining sauce/topping ingredients and spoon over the chicken.
Sauteing the garlic in the butter first will bring out a bit more flavor, but it is still a great tasting dish even if you need to skip that step!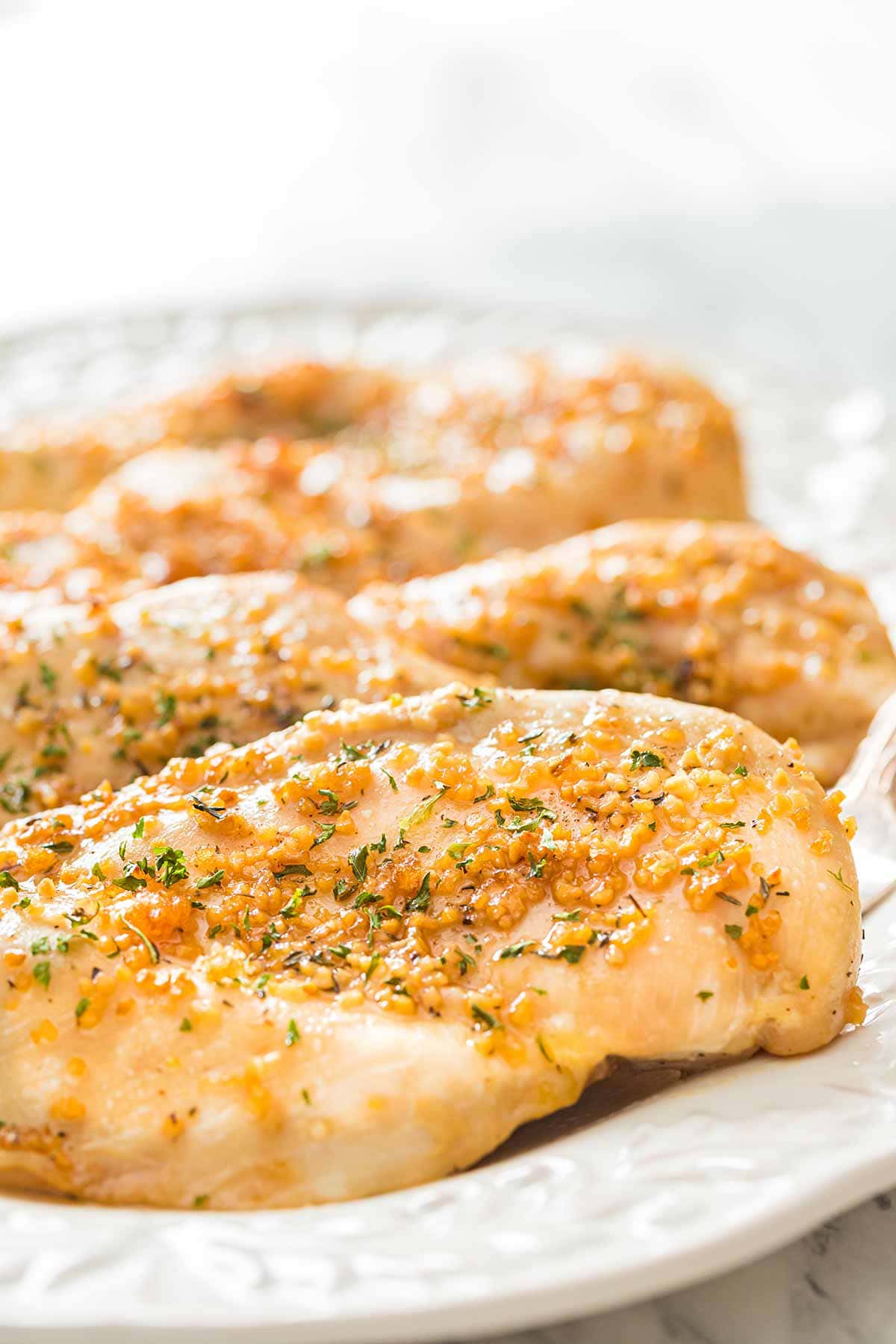 Choose Your Chicken
I prefer to make this Baked Brown Sugar Garlic Chicken using boneless, skinless chicken breasts. But you can opt to use boneless, skinless chicken thighs for a slightly different flavor profile. Or go with bone-in pieces.
If you choose thighs or bone-in, you'll need to adjust your bake time slightly.
I also highly recommend doing a very careful broil as your last step. Do not leave your kitchen while doing this! In fact, it's best if you don't even step away from your oven.
We're talking just a quick broil for 2-3 minutes max, as the garlic will tend to burn very fast. Leave it for even 20 seconds too long and dinner can go from incredible to inedible in the blink of an eye!
This Brown Sugar Garlic Chicken goes together in minutes and is a simple yet elegant meal to throw together to keep in your freezer or to get on the table quickly.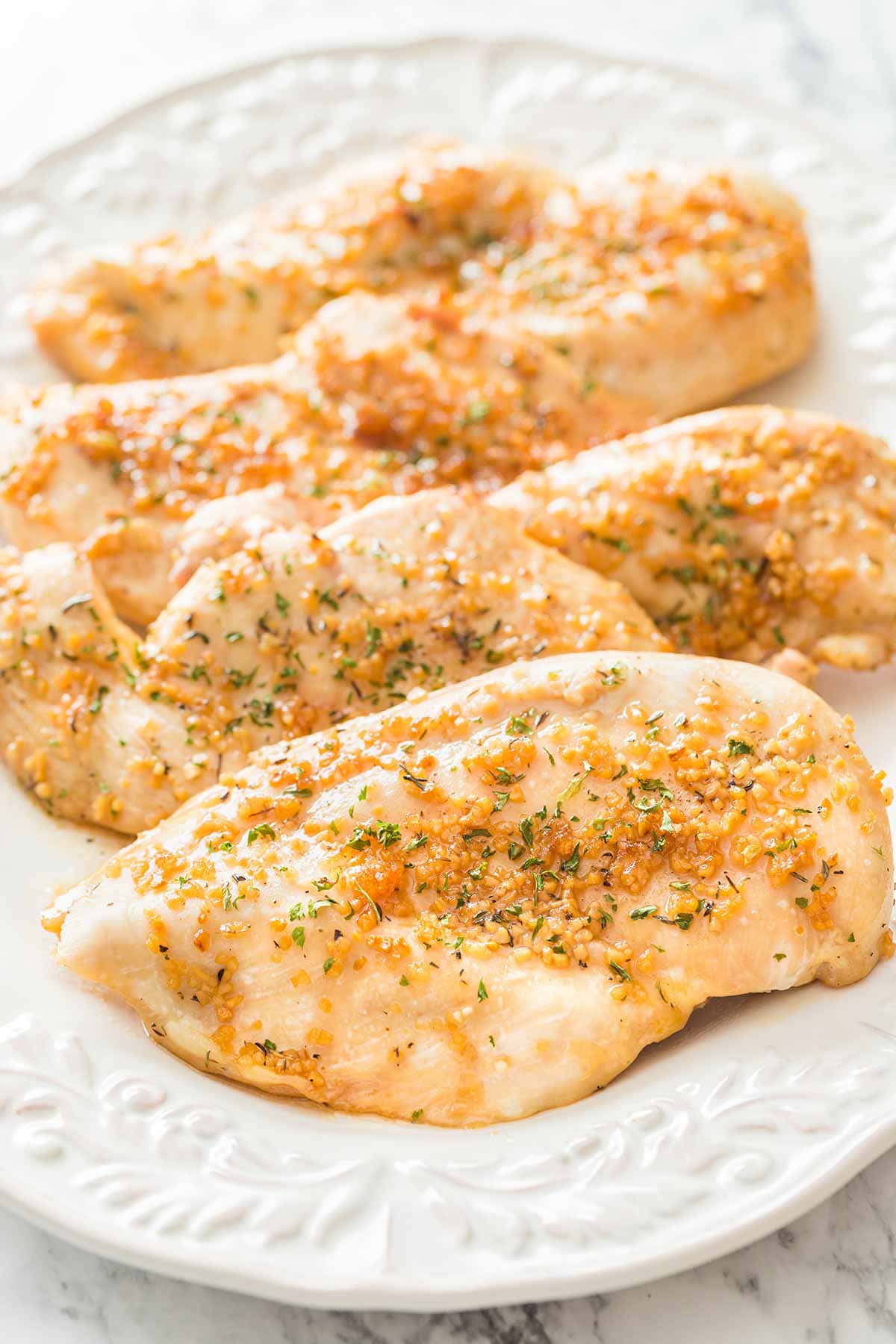 Cooking Options
This easy freezer meal is one that lends itself best to a full thaw before baking. So you'll need to plan a little in advance to pull the chicken out either the night before or sometime the morning of the day you plan to eat it.
I don't recommend trying to thawing it in the microwave or cook it from frozen, as the garlic and brown sugar will burn before the chicken is even thawed.
Be sure to check doneness, as every oven will vary in temp.
The best way to ensure that you have got great tasting chicken that is juicy and flavorful, but still cooked sufficiently to be safe to eat, is to check the internal temperature. A probe thermometer stuck into the thickest part of the breast or thigh should read 165 degrees Fahrenheit. (If broiling, you can pull the chicken at 160 and then broil since it will continue to cook and the temp should be over 165 degrees by the time you finish.)
We LOVE serving this with a side of Garlic Herb Mashed Potatoes and a greed salad with Homemade Ranch Dressing! But really, the flavors of this brown sugar chicken blend well with just about anything!
And if you have leftovers, which I'm hoping will not be very often, you can take the leftover chicken and put it on a sandwich, which a little bit of barbecue sauce – delicious!!
Originally published: March 2018, updated in November 2021.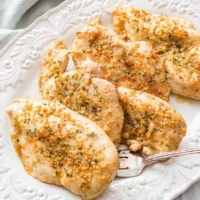 Garlic Brown Sugar Chicken
This Baked Garlic Brown Sugar Chicken is a simple yet elegant dish you can whip together in under 30 minutes for a fast and delicious weeknight meal!  It requires minimal prep and is a fabulous option to keep as a freezer meal to pull out on busy nights or even for company!
Print
Save
Saved!
Pin Recipe
INGREDIENTS
3

large chicken breasts

butterflied and cut in half to make 6 thinner cutlets (or use 6 smaller chicken breasts)

3

tablespoons

avocado or olive oil

3

tablespoons

butter

3

tablespoons

minced garlic

1/2

cup

brown sugar

1

teaspoon

dried thyme

1

teaspoon

kosher salt

1/4

teaspoon

black pepper
INSTRUCTIONS
In small saucepan or skillet, melt butter over medium heat.  Add oil and garlic, and saute briefly for 1-2 minutes until garlic is fragrant.

Add brown sugar and thyme and cook for 1 more minute, then remove from heat.

Place chicken breasts in baking dish or aluminum pan.  Sprinkle with salt and pepper.

Spoon brown sugar garlic sauce over chicken breasts.

Freeze for later use, or proceed to cooking instructions.
To freeze:
Cover dish tightly, label, date, and freeze.
To cook:
Remove chicken from freezer and allow to thaw overnight in the refrigerator.

Preheat oven to 450 degrees Fahrenheit.

Bake chicken for 20 minutes, until cooked through.

Optional step: If desired, at end of baking, sprinkle small amount of additional brown sugar on tops of chicken and bake for 2-3 more minutes or carefully broil for a more carmelized sauce. (But be very careful because these ingredients will burn VERY quickly, especially under a broiler, so don't even think about stepping away from the oven while broiling.)
NOTES
Dairy-free option:  You can use a dairy-free butter substitute like Earth Balance, or just replace the butter with an additional 3 tablespoons of your preferred cooking oil.  Just make sure it is an oil that is rated for high heat.  
NUTRITION
Serving:
6
servings
|
Calories:
514
kcal
|
Carbohydrates:
33
g
|
Protein:
50
g
|
Fat:
19
g
|
Saturated Fat:
7
g
|
Polyunsaturated Fat:
11
g
|
Cholesterol:
214
mg
|
Sodium:
495
mg
|
Fiber:
1
g
|
Sugar:
16
g
Did You Make This Recipe?
Please leave a comment on the blog or share a photo on Facebook @MakeAheadMealMom!