Easy Freezer Salsa
Easy Freezer Salsa – no canning needed! This easy freezer salsa is a delicious treat that you can pull out any time from your freezer – no need to can it! You will be amazed at how easy and simple this salsa is to make. Definitely a family favorite at our house!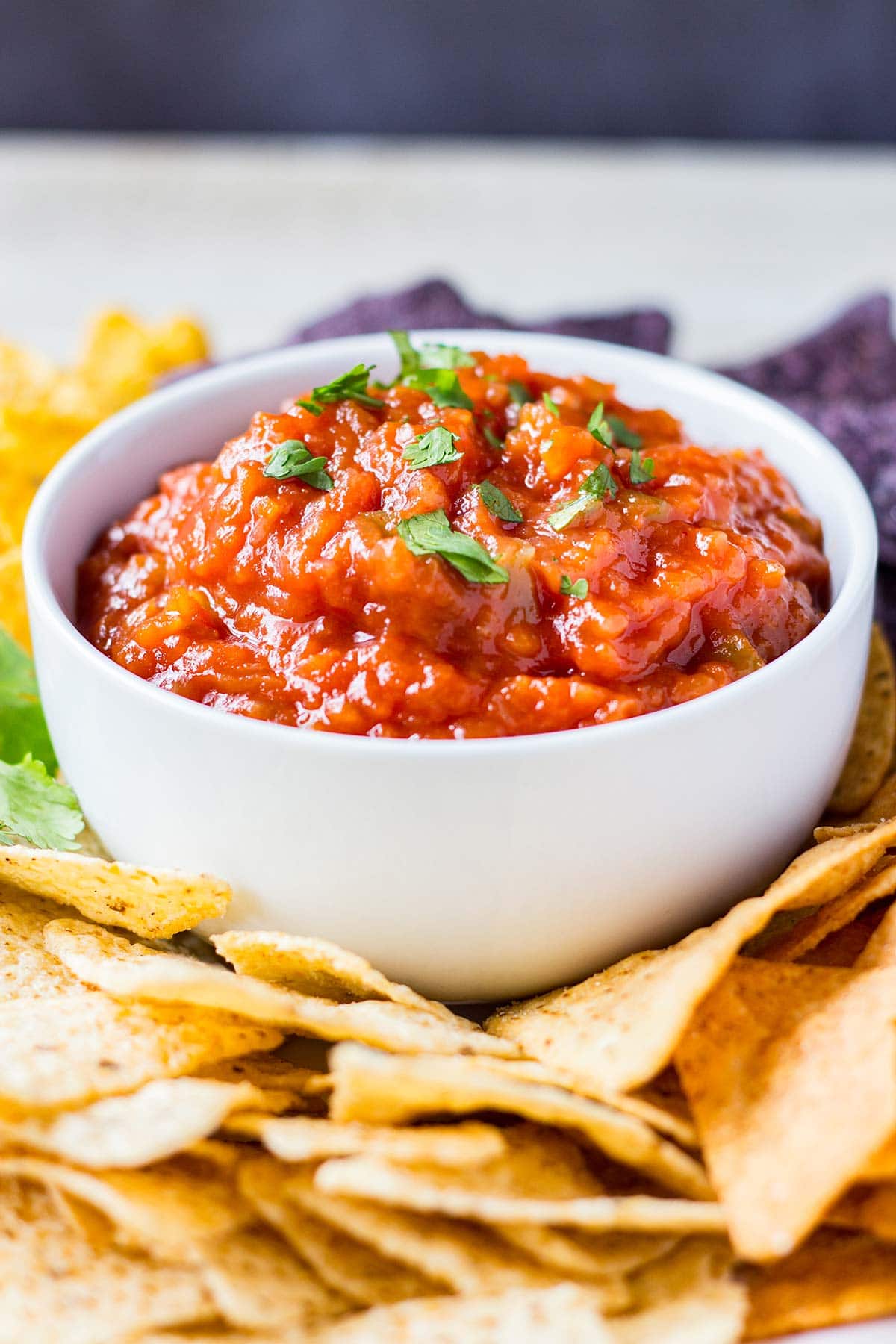 Delicious Salsa You Can Freeze!
Tomato season is almost upon us, especially if you've planted Early Girls in your garden this year, and the inevitable question always comes up, "What do I do with all these tomatoes?"
(Actually, I've never gotten to ask that question. My cherry tomatoes went gangbusters last year, but my Early Girls nearly died off, and what didn't die off, ended up with blossom end rot and I wasn't able to save them quickly enough. And then this year, right about when it was time to start planting a garden, I got some crazy hair-brained idea to start a food blog, so that sorta took up all my time and the next thing I knew the summer was half over and no garden…)
My family tends to hold up Ye Olde Store-Bought Salsa (with a name that rhymes with "race") as the gold standard of salsa. It's the one to beat.  Plus, I like having canned salsa to use in super easy meals like my Instant Pot Salsa Chicken.  But the canning…ugh!
I'm very lucky and live in an area where there is a local farm just a few miles away, and I can get tons of tomatoes and corn and other local grown produce. Two years ago, I bought two huge boxes of tomatoes, and decided to try my hand at canning salsa and ketchup.
The ketchup? Absolutely not worth the trouble. So much work!!!  And no one liked it.
The salsa? Good idea, but I tried two different recipes and neither were winners. Which was strange, because one of them came right out of the Blue Bible itself…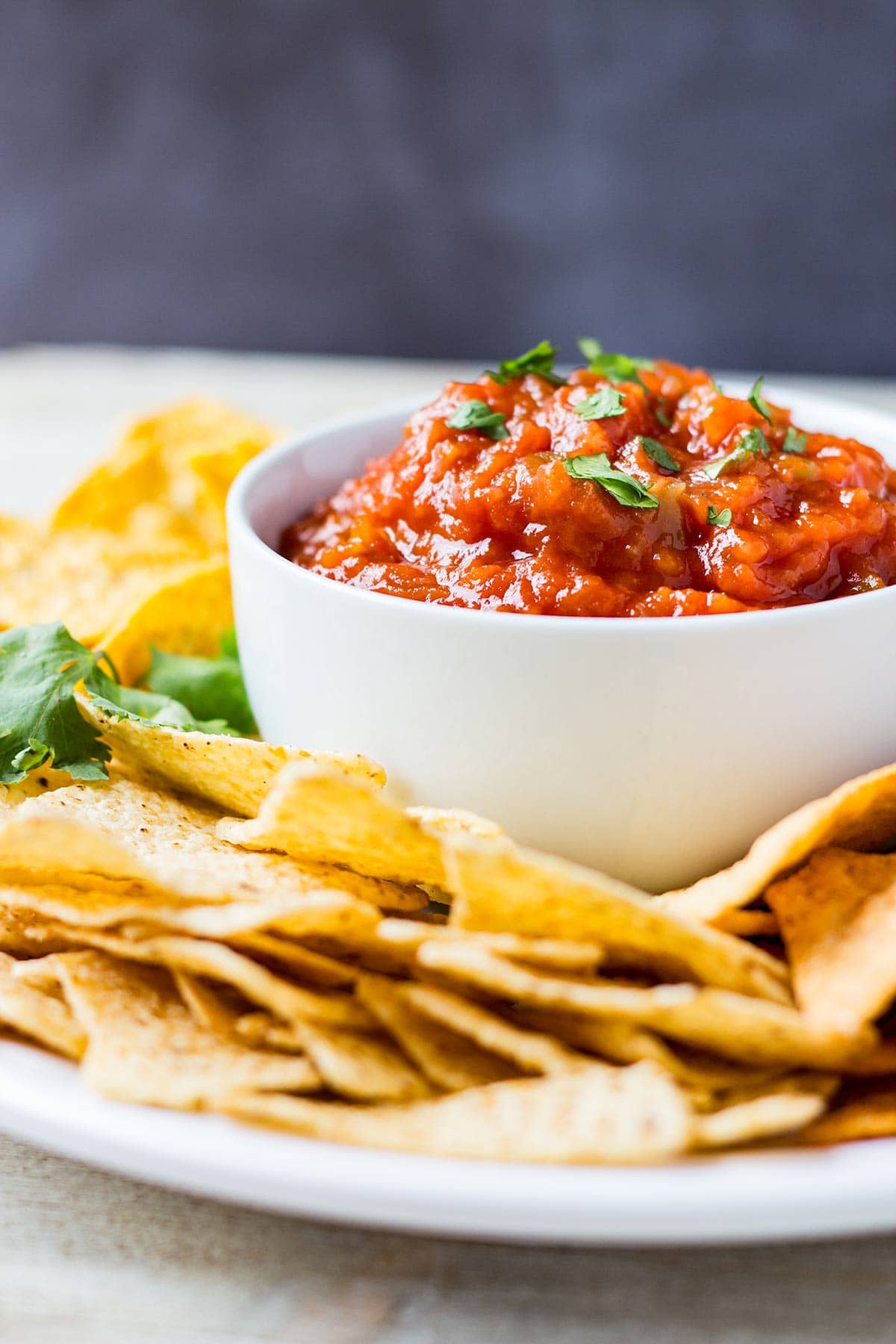 So I was a little leery about trying this one. Not that it wouldn't work, but that my family wouldn't like the taste. They are pretty picky, and like I said, if it doesn't come in a jar from the store, they tend to give it the evil stink eye.
BUT – I am very glad that I took the chance. And so is my family! We made this Freezer Salsa (originally pulled from an old Taste of Home magazine) and I got the family seal of approval. When the hubs says, "I think this one is a keeper" then I KNOW it's good!
Now, I'm one who usually prefers to can things whenever possible, rather than freezing them, because 1) they last longer canned, and 2) there are things that can't be canned and I'd rather save the freezer space for that stuff. But this is one I think I'll make an exception for!
The trickiest part is peeling and de-seeding the tomatoes. It's not hard, just a little time consuming. But worth it.
To peel your tomatoes, cut a small shallow "X" in the bottom. Dip the tomato into boiling water for about 45-60 seconds until the skin starts to peel back and wrinkle. Then take the tomato out of the boiling water and stick it directly into an ice bath for a minute or two. Then, you should be able to easily peel the skin off the tomato.
To de-seed, take your skinned tomatoes, and cut them in half around the "equator" line (not through the blossom/stem end). Squeeze each half over the sink or a bowl, to squeeze out the seeds. You don't have to get them all out, just as much as you reasonably can. And don't worry if you sorta crush the tomato. You're just going to stick it in the food processor in a moment anyway. 😉
Once you've got everything diced and chopped (I highly recommend using a food processor for most of this), it's just a matter of bringing it all to a boil and then letting it simmer for about 45 minutes. That's it. Remove from heat, let cool, and package for the freezer.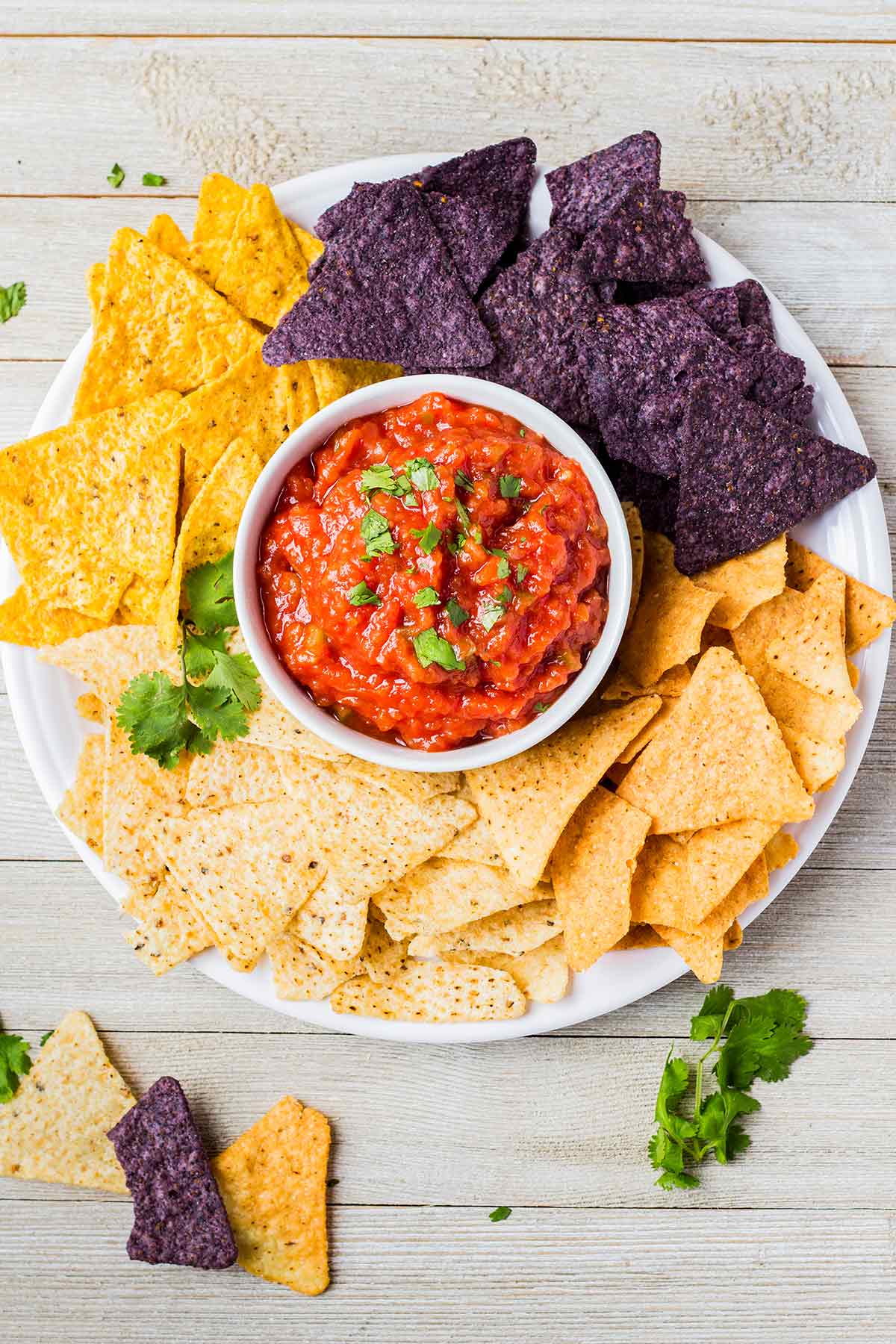 One of the best things about doing freezer salsa, unlike canned salsa, is because you're not canning for long term storage, you can play around with the recipe a bit more and not worry if you get the acid balance a little off. You can't (or rather, shouldn't) do that with stuff you'll be canning, as it's important to maintain a certain acid amount in your recipe to help impede bacterial and fungal growth.
I highly recommend giving this stuff a try! Even my littles liked this stuff!!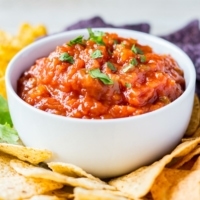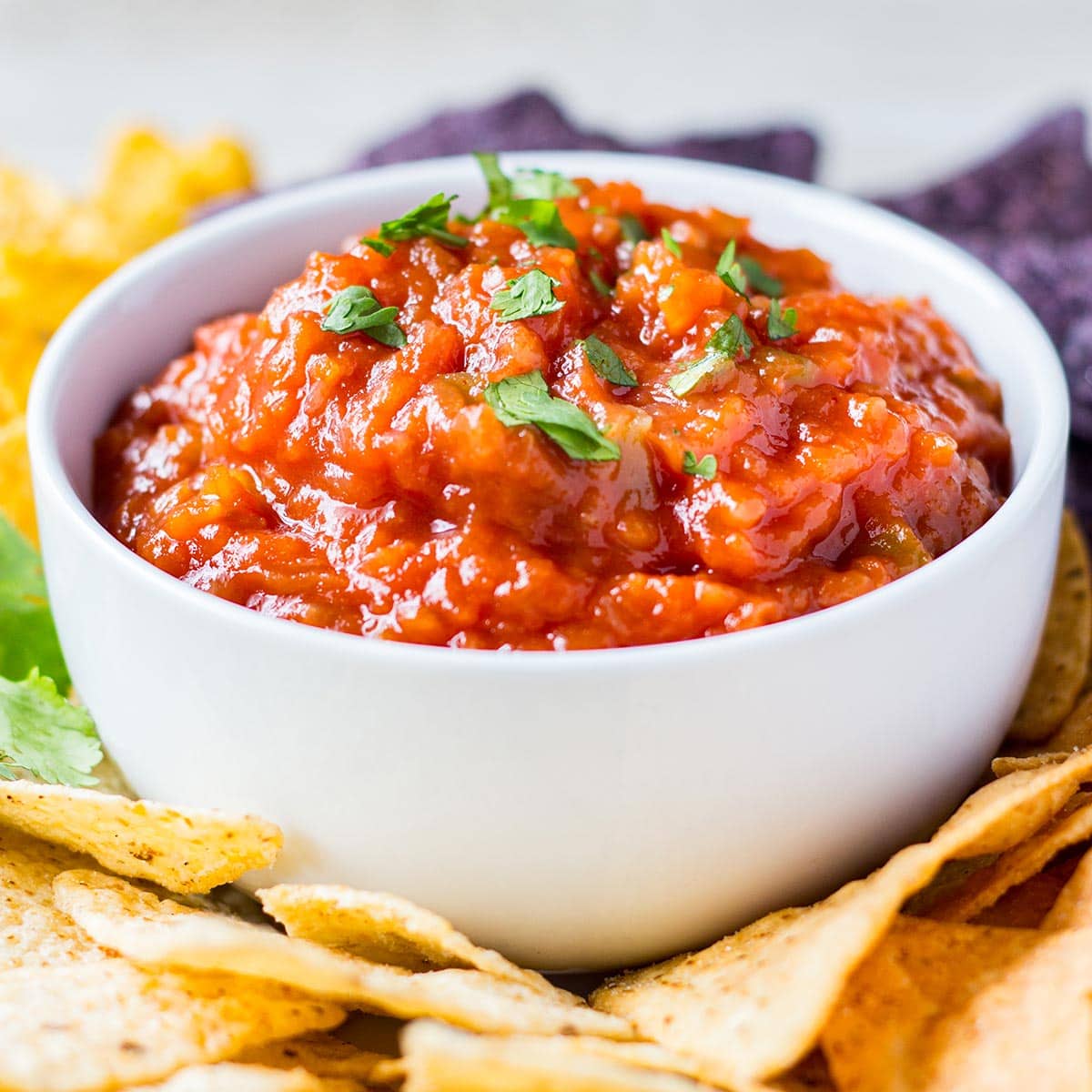 Freezer Salsa
This amazing homemade Freezer Salsa is such a great alternative to canning salsa - it will keep in the freezer for 3-6 months!  
Print
Save
Saved!
Pin Recipe
INGREDIENTS
10-12

large tomatoes

diced, seeded and peeled (about 8 cups)

2

green bell peppers

diced

2

large onions

diced

2

jalapeno peppers

seeded and finely diced

2 6

oz

cans tomato paste

1 10

oz

can condensed tomato soup

1/3

cup

white vinegar

1/3

cup

lime juice

2

tablespoons

sugar

1 1/2

tablespoons

salt

1/2

tablespoon

garlic salt

1 1/2

tablespoons

garlic powder

1-3

teaspoons

cayenne pepper
INSTRUCTIONS
Peel tomatoes by cutting a small shallow "X" in the bottom, then placing in boiling water for 45-60 seconds until skin starts to peel back and wrinkle.  Remove from boiling water and place into ice bath for 1-2 minutes.  Then skin should easily peel off.

Remove seeds by taking peeled tomatoes, cutting in half along the equator (not through the blossom/stem end) and squeezing over sink or bowl.

Pulse tomatoes in food processor to roughly chop.

Dice or chop bell peppers and onions.

Wearing plastic gloves, cut open the jalapeno peppers longways and scoop out seeds.  Then dice finely.  (See note) 

Place all ingredients into a large stock pot.  Bring to a boil.

Reduce heat and simmer uncovered for 35-45 minutes, depending on how thick you like your salsa.  (I like mine thicker, so I simmer for almost the full time.)

Remove from heat and allow salsa to cool.  Ladle into freezer containers or freezer bags.  Label containers and place in freezer.
NOTES
Do NOT touch your face while working with the jalapenos - the capsaicin oils can transfer and irritate skin or burn eyes. Discard seeds and any pepper insides, carefully wash cutting board and knife used with jalapenos, then turn gloves inside out as you take them off so as not to touch the outside surfaces, and throw away. Since my family likes their salsa on the very mild side, I usually use only about 1 teaspoon cayenne.  I think it makes for a very mild, but not bland, version - there's a tiny, tiny hint of a kick in there.  If you like your salsa with a little more heat, try a full tablespoon (3 teaspoons).
NUTRITION
Serving:
1
/2 cup
|
Calories:
63
kcal
|
Carbohydrates:
14
g
|
Protein:
2
g
|
Sodium:
665
mg
|
Fiber:
3
g
|
Sugar:
9
g
Did You Make This Recipe?
Please leave a comment on the blog or share a photo on Facebook @MakeAheadMealMom!