You don't have to make full freezer meals all the time in order to still save time and money in the kitchen.  There are many ingredients that go into meals that can be prepped and frozen ahead of time.  Bell peppers are one of those ingredients that I love to keep on hand in my freezer!
My family is not a huge fan of bell peppers, so I don't generally keep them on hand as a staple in my refrigerator.  But I do have a few recipes that call for peppers, and I HATE having to pay full price for them.  Or worse, having to make a special trip to the store for them when the mood strikes to use them in a meal.   Green peppers aren't too expensive, but the red, orange and yellows can get up to $2.00 each!
So when bell peppers go on sale at my local store, I stock up!  I can usually find greens for about .50/ea, and reds for about .90/ea.  The orange and yellows don't go on sale as often, so anything below a dollar each is a good stock up price for me.
We just had a "peppers-on-sale" bonanza  two weeks ago, where I was able to find great prices on ALL colors of bell peppers, and so I bought a TON!!!  I think I ended up with about 40 overall.  🙂  But don't worry – I have plenty of plans for them!
I brought the peppers home, washed and dried them, and then cut them to be used in recipes.  Most of my recipes call for either sliced or chopped, so I did a bit of each (sliced and chopped) in each color.
Then it was just a matter of putting the peppers in ziptop freezer bags, labeling the bags, and placing them in the freezer.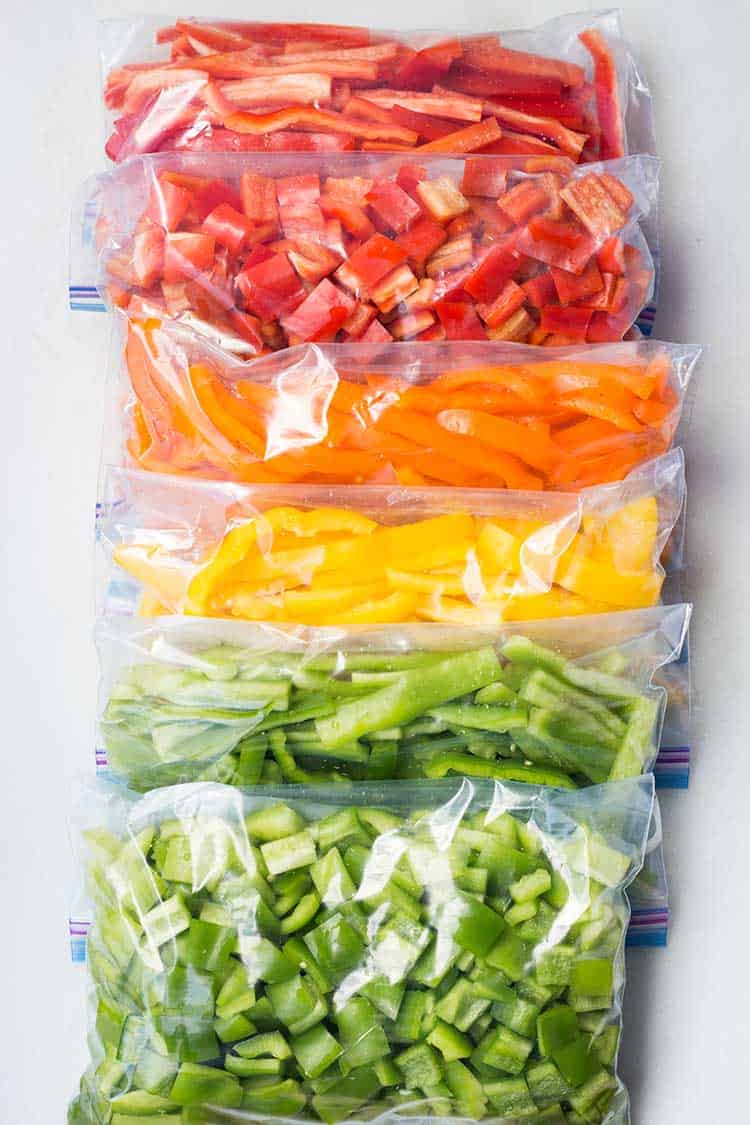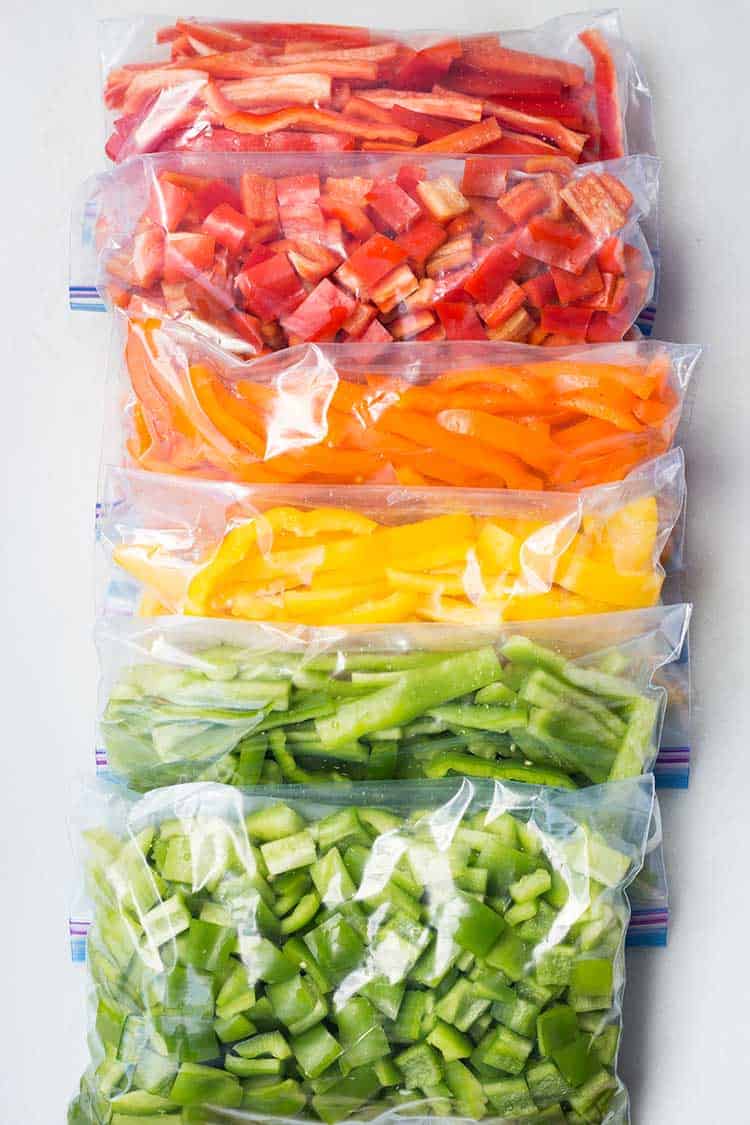 These will last for 2-3 months just fine in the freezer.  I've often kept them even longer without any issues and they've worked well, especially if I'm going to use them in something where they are going to cook down very soft.
I have found it so handy to have peppers already cut and prepped so I can just pull them out and add them to meals.  They also come in handy when I am preparing freezer meals.  I just add the frozen peppers right into the ziptop freezer bag with the other meal ingredients, and freeze as normal.  (Don't thaw them first if you're going to use them in a meal that will go into the freezer – you'll have too much damage from the freeze and thaw and re-freeze.  But there's no problem adding frozen peppers in with the rest of the meal ingredients and then freezing the whole meal, as long as you get the meal into the freezer fairly quickly.)