Easy Make-Ahead Chicken Fajitas
No pre-cooking and minimal prep make this easy Make-Ahead Chicken Fajitas freezer meal a breeze to keep on hand for fast, delicious dinners! This one is definitely a family favorite!!!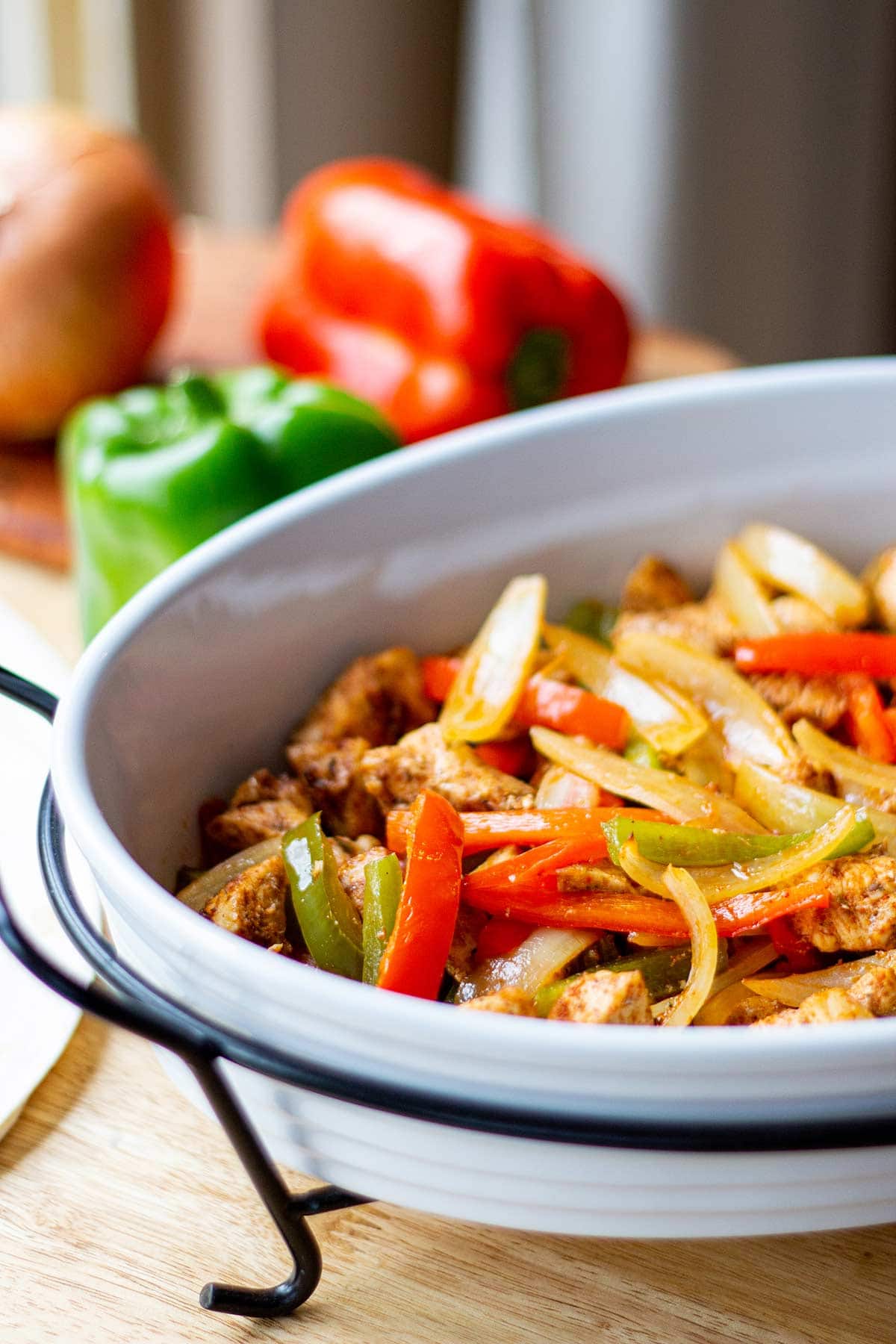 Easy Make-Ahead Chicken Fajitas
I love these easy make-ahead chicken fajitas as a freezer meal because it has great, bold flavors, without being too spicy. It is easy to prepare, makes an easy dinner, and best of all, you have multiple options for how you want to cook it!
This freezer meal is one I lovingly refer to as a "dump-style" meal – meaning you do minimal prep beforehand, then dump all the ingredients into a freezer bag or container, and then freeze. There is no pre-cooking needed.
You can cook these make-ahead freezer fajitas in the oven, in the slow cooker or crock pot, as a sheet pan meal, or even in the Instant Pot. It is a very simple recipe but it is one of my favorite keto-friendly freezer meals ever!
It is also a great way to do make-ahead chicken fajitas for a crowd!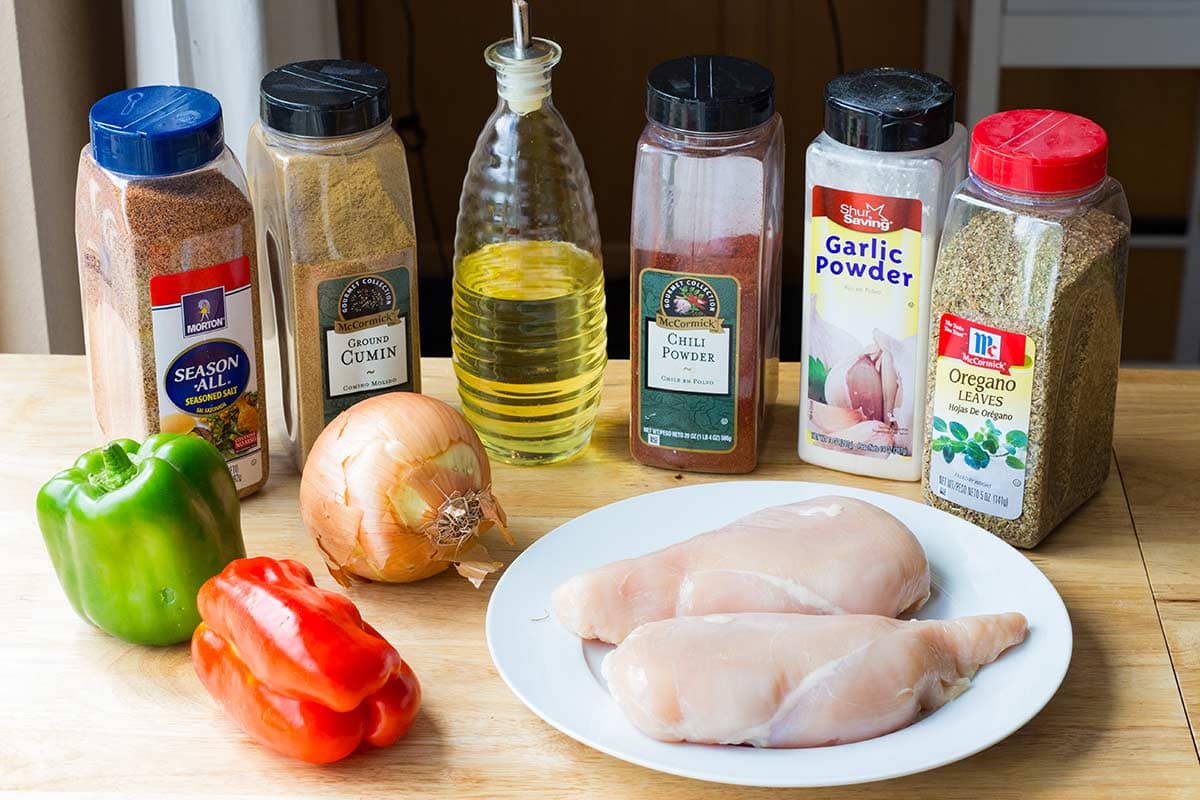 Ingredients for Easy Chicken Fajitas
Just your basic fajita chicken ingredients here: boneless skinless chicken breasts, bell peppers, onion, and spices.
There's no need to mess with a special fajita seasoning mix. The spices in this recipe are ones you'll probably already have on hand. If you don't, you can opt to substitute a basic taco seasoning mix (either store bought or make your own).
Your basics for this recipe are:
chili powder
cumin
garlic powder
oregano
seasoned salt
You can mix and match your favorite colors of bell peppers. Any of them work. You can even use frozen bell peppers for this meal to speed up the prep. I usually go with one green bell pepper and one red pepper, but feel free to get a little wild and add in some orange and yellow for extra color.
For the tortillas, you can opt to include them fresh the day you make this meal, or you can freeze them together with your chicken mixture. Feel free to use homemade tortillas if you have a favorite recipe.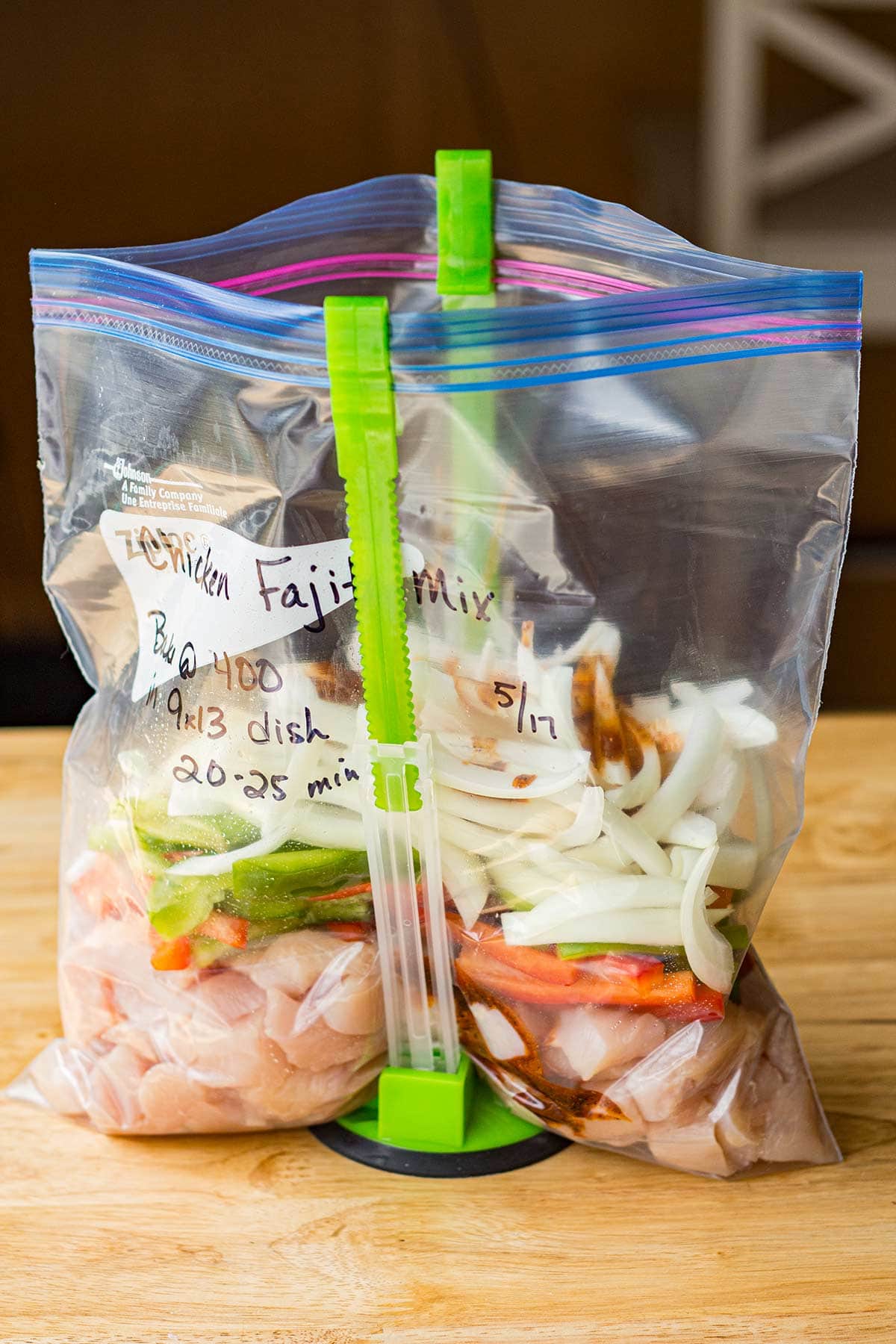 Preparing Your Freezer Meal
This is such an easy meal both to prep and make, because it requires so little work.
The most tedious part is dicing the peppers and slicing the chicken. Which, if that's the biggest problem I have on any given day, means I'm definitely having a good day! 😉
Officially, you will mix the oil and spices together in a small bowl, add your other ingredients into a large freezer bag, and then add in the oil & spice mixture.
Unofficially, you can just dump everything straight into a gallon freezer bag together, seal it, and then mix it together in the bag. I'm definitely not above saving time (and an extra dish to wash) this way!
(In the photos the chicken is cubed instead of cut into thin strips like traditional fajita meat – I do that simply because my little kiddos don't handle the longer pieces of meat very well. If you don't have littles around eating this meal, feel free to slice like traditional fajitas.)
Freezing the Chicken Fajita Mixture
Once everything is mixed and in your zip-top freezer bag, remove as much air as possible and seal it tightly.
Make sure to label your bag with the contents, the date it was prepared, and the cooking instructions for your chosen cooking method.
Lay your bag out flat in the freezer for a day, and then once it is frozen solid, you can stack it with other freezer meals or place it vertically in a freezer bin like you would books on a bookshelf. (This will help save space in your freezer.)
If you would like to freeze a package of tortillas to go with the meal, be sure to place the tortillas in their store-bought package INSIDE a separate freezer bag and place them together with your chicken fajita mixture in the freezer.
Freezing Tip
Don't place the tortillas straight into the freezer in the store package. The plastic is not thick enough to protect them from ice crystals and possible freezer burn. And you absolutely do not want soggy or freezer-burnt tortillas ruining this delicious dinner!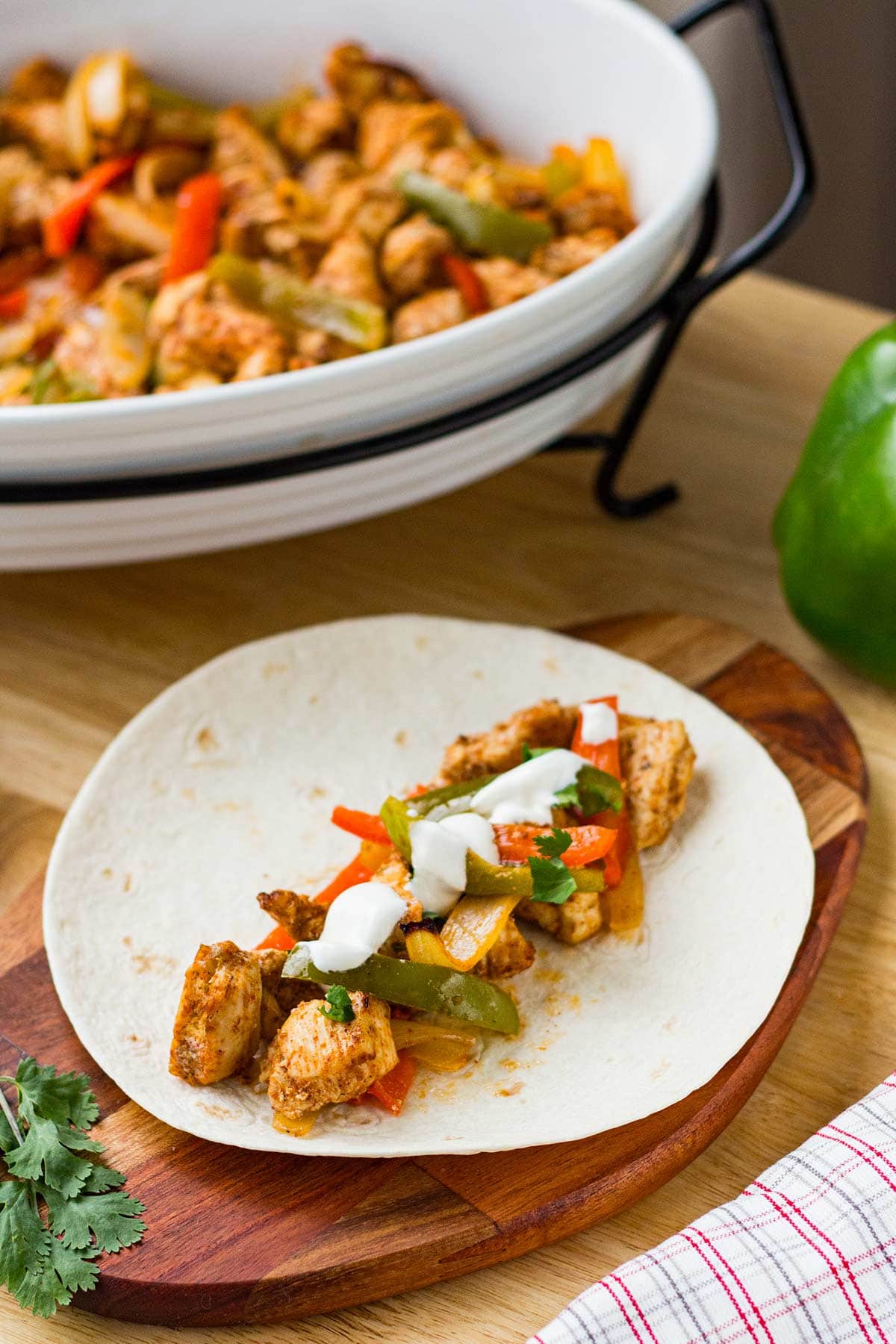 Cooking your Easy Freezer Fajita Meal
My favorite thing about this delicious meal is that there are several ways to cook it when it comes to meal time.
Whichever method you choose, it is best to cook this meal from thawed, rather than straight from frozen. So, you'll want to pull this freezer meal out of the freezer the night before you plan to cook it.
Thawing Tip
Place your freezer meal bag in the refrigerator in a container or on a tray. This will catch any liquid that might leak out as the meal thaws, and will save you extra refrigerator cleanup.
Bake in the Oven
Simply pour the contents of your freezer bag into a 9×13 baking dish and bake at 400 degrees Fahrenheit for 20-25 minutes until the chicken is cooked through and the peppers are soft.
Or place the contents on a sheet pan and use the same cook time as above.
Make Them Crockpot Chicken Fajitas
This meal also works beautifully as an easy slow cooker recipe. All you need to do is pour the contents of your freezer bag into your crock pot or slow cooker, and set it to cook on LOW for 3-4 hours.
Your house will smell divine! Which is why this one ranks pretty high up on my list of favorite crock pot freezer meal recipes.
Under Pressure in the Instant Pot
You will need to cook this using the pot-in-pot method.
You can use water or chicken broth for the cooking liquid. Just be sure you add it to the instant pot liner pan, NOT to the meal contents.
Set your Instant Pot or pressure cooker to Manual / HIGH pressure for 10 minutes. Once the cook time is up, allow for a 10 minute natural pressure release, and then quick-release any remaining pressure.
Pro Tip
I have an 8-quart Instant Pot and the BEST "pot" that I have found for pot-in-pot cooking is actually to use an 8-inch round aluminum cake pan! You can find them easily at most grocery stores, Walmart, Target, some craft stores, and Amazon. (I use the Wilson brand from Walmart – found in the wedding cake/craft section.)
Serving Suggestions
Serve your cooked fajitas mixture with warm tortillas, and be sure to have your favorite toppings on hand. Possibilities include (but are certainly not limited to):
sour cream
guacamole
shredded cheese
a bit of lime juice
a dash of Tabasco sauce
Have Your Fajitas & Eat Keto, Too!
If you eat keto or low-carb, this recipe works for you, too! You'll just need to eat your fajitas with low-carb flour tortillas, or no tortillas at all (which is actually super yummy).
For an extra healthy and filling meal, serve your homemade fajitas over cauliflower rice and top with avocados, shredded cheese, and sour cream for a chicken fajita bowl!
I love that this recipe can work for the whole family, despite the various dietary needs we individually have. It's a meal that means I can skip being a short-order cook at dinner time, at least for one night.
Don't Forget Meal Prep
This recipe also works fabulously for meal prep!
Cook up a batch of chicken fajitas and then portion into your favorite meal prep containers. Add sides and toppings of your choice and you've got easy lunches or dinners for the week!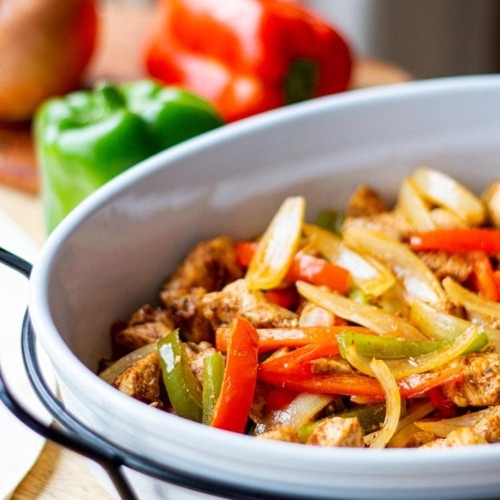 Easy Make-Ahead Chicken Fajitas
This is an easy freezer meal to keep on-hand for busy evenings when you need to get dinner on the table quick!
Print
Save
Saved!
Pin Recipe
INGREDIENTS
1

pound

boneless, skinless chicken breasts

sliced into thin strips

2

tablespoons

vegetable or canola oil

2

teaspoons

chili powder

1 1/2

teaspoons

cumin

1

teaspoon

garlic powder

1/2

teaspoon

dried oregano

1/2

teaspoon

seasoned salt

1/2

teaspoon

kosher salt

1

medium onion

sliced

1/2

red bell pepper

cut into strips

1/2

green bell pepper

cut into strips
INSTRUCTIONS
Place chicken, onions and bell peppers into gallon-size zip-top freezer bag.  

In small bowl, mix together oil and all spices and seasonings.

Add remaining ingredients to bag.

Remove as much air as possible from bag and seal tightly. Knead bag to mix ingredients. Label and then lay flat in freezer to freeze.
COOKING OPTIONS:
Remove bag from freezer and that overnight in refrigerator.

To bake in the oven:

Preheat oven to 400 degrees Fahrenheit.

Pour contents of bag into a 9×13 baking dish or onto a sheet pan.

Bake for 20-25 minutes, until chicken is cooked through and peppers are soft.

To cook in the slow cooker:

Pour contents of bag into slow cooker and cook on LOW for 3-4 hours.

To cook in the Instant Pot (using pot-in-pot method):

Place contents of bag into a metal pot or dish small enough to fit inside the inner pot of your Instant Pot.

In the inner pot of your Instant Pot, pour in 1 cup of water (or chicken broth).

Insert a trivet into the inner liner to keep your cooking pot up out of the cooking liquid below. Use a silicone sling or make a sling by folding a long piece of aluminum foil. Place this under your cooking pot, with extra stickup up over the sides, and lower the cooking pot into the inner liner to rest on the trivet.

Set your Instant Pot or pressure cook to manual / HIGH for 10 minutes.

When cook time is up, allow for a 10 minute natural release, then quick release any remaining pressure.

Serving Suggestions:

Serve with warm tortillas and your favorite toppings.

For keto, serve alone or over cauliflower rice, and top with avocado, sour cream, and shredded cheese for a chicken fajita burrito bowl!
NUTRITION
Serving:
1
/6
|
Calories:
144
kcal
|
Carbohydrates:
4
g
|
Protein:
17
g
|
Fat:
7
g
|
Saturated Fat:
1
g
|
Polyunsaturated Fat:
3
g
|
Monounsaturated Fat:
2
g
|
Trans Fat:
0.04
g
|
Cholesterol:
48
mg
|
Sodium:
489
mg
|
Potassium:
375
mg
|
Fiber:
1
g
|
Sugar:
2
g
|
Vitamin A:
577
IU
|
Vitamin C:
23
mg
|
Calcium:
20
mg
|
Iron:
1
mg
Did You Make This Recipe?
Please leave a comment on the blog or share a photo on Facebook @MakeAheadMealMom!