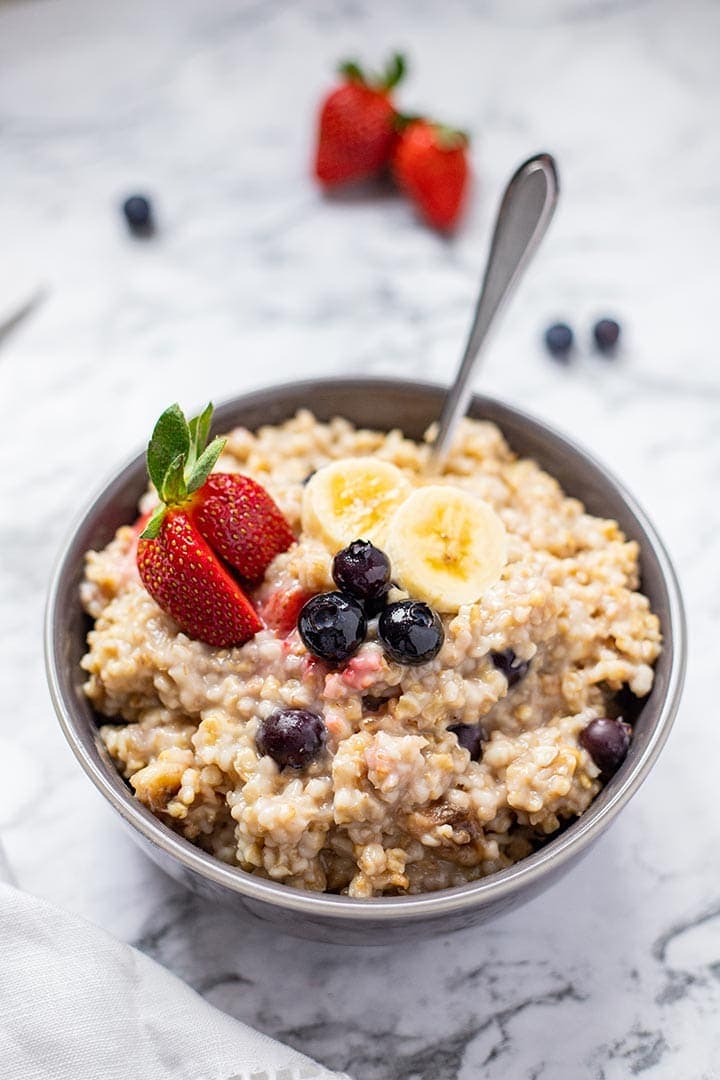 Instant Pot Easy Steel Cut Oatmeal
This easy Instant Pot Steel Cut Oatmeal is super simple! It is fast and is a cinch to throw into the Instant Pot. No babysitting it on the stovetop.
With coming to pressure and cook time, you should be ready to eat in about 20-25 minutes.
One word of caution: Oatmeal can tend to get VERY foamy in the Instant Pot (or any pressure cooker). So you do have to be a little careful. It means you can't fill your IP very full. And you'll have to make sure you clean your vents out VERY thoroughly after each use. It's also a little random – some days our oatmeal foams a lot, and sometimes hardly at all. I haven't figured out what the difference is – yet.
We add a half to 1 cup of fresh fruit after cooking and just gently stir it in. You can add fruit before cooking, but it basically just disintegrates into the oatmeal. Which still gives it great extra flavor, and makes for some nice colored oatmeal… 😉 But I recommend just adding it after cooking.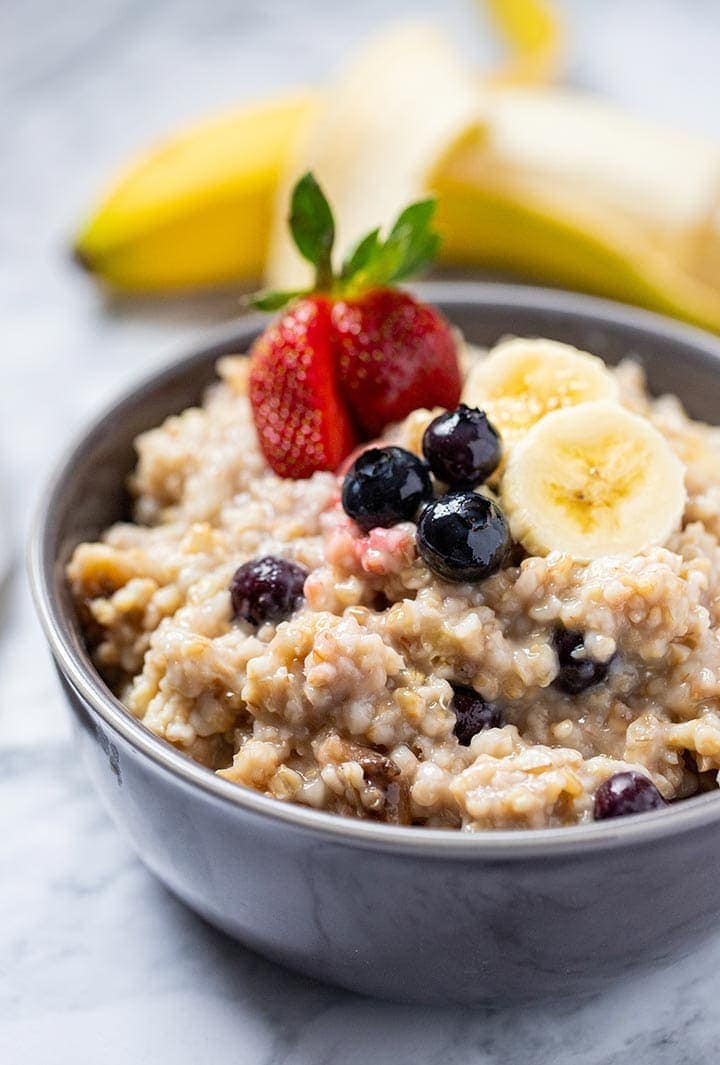 Customize It!
You can change up the flavors to your heart's desires!
If you like a creamier oatmeal, go ahead an add a splash of almond, coconut, or cashew milk after cooking.
My kiddos are very fond of peanut butter banana oatmeal, and my husband has perfected a specialty flavor that tastes just like apple pie!
This is not a recipe where you can substitute in regular or quick-cook oats for the steel cut. The water ratios and cooking times are just too different. Although, you can cook regular oats or quick-cook oats in the Instant Pot as well.
We prefer the steel cut oats because of their hearty texture. I grew up eating a lot of oatmeal, and couldn't stand it when it was "slimey". I guess I'm just not much for creamy breakfast cereals, as I also can't stand cream o' wheat.
The great thing about going with steel cut oats is that you can make them creamy without them turning "slimey" – they will still retain more "bite" than regular or quick cook oats, even when you add milk. So I think it's a good compromise, at least for our family.
We usually double the recipe, and some days the kids finish it all off, and on other days they don't. So, if you find yourself with some leftover oatmeal, use it to make my Leftover Oatmeal Blender Pancakes!
Instant Pot Easy Steel Cut Oatmeal
Hearty and filling, with a hint of nutty flavor, this Instant Pot Easy Steel Cut Oatmeal is a breakfast staple at our house! It is super easy to make and doesn't use refined sugars. Toss a batch in, go take a shower, and when you're done, breakfast is ready and waiting for you!
Ingredients
2 cups steel cut oats
5 cups water
1/4 cup maple syrup (the real stuff, not the fake kind)
1/2 tsp salt
1 cup fresh fruit (can use frozen)
Instructions
Add all ingredients except the fresh fruit to Instant Pot. Stir to combine.
Place lid on Instant Pot, close vent, and set to Manual/Pressure Cook on HIGH for 10 minutes.
When time is up, vent using Quick Release method.
When pressure has released, open lid and gently stir in fresh fruit (berries, bananas, peaches, etc.). Serve and enjoy!
Notes
If using frozen fruit, allow the oatmeal to sit on Keep Warm in the Instant Pot for a few minutes to thaw the frozen berries before serving. 
Nutrition Information:
Yield:

6
Serving Size:

6 people
Amount Per Serving:
Calories:

253
Total Fat:

4g
Saturated Fat:

1g
Trans Fat:

0g
Unsaturated Fat:

2g
Cholesterol:

0mg
Sodium:

207mg
Carbohydrates:

49g
Fiber:

6g
Sugar:

11g
Protein:

7g
Nutrition information provided as an estimate only.