Leftover Oatmeal Blender Pancakes
Got leftover oatmeal you don't want to go to waste? Use it in these easy leftover oatmeal blender pancakes for a delicious and nutritious, and cost-saving, easy breakfast option!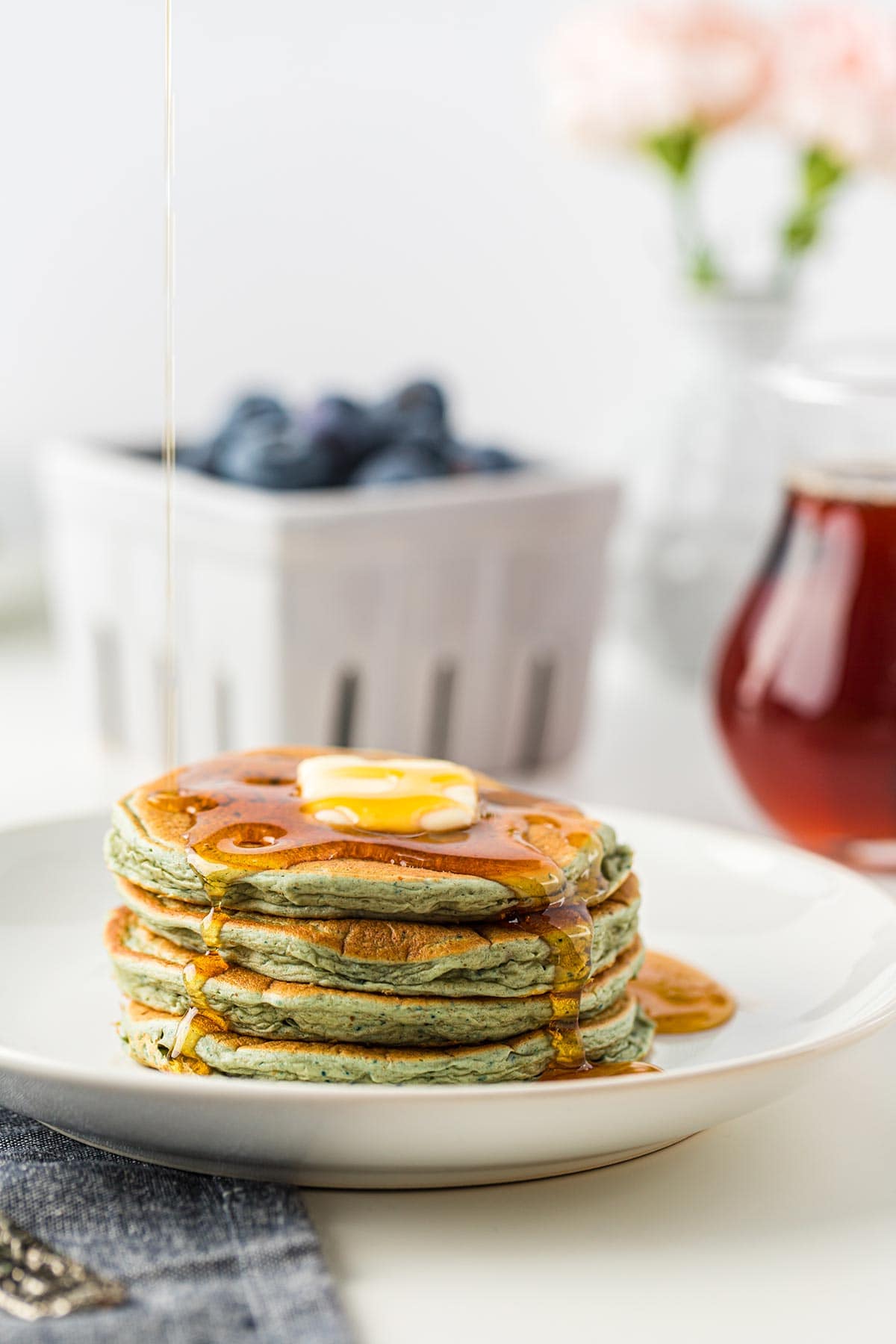 Leftover Oatmeal Blender Pancakes
This recipe for Leftover Oatmeal Blender Pancakes was born out of a need to stop having to throw out all the leftover Instant Pot Steel Cut Oatmeal that doesn't get eaten for breakfast. No one likes reheated oatmeal around here. So it sits for days in the fridge until someone finally gets around to throwing it out. Which is a real shame. So I wanted to see if I could do something about that.
One thing that my kids have missed while on gluten restriction has been pancakes. I can do them dairy-free, I can do them soy-free, but doing them gluten-free has been harder. I thought that maybe I could use the leftover oatmeal to make gluten-free pancakes, but alas, oatmeal by virtue of its no-gluten-ness, lacks the structure to make decent pancakes. Trust me on this one. Now, that's not to say that you can't use oatmeal flour, because I've done a couple of those, but cooked oatmeal just isn't up to the task.
We have since added gluten back into our diet now that the elimination period is over, and it doesn't seem to be negatively affecting anyone. So I think we're okay on that front. This means that I can use some regular flour in recipes, and that opens a lot more possibilities now! And so my attempts at Leftover Oatmeal Blender Pancakes were finally successful!!
I don't know if you could use gluten-free baking mix for this, but I suspect that you can if you still need to keep them gluten-free. I'll try some next time. For right now, I've been using regular flour, or even better, freshly ground wheat flour.
You will need to cook these just a little longer than your normal pancakes, as the oatmeal can tend to make them a little mushy and doughy on the inside. So just be aware.
And you'll want to do these in a high-powered blender, like a Blendtec or Vitamix. (I have not tried them in a Ninja – I have a Blendtec – so someone give a shoutout if they try them in the Ninja and let us know if they work.) It's just to get the steel-cut oats blended down to a puree consistency so you can sneak them into the pancakes. If you don't mind chunky pancakes, I suppose you could try just mixing the oatmeal in without a blender.
Now, you'll have to excuse the odd color on these – this particular batch was made with blueberry banana oatmeal, so the pancakes were very blue-green! But despite the slightly odd color, they taste terrific! If your kiddos would be put off by the color, use plain oatmeal or use a batch that has other fruit (or pick the fruit out). However, strawberries will give these a great pink color which can be kinda fun!
I'm just happy to have a way to use up my leftover oatmeal, and the kids have gone nuts for these, so I think it is a win-win! Hope you enjoy them too!!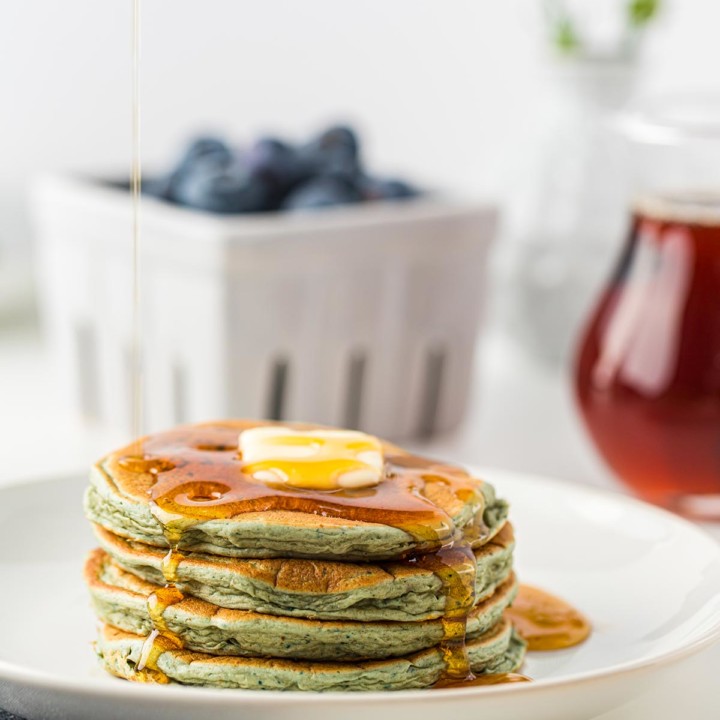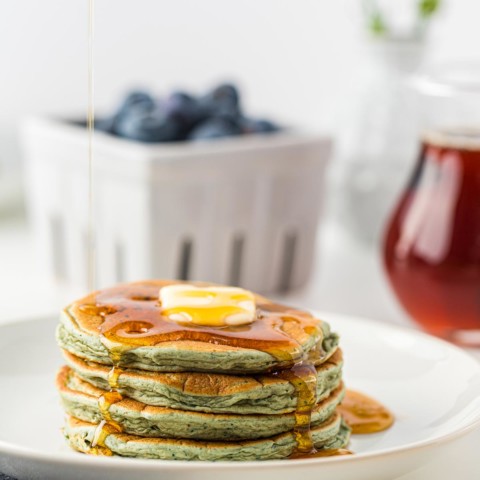 Leftover Oatmeal Blender Pancakes
These Leftover Oatmeal Blender Pancakes are a great way to use up leftover oatmeal and add fiber to your morning pancakes! They freeze fabulously, so go ahead and make up a large batch and freeze the extras for a super-easy, super-fast future breakfast option!
Print
Save
Saved!
Pin Recipe
INGREDIENTS
1

egg

1

cup

milk*

1

tablespoon

real maple syrup**

2

tablespoons

avocado

coconut (melted) or canola oil

1

cup

leftover prepared steel cut oatmeal

1

cup

flour

all-purpose or wheat

3

teaspoons

baking powder

1/4

teaspoon

salt
INSTRUCTIONS
Preheat skillet, griddle or griddle pan over medium to medium-high heat.  ( I use a large stand-alone griddle set at 350F.)

Place all ingredients in high-powered blender in the order listed. 

Pulse on high, or blend on batter setting (if your blender has one), until mixture is combined and smooth.  (You may need to scrape the corners a little.)  If your batter is a little thick, you can add another tablespoon or two of milk until you reach your desired consistency.

Pour batter into skillet or onto griddle, about 1/4 cup per pancake.  This will make pancakes that are approximately 4 inches in diameter.

Cook pancakes until they are bubbly and the sides are firm.  Turn and cook on other side until golden brown.

Serve with butter and additional syrup, or top with fruit spread.
To freeze:
Lay pancakes in a single layer on a large sheet pan and freeze for 2-4 hours (or overnight) before later placing in ziptop freezer bag(s).  This helps keep them from sticking to each other and makes it easier to pull just a couple out of the bag when needed while leaving the rest in the freezer.
To reheat:
Remove frozen pancakes from freezer bag.  Place on microwave-safe plate, and heat in microwave for 45-60 seconds for 3 pancakes.  Or toss them in your toaster for a fun toasty treat!
NOTES
* You can use just about any dairy-free milk substitute here.  I generally use unsweetened coconut milk, but you could also use vanilla almond milk as the flavors will blend well with the maple.
** You can use 1 tablespoon sugar instead of the maple syrup, if you are not restricting refined sugars.
NUTRITION
Serving:
2
g
|
Calories:
148
kcal
|
Carbohydrates:
22
g
|
Protein:
5
g
|
Fat:
5
g
|
Saturated Fat:
1
g
|
Polyunsaturated Fat:
3
g
|
Cholesterol:
29
mg
|
Sodium:
315
mg
|
Fiber:
1
g
|
Sugar:
2
g
Did You Make This Recipe?
Please leave a comment on the blog or share a photo on Facebook @MakeAheadMealMom!