Low-Carb Mini Quiches with Almond Flour Crust
These Easy Make-ahead Low-Carb Mini Quiches with Almond Flour Crust are the perfect option for easy keto breakfasts or meal planning! They freeze beautifully, so you can make a large batch and keep them on hand for easy breakfasts on busy mornings. Gluten-free, with a dairy-free option.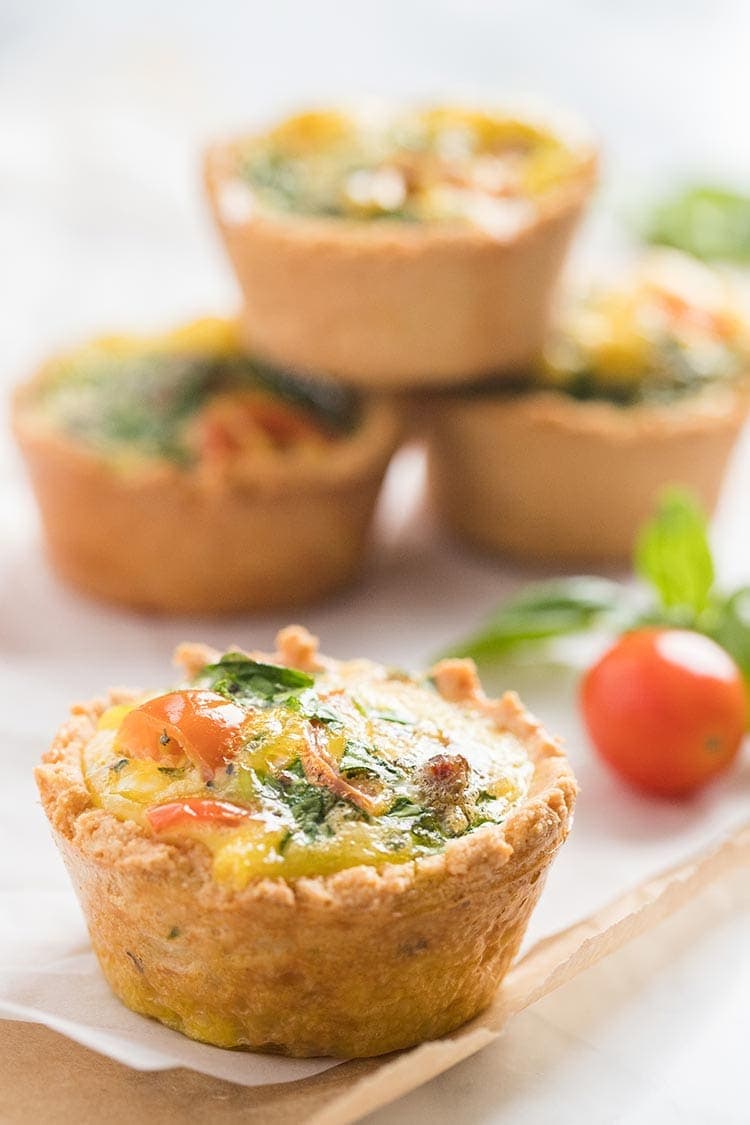 Easy Make-Ahead Low-Carb Mini Quiches with Almond Flour Crust
Sometimes finding a good, easy, portable breakfast option when eating low-carb or keto can be tough. I love my recipe for Easy Make-Ahead Egg Muffins, but they aren't something you can carry in your hand. So I figured maybe I could make something with a crust that would be easier to hold on the go. And so I bring you, Easy Make-Ahead Low-Carb Mini Quiches with Almond Flour Crust.
It's a long name. But an easy concept.
Ya'll most likely already know what a quiche is. These are just mini. Individual portion sizes. Made in a muffin tin.
Made to be gluten-free and low(er) carb. (I wanted to sneak some veggies in for the kids, so they are slightly higher in carbs than my normal keto breakfasts.)
The elegance of a quiche, the portability of a muffin. Healthy veggies added in.
They're delicious. They're fun. So just go and make them. You won't regret it!
Oh, and I did I mention? You don't have to be eating low carb or keto or gluten free to enjoy these! They are a great healthy breakfast option any day of the week!
Almond Flour Crust
Using almond flour for the crust on these mini quiches helps them qualify to be low-carb and gluten-free. It's a very basic dough, with a little seasoning thrown in there to up the savory factor.
Because it is pretty dense, I find it best to just mix in a bowl with a spoon, rather than use a mixer, but either will work.
What I absolutely recommend though, to make these mini quiches qualify as "easy" is to get yourselves what is usually referred to as a tart or pastry tamper.
This is the exact one I have, and I LOVE it! (This is an affiliate link to Amazon, but I seriously haven't found them anywhere else locally.)
Having made half a dozen batches of these the "old-fashioned" way, by smooshing the dough up the sides of the muffin tins by hand, I can tell you, this little tool will make this a CINCH! Seriously, I wouldn't recommend attempting these without one. I mean, sure, it's possible. But it is SO tedious. So just trust me and get one of these. It's worth the $11. You can thank me later.
Also, make SURE you spray your muffin tin liberally with a non-stick cooking spray of your choice. These have a tendency to stick, even with the spray.
And wrap your tamper in plastic wrap and spray with a little bit of cooking spray. It helps the tamper not stick to the dough.
Scooping & Tampting
I use one of my scoops to dish the dough so I get the same amount in each muffin cup. You don't have to use one, although it does make it easier. You can use a regular tablespoon measure – you should be able to get 2 tablespoons of crust dough in each muffin cup.
It will be a fairly thin crust. But I've done that on purpose, as almond flour can be very crumbly and dry. I've made them thicker in the past, but it almost overwhelms the filling. So I think these are good medium. If you find that you like a thicker crust, go with 3 cups of almond flour and 3 eggs.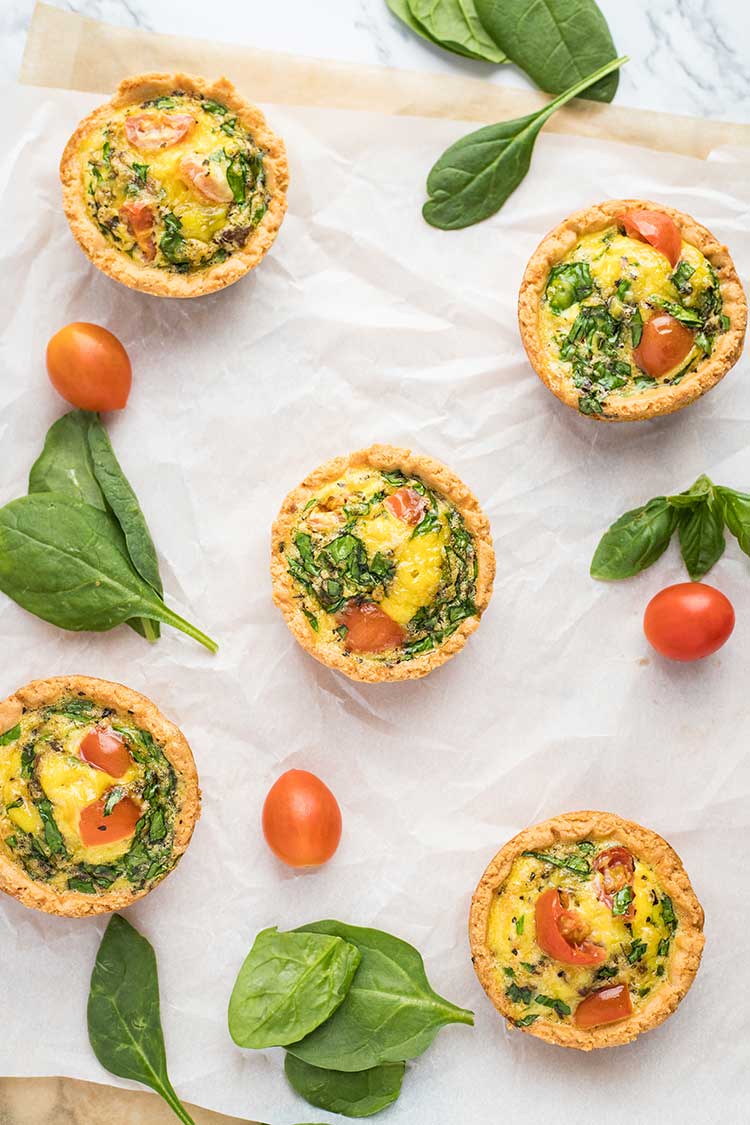 The Filling
In this version I used sausage, tomatoes, and chopped spinach. I personally like them, and so does my husband, but the kids – not so much. But they're weird anyway, so…
You can lower the carbohydrate count a little by leaving out the tomatoes. But it isn't a terribly big difference.
Or toss in your own add-ins. I sometimes make these with just sausage and cheese added in, and they are fabulous!
Dairy-free option: Replace the heavy whipping cream with unsweetened coconut or cashew milk.
Freezing and Reheating
To freeze these low-carb mini quiches, I just let them cool a bit on the counter and then put them into gallon freezer bags. I don't have any trouble with them sticking together, so I don't bother to flash-freeze them first.
I'm lazy and generally just reheat them in the microwave for an easy keto breakfast. Doing so will take away a tiny bit of the "crunch" in your crust, but I don't mind. In some ways I like it just a little softer.
I usually nuke two of them for 30-60 seconds. I always reheat from thawed. But theoretically you could reheat from frozen. It'll just take longer (probably around 2-3 minutes).
You can pull out a big bag of quiches, and leave them to thaw in the fridge, then just pull a few out over the next few days. They keep well for up to a week in the fridge.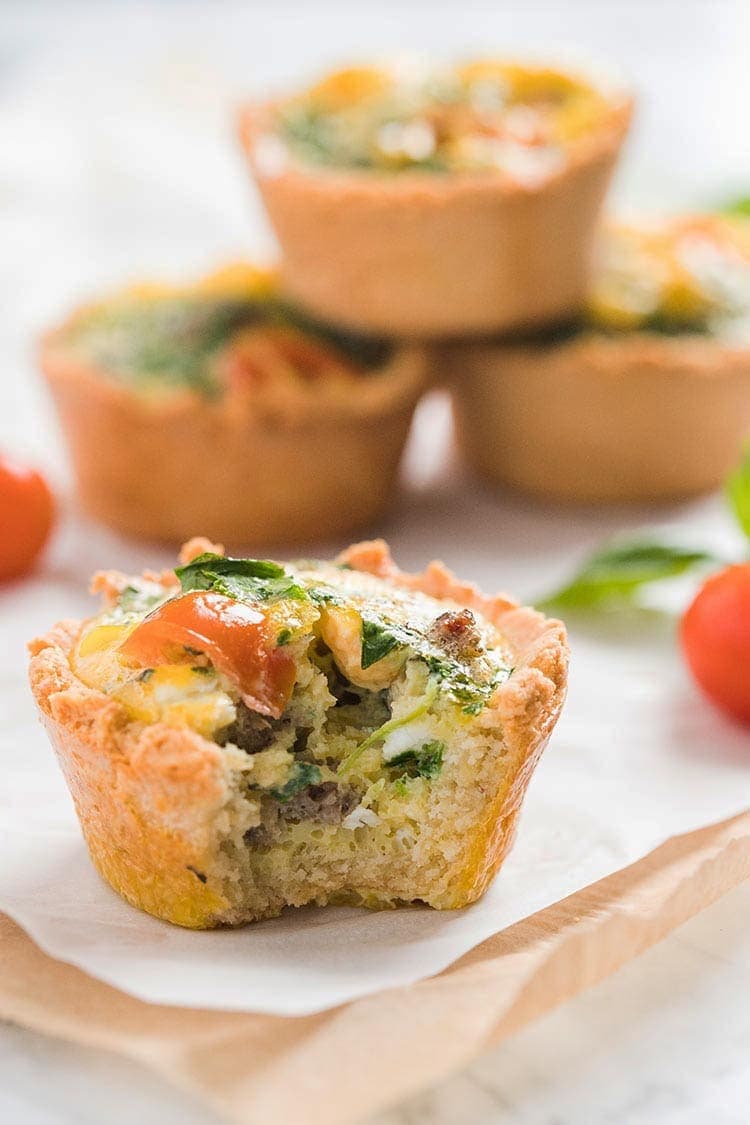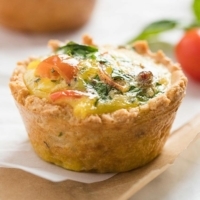 Low-Carb Mini Quiches with Almond Flour Crust
The elegance of an hearty egg quiche, the portability of a miniature size, and a low carbohydrate count to make them keto-friendly and gluten-free!
Print
Save
Saved!
Pin Recipe
INGREDIENTS
For the crusts:
2

cups

blanched almond flour

2

eggs

1/4

teaspon salt

1/4

teaspoon

garlic powder
For the filling:
5

eggs

1/4

cup

heavy whipping cream

1/2

teaspoon

dried basil

1/2

teaspoon

salt

1/4

teaspoon

garlic powder

1/8

teaspoon

onion powder

3/4

cups

sausage

browned and drained

1/2

cup

tomatoes

diced small

1/2

cup

spinach

chipped fine
INSTRUCTIONS
To make the crusts:
Preheat oven to 375 degrees Fahrenheit.

Liberally spray a 12-section muffin tin with non-stick cooking spray.

In a medium sized bowl, add almond flour, salt and garlic power, and mix lightly with a fork.  

Add eggs and stir to combine.  Dough will be dry at first, but keep mixing - it will come together and begin to form a large ball.

Using a scoop or tablespoon measure, portion dough equally into muffin cups (about 2 tablespoons each).

Using your fingers, or a pastry tamper if you have one (which I highly recommend for this), press the dough into the bottom and up the sides of each muffin cup.  (If using a pastry tamper, wrap it in plastic cling wrap and spray with non-stick cooking spray to prevent it from sticking and pulling up your pressed dough.)

Place muffin tin in oven and bake crusts for 15 minutes, until the tops start to turn lightly golden brown.

Remove from oven.
For the filling:
While the crusts are baking, add eggs, heaving whipping cream, basil, salt, garlic and onion powders to medium sized bowl and whisk to scramble the egg mixture. 

Add in sausage, tomatoes and chopped spinach, and stir gently to combine.

Using a scoop or large spoon, ladle egg mixture into the baked crusts, filling as high as you can go without the egg mixture spilling out of the crust.

Return muffin tin to oven, and bake an additional 20-25 minutes until the quiches are set in the center.

Remove from oven and allow to cool.  If eating right away, you can skip the cooling part.  😉 
To freeze:
Place cooled mini quiches in gallon ziptop freezer bag.

Label and date, then place in the freezer.
To reheat:
Remove frozen mini quiches from freezer, and place in refrigerator to thaw overnight.

Place thawed quiche(s) in microwave and heat for 30-60 seconds.
NOTES
To make these dairy-free, you can substitute unsweetened coconut or cashew milk for the heavy whipping cream.
NUTRITION
Serving:
1
mini quiche
|
Calories:
214
kcal
|
Carbohydrates:
5
g
|
Protein:
10
g
|
Fat:
18
g
|
Saturated Fat:
4
g
|
Polyunsaturated Fat:
12
g
|
Cholesterol:
123
mg
|
Sodium:
266
mg
|
Fiber:
3
g
|
Sugar:
1
g
Did You Make This Recipe?
Please leave a comment on the blog or share a photo on Facebook @MakeAheadMealMom!