In my family we have a pretty wide range of culinary abilities, and our "family recipes" tend to reflect that.  We have some family recipes that are winners, and some that fall a little short of the mark. It's not always the recipe's fault.
Take for example the time we tried making clam chowder, and realizing that we didn't have heavy cream, someone, who shall remain unidentified to all but close family members, in what was actually a quite clever but ultimately doomed attempt, tried melting Cool Whip to use as a substitute… (Yeah, do NOT use melted CoolWhip as a substitute for heavy cream. Ever. In anything. For any reason…)
But fear not, this Lemonade Chicken is a definite winner, and has become the stuff of family legend.
It had been in my mother's recipe box for ages.  Like my blog, it sat in obscurity for many years…  Until one day, after I had gone off to college, it was pulled out and used on a summer night when my brother was in charge of grilling dinner.  The start of its glory is a bit of a mystery, since I wasn't living at home at the time, and the story of its rise to greatness changes depending on who you ask.
But one thing is certain – it has since become a staple at family gatherings, trips to the cabin at the lake, and all kinds of summer parties.  It is now affectionately known as "Jeremy's Lemonade Chicken", because by golly, my brother can grill the meanest Lemonade Chicken around!
This stuff is the embodiment of summer for me – juicy grilled chicken with the bright and tangy hint of lemon.
The ingredients are simple and you can make the marinade in minutes.
You have two options for the lemon component – frozen lemonade concentrate, or lemon juice.  If you like a sweeter, yet still tangy, lemon taste, you want to use the frozen lemonade concentrate.
For my purposes, because I'm restricted on sugar, in the pictures above I've used the straight lemon juice option.  (I tend to like my lemonade more on the bitter/tangy side.)  Either works.
I've also doubled the ingredients in the above picture, because I was making a double batch.  I like to make extra and then slice up leftovers to use on salads throughout the week. Yummy!
Place all marinade ingredients in a gallon-size zip-top bag, then add chicken.  Seal the bag, gently knead with hands to mix, and then place in refrigerator to marinate, or place in freezer.  I love doing these for the freezer, because I don't have to fuss with trying to time when I make the marinade and how far in advance I have to get this all ready.  I just toss all the ingredients in the bag and freeze.  Then, I pull it out the night before I want to use it (or sometimes even the morning of), and let it thaw in the refrigerator, and it marinates as it thaws.
Just like the story of its rise to family greatness, the original source of the recipe is a little fuzzy on details, but according to what I have in the family cookbook, the original came from a little recipe book called The Pleasures of Gas Grilling: 180 Recipes for Complete Meals from Your Gas Grill published in 1980 and was apparently available through Sears.  How's that for an 80's throwback?!?  😉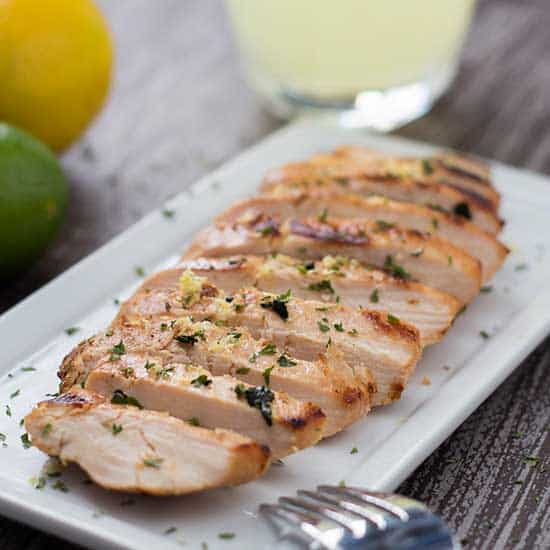 Print Recipe
Lemonade Chicken
The perfect embodiment of easy breezy summer days! You can make this Lemonade Chicken up in advance and keep it in your freezer until needed. The chicken comes out tender and juicy, with just the right hint of tangy lemon flavor!
Ingredients
1

6 oz.

can frozen lemonade concentrate

(or substitute 1 cup lemon juice for low-carb/keto)

1/3

cup

soy sauce

(choose gluten-free soy sauce for GF option, or use coconut aminos for Whole30)

1

teaspoon

seasoned salt

1/2

teaspoon

celery salt

1/2

teaspoon

garlic powder

2-3

lbs.

boneless, skinless chicken breasts
Instructions
Mix all marinade ingredients together in gallon-size zip-top bag.

Add in chicken.

Seal bag and gently knead to mix.

Place in refrigerator to marinate for several hours, or place directly in freezer.
To cook:
If using from frozen, take chicken out of freezer and allow to thaw overnight in refrigerator. Chicken will marinate as it thaws.

Cook on grill, about 20 minutes per side, until done.

Brush chicken with lemonade mixture during last 10 minutes of grilling.

Remove from grill and allow chicken to rest for 5 minutes before serving.