Easy Make-Ahead Denver Omelet Egg Muffins
All the flavors of your favorite diner breakfast staple in a make-ahead freezable breakfast egg muffin! Definitely a go-to freezer meal at our house!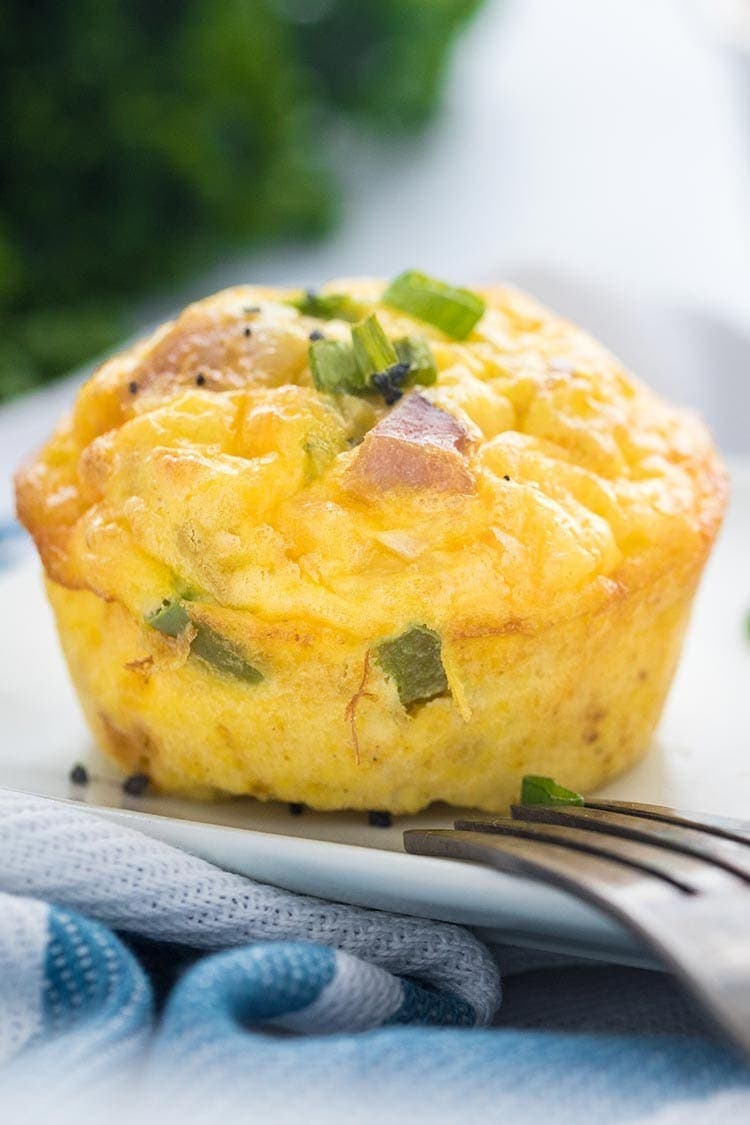 Denver Omelet Egg Muffins
These easy make-ahead Denver Omelet Egg Muffins are an homage to a classic diner breakfast staple of yesteryear.
No one really knows how the Denver Omelet came to be or how it got its name. There are certainly some colorful stories out there! But the exact origin of the Denver omelet is uncertain. Best guess is it came from a variation on an egg foo young made by Chinese railroad workers in the late 1800s. The Denver Post did a great piece a few years ago on it's origins and some of the folklore surrounding it.
Whatever the name, and wherever it came from, a Denver Omelet, for those who may not have had the chance to have one diner-style, is an egg omelet with diced ham, onions, mushrooms, bell peppers, and cheese.
I don't know how well-known this diner staple is in various parts of the United States. It's fairly well-known here in the Midwest, or at least it used to be a few years ago (okay, maybe more than just a few). It has kinda fallen out of favor and into obscurity in recent years.
But I think it's time to bring it back!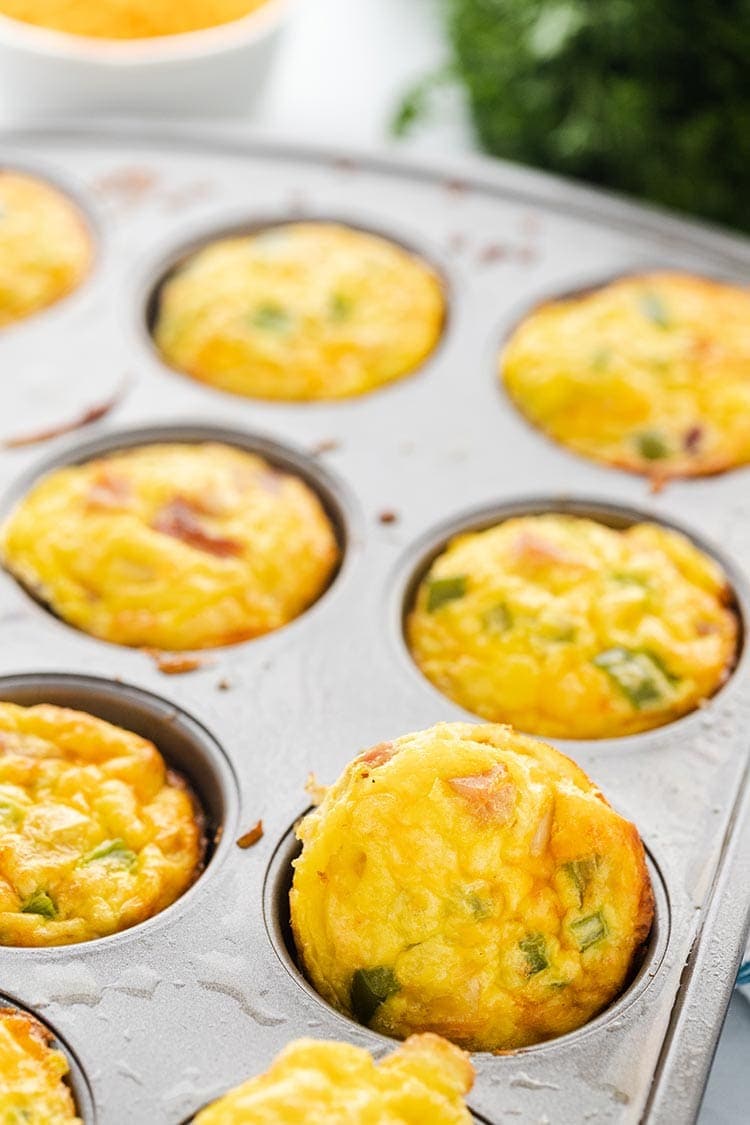 They Are Freezer Friendly & Portable
I've taken the standard flavors of the Denver Omelet, and put them into a portable, freezable, make-ahead-able breakfast egg muffin.
I love egg muffins because of how simple they are to make and how easy they are to freeze and reheat. Plus, they are portable. You could eat this easily on the go if you had to.
I like that you can make large batches at once, and there's not standing over the stovetop or griddle as you scramble eggs, and there's definitely no omelet flipping involved! Which is fabulous for me, because I have yet to be able to flip a gorgeous omelet without tearing it into a million pieces. No matter how hard I try.
So I think these Denver Omelet Egg Muffins give the best of both worlds – the great flavors of the classic Denver Omelet, with the ease of a egg muffin made in muffin tins.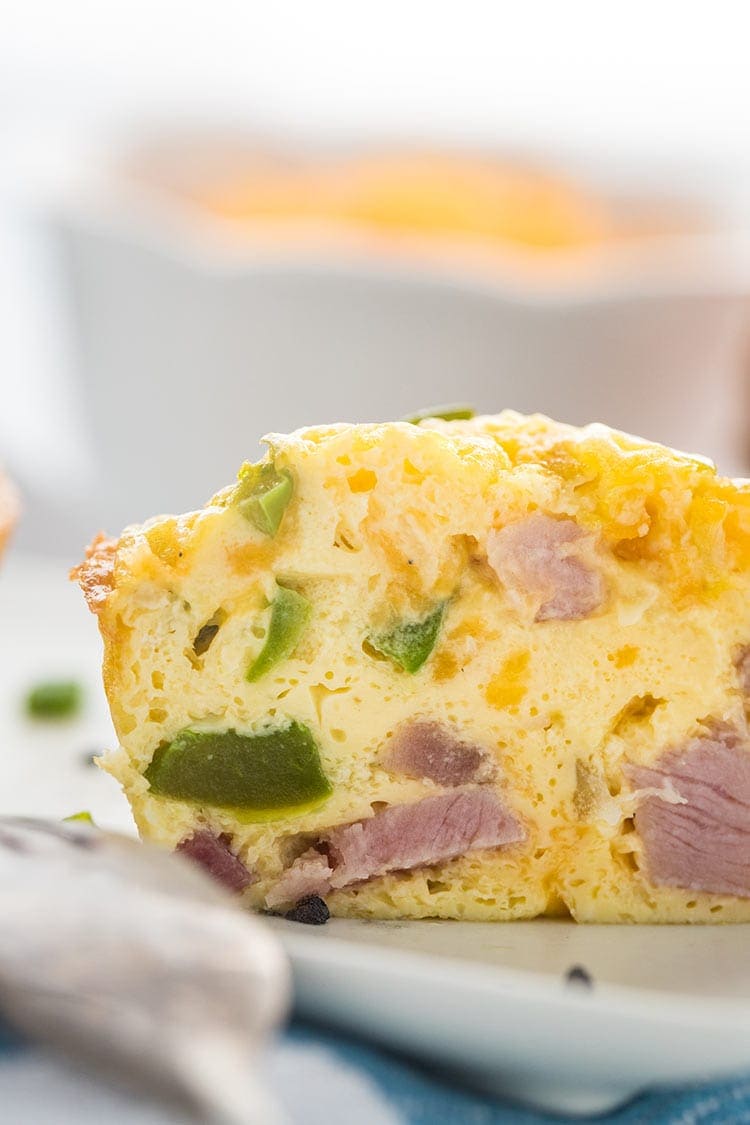 Balance of Flavors
The key to getting the right balance of flavors here is making sure you get a pretty fine chop or dice on your ingredients.
There is nothing worse than biting into a warm egg muffin only to get a ginormous chunk of onion with a teeny tiny bit of egg surrounding it. That just won't do.
So, go for a chop/dice that is somewhere between 1/4 and 1/2 inch. Too little and you lose the flavors, too big and you get too much of one ingredient and not enough mix of others.
I tend to personally go for about a 1/2 inch dice on my ham, and then closer to 1/4 inch on my onions, and somewhere in between for the bell peppers.
And you are welcome to add mushrooms in the mix if you'd like. I am not a fan, so I have left them out of my recipe.
While I've written out specific amounts of each ingredient in the recipe card, feel free to experiment and play around with the ratios to fit your personal tastes!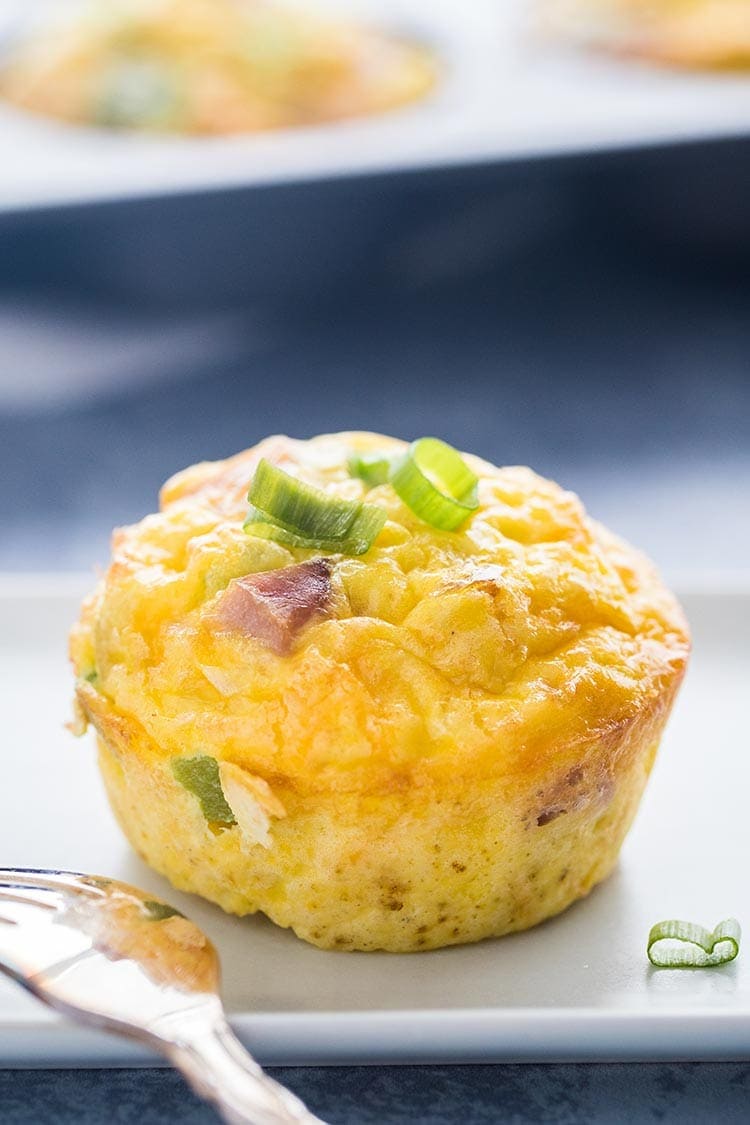 A Note on Freezing
I haven't had any problems with these sticking together when frozen, so I generally do not flash freeze them. But you can if you'd like.
Most of the time, I just take them out of the oven, let them cool, then place them in a single layer in a gallon-size freezer bag and then lay them flat in my freezer until frozen solid.
I generally pull them out by the bagful, and then just keep that bag in the refrigerator during the week to pull from, so I rarely am reheating them directly from frozen. But you can, if you need.
I hope you will give these Denver Omelet Egg Muffins a try! Or check out my other varieties of egg muffins!!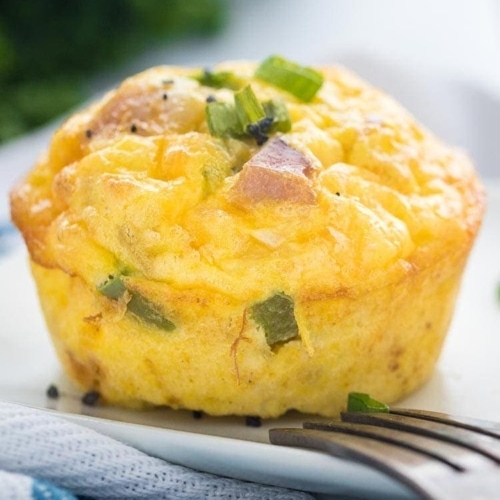 Easy Make-Ahead Denver Omelet Egg Muffins
These delicious Denver Omelet Egg Muffins have all the flavors of your favorite diner breakfast staple in a make-ahead freezable breakfast egg muffin! An easy freezer meal for easy breakfasts throughout the week. Or use them for meal prep. Best of all, they are only 3g carbs per muffin!
Print
Save
Saved!
Pin Recipe
INGREDIENTS
10

eggs

1/2

cup

heavy whipping cream

2

cups

diced cooked ham

1

cup

shredded cheddar cheese

3/4

cup

diced green bell pepper

1/2

cup

diced onion

1

teaspoon

salt

1/4

teaspoon

ground black pepper
INSTRUCTIONS
Preheat oven to 400 degrees Fahrenheit. Spray a muffin tin liberally with non-stick cooking spray.

In medium-sized bowl, add eggs and heavy whipping cream, and whisk gently to scramble eggs.

Add in remaining ingredients and stir to combine.

Divide mixture evenly among cups of the muffin tin. I find that a #20 (3 tablespoon) scoop works well for this. Each muffin cup should be about 3/4 of the way full.

Bake for 20-25 minutes, until eggs are fully set.

Remove from oven and allow to cool slightly.
To freeze:
Place cooled egg muffins in a single layer in a gallon-sized freezer bag, and lay flat in your freezer until frozen solid (overnight).
To reheat:
Remove egg muffin(s) from freezer and allow to thaw overnight in the refrigerator, either in a bag or another airtight container. Microwave for 20-30 seconds until heated through.

To reheat directly from frozen, microwave for 1 minute at 50% power, then 30-60 seconds at full power.
NUTRITION
Serving:
1
g
|
Calories:
169
kcal
|
Carbohydrates:
3
g
|
Protein:
13
g
|
Fat:
12
g
|
Saturated Fat:
6
g
|
Polyunsaturated Fat:
5
g
|
Cholesterol:
190
mg
|
Sodium:
518
mg
|
Sugar:
1
g
Did You Make This Recipe?
Please leave a comment on the blog or share a photo on Facebook @MakeAheadMealMom!