Instant Pot Bacon Cheddar Egg Bites (Keto)
I am most definitely not a morning person, so mornings for me can be brutal! I try to spare myself some trauma by making up these delicious Bacon Cheddar Egg Bites in advance, then refrigerate or freeze, and pull out to reheat on busy mornings for a hot, healthy, keto-approved breakfast! These are perfect for meal prep, too!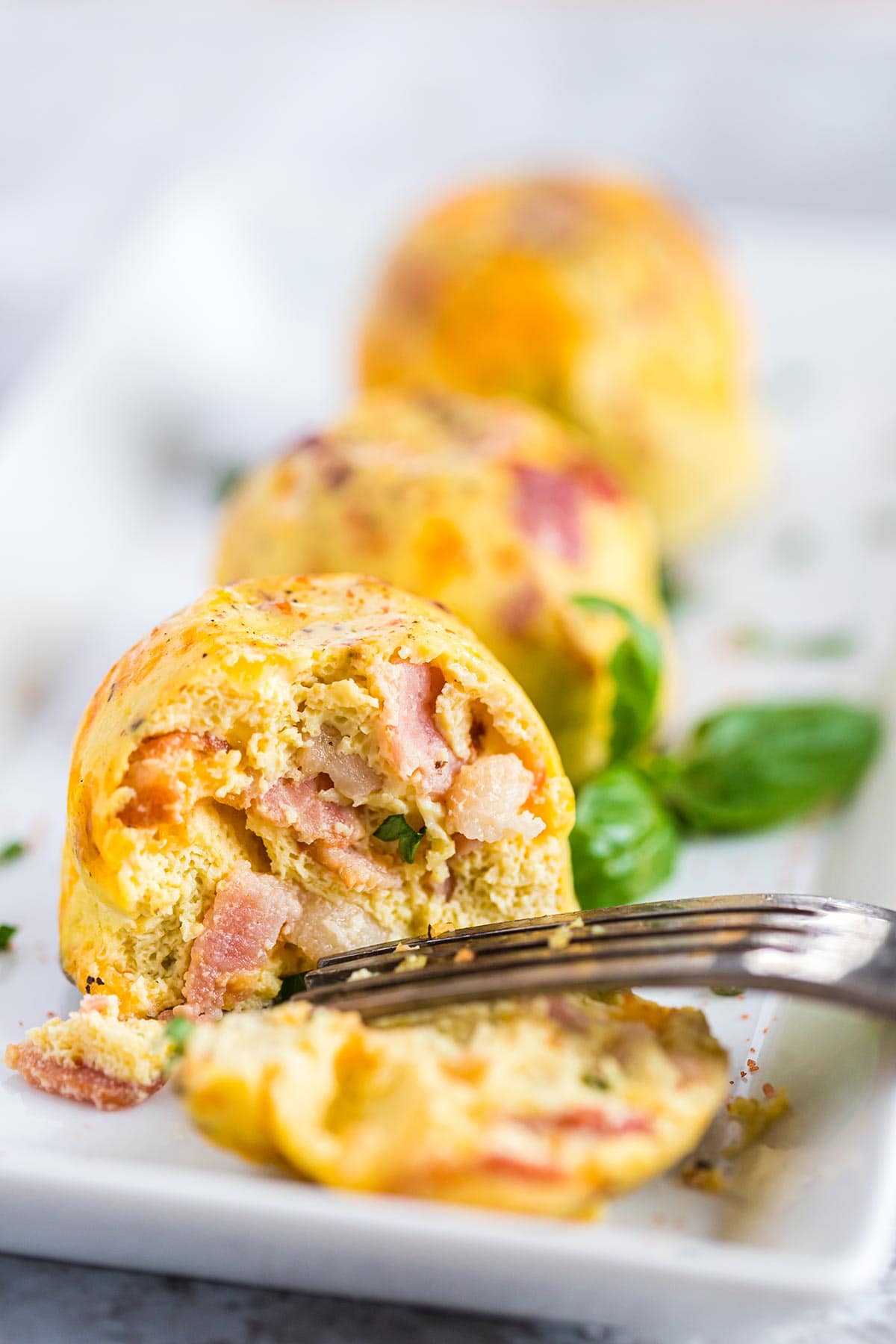 Instant Pot Bacon Cheddar Egg Bites
These Keto Instant Pot Bacon Cheddar Egg Bites are sure to brighten your morning and warm your belly, getting you ready and about your day on the right foot!
I have to confess – I've never been to Starbucks. (Mostly because I don't drink coffee or tea. Also partly because there isn't one anywhere close to me.) So I can't honestly say that I know what all the fuss is about their Sous Vide Eggs. I will attempt to remedy that at some point, IF they qualify for my Keto diet. I have heard they are delicious though!
Not having a nearby Starbucks (or a sous vide cooker, for that matter) doesn't mean you can't enjoy a similar egg-type treat for your morning meal. Because you can! And if you've got an Instant Pot (or other pressure cooker or multi-cooker), you can cook with the next best thing – steam.
Copycat Starbucks Sous Vide Egg Bites in Your Instant Pot
The Molds
If you would like your egg bites to look like these beautiful rounded mounds of deliciousness, you will need some silicone molds. They are actually marketed as baby food molds. I grabbed a 2-pack from Amazon, and they came with lids and two spoons. I have been really happy with them so far – they are sturdy and thick.
You don't need the silicone molds to make these though – you can also use small 4oz jelly jars used for canning. They will work just fine.
You can also use silicone cupcake liners! I've had several people tell me that have put silicone cupcake liners in a round cake pan inside the IP and they've turned out great for little egg bite muffins! (I'd recommend using them inside a pan or pot just to keep them from spilling and sliding around, but if you're careful you can technically use just the silicone cupcake liners right on your trivet without another pan, just be very careful setting them down in your IP.)
Whether you use silicone molds, jelly jars, or even silicone cupcake liners, one thing you must not forget to do is spray your mold(s) or jars with non-stick cooking spray!! This step is probably the single most important step to making sure your egg bites "turn out", pun intended. 😉 Even though you are using silicone, these egg bites tend to stick like glue, as eggs tend to do, and the last thing you want is for your beautiful egg bites to stick to the inside of the molds. It will make a huge mess, and you'll end up having to scrape them out and they will fall apart. They will still taste fine, but they'll look terrible! 😉 You don't want to know how I know that…just trust me on this one, ALWAYS spray your mold(s) or jars!
The Method
Really, all you need to do for this recipe is crack your eggs, scramble them carefully, mix in the remaining ingredients, and then pour your egg mixture into the molds. I wrote the recipe to be able to fill 2 7-ct molds, for a total of 14 egg bites. (If you use jelly jars, you'll probably get more like 9, since they are bigger.)
Once your molds are filled, carefully cover each with a layer of aluminum foil. Pull out your trivet for your Instant Pot and set it in the bottom of the cooking pot. Add the recommended minimum amount of water to the bottom of your Instant Pot (usually 1 cup for a 6qt model and 1 1/2 cups for an 8 qt model – but check your user manual for your specific model to be sure). Carefully lower one of the covered molds onto the trivet. Then lower your second mold to sit on top of the first, making sure to rotate it so that the cups are offset from the ones on the lower mold (so that the bottom of the cups from the top mold rest on the spaces between the cups of the bottom mold). If you've got one of the newer version of the trivet that have the handles on the side, you can stack your molds on the trivet on the counter and then insert your whole stack into your Instant Pot.
If you're using jars instead of the molds, cover each jar with its lid and ring (finger tightened) or a small piece of aluminum foil, and stack the jars offset on top of the trivet.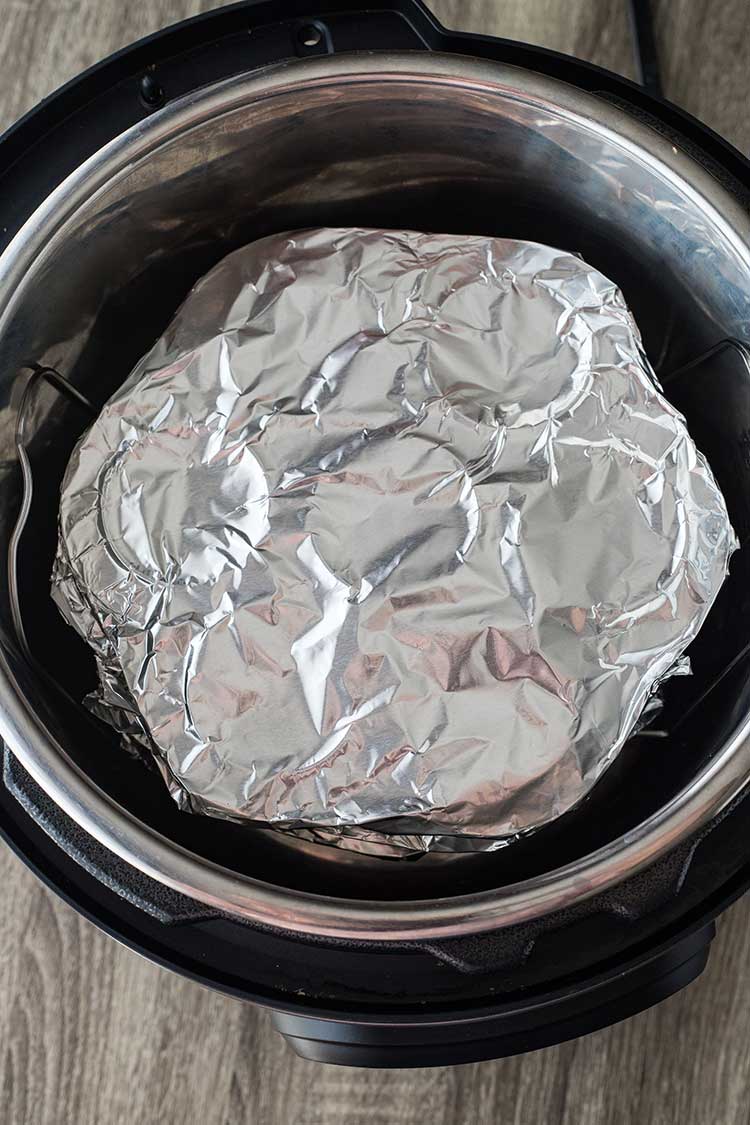 Then, it's just a matter of closing your Instant Pot lid, making sure your vent is closed, and setting your pressure cooker to cook! In this case, HIGH for 14 minutes, with a 5 minute Natural Release and then Quick Release.
Once cooking is done and pressure has been fully released, remove lid and carefully lift each of the molds out of the cooking pot. I sometimes have to use tongs or even chopsticks to grab the sides and pull them up.
Then uncover, place a plate on top of the mold upside-down, and then invert the mold and plate to get the egg bites out – and enjoy! They will keep for a few days in the refrigerator, thus making them a great choice for meal prep, or you can freeze them to pull out and eat later.
Reheating Your Instant Pot Egg Bites
Reheat in the microwave for about 30 seconds from thawed, or about 1 1/2 – 2 minutes from frozen.
Update: For readers who do not or cannot have a microwave, to reheat, you can place the egg bites back into the mold, and reheat in the Instant Pot. Place trivet in pot, fill with minimum amount of water, then place mold with cooked egg bites, covered with aluminum foil, on top of trivet. Place lid on Instant Pot, close vent, and set for ZERO minutes on HIGH. You'll want to quick release as soon as the timer beeps.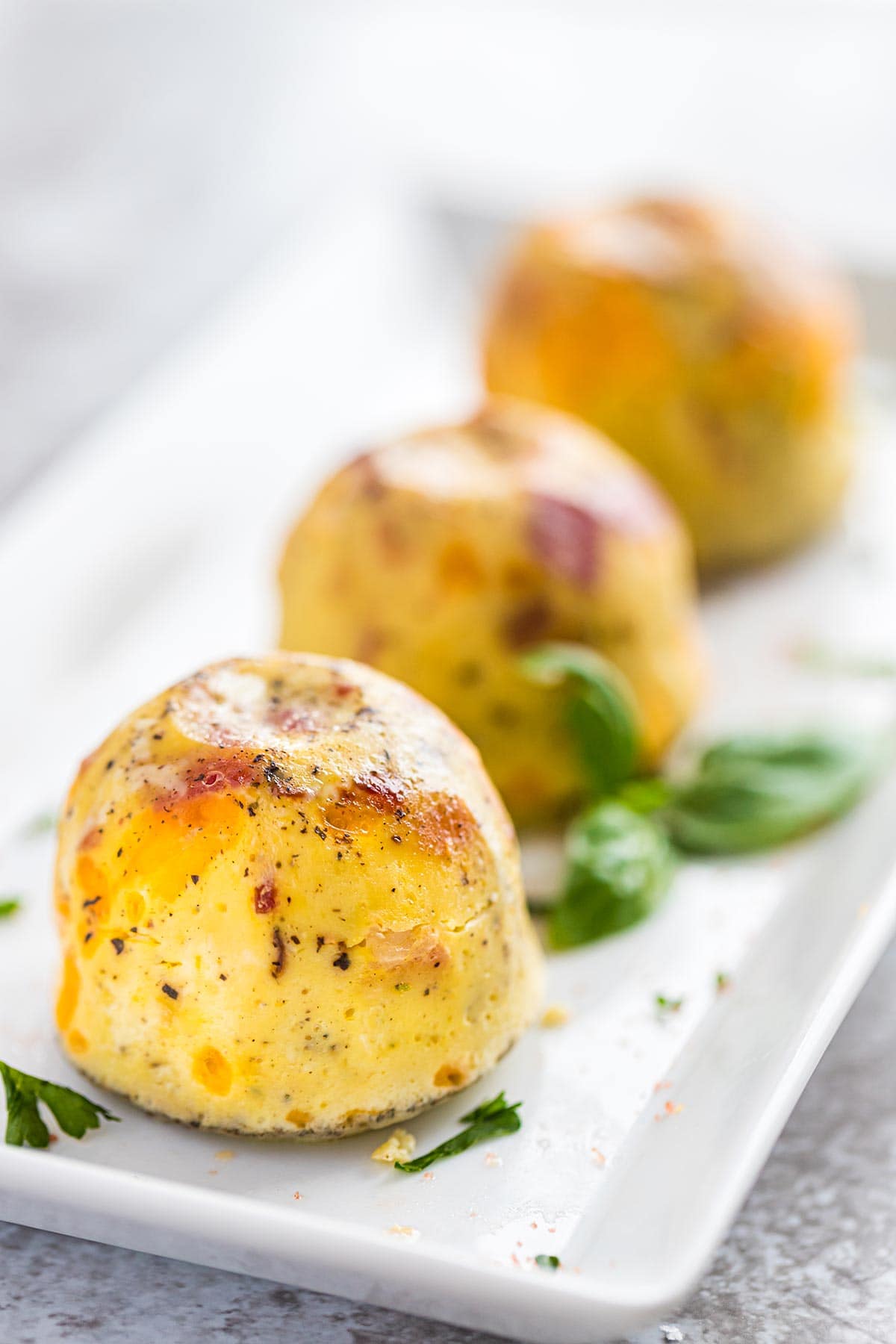 They're Keto Approved
These are definitely a hit around our house, and I love how easy they are to make and freeze, so I can make a bunch in advance and then have easy breakfasts accessible throughout the week. I also love that they qualify for a Keto diet!!
These Bacon Cheddar Egg Bites are so easy to make! You can cook up several batches, leave a few in the fridge for breakfasts over the next few days, and freeze the rest! If you want to be extra careful, you can flash-freeze them on a tray for an hour, and then move them into a freezer storage bag. Or if you're in a hurry, you can skip the flash freezing step. Just be aware that some might stick together as they freeze. You will still be able to break them apart and reheat, they just might not hold their original shape.
Be sure to stay tuned, because I have a couple of other flavor varieties coming up, too – Denver Omelet Egg Bites and Caprese Egg Bites!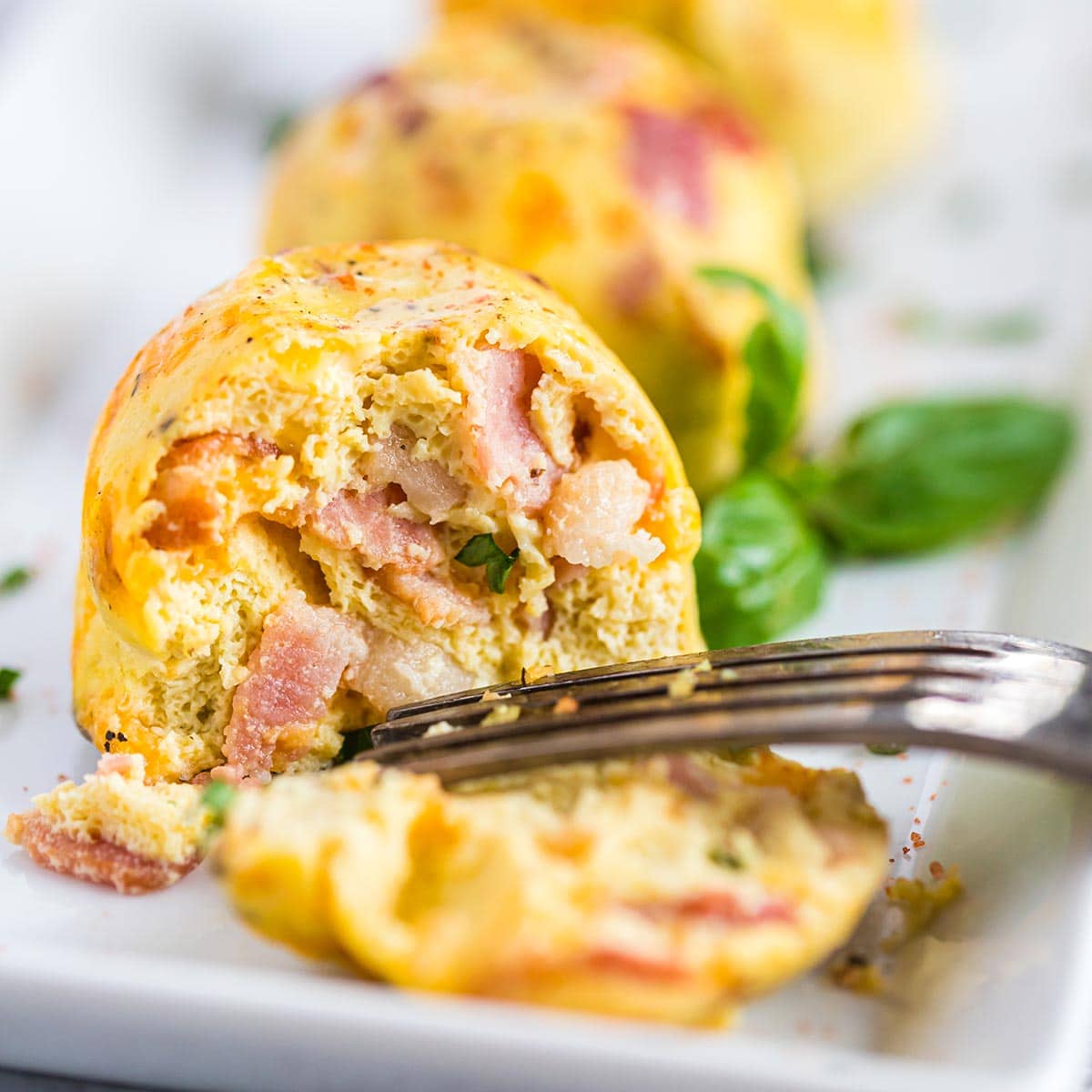 Instant Pot Bacon Cheddar Egg Bites (KETO)
Yield: 14 egg bites

Prep Time: 10 minutes

Cook Time: 14 minutes

Natural Release: 5 minutes

Total Time: 29 minutes

Mornings can be brutal! Spare yourself some trauma by making up these delicious Bacon Cheddar Egg Bites in advance, then refrigerate or freeze, and pull out to reheat on busy mornings for a hot, healthy, keto-approved breakfast! Perfect for meal prep, too!
Ingredients
9-10 eggs
1/2 cup heavy cream, (Sub coconut milk if preferred)
1 cup bacon, cooked and chopped or crumbled, (about 6-8 slices)
1/2 cup cheddar cheese, shredded
1 tsp dried basil
1 tsp salt
1/4 tsp black pepper
Instructions
Spray silicone molds or 4 oz. jelly jars liberally with non-stick cooking spray. Set aside.
Crack eggs into medium-sized bowl and gently whisk to scramble.
Mix in remaining ingredients.
Pour egg mixture into silicone molds or jelly jars, distributing evenly.
Cover molds or jars loosely with aluminum foil.
Place trivet in bottom of Instant Pot cooking pot. Add recommended minimum amount of water.
Gently lower first silicone mold into pot to rest on top of trivet. (If using jelly jars, place first layer of jars on trivet, leaving about an inch between jars.)
Carefully lower second silicone mold and lay it to rest on top of the first mold. Be sure to rotate the mold so the cups are offset (make sure the bottom of the cups on the top mold rest on the spaces between the cups of the bottom mold). If using jelly jars, place second layer of jars, making sure to offset them from the first layer.
Close lid, seal vent, and set Instant Pot to cook on HIGH for 14 minutes.
Once cook time has ended, allow the Instant Pot to release pressure naturally for 5 minutes, then quick release the remaining pressure.
Remove lid and carefully take out molds or jars. You may need to use tongs or chopsticks if space is tight.
Place a plate on top of a mold, and holding the plate and mold together, invert, so that the plate is on bottom and the mold is upside-down on top. This should pop egg bites out of the mold. If not, gently press on the top of the mold cups to release.
To freeze:
Place egg bites, not touching, on parchment-lined baking sheet and place in freezer for minimum of 1 hour, up to 4 hours.
Once frozen, remove egg bites from tray and place into freezer storage bag.
Label and date, then place bag back into freezer.
To reheat:
From thawed, microwave for 30 seconds.
From frozen, microwave for 1 1/2 to 2 minutes.
Nutrition Information:
Yield: 7 Serving Size: 2 egg bites
Amount Per Serving: Calories: 345Total Fat: 27gSaturated Fat: 12gTrans Fat: 0gUnsaturated Fat: 14gCholesterol: 325mgSodium: 1037mgCarbohydrates: 2gFiber: 0gSugar: 1gProtein: 22g

Nutrition information provided as an estimate only.