Easy Instant Pot Applesauce
This Easy Instant Pot Applesauce can be made in a matter of minutes and contains no added sugar! It is a great healthy snack, and best of all, it is freezer friendly, so you can make up a large batch and freeze the extra!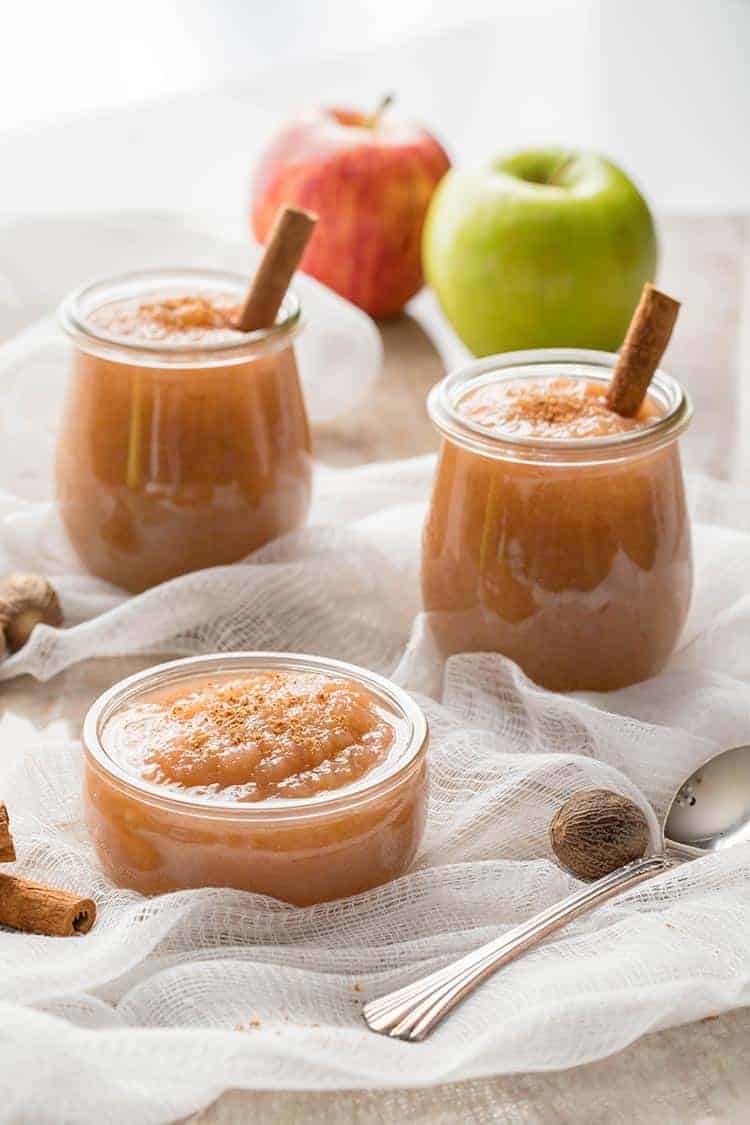 Easy Instant Pot Applesauce
I stumbled upon a great sale on fruit right after Christmas – those five pound bags meant for portioning out into stockings. You know those kind? (Am I the only one who got an orange and at least one apple in the bottom of my stocking every year??)
With this new diet, my kids have been blowing through the fruit, because it is an easy snack to grab in between meals. So I wasn't going to pass up fruit for less than .50/lb!
The only problem was that there was so much, there was no way my kids were going to eat it all before it went bad. So, Easy Instant Pot Applesauce to the rescue!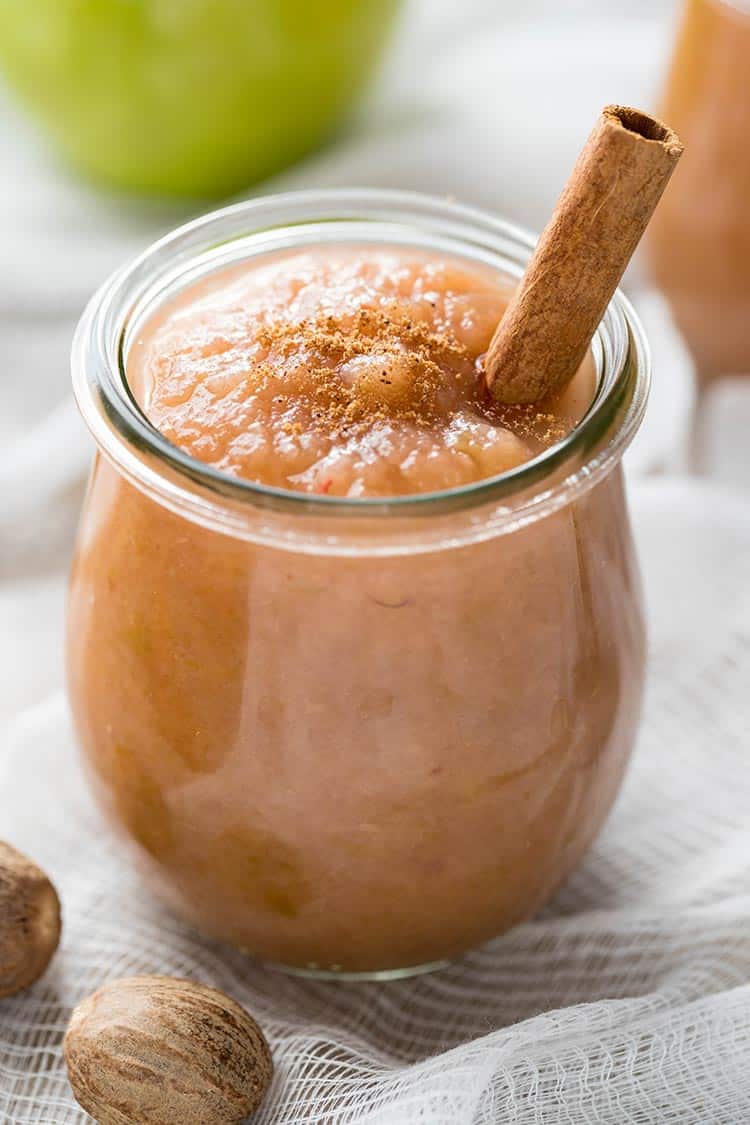 Using Your Instant Pot for Making Applesauce
I've made applesauce on the stove top a bunch of times. And have even canned it several times. I was interested to see how well it would turn out using my Instant Pot though, and I was not disappointed – it is fabulously easy and I probably will not make it any other way anymore!
Working with two Instant Pots, each doing batches, I had most of the 70 or so pounds of apples done within a few hours.
There are no added ingredients in this Instant Pot applesauce – it is just apples and water and lemon juice (to preserve color). No added sugar. You can choose to flavor it with some cinnamon and/or nutmeg, but my kids actually like it just plain.
For best results, you'll want to use a mix of apples. It gives a greater depth of flavor. Fujis, Red Delicious and Galas are great for adding sweetness, and Granny Smiths will bring a bright, tart undertone. You can do any combination you'd like, as I can't think of any apple variety that couldn't be used for this. For these batches I used about half Red Delicious and half Granny Smith in each batch, with a few small Galas thrown in, because that's what I had. My personal preference is to go with Fujis or Galas and Granny Smiths.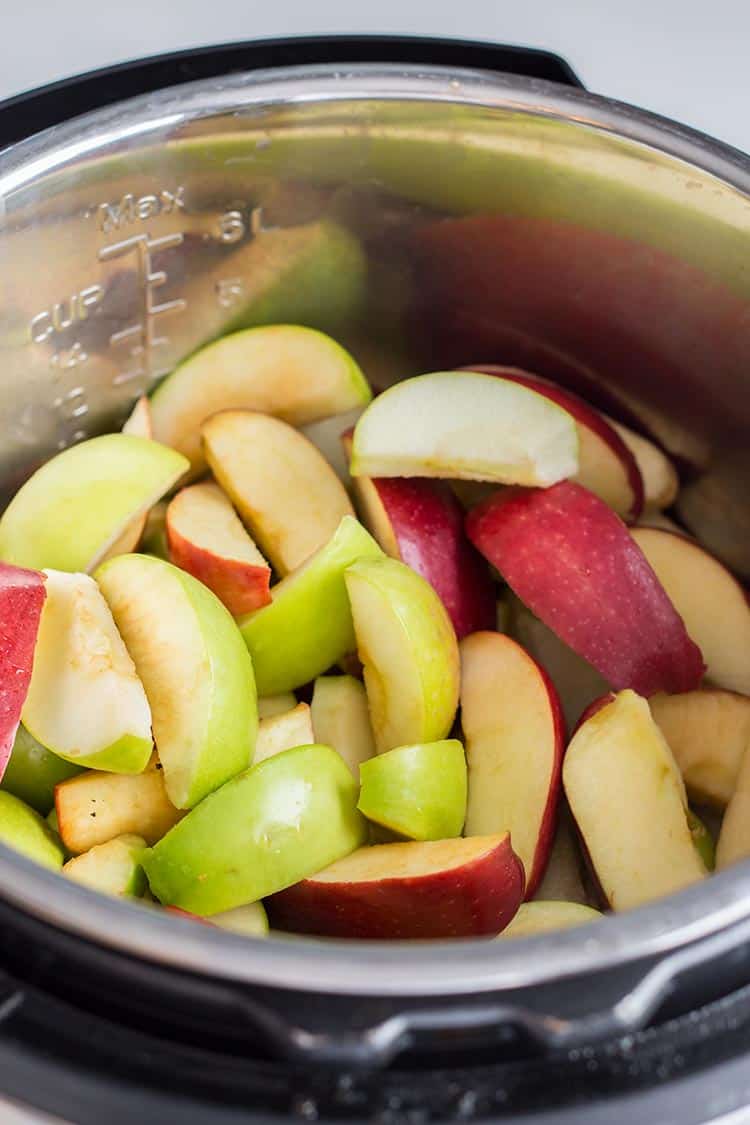 Preparing the Apples for Cooking
If you have a food mill (which I HIGHLY recommend for this), or a high-powered blender, you will not need to peel your apples. You can just core and cut, then cook them with the skins on. (I have an apple cutter like this one and it made easy work of this step.) The food mill will filter the peels out, and the blender will grind it fine enough to not be a problem. (And the peel has additional nutrients in it and will give yourhttp://amzn.to/2GdKLNi applesauce a beautiful color!)
If you don't have a food mill or a high-powered blender, you'll want to peel your apples before cooking. In this case, I highly recommend getting an apple slicer/corer/peeler – they can be a lifesaver!
Cooking the Apples in the Instant Pot
After you have prepped your apples, all you do is toss them in the Instant Pot, add a tiny bit of water (because they will release a TON of liquid as they cook, so you can use less than the minimum liquid requirements for your IP without risk of burning or scorching) and set them to cook.
Once they are done cooking, drain your apples (reserving the leftover liquid from the pot) and process them through your food mill, blender or mash with a potato masher or fork or use an immersion blender. You can leave your applesauce a little chunky, or go completely smooth – it all depends on your preferences. If you want your applesauce on the thinner side, you can add in a bit of the reserved cooking liquid. Although, I found when processing with the food mill that I did not need to add any liquid.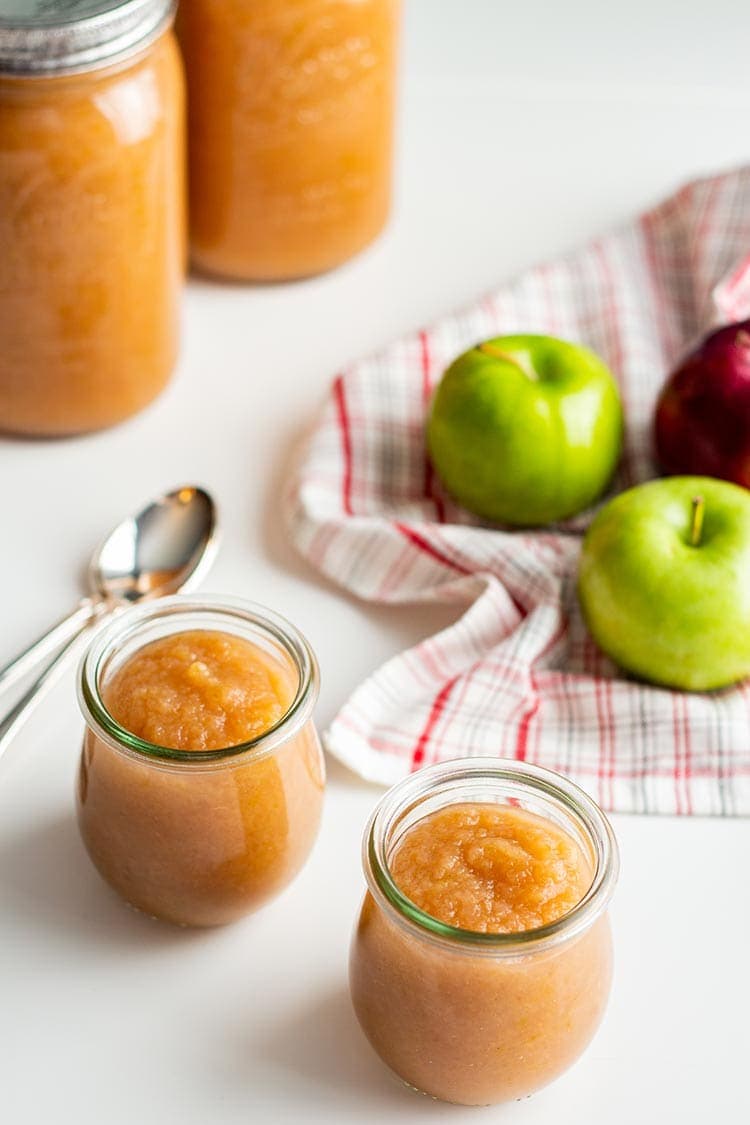 Storing Your Instant Pot Applesauce
This Easy Instant Pot Applesauce will keep for a week or two in a covered container in your refrigerator (if it lasts that long!), or for longer storage, freeze it! You know this had to involve freezing at some point, right? 😉 We never get around to freezing it because it never lasts long enough.
You can also use this recipe to make applesauce for water-bath canning, although you will need to can in a water-bath or pressure canner, not your Instant Pot. Follow instructions in your canner's manual or user guide, a reputable canning recipe book, or these instructions at the National Center for Home Food Preservation.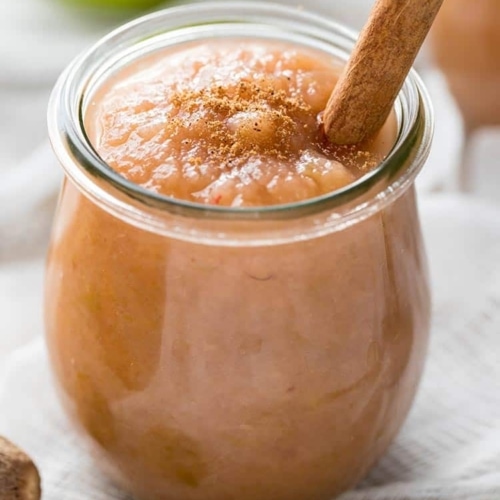 Easy Instant Pot Applesauce (no added sugar)
It's just apples and water (and a little bit of lemon juice), but you'd never guess it with how sweet and delicious this easy applesauce is! It makes a wonderful after school snack!! Make a little or a lot and freeze the leftovers!
Print
Save
Saved!
Pin Recipe
INGREDIENTS
8

medium apples

any variety or combination of varieties

1/2

cup

water

1

tablespoon

lemon juice

to preserve color
INSTRUCTIONS
Prepare apples depending on preferred method and available tools:
If you are using a food mill or high-powered blender, core and cut apples.  No need to peel.

If using a masher or immersion blender, peel, core and cut apples.
To cook:
Add prepared apples, water and lemon juice to the cooking pot of your Instant Pot.

Put lid on and close vent.

Cook on HIGH pressure for 5 minutes.  When time is up, allow 10 minute natural release, then quick release the remaining pressure.

Drain apples and reserve cooking liquid.

Working in batches if needed, add cooked apples to food mill or blender to process, or use a masher or immersion blender right in the cooking pot to blend.  Add in reserved cooking liquid (if needed) until you reach your desired consistency.

Serve warm, or allow to cool.
To store:
Store in covered container in the refrigerator for a week or two, or place in freezer containers or bags and freeze for longer storage.
NOTES
You can add ground cinnamon, nutmeg, apple pie spice, etc. if you'd like.  My kids like it plain so I rarely add anything extra.  You can also sweeten with sugar or other sweetener if you choose.  
NUTRITION
Serving:
1
/2 cup
|
Calories:
95
kcal
|
Carbohydrates:
25
g
|
Sodium:
3
mg
|
Fiber:
4
g
|
Sugar:
19
g
Did You Make This Recipe?
Please leave a comment on the blog or share a photo on Facebook @MakeAheadMealMom!