Baked Sausage & Cheese Rigatoni
It's meaty, it's cheesy, and it's packed full of wonderful, delicious carbs! For those times when spaghetti and meatballs just won't cut it.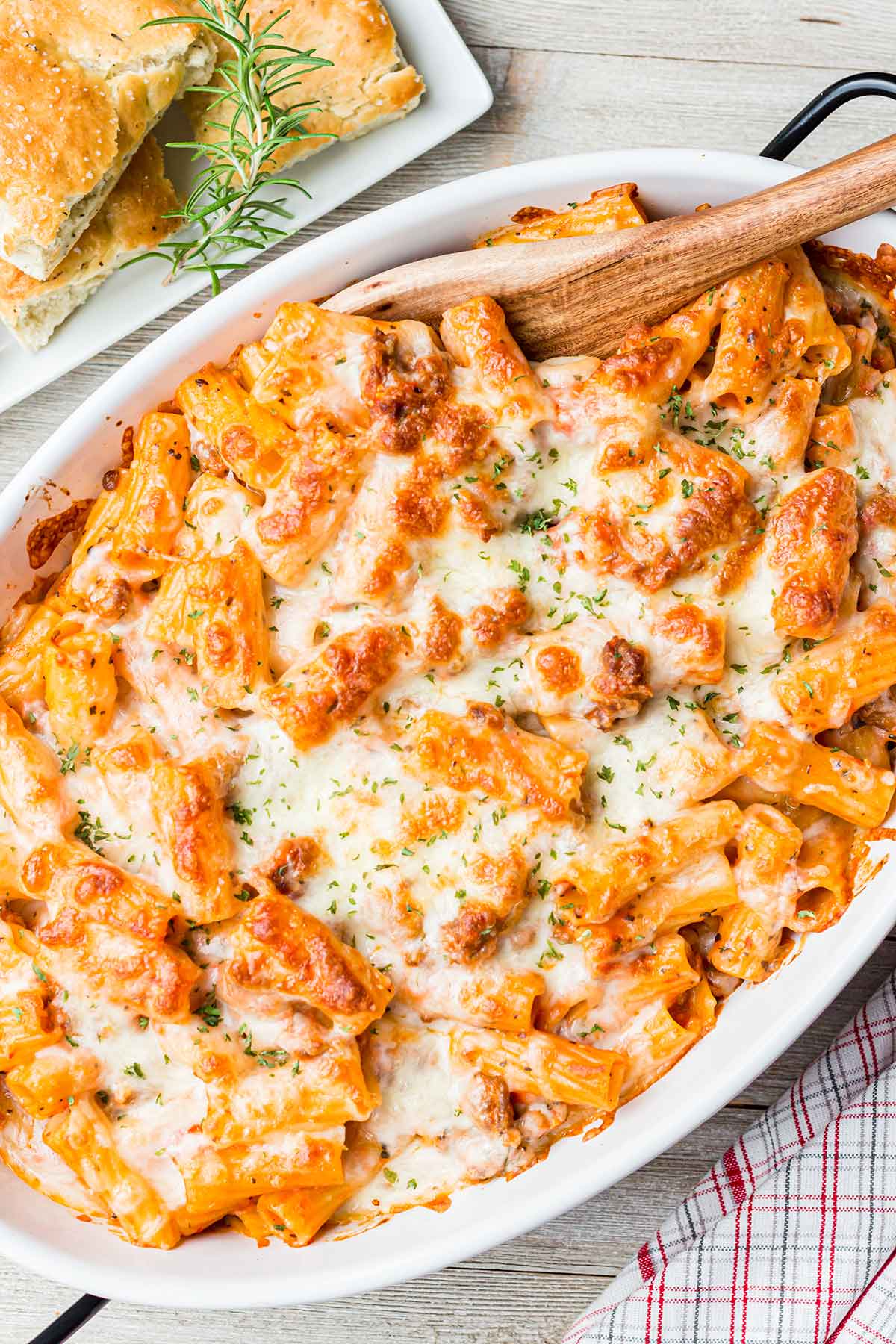 Baked Sausage & Cheese Rigatoni
This Baked Sausage & Cheese Rigatoni freezer meal is a favorite for days when I am running high on stress and low on time and energy.
It is warm and hearty and filling. And that basil…eek!
The taste is divine, but what I really love most about this is that there are never any complaints about dinner when this Baked Sausage & Cheese Rigatoni shows up on the table. None. Ever.
Plus, it makes a pretty nice meal to take in for neighbors or family.
It is easily scale-able and you can also portion it out into individual servings before freezing if you really want.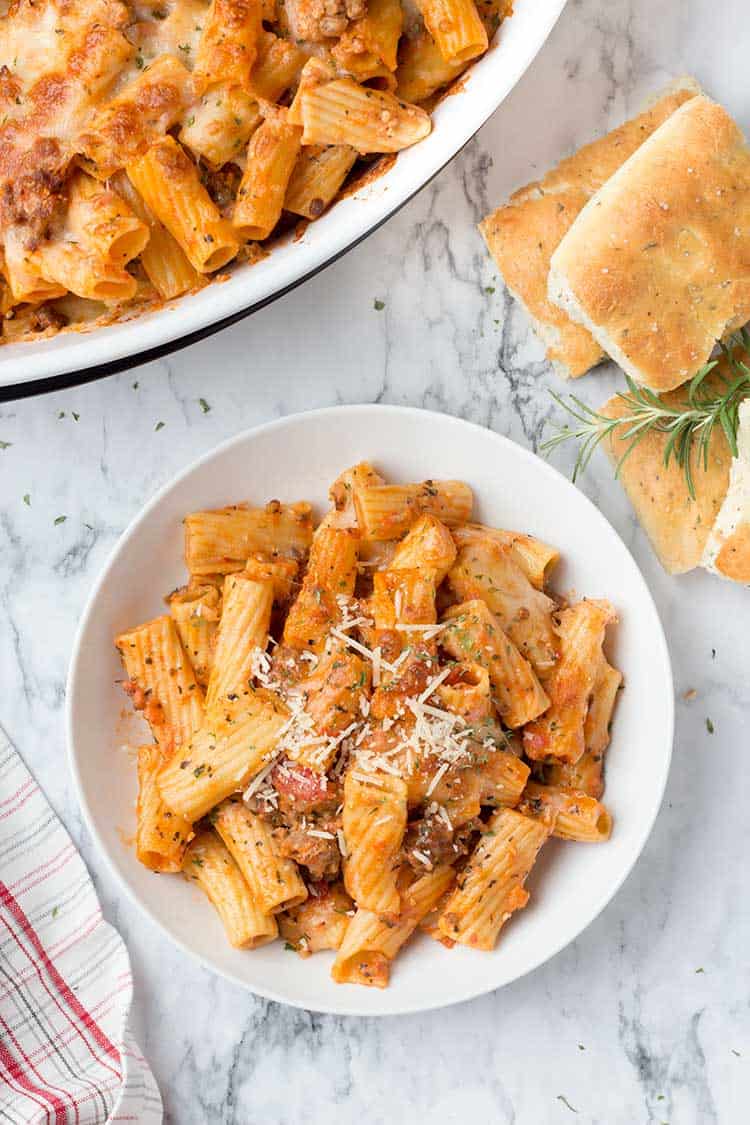 Pick up from preschool, only to find the 3-year-old in a jacket that was soaked, with a soaked shirt underneath. I still cannot get a clear answer from him about what happened.
Come home, change clothes and find that the cat has puked all over the kitchen floor.
Then race out the door for kindergarten pickup, where my neighbor who we walk home with was kind enough to point out how pretty my daughter looked today. Which led to me commenting on how I hoped her hair had stayed done for pictures. To which the response was something along the lines of, "What pictures?" And that was when it dawned on me that today had, in fact, NOT been school picture day for the kindergartener. (It was last week.)
Come home from kindergarten pickup only to find the city out inspecting my front sidewalks and measuring and making notes. (They're doing a sidewalk safety check.) And now I'm expecting a citation (and probably fines) coming in the mail…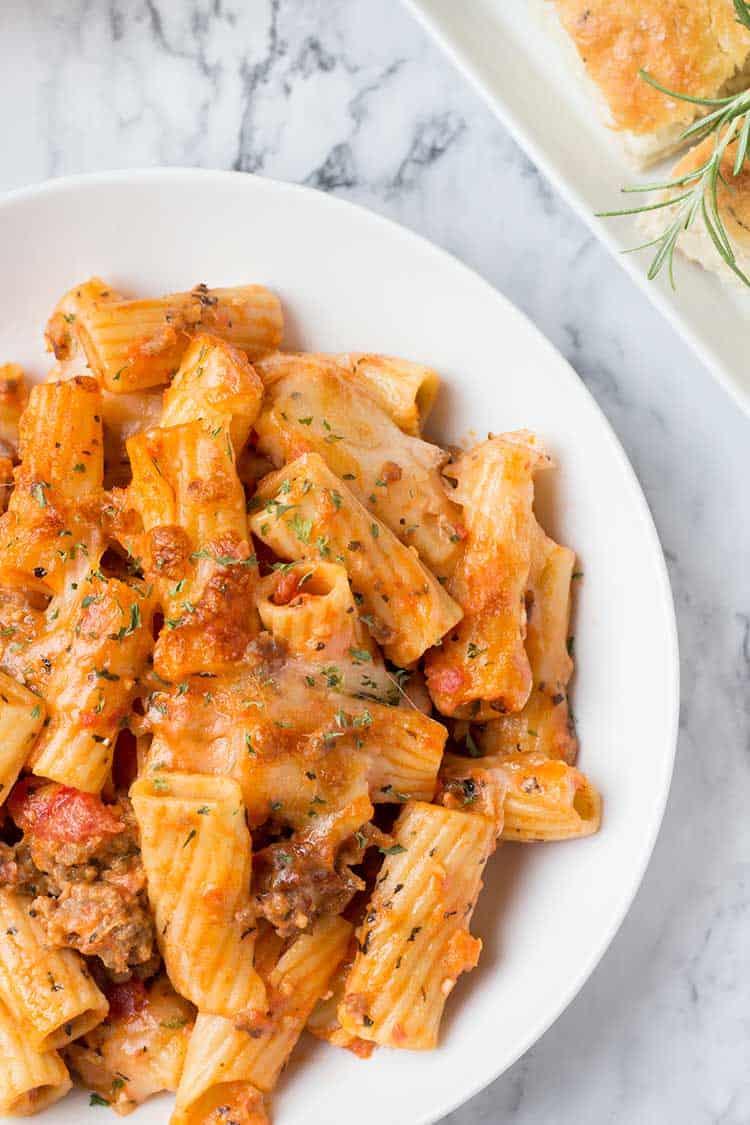 I'm a little bit stressed and a lot rattled (or is that a little bit rattled and a lot stressed) and it's only noon. And this is just a pretty typical day! It's kinda like this EVERY day!
And I wonder why I crave carbs all the time…
When this body gets stressed, it craves easily digestible sugars and carbs. And caffeine. Definitely caffeine.
So, I bring you one of my go-to "for when my life hurts" meals.
It's meaty, it's cheesy, and it's packed with carbs!! This is one that my kids will have second and third helpings of, and I'm okay with that. Because being a kid is tough, and if I asked them, they'd probably say that their lives hurt, too. 😉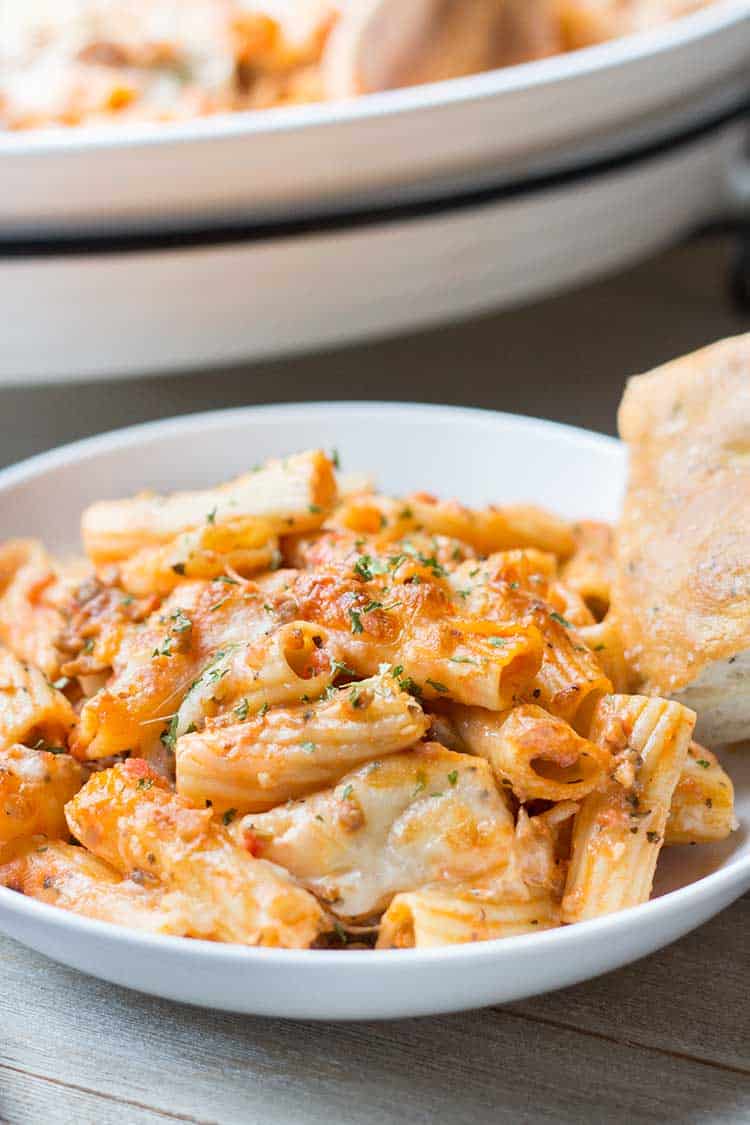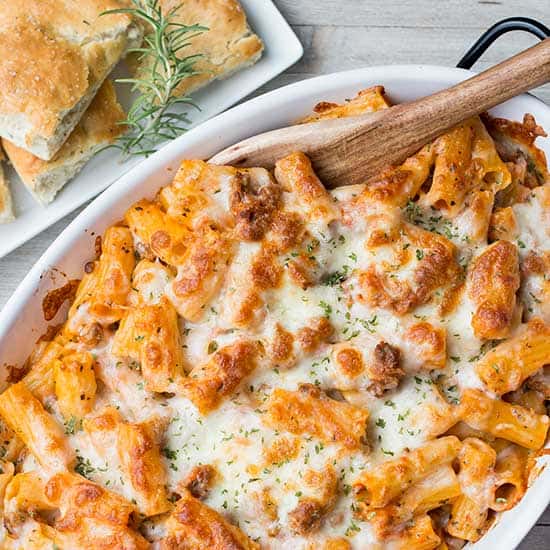 Baked Sausage & Cheese Rigatoni
It's meaty, it's cheesy, and it's packed full of wonderful, delicious carbs! For those times when spaghetti and meatballs just won't cut it.
Print
Save
Saved!
Pin Recipe
INGREDIENTS
1 16

oz

pkg rigatoni pasta

1

tablespoon

olive oil

1

white or yellow onion

diced fine

1

pound

mild Italian sausage

2

tablespoons

minced garlic

about 6 cloves

1 28

oz

can crushed tomatoes

1/2

cup

heavy cream

1 1/2

tablespoons

dried basil

or 1/4 cup chopped fresh basil

1/2

teaspoon

salt

1/4

teaspoon

pepper

2

cups

shredded mozzarella cheese

1

cup

grated Parmesan cheese
INSTRUCTIONS
Bring a large pot of water to a boil.  Cook rigatoni according to package directions.  Drain and set aside.

While the pasta is cooking, in a large skillet over medium heat, saute the diced onions in the olive oil until softened and translucent, about 3-5 minutes.  

Add in the sausage and cook until browned, about 5-7 minutes. Add in the garlic and cook for an additional 1-2 minutes.  (Be careful not to burn the garlic.)

Add in the crushed tomatoes and stir to combine.  Turn down heat and simmer gently for 10 minutes, stirring occasionally.  Remove from heat.

Stir in heavy cream, basil, salt and pepper to sauce mixture.

To assemble meal, add about one cup of the sauce mixture to a baking dish and spread to coat the bottom.  Then layer half of the cooked pasta, half of the mozzarella cheese, half of the Parmesan cheese and half of the sauce mixture.  Layer the remaining pasta and then the sauce mixture, and top with the remaining cheese.  

Cover, label & date, and place in freezer until ready to cook.
To cook:
Preheat oven to 350 degrees Fahrenheit.  (If time allows, remove from freezer and thaw overnight in the refrigerator). Cook, uncovered, until heated through and bubbling, 25-30 minutes from thawed, or 2 hours from frozen.  Garnish with additional Parmesan cheese and parsley if desired.
NOTES
For extra flavor, you can use basil-infused olive oil and crushed tomatoes with basil (or the basil, garlic and onion variety).
NUTRITION
Serving:
8
people
|
Calories:
534
kcal
|
Carbohydrates:
38
g
|
Protein:
26
g
|
Fat:
31
g
|
Saturated Fat:
14
g
|
Polyunsaturated Fat:
18
g
|
Cholesterol:
74
mg
|
Sodium:
1116
mg
|
Fiber:
4
g
|
Sugar:
7
g
Did You Make This Recipe?
Please leave a comment on the blog or share a photo on Facebook @MakeAheadMealMom!