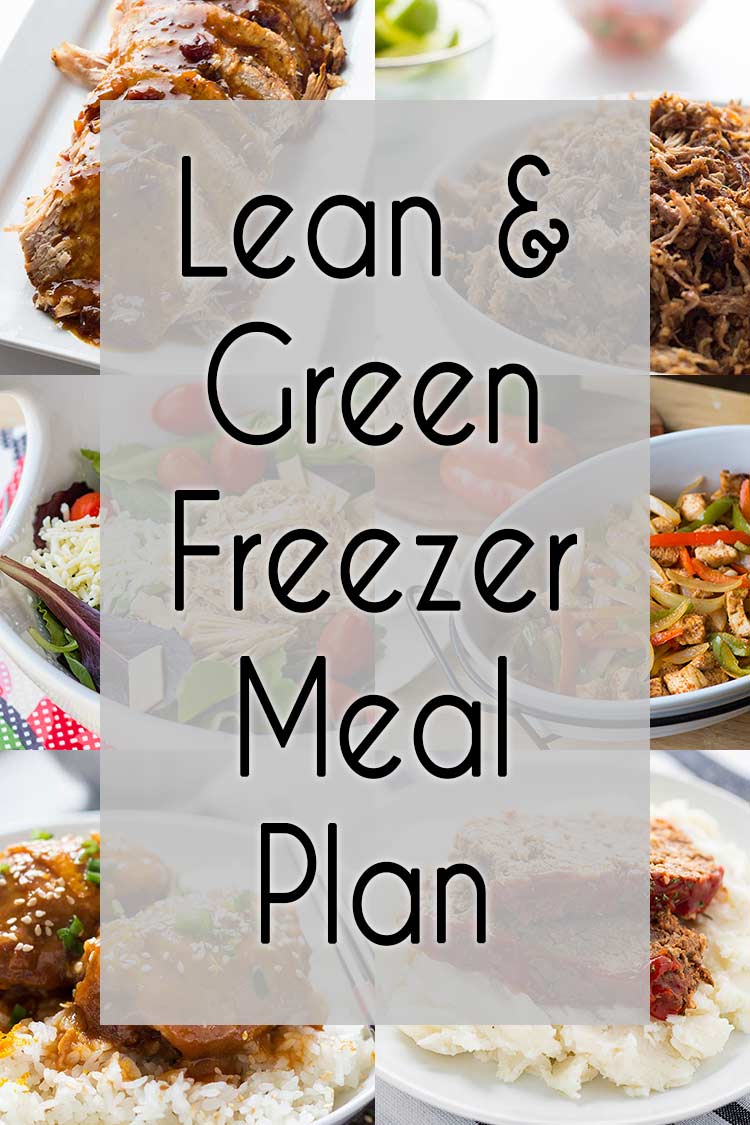 All right – who wants some lean and green freezer meal recipes?!?!
I'm still not sure what to do about the photos. (See update from April below).
BUT, I can't make you folks wait any longer for these!
Usage & Recipe Sharing
I ABSOLUTELY want you to share these recipes! However, I do request that you DO NOT SHARE THE RECIPE OR PHOTOS (should I decide to post them) by copying and pasting. Do NOT share the recipe in its entirety, even in an email. If you want to share these recipes, PLEASE share a link to this page.
I spend a LOT of time and money developing and testing these recipes. My "payment" is the ad revenue I receive from people viewing my pages. That is my only compensation.
When you take the recipe and post it online, on social media, or share it in an email, you are not only stealing copyrighted content, you are preventing me from earning money for my efforts.
I know it isn't being done maliciously, and most people don't even realize they are doing anything wrong. So hence, my efforts to educate.
DON'T COPY AND PASTE RECIPES – please! Share by sharing the link to this page. That way we ALL benefit!
AND if you really want to make sure you don't miss a recipe, you can create an account through Grow.me using the little teal icon on the bottom right of the screen, and it will allow you to save recipes and pages right here on my site so you can easily find them again (and share them, too)!
Now, on to the recipe(s)…
Lean and Green Cottage Pie (aka Shepherd's Pie)
6 servings
1 Lean, 3 Green, 3 Condiment, & 1 Healthy Fat per serving
Ingredients
2 pounds lean ground turkey (4 lean)
2 tablespoons dry minced onion (2/3 condiment)
1 teaspoon salt (4 condiment)
2 cups green beans (I use or canned or frozen, 4 green)
1 3/4 cups (1 can) beef broth (1 3/4 condiment)
1 tablespoon soy sauce (2 condiment)
1 cup diced tomatoes (2 green)
1 tablespoon tomato paste (3 condiments)
1 teaspoon Worchestershire sauce (2 condiments)
For the mashed "potatoes":
6 cups cauliflower florets, stems removed (12 green)
2 tablespoons butter (4 healthy fat)
2 tablespoons reduced fat cream cheese (2 healthy fat)
1 teaspoon garlic powder (2 condiment)
1/4 teaspoon salt (1 condiment)
2 cups reduced fat shredded cheese (2 lean)
Instructions:
Brown ground turkey in skillet over medium-high heat together with minced onion and salt. Drain excess liquid.
Add in green beans, beef brother, soy sauce, diced tomatoes, tomato paste and Worchestershire sauce. Stir to combine. Bring to a boil and reduce heat and simmer for 5-6 minutes until mixture thickens.
Remove from heat and pour mixture into a 9×13 baking dish.
Steam cauliflower using one of the methods below:

Place cauliflower florets into large microwave safe bowl with 1/2 cup water, cover bowl, and microwave for 10-15 minutes until cauliflower is super soft. Drain off liquid and pat dry with towel or paper towel. You want the cauliflower to be as dry as possible.
Bring pot of water to a boil on the stovetop. Place cauliflower florets into a steamer basket or steamer insert above the pot and cover. Reduce heat til water is simmering and steam for 10-15 minutes until cauliflower is soft and mushy. Drain and pat dry.

Place cauliflower, butter, cream cheese, garlic powder, and salt into food processer and puree until smooth. Be sure to scrape down the sides if needed.
Spread mashed cauliflower on top of meat mixture in baking dish. Sprinkle on 2 cups of shredded cheese.
Bake at 400F for 10-15 minutes until heated through and bubble. You can broil for 2-3 minutes if you like your cheese topping nice and toasted.
How to Freeze
I usually just bake this as instructed, then divide into individual portions and freeze in freezer-safe containers. Then I just thaw and reheat in the microwave.
You can freeze this as a casserole in a large 9×13 aluminum pan if you're feeding the whole family. In which case, follow the instructions through step 6. Then cover tightly with aluminum foil or a lid, label, date, and place into freezer. To reheat, thaw the casserole overnight in the refrigerator, and then bake as directed.
You an also skip the initial baking and prepare this as 6 individual portions. Top with the cheese and then freeze without baking. You can thaw and then reheat either in the oven or in the microwave.
Note: This recipe was adapted from Maya's Keto Shepherd's Pie Recipe at Wholesome Yum to fit Optavia's Lean and Green Meal requirements.
Other Recipe Options
I've got more Lean and Green meal recipes coming, so hold tight! But in the meantime, if you'd like ideas of other options for potential Lean and Green meals, check out my:
Additional Notes:
UPDATE, Apr 29, 2021: Friends, I have the recipes! What I do not have is photos – yet. BUT, I'm going to be very, very honest with you here, and I hope you will take this in the spirit in which it is brought up. I am extremely hesitant to post these. Why? Because of how they will be used.
I watch EVERY day as Optavia coaches take recipes and photos (with are copyrighted, by law) and post them all over Facebook and social media for their clients and others to use. Now, I am NOT opposed to sharing my recipes – not at all! BUT WHAT I AM OPPOSED TO is someone else profiting unfairly from MY work (using MY recipe to help their clients who bring THEM money).
Rather than posting a link to the recipe and asking their clients to go visit the recipe on the page, thus bringing the recipe creator and site owner income through ads (a very SMALL income, I might add), they are posting the entire recipe, including pictures (which are copyrighted material, and thus illegal to share without permission) online, thus cutting out the recipe creator from any potential income for their work, while the coaches benefit from continued clientele. I'm honestly not sure what to do about this.
I put a LOT of work into these recipes – hours spent calculating nutrition, leans and greens, condiments, etc. and making sure they strictly adhere to Lean & Green standards. I spend a lot of time and money buying the ingredients and making the recipes and testing multiple versions (at least three – sometimes as many as six!).
As an Optavia client myself, I am in Facebook groups that specifically prohibit me from posting links to my recipes because I would "profit" from that, yet the owners of these groups are allowed to take my recipe and post it and profit from it, even though they put none of the work in to create it.
So…because I am unsure how to deal with this, I have delayed posting any of the recipes. If none of us were making any money from these, I would not have a problem with them being taken and used wherever. And I have absolutely no problem sharing them with folks who will use them personally.
But when others ARE profiting from them (by helping their paying clients) at the expense of the recipe creator, I have a hard time reconciling that. I know this is not being done maliciously, and many of these wonderful coaches have no idea that what the are doing is technically illegal. I hesitate to confront them because I don't want them to feel bad, but as a recipe site owner, I need to stand up for myself and for my industry (photo theft / theft of copyright is a HUGE problem in our industry, bigger than most people realize).
I hate to post without photos! It's not good for readers, and it isn't good for my site (it looks like very poor quality content in the eyes of Google and readers in general, and I completely agree!).
But if there are no photos, there is no potential copyright theft (recipes themselves can generally not be copyrighted although it is really never a good idea to share someone else's hard work with out attribution). I keep going back and forth on this. Thus, my dilemma…
I welcome thoughts and constructive comments on this matter – feel free to post in the comments below or to email me directly. (Candi at make ahead meal mom dot com)