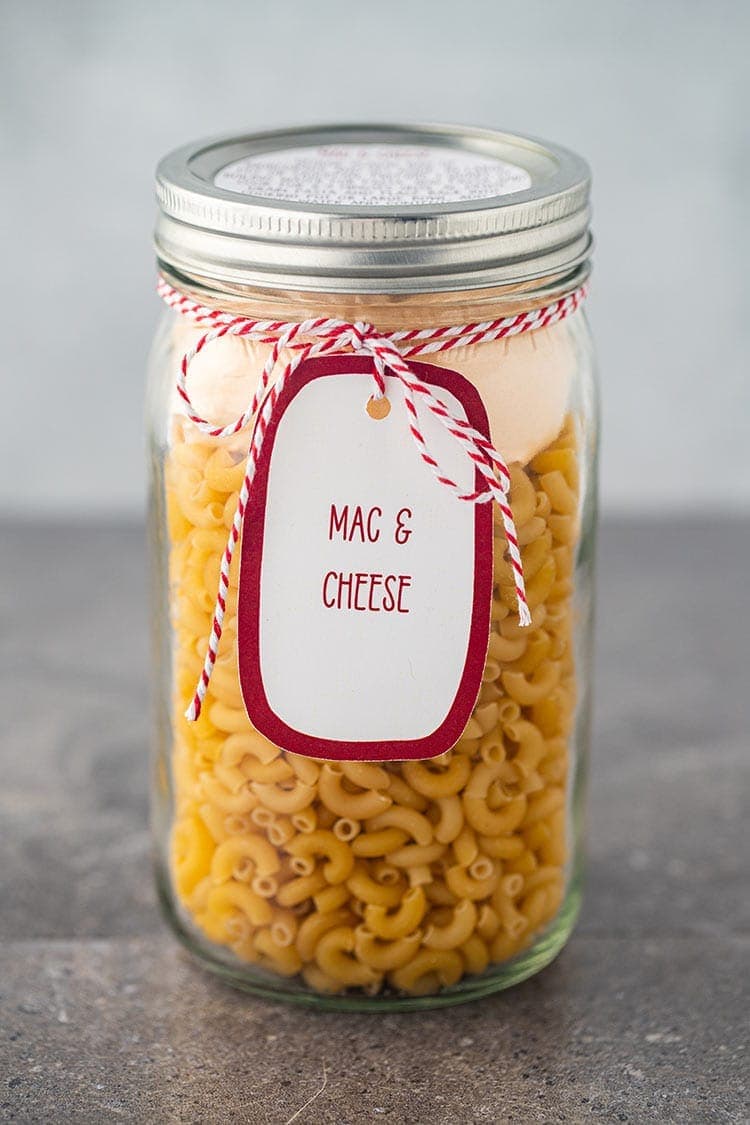 Mac & Cheese Meal in a Jar
My kids used to go through mac & cheese like you wouldn't believe, so this Mac & Cheese Meal in a Jar has been very handy to have on hand! And who doesn't want a few "comfort" food items in their storage, either for use in an emergency or for a quick-to-fix dinner on busy nights, right?
The recipe is adapted from one that I got from Crystal at Store This, Not That! (previously Everyday Food Storage). I modified it to fit the jar better and tweaked the taste and directions a bit to fit my personal preferences.
But basically, it is pretty much the same as the stuff you get in the blue box at the store. Except this one goes one step further and includes the milk and butter in powder format, so that all you need to do is add water! The meal in a jar is shelf-stable for 5-10 years (as long as you store it properly and check the seal), and it also makes a terrific kid-friendly neighbor gift for the holidays.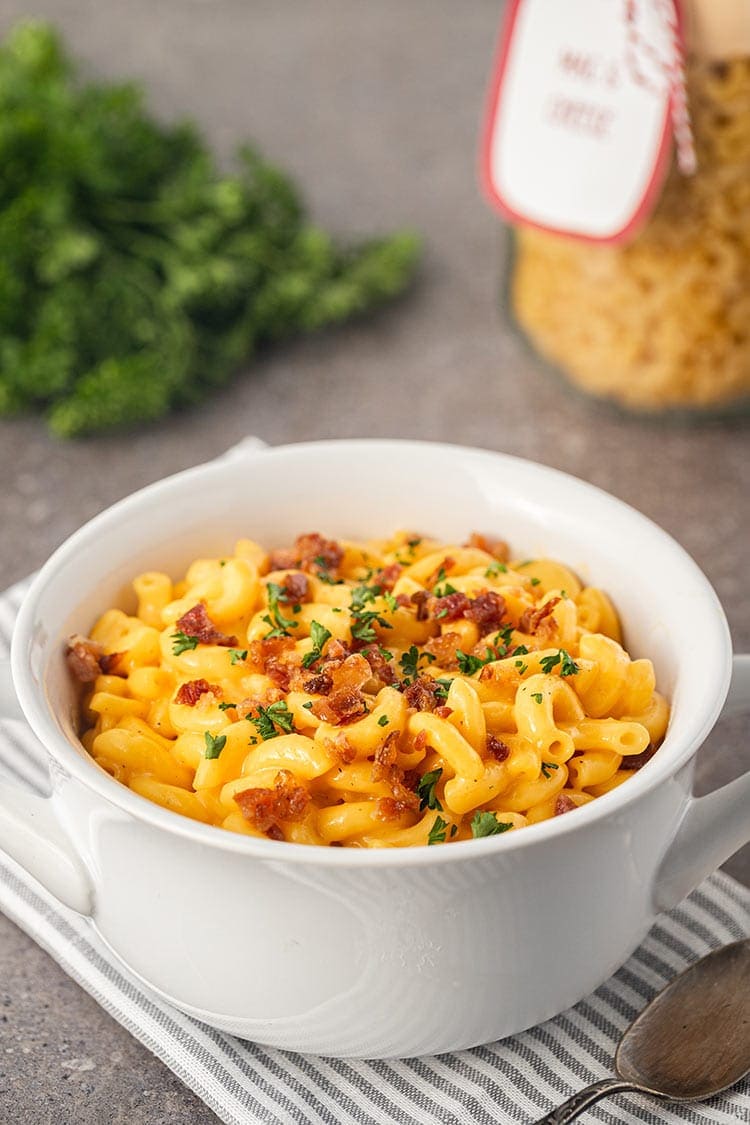 Items You Will Need: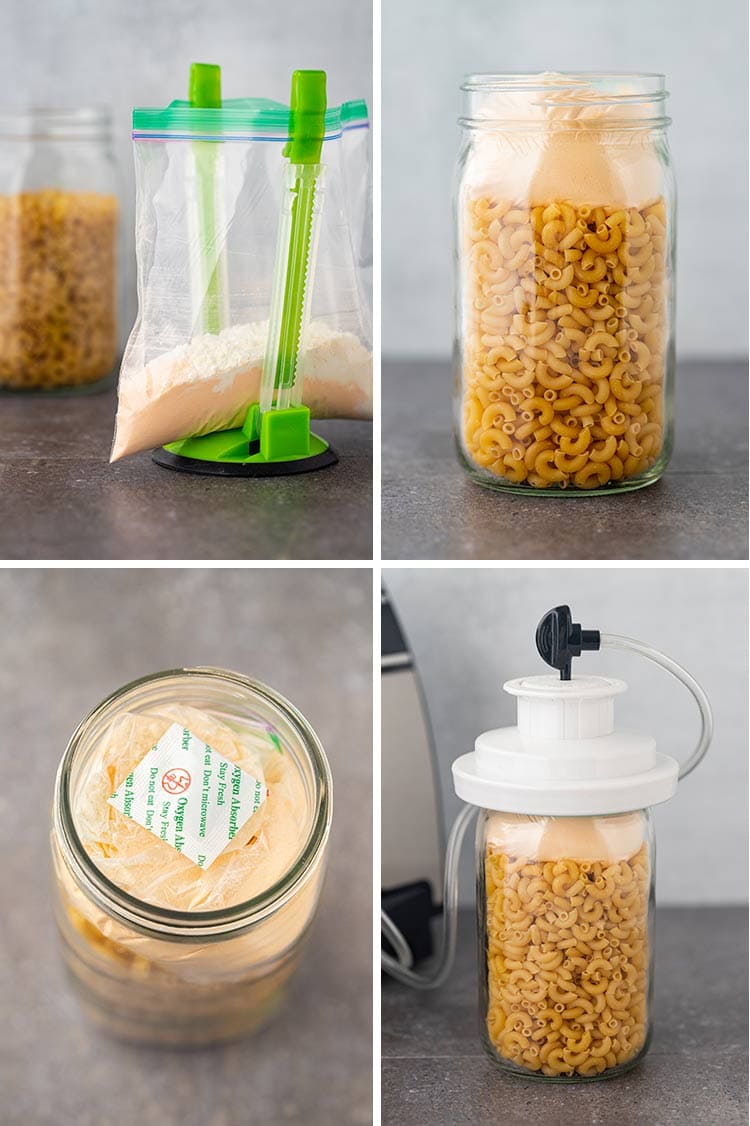 How to Make Mac & Cheese Meal in a Jar
Place all powdered ingredients into small sandwich or ziptop bag. Remove as much air as possible and seal. Set aside.
Place dry macaroni into clean wide-mouth quart jar.
Place baggie with powdered ingredients on top of macaroni in jar.
If not using a Foodsaver to vacuum seal the jar, place one 100cc oxygen absorber on top of the baggie. (You can use an oxygen absorber in addition to vacuum sealing the jar as well.)
Wipe rim of jar to make sure it is clean. Then place new lid on jar.
To seal:

If using a FoodSaver to vacuum seal the jar, carefully place the wide-mouth jar attachment over the top of the jar and lid, attach it to the FoodSaver, and vacuum seal following your model's instructions (for most newer models you'll use the Marinate or Accessory option). Once done, remove the hose from the top of the jar sealer, and then carefully remove the jar sealer attachment off of the jar. Place ring onto jar and tighten.
If using just an oxygen absorber, place the lid on the jar and screw on the ring. Allow jar to sit undisturbed as oxygen absorber works. At some point, the lid of the jar should suck down and seal. You will know it is sealed when you press on the center of the lid and it does not flex. (If it flexes, it is not sealed.)

Attach instruction label to top of jar, or write cooking instructions on lid with sharpie marker.
Store jar in cool, dry place away from direct sun.
If you'd like to give this meal in a jar as a gift, be sure to grab the gift tag cut files from my friend Amy at The Happy Scraps – she did such an amazing job designing the labels and gift tags for this project!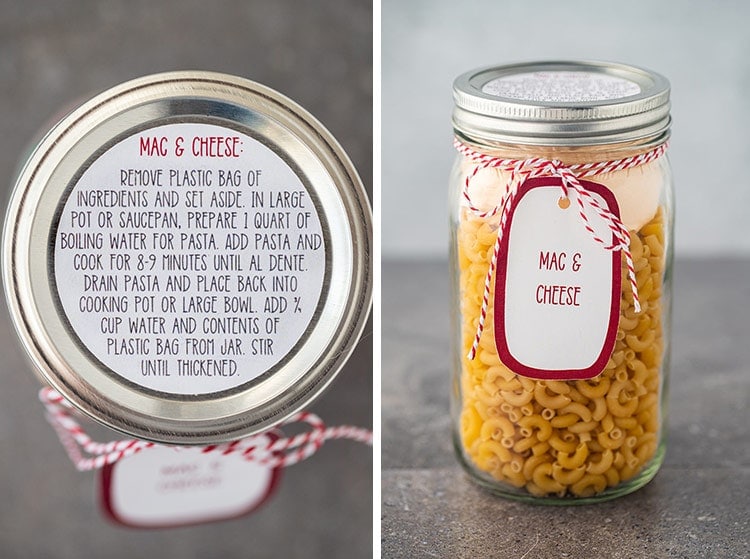 Questions and Substitutions
How long are these Mac & Cheese Meal in a Jar meals good for?
As long as they are stored properly and the seals stay holding, these jars are shelf-stable for up to 10 years! I'm hoping they won't need to last that long because they'll be irresistible and you'll want to eat them long before that. But if not, and you do choose to leave them all lonely and unloved on the shelf, at least know that they've got your back for several years.
Can I substitute a different kind of pasta?
Yes, however cooking time will change (just cook to the al dente stage) and the sauce to pasta ratio may be off a bit. But you can certainly substitute shells, mini shells, ditalli, pinwheels, bow tie, etc. in place of the elbow macaroni! You may need to adjust the amount of pasta you put in the jar – just make sure you leave room for the baggie of powdered items on top!
How do I make the Mac & Cheese Meal in a Jar to eat?
Stovetop Instructions: To make the meal, remove the ring and gently pry off the sealed lid. Remove baggie and set aside. Bring large pot of water to a boil over medium-high heat, and once boiling, add in dry pasta and cook to the al dente stage (about 6-7 minutes for elbow macaroni). Drain pasta, then place back in cooking pot or large bowl. In separate bowl, add contents of plastic bag from jar and 2 cups of water. Whisk until smooth (mixture will thicken). Pour cheese mixture over pasta and stir to combine.
You can do it "blue box style" and just dump the water and powdered ingredients into the cooking pot with the drained pasta, then stir, but I found that it sometimes clumped and I couldn't get all the clumps stirred out. So I prefer to mix the cheese sauce separately then add it to the pasta. But you don't have to.
Instant Pot / Pressure Cooker Instructions: Place dry pasta into the inner pot of your pressure cooker, cover pasta with water until water level is about 2 inches above top of pasta. Place lid on pressure cooker, seal vent, and set to cook on HIGH pressure for 3 minutes. When cook time is over, carefully quick release pressure. Drain pasta and then return it to the inner pot of the pressure cooker. Whisk contents of baggie with 2 cups of water in separate bowl until combined and smooth. Pour cheese sauce over pasta and stir.
Looking for other meal in a jar options? Check out these other delicious recipes on the blog!!
Mac & Cheese Meal in a Jar
A classic comfort meal!  Convenient and easy to make - perfect to keep on hand for emergencies or even just a quick-to-fix dinner on a busy night!
Ingredients
2 2/3 cups elbow macaroni
2 tablespoons instant non-fat dry milk
1/2 teaspoon salt
1/4 teaspoon pepper
Instructions
Place pasta in clean, wide-mouth quart-size mason jar.
Place remaining ingredients in small sandwich bag.
Twist or seal sandwich bag and place on top of dry pasta in jar.
Place new canning lid on top of jar. Using wide-mouth attachment for a FoodSaver, vacuum seal lid onto jar following instructions from your FoodSaver manual. (You can also insert an oxygen absorber before putting on lid if you'd like.)
Remove vacuum attachment and put ring on. Tighten by hand, but don't over tighten.
Label and date. Be sure to include the instructions from the package for cooking the pasta. Store in cool, dry location.
To cook:
Remove plastic bag of ingredients from jar and set aside, and discard oxygen packet if present. In large pot, prepare boiling water for pasta. Add pasta and cook until al dente, about 6-7 minutes. Drain pasta, then place back in cooking pot or large bowl. In separate bowl, add contents of plastic bag from jar and 2 cups of water. Whisk until smooth (mixture will thicken). Pour cheese mixture over pasta and stir to combine.
Notes
You can cook the pasta and then add the dry ingredients and water all together in the cooking pot, just like you do with the commercial varieties, but I find that the powdered ingredients sometimes clump this way, so I prefer to whisk the sauce mixture separately, then add it to the pasta.
Recommended Products
As an Amazon Associate and member of other affiliate programs, I earn from qualifying purchases.
Nutrition Information:
Yield:

6
Serving Size:

6 people
Amount Per Serving:
Calories:

166
Total Fat:

8g
Saturated Fat:

4g
Trans Fat:

0g
Unsaturated Fat:

2g
Cholesterol:

20mg
Sodium:

290mg
Carbohydrates:

18g
Fiber:

1g
Sugar:

1g
Protein:

7g
Nutrition information provided as an estimate only.