Freezable Homemade Uncrustables
Homemade uncrustables are a quick, freezable, kid-friendly option for easy school lunches! They are always a hit with the littles, and they also work great for car trips, vacations, picnics, and other events! You control the ingredients, and they generally come out cheaper than their store-bought counterparts!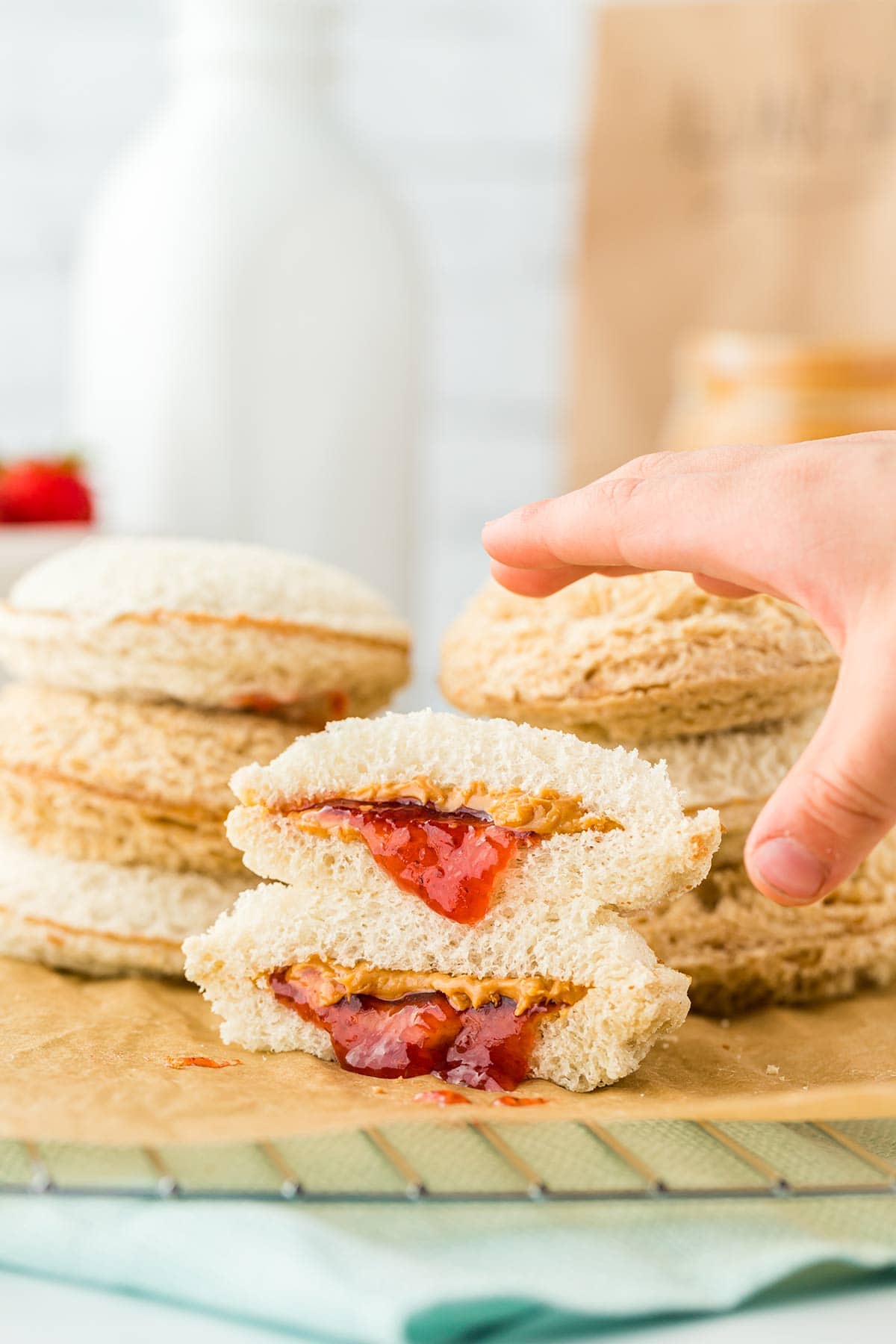 How to Make (and Freeze) Homemade Uncrustables Sandwiches
Lazy mom that I am, I am ALWAYS looking for great ideas for easy school lunches.  Bonus if I can find make-ahead lunch ideas, because although my body may be out of bed at 6am, my poor brain refuses to wake up until at least 8am.
And heaven help the poor kid who gets one of mom's "lunches" that she hastily threw together five minutes before leaving for school while her brain was still technically asleep…so these homemade uncrustables (crustless peanut butter and jelly sandwiches) are a perfect kid-friendly, mom-sanity-saving option for easy, hassle-free, simple make-ahead lunches!
For the uninitiated, Uncrustables is the brand name of some commercially available crustless sandwiches you can find in the frozen food section of your local grocery store.  They are, as the name implies, your standard pb&j sandwich, without the crust – individually wrapped for convenience.  They come in several different flavors, with different bread options as well.  Uncrustables are great for lunches, trips, picnics, etc., but they can get a little pricey if you buy them regularly.
The great thing is you can make them yourself without too much effort!  Really, it's pretty much just making a regular peanut butter and jelly sandwich, with a slight change, and then removing the crust and sealing the sides so the inner goodness doesn't become inadvertent lunchtime "art" all over your kids' clothes.
(Now, if your kids purposefully take them apart and use the fillings for some lunchtime finger painting, no amount of sandwich sealing is going to prevent that, and hopefully you have a REALLY good stain remover in your laundry arsenal…)
Customize the Ingredients
The great thing about making your own homemade uncrustables is that you can easily customize the ingredients!
The Bread
You'll want to stick with sandwich bread on this one, but it can be white or wheat.  The 100% whole wheat loaves that are very dense do not work well in these sandwiches, nor do most sourdough loaves.  But most sandwich loaves will work fine – round top, square, Texas Toast, etc.
The Fillings
You have your pick of just about any nut butter you can find – peanut butter, almond butter, sunflower butter, etc.  And, if you want to go for extra bonus mom points, Nutella also works well, too!!
For the jam/jelly, again you pretty much have your pick of flavors!  You can also use honey, preserves, freezer jam, etc.  I have not yet tried this with my Raspberry Chia Seed Jam, but I know the jam freezes well, so I think it will work for these uncrustables just fine!  I'll keep you posted if I find out otherwise.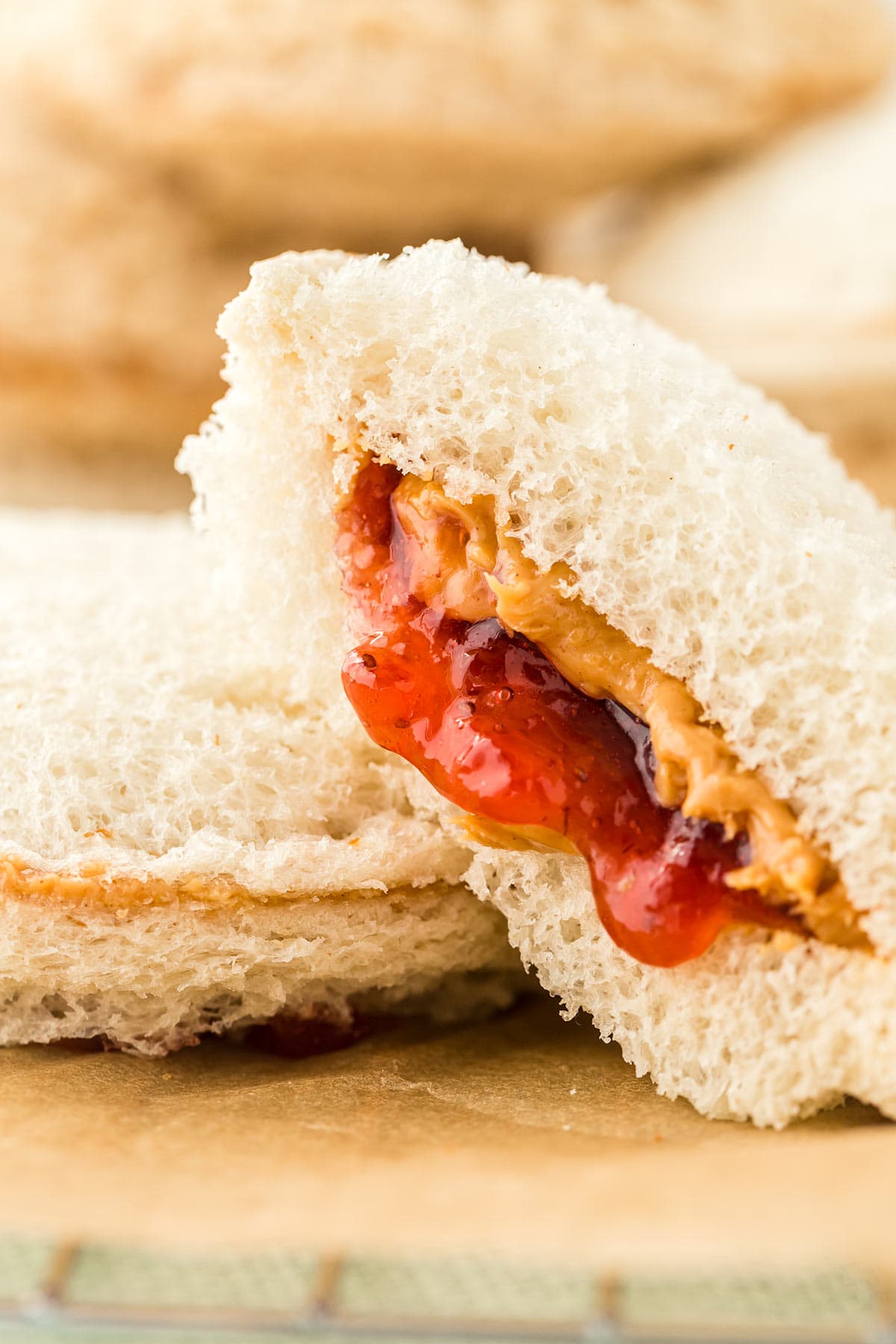 Assembling Your Homemade Uncrustables Sandwiches
To make a successful freezable sandwich, you will want to make one slight change from your normal sandwich making routine, and that is to spread your peanut butter on BOTH pieces of bread.
Trust me on this one – I've done it the "normal" way, with peanut butter on one piece and jam on the other, and the result was not good.  We ended up with soggy sandwiches because the jam soaks into the bread.  And no one wants a soggy sandwich – crust or no crust!
So by putting peanut butter on both pieces of bread, the peanut butter will act as a protective layer to prevent the bread from getting soggy and soaking up all the jam or jelly.
Next, go ahead and put your jam or jelly on your sandwich pieces.  Sometimes I spread a thin layer of jam on both pieces of bread, sometimes I'm lazy and just put a dollop of jam in the center of one piece using a spoon and call it good – either works.
Then go ahead and place your two pieces of bread together to form your sandwich.
A quick note here:
You'll notice in my pictures that I spread my peanut butter pretty much all the way to the edges of the bread.  I do this because my kids will eat the leftover crusts, so I go ahead and make them like a full sandwich so they have peanut butter and jam in their crust sections.  But if you have kiddos that will not eat crusts, only spread the peanut butter and jam in a circle in the center of your bread just slightly larger than the size of your sandwich cutter, glass, biscuit/cookie cutter, etc.  No need to waste your pb&j!  Use the leftover plain crusts to make homemade croutons, use in meatloaf, take to the park to feed the birds/ducks, make homemade breadcrumbs, etc.
Cutting and Sealing Your Homemade Uncrustables
I happen to have a Cut N Seal sandwich sealer from Pampered Chef that I bought about 14 years ago for this very purpose.  It still works great, and I highly recommend getting one if you want to make these sandwiches on a regular basis.  They no longer offer this model (there is a newer version that is square), but you can find similar ones on Amazon.
There are also plastic versions available online on Amazon, very similar to a version that Wonder bread used to market and sell in stores.  I have not tried these personally, but the reviews are very good.
You can also just use a biscuit/cookie cutter (you'll want one that is a 3 inch or 4 inch round), or even a large cup or glass turned upside down.
Take your sandwich, center the cutter of your choice over it, and press down.  You'll need to gently pull away the outer crust sections.
If you have the Cut N Seal, it will cut and seal the sandwich edges for you, as will the plastic square version posted above.
If you are using a biscuit or cookie cutter or a cup, you may need to pinch the edges of your sandwich together to seal them.  Or use a fork to press ridges into the edges, much like you would for a pie crust dough.  There is a fabulous tutorial on this method over at Mrs. Happy Homemaker!
Wrapping Your Uncrustables for the Freezer
I like to wrap the uncrustables sandwiches individually in plastic wrap (cheaper than sandwich bags), and then put a bunch of wrapped sandwiches together in a gallon-size zip top freezer bag.
You can also put the sandwiches right into sandwich baggies, and then put several of those together in a larger freezer bag.
You'll want to lay them out flat in the freezer for the first several hours or overnight, until they are fully frozen.  Then you can move them or stack them if needed.  Just don't stack anything on top of them until they are fully frozen.  Otherwise you'll end up with a giant frozen mess of smashed sandwiches.
You can also place your sandwiches (already wrapped individually and frozen solid) into a plastic food storage container in your freezer as well, if you want to make absolutely sure that they don't get squished.
Into the Lunchboxes They Go!
I pull the sandwiches out directly from the freezer and pop them into the school lunch containers – no thawing necessary.  We have found that they are almost always thawed by the time lunch rolls around.  And as a bonus, they help keep the lunchbox cold before they thaw!
That's it, that's really all there is to it!  Easy peasy make-ahead school lunches DONE!  We also love to take homemade uncrustables for easy lunches on car trips, vacations, picnics, etc.  They are easy to store in small mini fridges in hotel rooms, too.  ????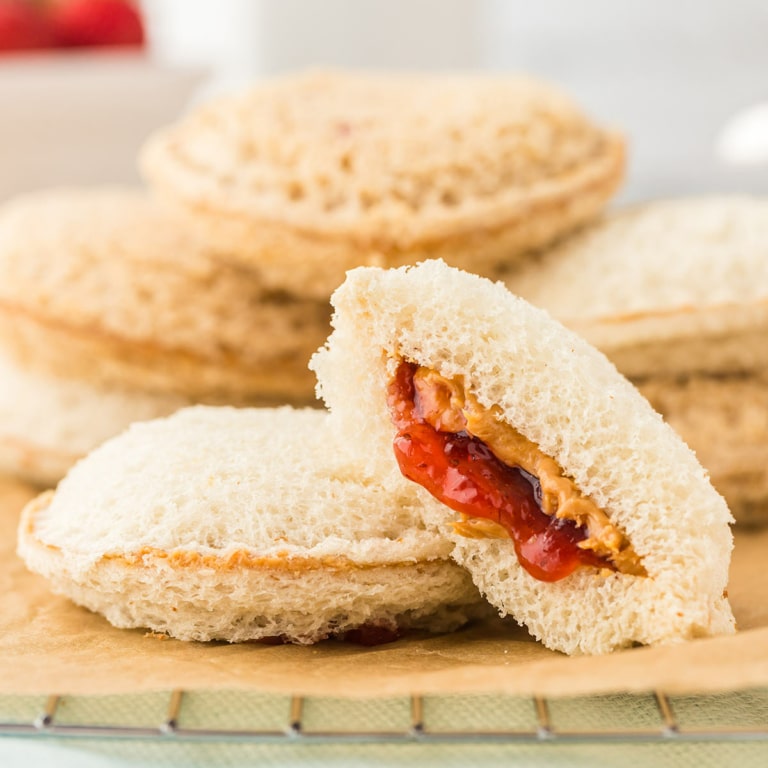 Homemade Uncrustables Sandwiches
Servings:
9
sandwiches, depending on loaf size
These make-ahead homemade uncrustables sandwiches are one of my most favorite kid-friendly lunch ideas for easy school lunches!  They are always a hit with the littles, and they also work great for car trips, vacations, picnics, and other events! 

Print
Save
Saved!
Pin Recipe
INGREDIENTS
1

loaf sliced sandwich bread

white or wheat

1 1/4

cups

peanut butter

nut butter, or nutella

2/3

cup

jam

jelly, honey, or fruit preserves
INSTRUCTIONS
To make one sandwich:
Lay out two pieces of bread.

Spread peanut butter or other nut butter onto one side of both pieces of bread.

Spread jam on top of peanut butter on both pieces of bread, or place small rounded dollup of jam in the center of one piece.

Place both pieces of bread together with peanut butter/jam sides facing in.

Using a sandwich sealer, biscuit/cookie cutter, or an upside down cup or glass, cut out the center of the sandwich and remove outer crusts. (If not using a sandwich sealer, crimp edges of sandwich with your fingers or a fork to seal.)

Wrap in plastic wrap or place in sandwich bag.
To freeze:
Place individually wrapped sandwiches into a large gallon-size ziptop freezer bag. Label bag, and lay flat in the freezer to freezer sandwiches for several hours or overnight, until frozen solid. Be sure not to stack anything on top of your sandwiches until they are fully frozen. Then you can move them, stack them, or place them in a plastic food storage container for extra protection.
To use:
I just pull the sandwiches straight out of the freezer and put them in lunch boxes frozen. They are usually thawed by lunchtime.
NOTES
If your kids will eat crusts, go ahead and spread your peanut butter and jam to the edges of your bread, then let your kids eat the crust pieces as a snack. If your kids will not eat crusts, then only spread a small circle, just slightly larger than your sandwich cutter, of peanut butter and jam on your bread - no sense wasting it on the uneaten edges! You can then use the crust pieces to make homemade breadcrumbs, croutons, use in meatloaf, feed to the birds/ducks, etc.
NUTRITION
Serving:
1
g
|
Calories:
572
kcal
|
Carbohydrates:
75
g
|
Protein:
16
g
|
Fat:
25
g
|
Saturated Fat:
6
g
|
Polyunsaturated Fat:
15
g
|
Cholesterol:
3
mg
|
Sodium:
611
mg
|
Fiber:
5
g
|
Sugar:
25
g
Did You Make This Recipe?
Please leave a comment on the blog or share a photo on Facebook @MakeAheadMealMom!