I have been working on putting together some food storage for my family for the last several years.  There are many options out there nowadays for ready-to-go meals, but they can be incredibly expensive!  So I've spent some time researching ways to make my own.  I came across several options for recipes for meals in a jar.
A few years ago I did a class for a local women's group on make-ahead meals and mixes, and I put together several meals in jars as examples.  We generally tend to focus on food storage for times of emergencies, but I've also found these meals can be incredibly useful for small-scale "emergencies" of the dinner kind – you know, those nights when things have been crazy chaotic and it's 6pm and everyone is starving, but you haven't been to the grocery store, or you haven't pulled anything out of the freezer for dinner, or you just generally don't have any thing planned for dinner that night.
These have been great options to keep on the shelf for THOSE emergencies!  Most of these are simple "just add water and cook" options.
They can be used as part of your long-term food storage if you wish.  When properly sealed, they can last 5-1o years on the shelf.
But they can also be used as part of your dinner emergency stash – those meals you pull out when you need to get dinner on the table quick!
Here are some of the options we have tried in our family so far:
Potato Sausage Cheese Casserole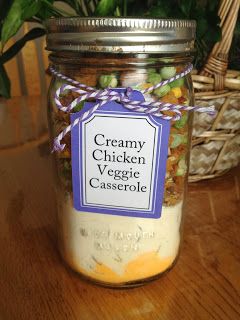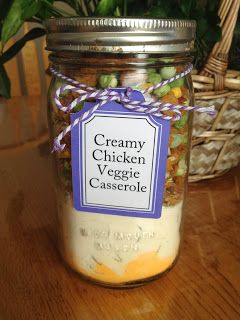 Creamy Chicken Veggie Casserole
Most of these recipes will require freeze-dried or dehydrated ingredients.  Depending on where you live, these might be available locally, or you may have to order them online.  There are several companies that specialize in producing these items:  Augason Farms, Emergency Essentials, Honeyville Grains, The Ready Store, and Thrive Life, just to name a few.  All of these companies have websites where you can order products and have them shipped to you.  You can also find many options on Amazon or on Walmart.com.
I don't really have a preference among the brands, as I've tried several of them.  I don't generally use the Thrive products because you have to order through a consultant, and I've found them to generally have higher prices than the others.  Most of the items in my storage come from Augason Farms, Emergency Essentials or Honeyville Grains, because they all have stores near me or are readily available at my local Walmart.  I can't say that I've really noticed much of a difference in their items, other than price.  This stuff can get expensive quickly, so do try to catch these items on sale when you can, especially if you choose to use freeze-dried meats in these recipes!
Now, the tags on the jars were just for show, so that those in the class I taught could easily see what each meal was.  You absolutely do not need to put tags on yours, especially if you're just keeping them on your pantry shelf (although you do need to label the jar somehow), but if you would like to add tags, or if you're thinking about making some of these up to give as gifts, you can find a PDF file of the tags below. (They were originally created on my Silhouette – if you happen to have a machine, send me an email and I can send you the design file to use with your machine.)
Click HERE for the full-size PDF file